Daily Horoscope for July 26: Astrological Prediction for Zodiac Signs
Daily Horoscope for July 26: There is a continuing need for clarity these days, which can be very difficult to discern for many people. The Leo sun takes charge and keeps it moving even as the currents are shifting in a new direction. Check out the daily horoscope for zodiac signs now!
Daily Planetary Overview
Jul 26, 2020 - There is a continuing need for clarity these days, which can be very difficult to discern for many people. The Leo sun takes charge and keeps it moving even as the currents are shifting in a new direction.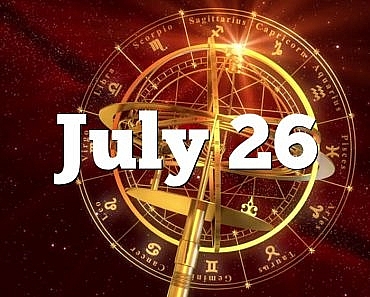 Daily-Horoscope-for-26th-July:-Astrological-Prediction-for-Zodiac-Signs
Today's waxing Libra moon connects in a harmonious air trine with Venus in talkative Gemini, adding more details to a difficult transcript. This discerning influence reminds you of the value in what is communicated and what gets swept under the rug. There's plenty to discuss with this mighty influence because there's been so much trickery on a massive scale! Matters of love, money, and self-acceptance are all on the table. It can be overwhelming to even know where to begin to find answers. Formulating an opinion is difficult when you're able to see multiple sides to every story. It's important to take in the information without judgment.
The benevolent sextile between Jupiter in Capricorn and Neptune in Pisces occupies a healing space in the current planetary transits, giving hope that things will be much better in the near future.
Daily Zodiac Horoscope for July 26
Aries
The first sign of the Zodiac, Aries are the trailblazers. Passionate and independent, Aries will never do something just because everyone else is doing it—a Ram needs to be 100 percent committed to the task at hand.
Today's horoscope: You might have to do a bit of adjusting today in order to experience a harmonious understanding with the people around you, Aries. Adopt a feistier and more aggressive attitude toward love and romance if you want to receive any attention in that area. Feel free to go for the gold. Sitting back and lying low will most likely get you nowhere. Take the initiative. Be brave and go out on a limb.
Taurus
Smart, ambitious, and trustworthy, Taurus is the anchor of the Zodiac. Amazing friends, colleagues, and partners, Taureans value honesty above all else and are proud that their personal relationships tend to be drama free.
Today's horoscope: Your love life is a kaleidoscope of shapes and colors today, Taurus, full of complicated patterns and ever-changing displays of beauty. A new perspective is revealed everywhere you turn, and you learn something new about yourself and the people you're involved with. Remain open to partnership on multiple levels in which you experience different types of commitment with different people. It takes every color to make a complete rainbow.
Gemini
Smart, passionate, and dynamic, Gemini is characterized by the Twins, Castor and Pollux, and is known for having two different sides they can display to the world. Expert communicators, Gemini is the chameleon of the Zodiac, adept at blending into different groups based on the vibe and energy they perceive.
Today's horoscope: Turn up your aggressive nature regarding your romantic life, Gemini. You may find that a small spark is all that's needed to rekindle a smoldering fire. You may be going through a period of transformation right now when it comes to this area of your life. If so, consider all the options and don't shy away from a new way of relating. Your partner may have the very answer you seek.
Cancer
Emotional, intuitive, and practically psychic; ruled by the moon and characterized by the crab, Cancer has so much going on in its watery depths. Cancers may seem prickly and standoffish at the first meeting, once they make the decision to become friends with someone, that person has a friend for life.
Today's horoscope: Today is a very powerful day for you, Cancer. You may find yourself going to extremes in certain areas of your life, especially when it comes to your romantic nature. You could be pulled way over to one side and then to the other. At first, you may give it your all and the next minute completely withdraw. Try to find a balance in this seesaw game.
Leo
Bold, intelligent, warm, and courageous, fire sign Leo is a natural leader of the Zodiac, ready to blaze a trail, vanquish injustice, and make a name for themselves along the way. Blessed with high self-esteem, Lions know that they possess enviable traits—and they're proud of them.
Today's horoscope: You may not understand what all the fuss is about today, Leo. Suddenly there's a fire burning all around and you may be left questioning the motivations behind others' actions. You may not be able to make heads or tails of the situation, so don't waste your time trying to figure it all out. Let it be. Take a hint from others that you may need to add a bit of spark to your life to spice things up a bit.
Virgo
You can reform yourself as the energy coincides with your self-realization, getting you in touch with your root chakra. Today's lunar transit includes a very sobering reflection courtesy of opposition to Saturn in mighty Capricorn emphasizing the value of finding balance through rebuilding your internal stability.
Smart, sophisticated, and kind, Virgo gets the job done without complaining. Virgos are amazing friends, always there to lend a hand and also lend advice. Practical Virgos are incredibly adept at big picture thinking, and planning out their life, their vacations, and what they're going to do today isn't a drag it makes them feel in control and secure.
Today's horoscope: Get your broom out of the closet today, Virgo. Your job is to brush away the cobwebs from the corners of your emotional bedroom. Use the intense transformative energy of the day to say goodbye to stale and unsatisfactory relationships that have left a bad taste in your mouth. Ignite the fire of a new situation and consciously try to establish new habits so that old patterns don't continue to repeat themselves.
Libra
Intelligent, kind, and always willing to put others before themselves, Libras value harmony in all forms. Ruled by Venus, the planet of beauty, Libra adores a life that looks good. As the master of compromise and diplomacy, Libra is adept at seeing all points of view and excels at crafting compromises and effecting mediation between others.
Today's horoscope: There may be a great deal of charge in your battery today, Libra, but you could be unsure about where to put all this energy. Get up and do some exercise. Give your body the workout it needs. Remember what it's like to sweat. You'll feel much better about yourself afterward, and you'll be much more likely to continue on a healthy path if you push your body to its limits.
Scorpio
Passionate, independent, and unafraid to blaze their own trail no matter what others think, Scorpios make a statement wherever they go. They love debates, aren't afraid of controversy, and won't back down from a debate.
Today's horoscope: Let your love light shine today, Scorpio. There's a great deal of passion in your heart that needs to be expressed. Let your romantic nature take the reins, and allow your creative nature to blossom. Be assertive with regard to the ones you love. Muster your courage and feel free to take the lead. Be loving and caring without being smothering and clingy. Give others room to breathe!
Sagittarius
Independent and strong-willed, Sagittarius personalities are all about going off the beaten path. Sagittarius isn't afraid to step away from the pack and is a natural-born leader who goes after what he or she wants, regardless of what other people think.
Today's horoscope: People might be a bit argumentative when it comes to romantic issues today, Sagittarius. Your instincts could be telling you to restrain yourself and hold back, while the prevailing winds are urging you to strike out for new ground. Realize that your heart may need a bit of freedom and detachment. Your sensitive nature could be causing you to read too much into the issues at hand.
Capricorn
Smart, hardworking, and fully in control of their destiny, a Capricorn will always get what they set their mind to, in both personal and professional life—no excuses. Capricorns may get a reputation as stubborn, but they simply know what they want, and also know how they wish other people would behave.
Today's horoscope: Consider going on a trip with a close loved one, Capricorn. A long-term break from the current reality may be just the thing needed to infuse a new blast of romance into your life. If you're unattached, you might find that going on an adventure to a foreign country results in meeting the love of your life. Broaden your horizons and look to new ways of thinking and believing.
Aquarius
Independent and enigmatical, Aquarians are unique. There is no one quite like an Aquarius, and because each is so incredibly individual, it can be tough to describe them as a group. Aquarians don't like labels, and may shy away from any adjective—even the good ones you might bestow upon them.
Today's horoscope: Today is one of those days in which if you want love, you need to go out and get it, Aquarius. Don't waste your time sitting at home and sulking. Be adventuresome and take that first step. You're the only one who has the ability to pull yourself out of the rut, so do it. There is a great deal of passion behind your romantic intentions at this time, Cupid, so be careful where you point your arrow.
Pisces
Smart, creative, and deeply intuitive, Pisces can be close to psychic. Pisces feel things deeply and have incredibly strong gut reactions. A Pisces "knows" things from deep within, and can often judge whether a person or situation is good or bad.
Today's horoscope: Things should flow extremely well for you today, Pisces, especially when it comes to anything having to do with love and beauty. Throw a party, or at least invite some close friends over for dinner. A tremendous fire from within fuels your romantic and social nature. Your creativity is at a monthly peak, and you'll find that, in general, your relationships with others will go extremely well.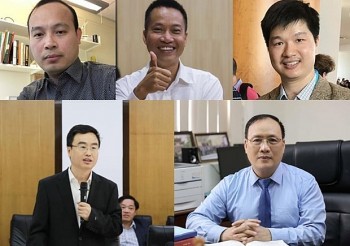 Viet's Home
Nearly 30 Vietnamese scientists working domestically and abroad have been named in the list of the world's top 100,000 most-cited researchers in all fields of science.