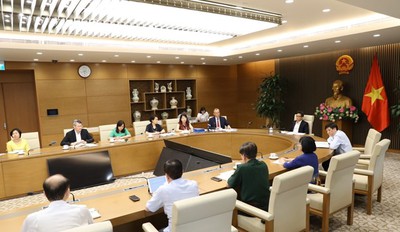 The meeting of the national steering committee for COVID-19 prevention and control, WHO, international organisations and some sectors in Hanoi on May 12 (Photo: VNA)
Deputy Minister of Health Nguyen Thanh Long reported that Vietnam hasn't recorded new infections of SARS-CoV-2, the virus that causes COVID-19, in the community for 26 consecutive days, and it is still carrying out surveillance of risk populations.
About 1,200 – 2,000 samples are tested each day, and tests of 275,000 samples collected so far have discovered 288 infected cases, most of which were in quarantine facilities, he noted, adding that epidemiological factors and risks of community transmission in Vietnam are very low at present.
Therefore, the country is pressing on with thoroughly preventing transmission from other countries, strictly quarantining those entering Vietnam for 14 days and taking samples from them for testing twice a day, maintaining the monitoring and testing system to early detect infections in the community, sealing off areas with infected cases, improving the medical staff's capacity, and boosting the production of medical equipment, medicine and other supplies, Long said.
Recognizing local efforts in the COVID-19 fight, WHO Representative in Vietnam Kidong Park said the country has taken early actions and had drastic measures in response to each infection.
However, he also warned that as there is no medicine specialised in COVID-19 treatment or a vaccine, and the pandemic is forecast to linger, Vietnam needs to stay vigilant and keep a close watch on the situation. Besides, although Vietnam doesn't have infected cases in the community, other countries in the region and the world are still struggling with the pandemic.
Risks of community infection still exist, he said, recommending it gear up for new cases and even a "new wave" of infections so as to actively control the pandemic like when the "first wave" occurred.
In the time ahead, WHO will continue working closely with the Government, the national steering committee for COVID-19 prevention and control, and the Health Ministry of Vietnam to exchange information, update technical guidelines, and share Vietnam's experience with the international community, Park said.
Appreciating WHO and foreign experts' cooperation and assistance, Deputy PM Dam, who is also head of the national steering committee, expressed his hope for further coordination, noting that Vietnam is ready to share information, initiatives, and experience in the COVID-19 prevention and control with the international community, especially low-income and developing nations.
He stressed that anti-pandemic forces like health workers, military and police always stay ready, and that Vietnam is keeping a tight control of people entering the country while easing restrictions within the country so as to realise the dual target of combating the pandemic and ensuring socio-economic development.
VOV