Hanoi-based centre of medical research donates much-needed medical supplies to Germany
The Vietnamese-German Center for Medical Research (VG-CARE) in Hanoi just donated 2,000 3M-N95 face masks and 100 personal protective equipment for medical staff of the Institute of Tropical Medicine, University of Tübingen (UKT).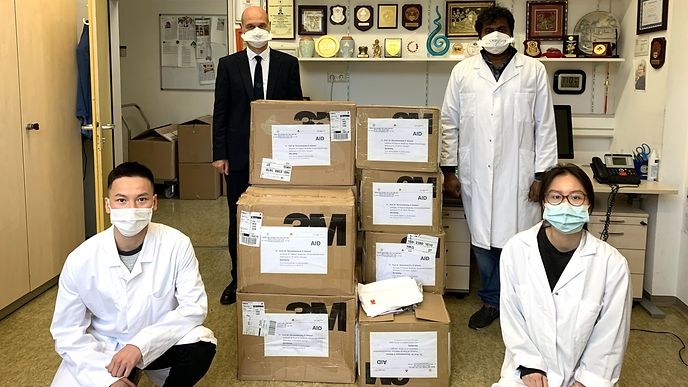 The Vietnamese-German Center for Medical Research supports one more time the Institute of Tropical Medicine at the University of Tübingen by donating protective respiratory masks and personal protective equipment that are urgently needed in the context of patient care at the clinic.
According to German Embassy in Vietnam, those supplies, arrived in Tübingen on May 11, are urgently needed in the context of patient care at the clinic.
In March, VG-CARE provided 6,000 swab tubes for a joint clinical study of the universities of Tübingen, Hamburg and Stuttgart on a COVID-19 drug which started on April 1 at UKT.
This donation was largely supported by the Vietnamese director of VG-CARE and alumnus of the German Academic Exchange Service (DAAD), Assoc. Prof. Dr. Le Huu Song, and is a further sign of the close cooperation between the Tübingen doctors and scientists with Assoc. Prof. Dr. Le Huu Song and his colleagues at 108 Military Central Hospital in Hanoi.
The German Embassy and the DAAD branch in Hanoi facilitated the project unbureaucratically.
Just a few days ago, more than 450 Vietnamese alumni have come together to raise a total of VND 300 million (USD 12.864), in order to help Germany deal with its shortage of face masks and protective clothing as it continues to fight the novel coronavirus.
The move comes in response to a call made by the DAAD's alumni, including Prof. Nguyen The Hoang, deputy director of Hanoi-based 108 Central Military Hospital, and Dr. Nguyen Phuc Hien, rector of the Foreign Trade University branch in the northern province of Quang Ninh
With the donation, the Vietnamese alumni would like to express their sincere gratitude for their memorable time both studying and working in Germany through scholarships provided by the DAAD, in addition to wanting to unite with citizens of the European nation to take on the COVID-19.
Also during the handover ceremony on May 7, Dr. Pham Manh Cuong of the Government Office presented a total of 5,000 medical masks to German Ambassador to Vietnam Guido Hildner and Chief Representative of the DAAD Office in Hanoi Stefan Hase-Bergen, noting that the collection of medical masks will be delivered to the German state of Saxony in the near future.
In May, representatives of the Vietnam – Germany Friendship Association also presented 80,000 antibacterial cloth masks to support Germans in the fight against the COVID-19.
Germany's coronavirus spread appears to be picking up speed again, official data showed Sunday, just days after Chancellor Angela Merkel said the country could gradually return to normal.

The Robert Koch Institute for public health said Germany's closely watched reproduction rate (R0) had climbed to 1.1, meaning 10 people with COVID-19 infect on average 11 others.

The RKI has warned that for the infection rate to be deemed under control and slowing down, the R0 has to stay below one.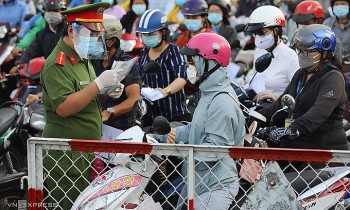 National
Vietnam News Today (September 26): Vietnam, Germany foster 10-year strategic partnership; HCM City plans to remove barriers, travel permits by end-September; 41% of Vietnamese adults vaccinated against Covid-19; Transport ministry outlines domestic flight resumption phases.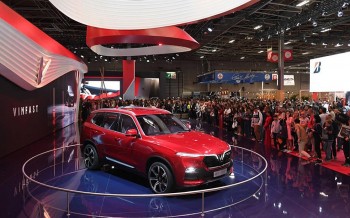 Economy
Vietnam's first homegrown car manufacturer Vinfast plans to focus on more countries to expand its European strategy.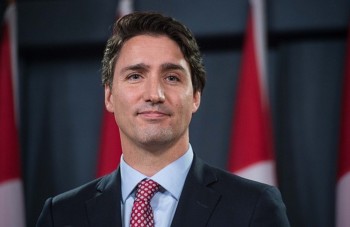 World
Justin Trudeau, the son of the late Canadian prime minister Pierre Trudeau followed in his father's famous footsteps in 2015 and became Canada's prime minister. This article will help you have a more thorough inside of him