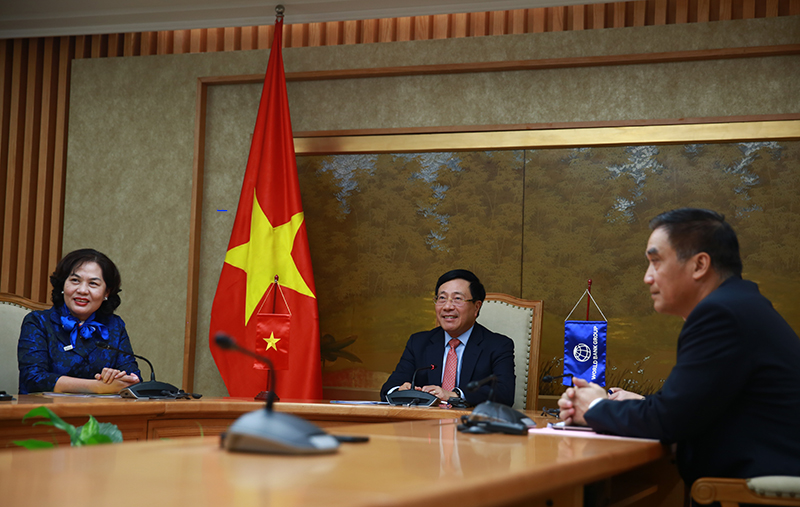 Deputy Prime Minister and Foreign Minister Pham Binh Minh has an online working session with WB Managing Director of Operations Axel van Trotsenburg. (Photo: VGP)
Vietnam treasures and appreciates the valuable and effective support of the World Bank (WB) and Managing Director of Operations Axel van Trotsenburg himself to the country over the past time, Deputy Prime Minister and Foreign Minister said on November 4.
At an online working session with Trotsenburg, Minh affirmed that the Vietnamese Government always considers the bank a friend and an important development partner.
Many WB-funded projects and policy consultations have significantly contributed to the national socio-economic development, the official added.
Minh called on the WB to continue its development financial aid and consultations, and accompany Vietnam in policy and development orientation making in the time ahead, particularly in building the socio-economic development plan and the mid-term public investment plan for 2021-2025.
The Vietnamese Government will further coordinate with the bank in reviewing and updating the country partnership framework for the 2018-2021 period, making it match the latest situation, especially in the context of the COVID-19 pandemic, while proposing a development partnership framework for 2022-2025, he went on.
Appreciating the bank's non-refundable aid worth 6.2 million USD for Vietnam in the COVID-19 combat, the official suggested it give more resources to the country in this regard.
He also proposed the WB closely join hands with Vietnamese ministries and agencies to remove bottlenecks in the disbursement of the loans from the bank and other donors in Vietnam.
Amidst the increasing energy demand, Vietnam would like to receive more support from the WB through specific projects, focusing on such fields as energy efficient distribution, transmission network expansion and power access in disadvantaged areas, according to the Deputy PM.
For his part, Trotsenburg said the WB stands ready to support and cooperate with Vietnam in many spheres like climate change response and renewable energy development.
He emphasised that the relationship between Vietnam and the WB is developing fruitfully, saying the bank is willing to engage in flexible exchanges amidst COVID-19 to further boost the links.
The WB leader expressed his sympathies over the huge losses caused by recent floods in Vietnam's central region, and lauded the country's efforts in containing the pandemic while maintaining economic growth./.
Rosy Huong