Digital Technology Supports Ethnic Minority Youth In Self-Protection
EMPoWR project takes advantage of information technology in the establishment of an online platform where the youth can gain useful knowledge and skills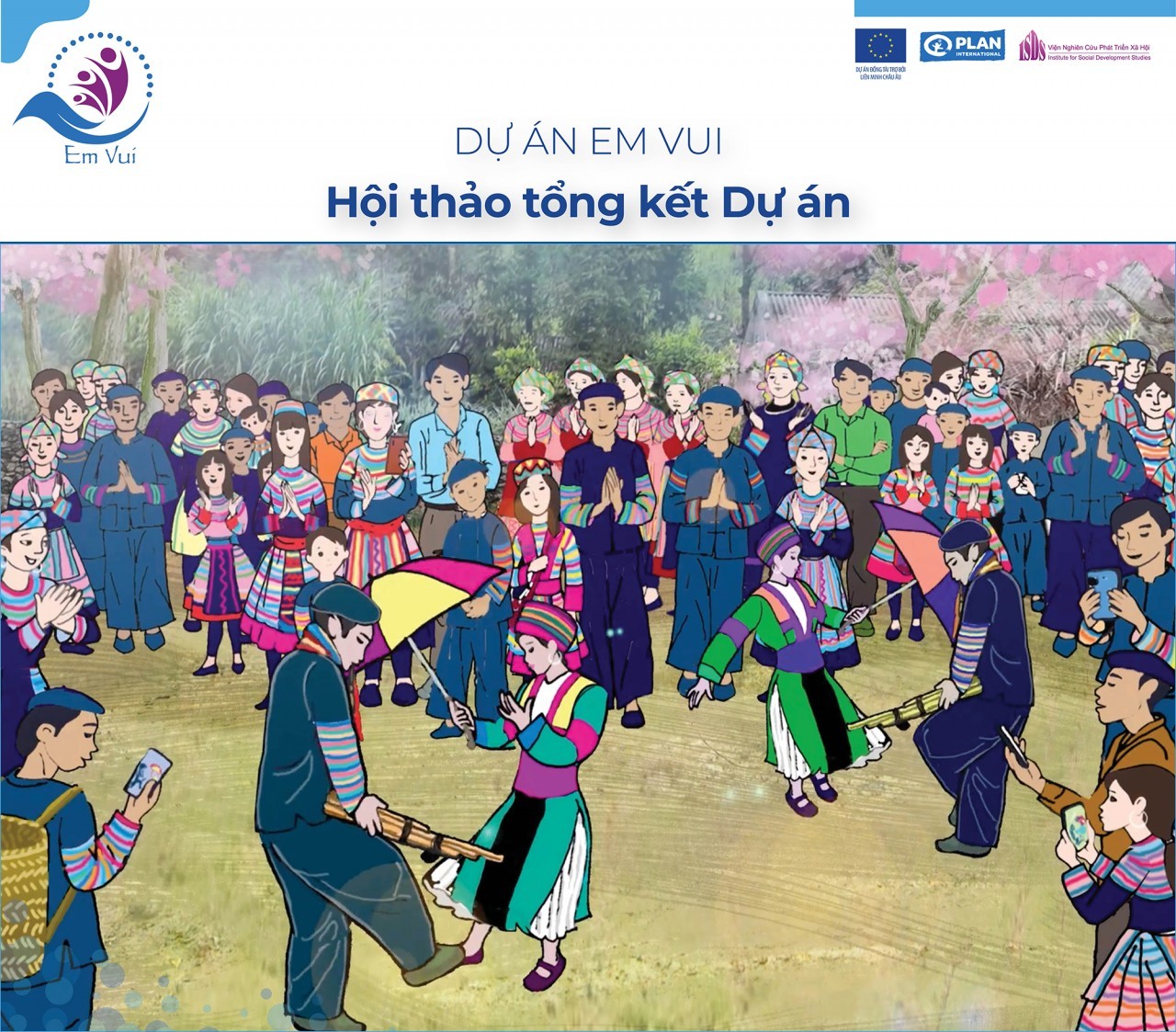 The Em Vui platform is easily accessible via social media platforms such as Facebook, Instagram and Twitter, making it convenient and readily available for marginalized Vietnamese youth.
The Institute For Social Development Studies (ISDS) in collaboration with its partner Plan International in Vietnam organized on May 31 a workshop in Hanoi to close the EMPoWR project or "Ethnic minority girls, boys, young women and men use the digital space to understand and claim their rights, access support services and raise their voice towards policymakers".
The EMPoWR project is co-financed by the European Union (EU) and Plan International Belgium and co-implemented by the ISDS and Plan International in Vietnam.
Low income, low levels of education among young girls and outdated traditions are the leading causes of child marriage in Vietnam. Households with many occupants, especially in rural areas, do not have the funds to provide food and other necessities for all of their members. This creates a pressing situation that typically.
The EMPoWR project is sited in 52 communes of 11 districts of Ha Giang, Lai Chau, Quang Binh and Quang Tri provinces. It contributes to enabling ethnic minority girls,, and young women, and men (age 10 to 24 years) to use the digital space to learn online safety skills, boys and claim their rights, access support services and raise their voice towards policymakers.
Nowadays, more and more people, including teenagers, use the Internet to study, work, communicate, entertain and access other services. But cyberspace is fraught with risks of child marriage and other forms of child and youth abuse. Therefore, young people, especially those in remote areas, need to be equipped with tools to protect themselves.
Comics convey messages and help ethnic minority youth raise awareness. Photo: Van Anh
Em Vui platform (meaning 'I'm Happy' in Vietnamese), is the core action of the EMPoWR project. It is built as a friendly and reliable forum for ethnic youth to participate in learning, exchanging, sharing and spreading knowledge. In addition to the website and phone application, "Em Vui" is present on six social networking channels popular with young people.
The platform is uniquely designed to be 'data light,' meaning it can be accessed in remote areas where internet connectivity is not as strong. Essential information shared on the platform is handed out as an infographic leaflet to those without internet and digital tools.
By providing information in attractive forms such as stories, cartoons, and games, the "Em Vui" platform is a tool for education and communication for young people, helping them to have can confidently cope with and prevent child marriage and human trafficking. Thereby, they improve their legal knowledge and participate in online policy dialogues with leaders.
During the past three years of operation from June 2020 to June 2023, Em Vui had nearly 200 videos and learning materials on knowledge related to online safety, reproductive health, prevention of child marriage and human trafficking, and legal knowledge. In the past 6 months, an average of nearly 400 visits per day
Sharing about the project, Dr. Khuat Thu Hong, ISDS director and project head pointed out that the project has been very enthusiastically received by ethnic minority youth in four provinces. Em Vui's products are loved and widely used by children and teachers, agencies, and social organizations in the project area.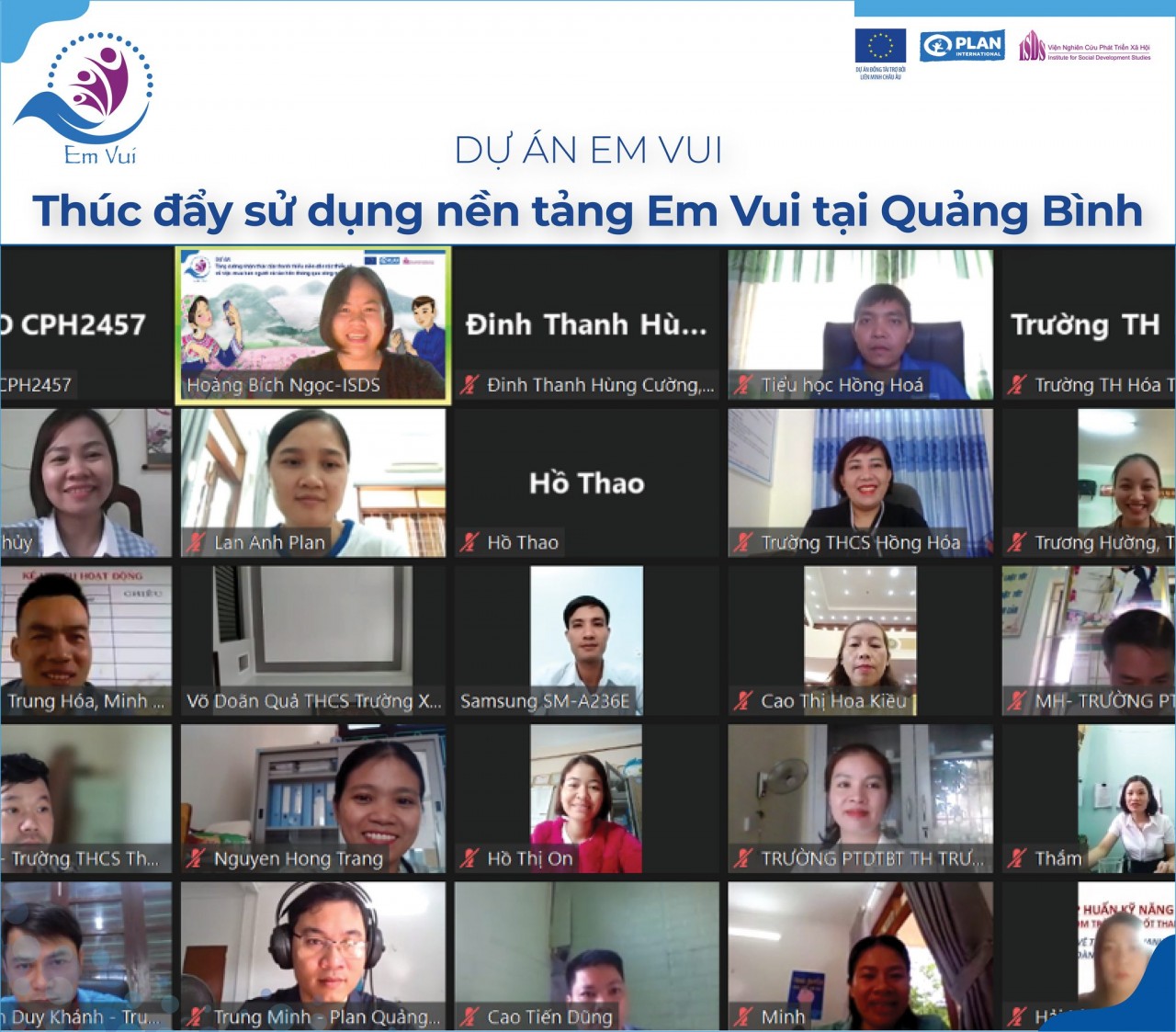 Directly guiding about 50 key staff who are teachers, commune officials, women's union officials, youth union officials of 10 communes in the Em Vui project area in Quang Binh province in 2022. Source: Em Vui platform
Although the project is completed, the online platform Em Vui is still a reliable and useful address for young people and local officials and teachers in joint efforts to repel child marriage and prevent human trafficking, to help young people grow up safe, healthy, and happy, Hong stressed.
Business Development and Grant Manager, Plan International Vietnam, Carina Neset said that the goal of Plan's 5-year program for the period 2021-2026 in Vietnam is to accompany government agencies, donors, families and communities to support 2 million girls to learn, lead, decide and shine.
The EMPoWR project with the main product being the online platform Em Vui has made outstanding contributions to the practice of human trafficking, helping to realize Plan's commitment in the field of promoting gender equality and protecting children, especially ethnic minority children living in remote areas.
The project has directly trained 7,458 ethnic minority youths on internet knowledge and cyber safety skills. After the training session, 4,766 children had basic knowledge about cyber security issues. In 2022, the project communicate directly to 8,771 ethnic minority youth about the Em Vui platform. In 2023, the communication activity promotes the use of Em Vui online platform, has attracted more than 20,000 ethnic minority youth.
Ho TRT from Bru Van Kieu ethnic group in Huong Hoa district of Quang Tri province shared in the first discussion session about sharing experiences of using the local Em Vui Platform. She learns and participates in accumulating points - receiving gifts on the Em Vui app. In addition, on the Em Vui platform, she also watches episodes of the animated series Mi's Journey about human trafficking and child marriage, and learned about safety in cyberspace. "I really enjoyed learning lessons on Em Vui platform."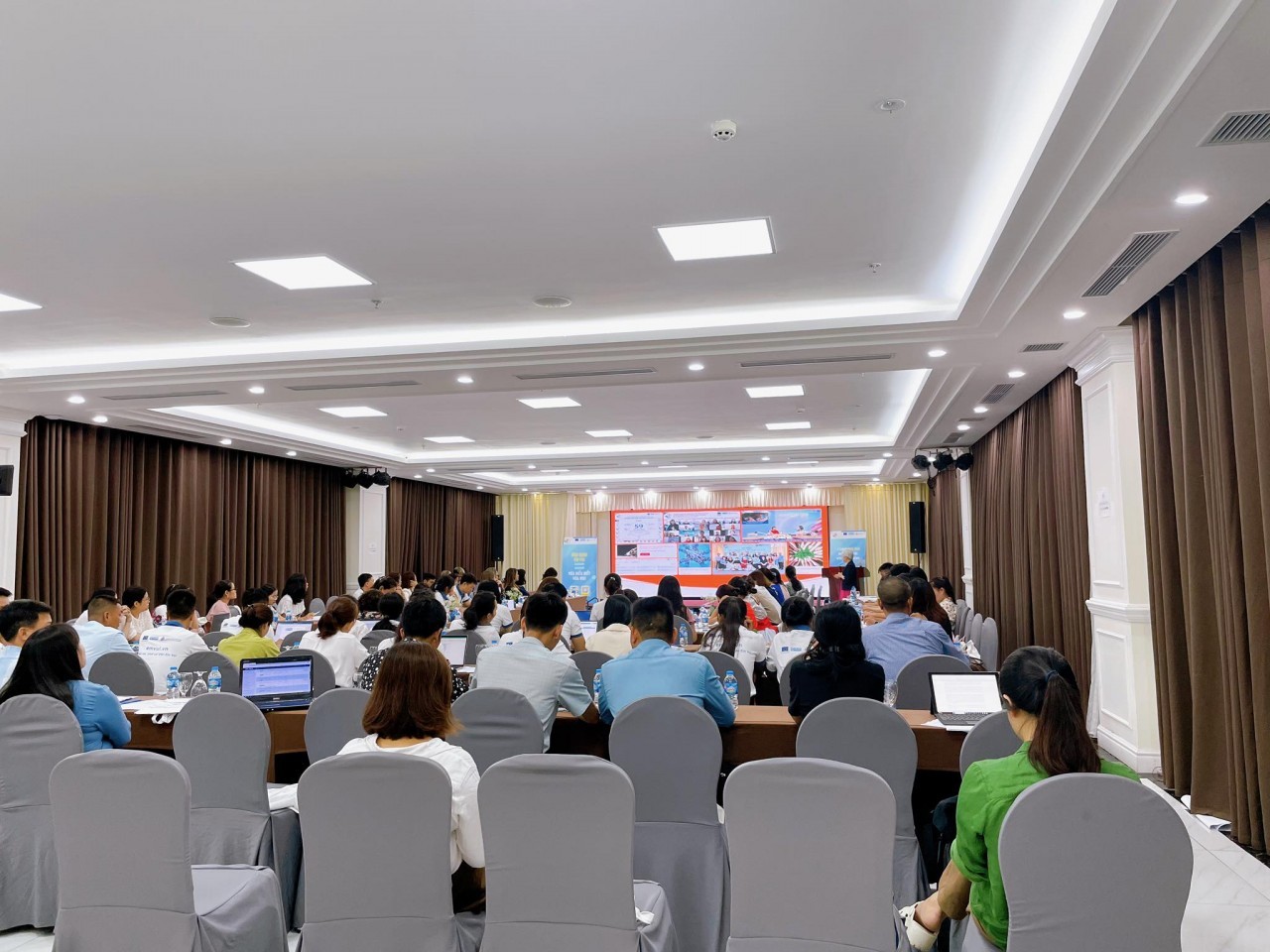 At the closing ceremony. Photo: Van Anh
Nguyen Thi Hong Nhung, teacher at Lao Va Chai commune, Yen Minh district, Ha Giang province talked about the sustainability of the Em Vui platform iat the workshop's second discussion session. "We have used a lot of Em Vui's products. They are used in teaching and communication in the locality and will continue to spread the materials to many generations of students so that they have knowledge and skills to prevent child marriage and trafficking, grow up confident, safe and have a good future."
The Em Vui platform is also an open space that attracts and connects relevant individuals, agencies and organizations together to spread knowledge and skills and spread useful and useful messages for the community from all over the country. This is also a forum for dialogue between ethnic minority youth and policymakers and managers from relevant agencies at all levels.