Vietnamese Scientist in UK Inspires Scientific Passion for Children
Vietnamese-born female professor organizes a science camp for children in London.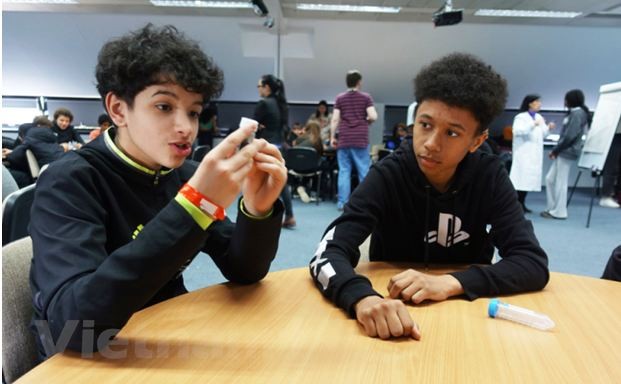 Underprivileged children in London are the main beneficiaries of the opportunity to participate in the Science Camp. Photo: Vietnam+
Nguyen Thi Kim Thanh, a Vietnamese professor at University College London (UCL), who won many prestigious international awards for her scientific research, says she hopes to inspire students, especially the disadvantaged in London, to pursue their passion for scientific study, VNA reported.
In 2019, Thanh was awarded the prestigious Royal Society Rosalind Franklin Medal by the Commonwealth Academy of Sciences for her research achievements in the field of nanomaterials for biomedicine.
She used the prize money to organise a science camp in Wiltshire region of the UK to inspire high school 8th – 10th grade students to perform scientific research.
The science camp was held in April 2023 at PGL Liddington adventure activity centre under the guidance of Professor Nguyen Thi Kim Thanh and colleagues.
46 high school students in London, mostly girls with difficult circumstances or those from minority communities took part in the camp.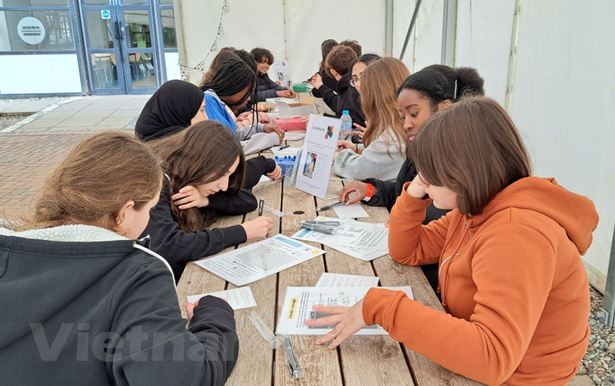 Students participate in a science game to look for extra-terrestrial intelligence. Source: Vietnam+
Other physical activities attract students to participate. Source: Vietnam+
This event provided students with an opportunity to not only immerse themselves in science but also develop their independence and confidence as they work with those from different grades and diverse backgrounds.
Thanh's science camp offered a venue for students to implement practical and interesting scientific experiments in the field of advanced nanotechnology under direct instructions from Thanh and her colleagues. The work featured the use of nanotechnology to detect and treat diseases such as cancer.
One student exclaimed that he never knew Professor Thanh could make gold nanoparticles with lemon juice. It was amazing to see the solution change color and learn how to use these micro-particles in healthcare, such as testing for infectious diseases like Covid-19.
Associate Professor Martin Dominik from the University of St Andrews also encouraged them to reflect on whether Earth is a special planet in the vast universe and ultimately what it means to be human.
Besides science experiments, students also participate in other interesting science games and activities. It is a game "Messages from afar," in which students discuss the search for extraterrestrial intelligence and generate a code to transmit messages using colored blocks and then analyze their code structure, comparing students' codes with a range of available templates, including hieroglyphs, pixelated Latin, Tetris, Morse code, ASCII, and genetic code.
In another activity, the children described human civilization and wrote a message to other aliens. This activity was originally designed for the UK Academy of Sciences and Commonwealth Summer Science Show 2019.
Besides Professor Nguyen Thi Kim Thanh, Dr. Mark Fuller of UCL, who connects the partnership between UCL University and high schools, also participates as an instructor in missile and energy manufacturing activities.
Students also enjoyed the other physical activities offered by the PGL adventure activity center such as vertical challenges, rafting, Jacob ladders, rope swings, rock climbing, archery, problem-solving, and a PGL tournament.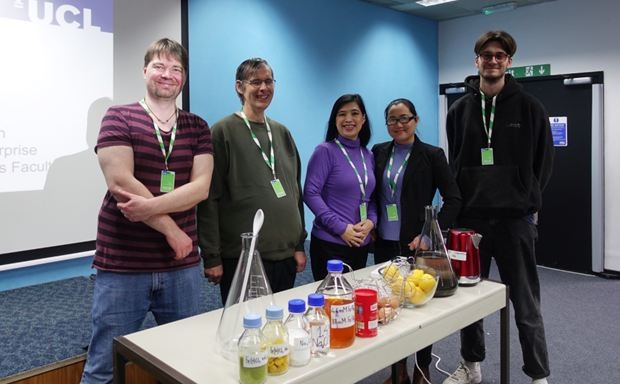 Prof. Nguyen Thi Kim Thanh (C) and her colleagues. Photo: VNA
Thanh expressed her pleasure in organizing the camp, affirming that she will continue to hold extracurricular activities at UCL for students.
The scientist said she will expand cooperation with high schools to increase the number of students studying biology, chemistry, and physics subjects with A-level (advanced) by 50% by 2025-2026.
The scientific camp comes as part of efforts to further promote STEM (science, technology, engineering, and maths) education and inspire the next generation of scientists, Thanh said.