Discover The Most Famous and Delicious Cakes In The World - Tasteatlas
Tasteatlas, one of the most well-known websites for food lovers all around the world, has make a list of 100 most popular cakes in the world, including pig skin cake from Vietnam.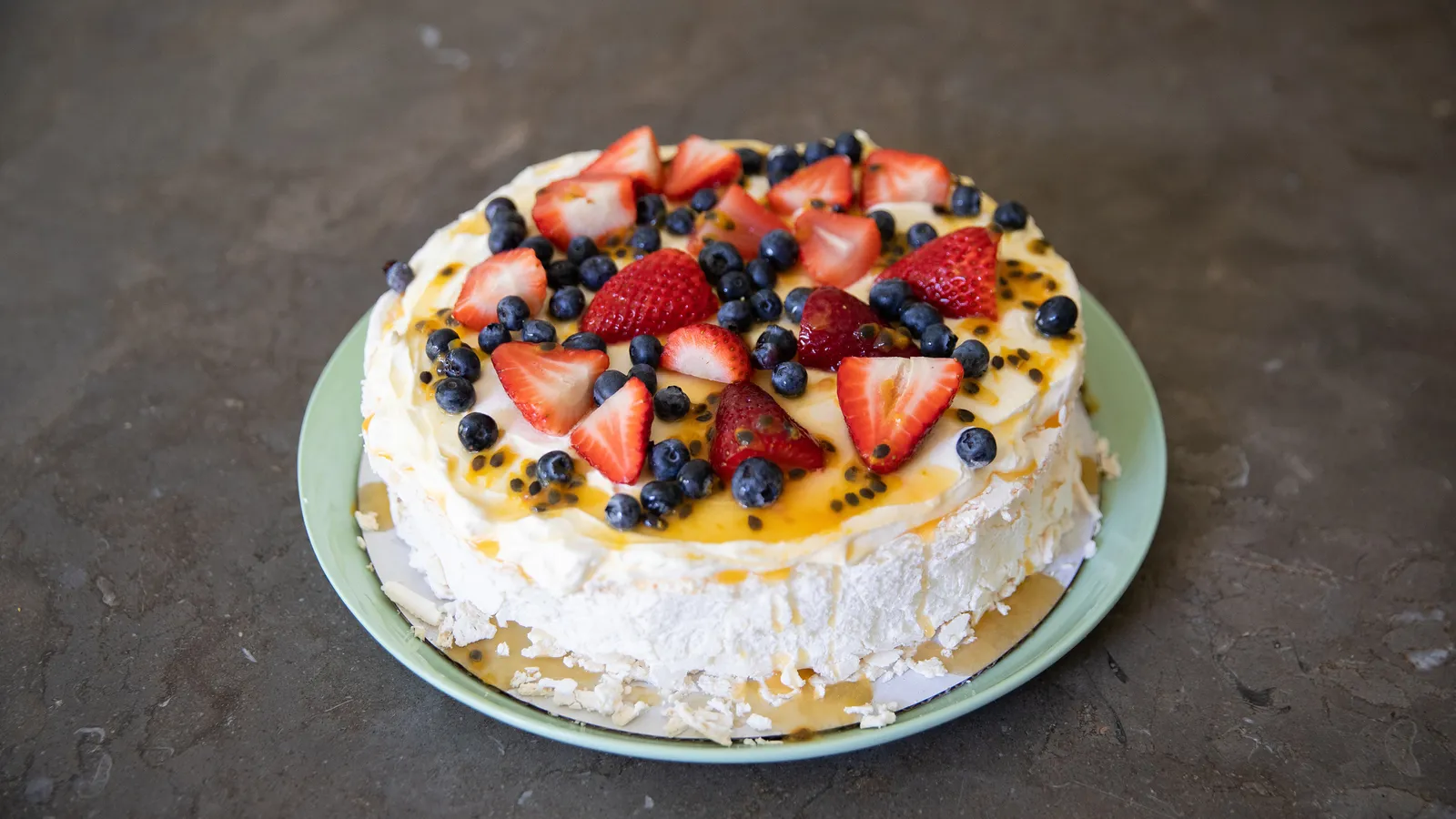 Pavlova is a meringue-based dessert named after the Russian ballerina Anna Pavlova (Credit: Attila Csaszar/Getty Images)
Tasteatlas, one of the most well-known websites for food lovers all around the world, has make a list of 100 most popular cakes in the world, including pig skin cake from Vietnam. Pavlova cake, the famous dish from Russia, is in the first place in the list.
Delicate as the ballerina it was named after, Pavlova is the quintessential summer dessert. Whipped cream is typically dolloped on top of a snowy meringue, followed by a pop of color in the form of fruit, preferably the tart varieties which contrast the sweetness of the meringue.
Research suggests Pavlova is a descendant of the German torte and was invented in the 1920s during Anna Pavlova's tour of Australia and New Zealand, although the exact inventor is still debated. The first recipe for Pavlova appeared in print in 1926, although it was not the dessert we know today, but was instead a multi-colored gelatine dish.
The base of the cake is prepared almost identically as any meringue, by beating egg whites stiffly, then incorporating sugar, vinegar, and cornstarch. Traditional toppings include whipped cream or lemon curd, and the dessert is often prepared during Christmastime.
Photo: Shutterstock
Kasutera カステラ or Castella is a popular Japanese sponge cake. It is said to have been named after the Castilla Monarchy in Spain but brought into Japan by the Portuguese merchants through Nagasaki in the 16th century. Imagine the consternation of the first European traders arriving on those shores to realize that there was not a stick of butter to be found within 2,000 miles to bake with. Sugar was introduced at the same time when European trade arrived. Kasutera developed into a softer and sweeter taste. It had great staying power because it enabled the Japanese to enjoy the novelty of cakes without having to adjust to dairy products. The importance of the latter cannot be underestimated as East Asian cultures had very little dairy in their diet until the last century.
Fast forward to modern Japan. One of the most enjoyable things to do in Japan is to wander into a confectionery or the food section of large departmental store. In there you will find an amazing array of beautifully presented desserts behind glass shelves. I always have such a hard time deciding what to get as everything looks so delectable. Kasutera is usually sold in long rectangular boxes and they often beckon. They also make lovely gifts.
Kasutera is not the cheapest confection available by far, but one can appreciate the difficulty in getting the texture just right. Store bought ones always have the right balance of lightness and taste to it. Like many things Japanese, simple things are turned into an art form. Kasutera is essentially a sponge cake raised solely by egg foam with no butter, oil, or leavening agent. The texture is even and delicate with hardly any crumbs. The top and bottom are flat and the taste is light and not overly sweet.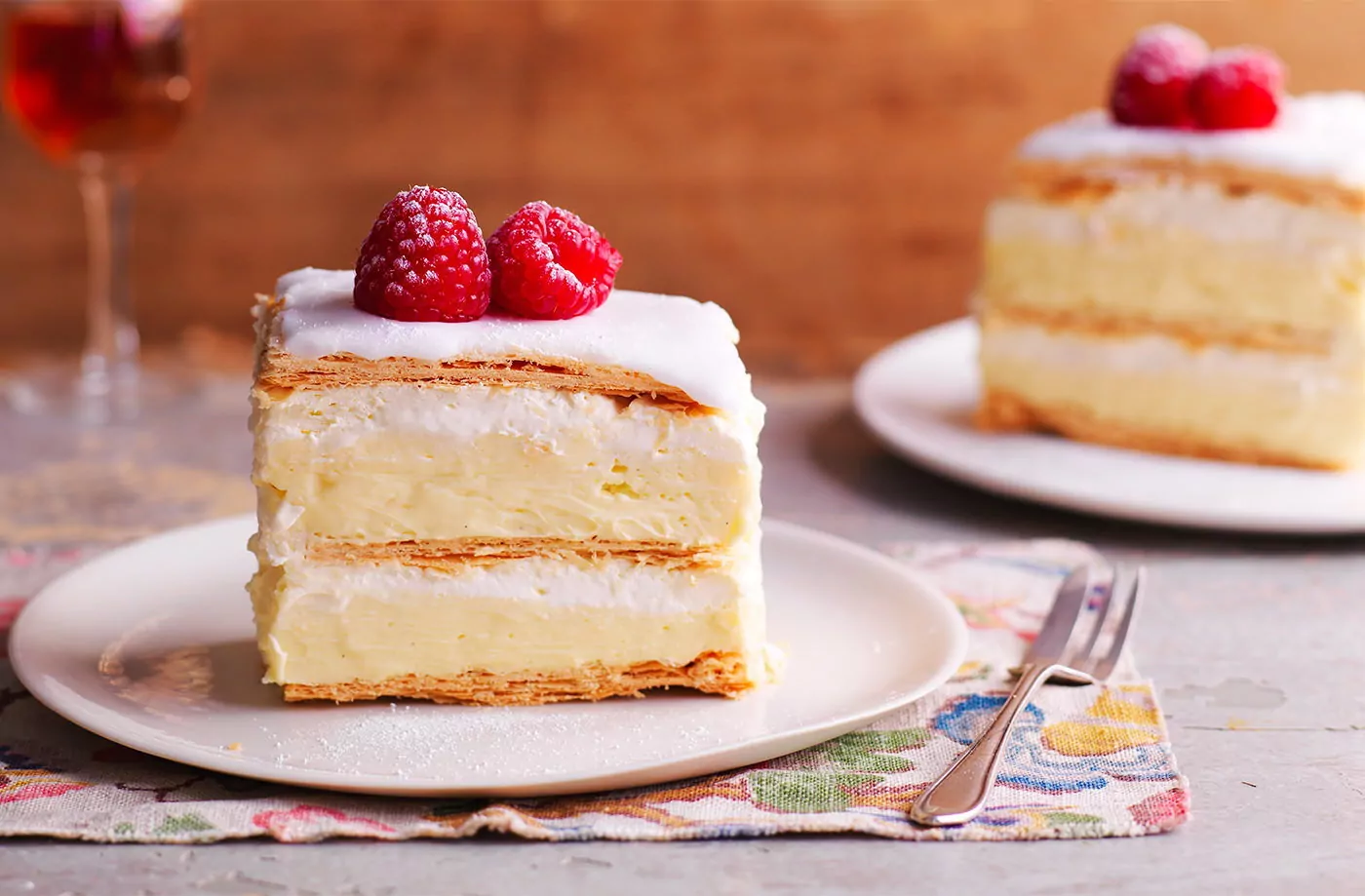 Photo: Naschkatze
Cremeschnitte is a vanilla-flavored custard cream cake and an absolute classic among central and eastern European desserts. It is known by many names, most of which have stemmed from the German cremeschnitte, and literally translate to either cream slice or, in some cases, cream pie. According to Historical Sociolinguistics, it is believed that the origins of the cremeschnitte date back to the blend of two cuisines in the Austro-Hungarian empire.
However, its Polish name Napoleonka indicates that this dessert might have possibly originated from the French mille-feuille, which is also known as the Napoleon - another pastry whose exact origin is unknown, even though its modern form was said to be influenced by improvements of Marie-Antoine Carême, the famous French chef-extraordinaire.
Still, while the Napoleon is made up of three layers of puff pastry alternating with two layers of pastry cream, the typical cremeschnitte is made with only two layers of puff pastry held together by a hefty amount of vanilla-flavored pastry cream, which is sometimes topped with a thin layer of whipped cream.
Cremeschnitte is most often simply sprinkled with icing sugar, but it can also be topped with a glossy and smooth glacé icing, and nicely decorated with a traditional chevron design. Two of the most popular cremeschnitte varieties include the aforesaid Polish Napoleonka or kremówka, which was known to be the favorite dessert of Pope John Paul II, and Slovenian kremna rezina, the signature dessert of Bled; a popular Alpine resort settled on the shores of the eponymous lake.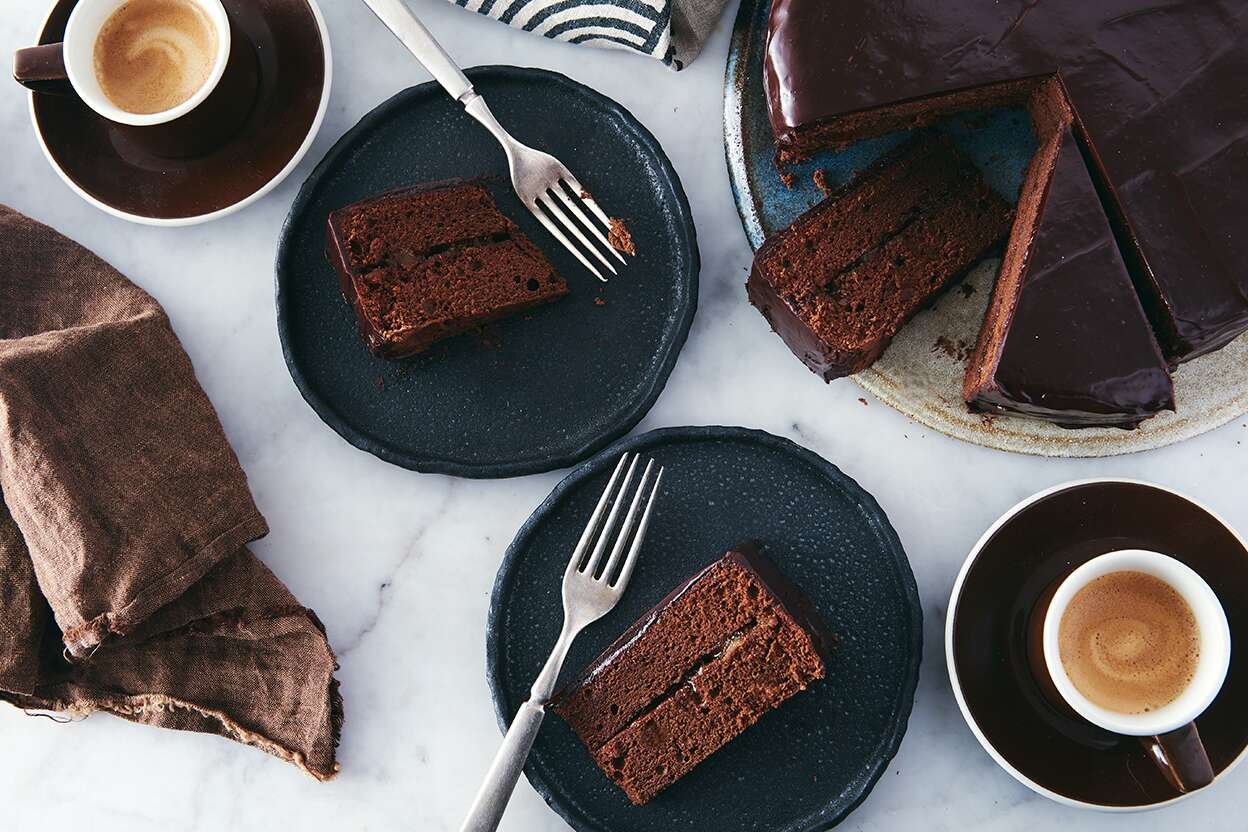 Photo: King Arthur Baking
The original Sachertorte is the most famous Austrian cake. It is a classic, layered chocolate sponge cake that is thinly coated with high-quality apricot jam and topped with chocolate icing. Sachertorte is said to taste the best when accompanied by a small cloud of unsweetened whipped cream on the side.
According to Franz Sacher's son Eduard, Sachertorte was invented by Franz, when he was an apprentice under Chancellor Metternich's chef, one maître Chambellier. The story goes that Franz was required to create a novel cake when the chef was ill. The Metternich connection was probably invented by Eduard many years later, to appeal to "Viennese nostalgic for their imperial past".
Sachertorte remains popular in Austria and worldwide.
Suffice to say, the cake was a huge hit, and Franz's son Eduard opened a hotel called Sacher in 1876, serving the popular cake up to this day. Today, almost every coffee house in Vienna has its own version of the cake, but no two cakes are quite alike.
In order to avoid confusion, it is recommended to look for the official Sacher chocolate seal on top of the cake, which can only be found on the Original Sacher, produced by Hotel Sacher in a quantity of approximately 360,000 cakes per year. Interestingly, from 1954 to 1963, Hotel Sacher went through a legal battle with their rival, Demel cafe, and the court proceedings focused on which one had the right to call its Sachertorte the original.
The issues that were discussed included whether the cake should have an additional layer of apricot jam in the middle, and whether to use margarine or butter. Following a long seven-year dispute, the parties have reached an agreement—and the original Sacher torte is now only found at the Hotel Sacher.
Nevertheless, Demel version, which does not have the additional layer of apricot jam in the middle, is almost equally popular.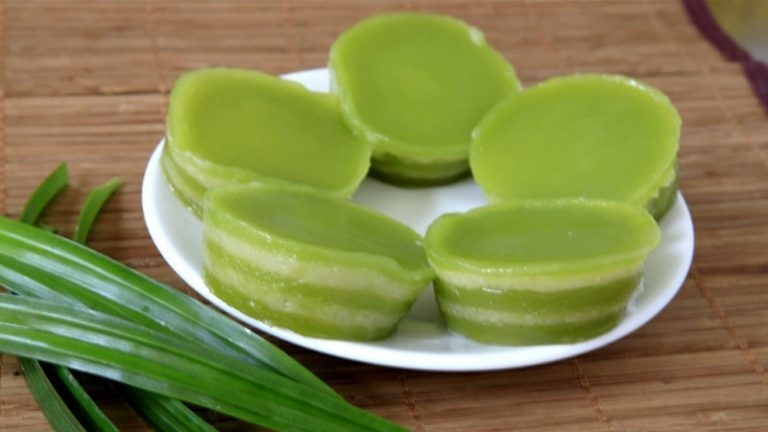 Photo: Nhandan
Pig skin cake (bánh da lợn in Vietnamese) is a Vietnamese steamed layer cake made from tapioca starch, rice flour, mashed mung beans, taro, or durian, coconut milk and/or water, and sugar. It is sweet and gelatinously soft in texture, with thin (approximately 1 cm) colored layers alternating with layers of mung bean, durian, or taro filling.
These petite cakes with soft colors look like a work of art and take a lot of time to make.
Banh Da Lon Sai Gon specially flavored new glutinous rice flour is made from newly harvested grain to make a sleek and shiny surface. Green beans stuffed with cake have a small seed and yellow color inside. The seeds are washed and thoroughly steamed and then pureed.
The cake's shape and color is very important, so cake makers have to be skillful. During cake making, cake makers take coconut milk, Pandan leaf (for green color). Coconut milk, tapioca starch, glutinous flour, sugar divided in half, one half can be mixed with green bean, half of the remaining mixed with pandan leaf, filtered through a sieve.
Cakes are steamed in a small heart-shaped mold, leaf or flower mold or in a bigger mold and are cut into small square pieces.
Before steaming, cover an oil layer inside mold and place the mold into steam pot. Pour a layer of pandan leaf mixture into the mold, then steam, next pour mung bean paste. Do the same until dough is harder orfull in the mold. When the last layer is finished, wait for cake turn cool, then remove from the mold.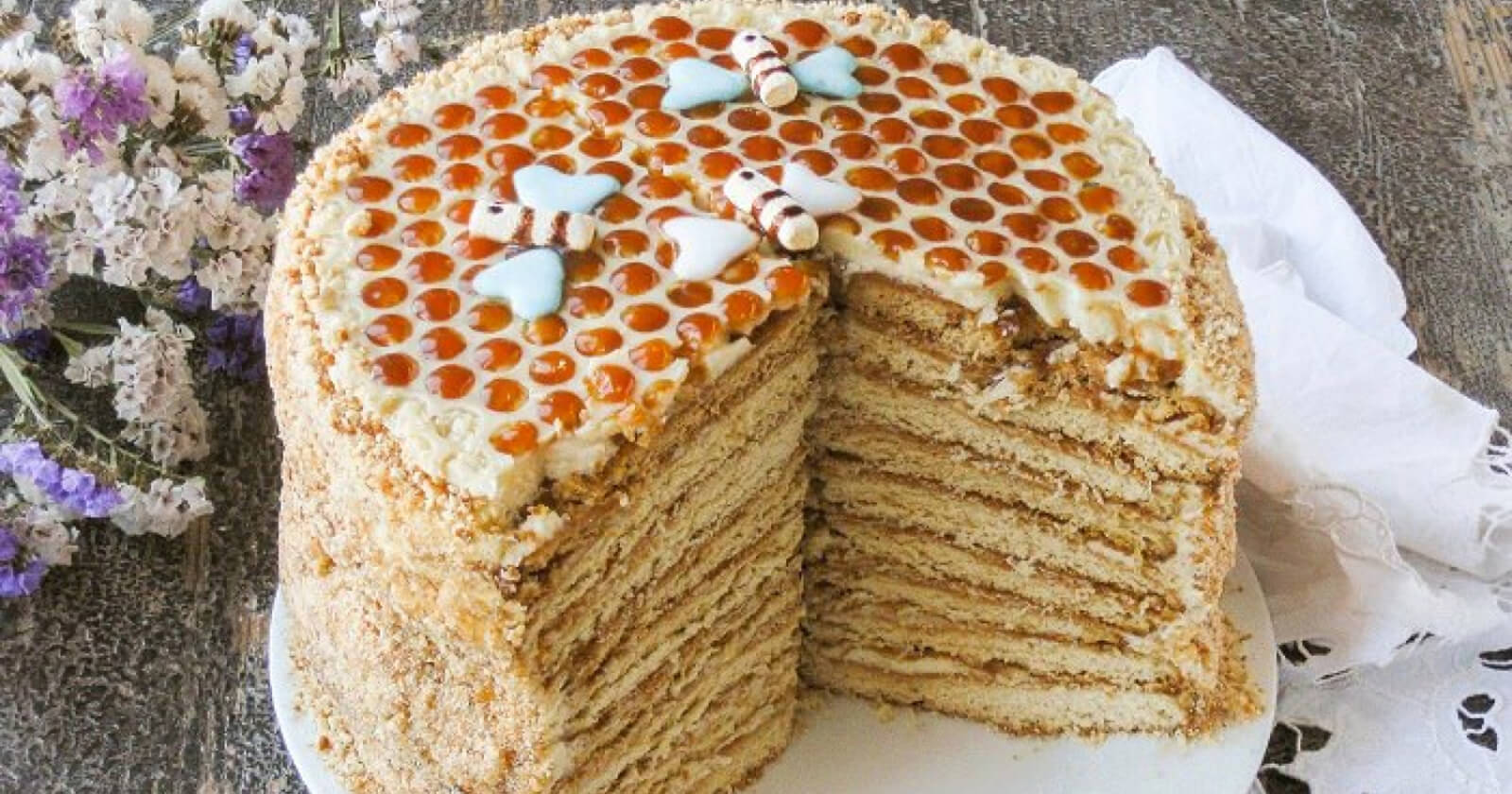 Photo: Nifty Recipe
Medovik is a popular Russian layered honey cake consisting of honey-infused, almost biscuit-like sponges that are coated with thin layers of cream. Although there are numerous variations of the cake, the custard is usually prepared with whipped cream or various combinations of condensed milk and butter.
It is believed that the cake first appeared in the 1820s and was initially created for the wife of Alexander I of Russia. The addition of condensed milk probably originates from the Soviet era, while modern variations may include berries or even chocolate.
Medovik is traditionally decorated with ground walnuts and is commonly served on various special occasions.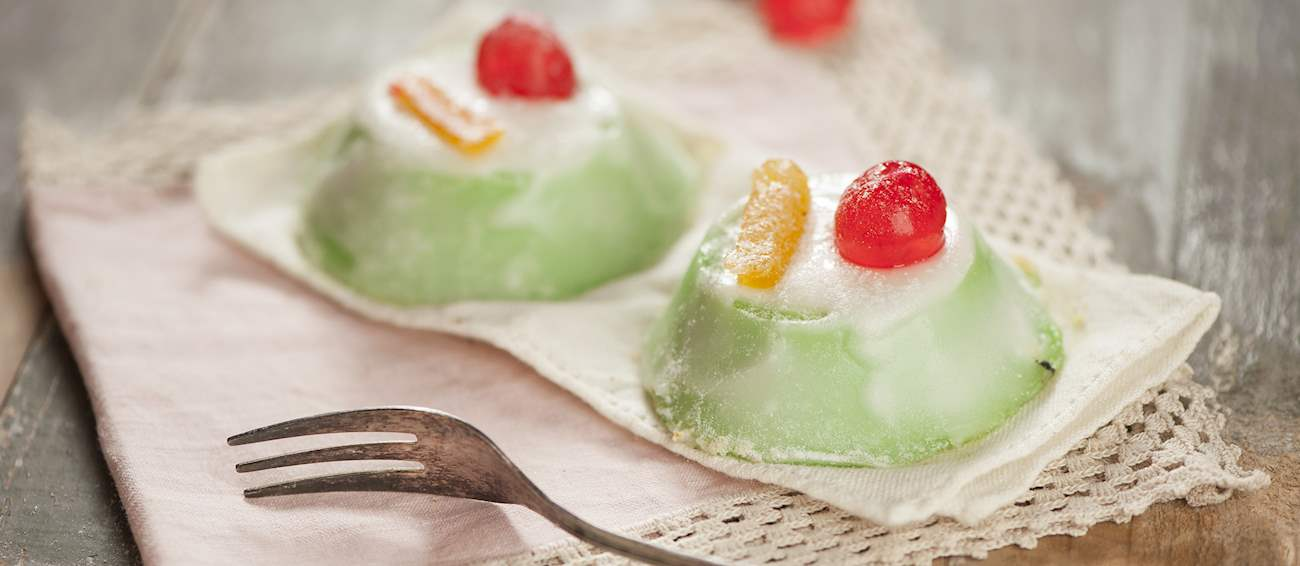 Photo: Shutterstock
Arguably Sicily's most famous dessert, this traditional cake consists of liqueur-drenched genoise sponge cake layered with sweetened ricotta and fruit preserves, decorated with a marzipan shell and colorful candied fruits. It is believed that cassata originated as a simple sugar, egg, and ricotta cheesecake while its name is thought to have been derived from the Arabic word qas'ah, which refers to the bowl used to make the cake.
This is traditionally a winter and spring specialty, and it is most often served around Easter. It's usually chilled for 3 hours before serving. By the 14th century, cassata had become a dessert of the aristocracy, and even today, few people outside of the culinary world are brave enough to prepare this elaborate delicacy at home.
Other varieties of cassata exist today—cassata Catanese is quite popular in the Catania region of Italy, while cassatella di Sant'Agata is traditionally consumed during the feast of Saint Agatha, characterized by its small size, green marzipan, and a single cherry on top.