Most Popular Thai Dish: Tom Yum Goong with An Untold Story
Tom yum goong (sometimes pronounced tom yum kung) is the flavour that defines Thailand, which impresses a lot of tourists from all over the world for its rich and delicious taste. Let's learn about the history and what makes this dish special.
If you have visited a Thai restaurant, then you probably have already tried a signature Thai soup which is generally known as Tom Yum Goong or Tom Yum soup.
Originated in Thailand, this is sometimes called Tom Yam and is a soup that normally includes shrimp in a hot and sour serving. The words Tom Yam mean "boiling" or "hot" and "spicy and sour" which perfectly describes this soup.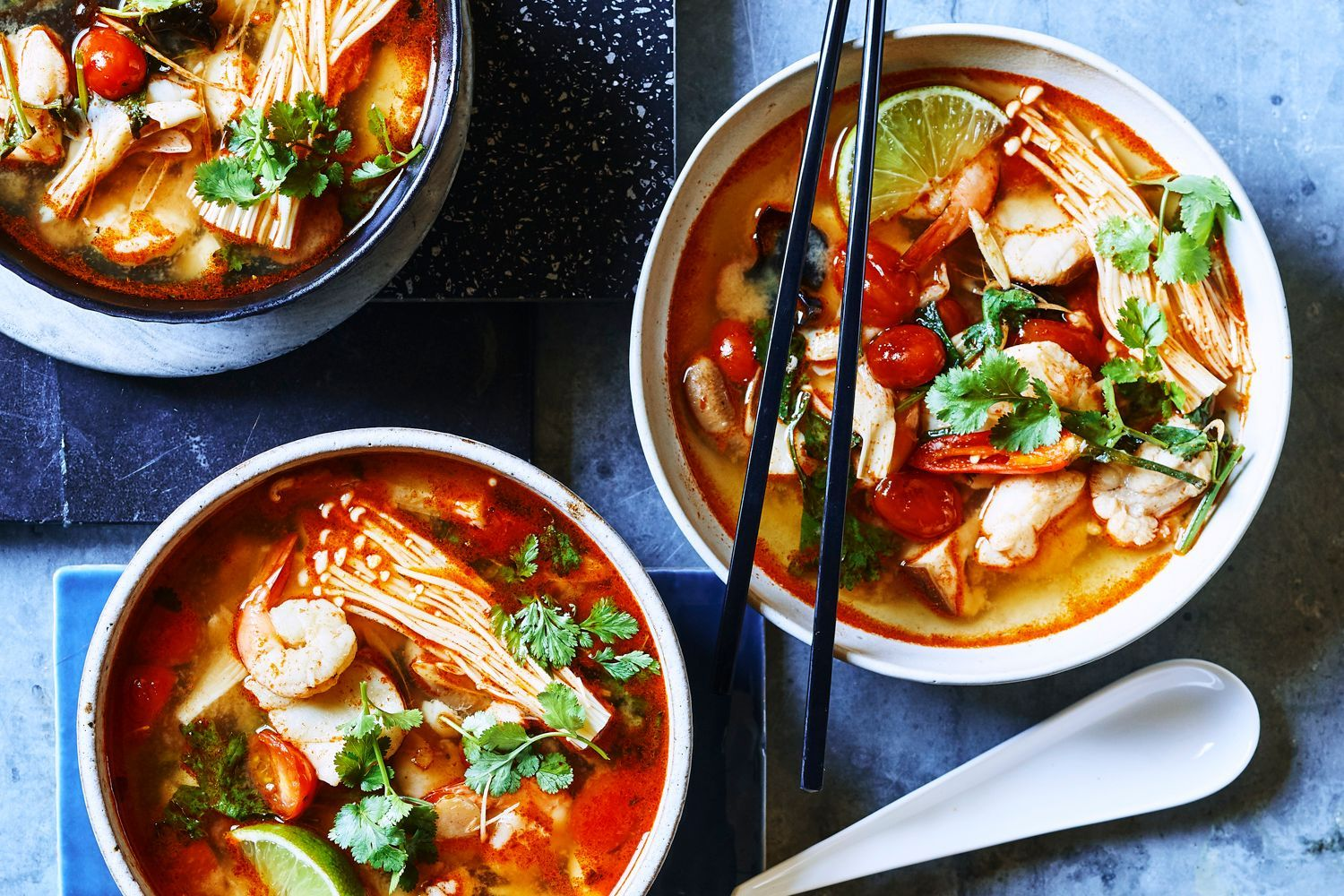 Photo: Delicious
There's just something about that tangy flavour and the rich colours which emanates Thailand. The words "tom yum" are derived from two Thai words: "tom" and "yam". "Tom" refers to boiling process, while "yam" refers to a kind of Lao and Thai spicy and sour salad. Thus, "tom yum" is a Lao and Thai hot and sour soup and is indeed the most famous Thai soup. Although we should add, despite us saying soup, this dish can also be served with rice or rice noodles, turning it into almost a Vietnamese pho.
Featuring all four of the famous Thai spices – salty, sour, sweet and spicy, the soup originates from Central Thailand and is a blend of fragrant lemongrass, chilli, galangal, lime leaves, shallots, lime juice and fish sauce shapes this classic soup, giving it its legendary herbal kick.
Photo: Aroma Asian
How It Is Made
The one ingredient that is open to debate is coconut milk, some opting to use it, others opting no to. The addition of coconut milk makes this a much richer and creamier soup, but tasting soup, we recommend adding it, but for a clearer soup, try without.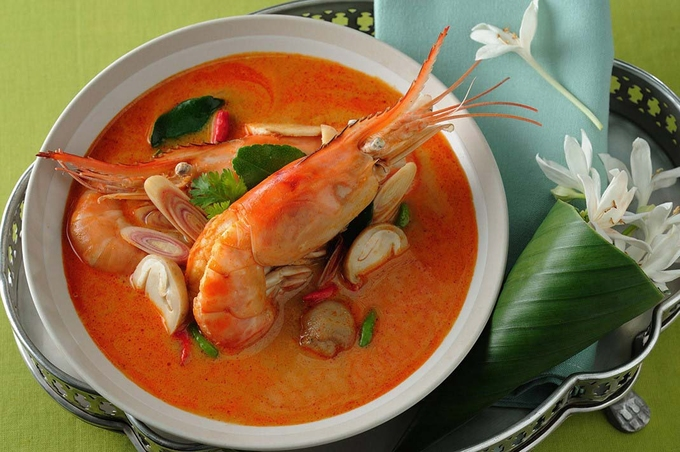 Photo: Adventographer
The perfect tom yum goong should be a rich orange colour. The vividness comes from the fatty juice in the head of the river prawns; this juice adds aroma, colour, taste and deliciousness of the soup.
The broth of the soup is made from a combination of fresh and stock ingredients which usually includes kaffir lime leaves, lime juice, fish sauce, galangal, crushed peppers, and lemongrass. The paste for Tom Yum is created by putting all the ingredients together, crushing it, and then stir-frying in oil. Different seasonings are added to taste accordingly. Normally served with shrimps as main ingredients, some will substitute with chicken, pork and even beef sometimes.
For restaurants, the chefs usually create the Tom Yum paste from scratch, instead of using the pre-made pastes that can be found in local groceries stores. Tom Yum Goong found in some of the Thai restaurants are made with other ingredients to create a unique flavour, while others stick to the basics or add more meat for additional flavouring.
Photo: Makan Abis
History
Although the exact history of Tom Yum Goong is not fully known, it is widely believed that it is a Thai soup originated from Central Thailand, where there is an abundance of fresh shrimp in the Chao Phraya River.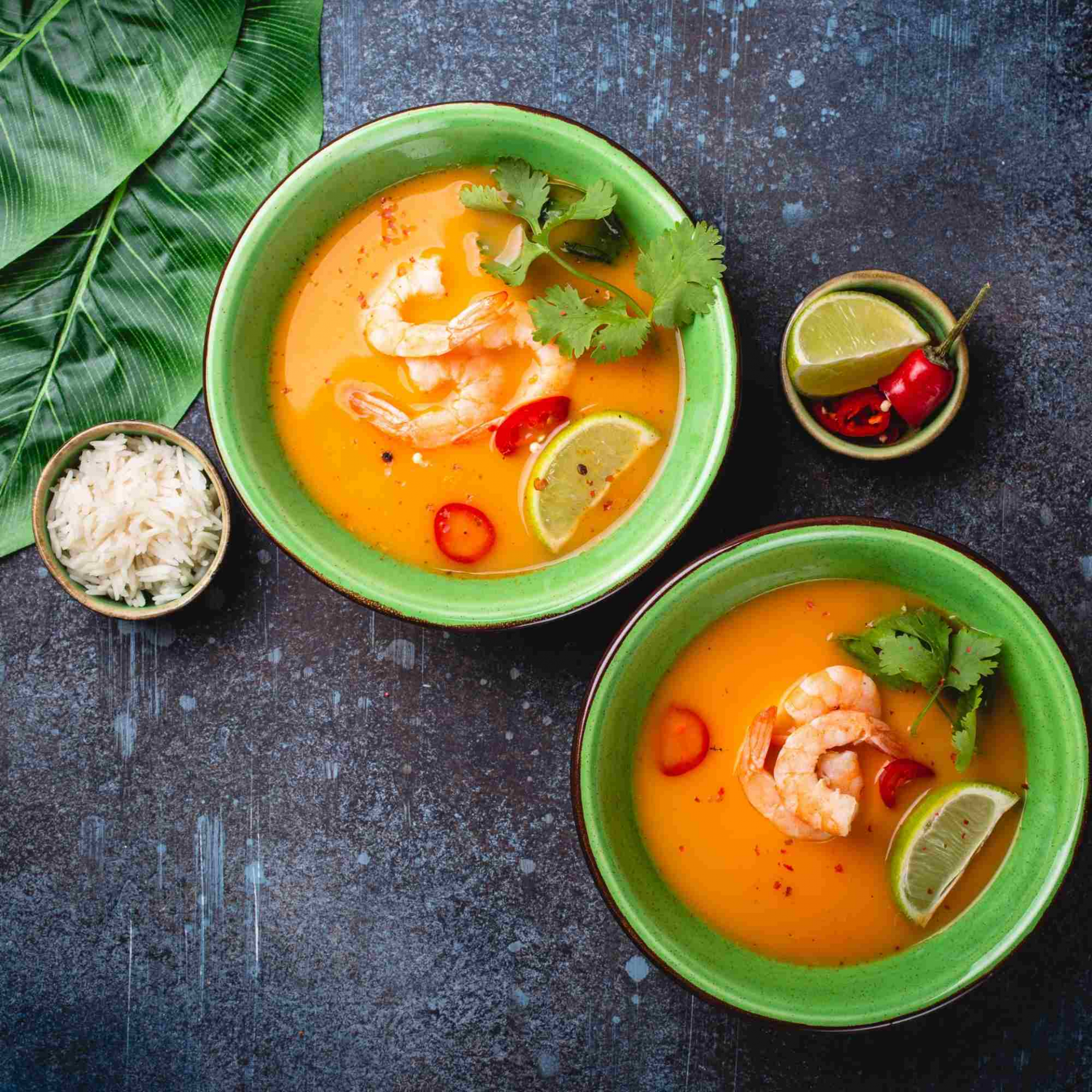 Photo: Pitaya Kuchnia
Over the years, the soup has become a favourite in Thailand and quickly spread around the world thanks to its relatively simple preparation and fantastic flavours. Many western cultures have been exposed to Tom Yum Goong and it has become a staple dish of Thai restaurants that serve customers from all over the world. New ingredients have been added here and there, most notably the choices of meat and the herbs used in creating the paste. While some modern versions of Tom Yum Goong use straw mushrooms or oyster mushrooms, some restaurants added Nam Phrik Phao, a Thai chilli pasta which gives the Tom Yum soup an orange colour and enhances the chilli flavour in the soup.
An interesting story about the popularity of Tom Yum Goong is that the 1997 financial crisis which struck many Asian countries became known as the Tom Yum Goong crisis since it all started in Thailand.
Even better, this delicious dish is an excellent remedy for a cold or flu bug, this spicy Thai soup is guaranteed to instantly clear your sinuses and warm you up. In fact, this Thai soup is currently under scientific study, as it appears to have immune-boosting power as a natural remedy for cold and flu viruses. And even better, it's also highly nutritious.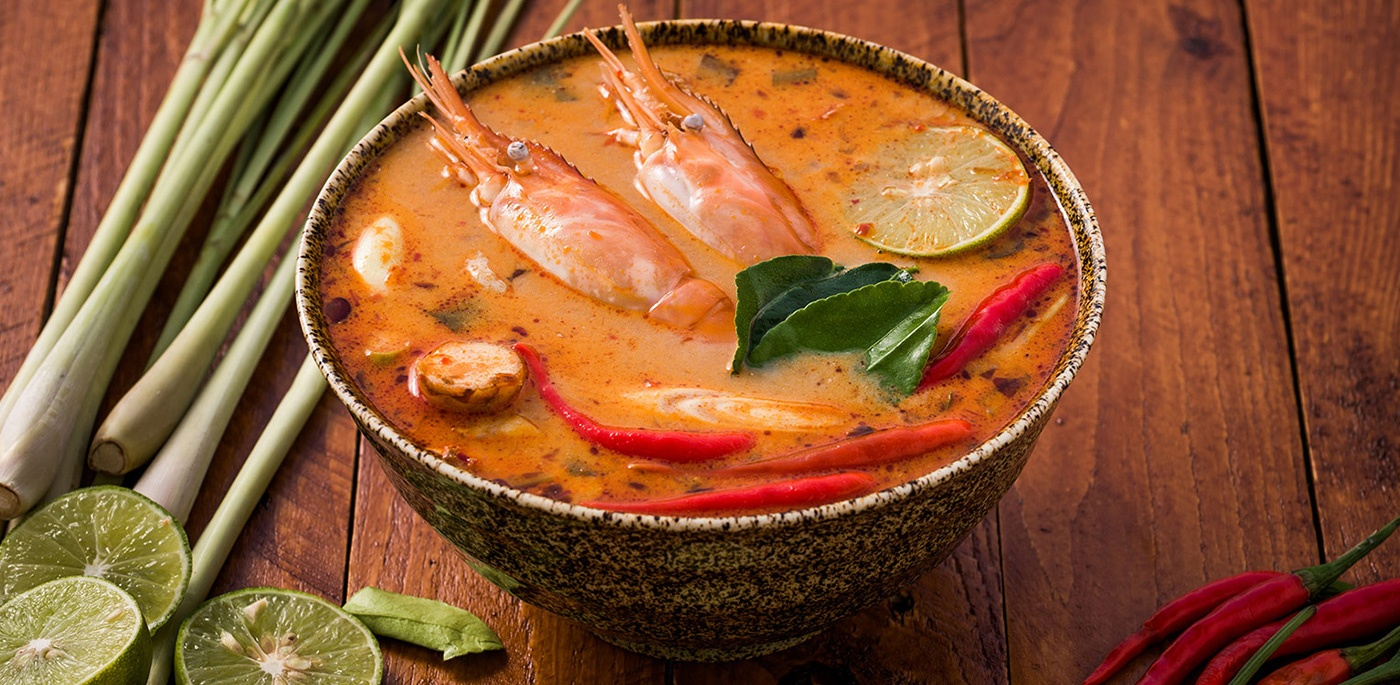 Photo: Trident Foods
Vietnamese Style Tom Yum Hot Pot (Lau Thai)
Vietnamese style tom yum hotpot is made very similar to Thai tom yum soup.
Hot pot is a simmering pot of broth, set in the middle of the dining table on a portable gas stove. Guests have their choice of assorted uncooked side dishes like fish balls, tofu, thinly sliced beef, mushrooms and noodles. They cook the ingredients into the simmering pot and eat them with a simple Hoisin dipping sauce. As guests continue eating, the broth cooks down and intensifies in flavor. Towards the end of the meal, the savory broth is ladled onto egg or rice noodles. Guests would enjoy their noodle soup to fill up and lap up the remaining broth.
There are multiple kinds of hot pot: there is lau mam (fermented fish hotpot), lau nam (mushrom hotpot), lau cua (crab hotpot), lau hai san (seafood hotpot), and lau Thai (Thai style hotpot). Lau Thai has its own salty, sweet, spicy, and sour flavour; a little bit of everything. If you are a fan of Thai Tom Yum soup, you will love this hotpot! It is eaten with rice vermicelli noodle and a varieties of meats, seafood, and vegetables.
No hotpot can be without meats and vegetables; there should always be an abundant amount for both. Thai hotpot is the most versatile because almost any meats and vegetables will be great with the broth. Most common ingredients are mushrooms, water spinach, banana blossom, beef, shrimp, squit, clams, mussels, tomatoes, tofu, and the list goes on.
Lau Thai includes Tom Yum soup paste, a sweet and sour ready-made mixture of fish sauce, sugar, galangal, chili, lime leaves and lemon grass. Simply add a couple of tablespoons into pork, chicken or shrimp stock and you're ready to go. To liven up the soup, you can also add a couple of fresh lemon grass stalks, lime leaves, and sliced galangal. Prepare your side dishes. And you are done.
You can't go wrong with Thai-Style Hot Pot. It's a great way to entertain a large group of people. It's quick to prepare. Guests pick exactly what they want to eat and cook their own food. Yet you get all the credit for the beautiful display of gluttony. It's a great dish for any kind of celebrations, particularly Tet, when you are just so over the traditional Tet food.
Tips for having the best Vietnamese style tom yum hotpot:
Cook the seafood just before eating. Prawns and fish can overcook easily, so bring the pot to a boil just before serving and put the seafood in until just cooked.
Add the tomatoes in last. They will turn mushy if kept in the broth for too long.
Use a shrimp, meat or vegetable stock. This will add another flavor layer to your base broth.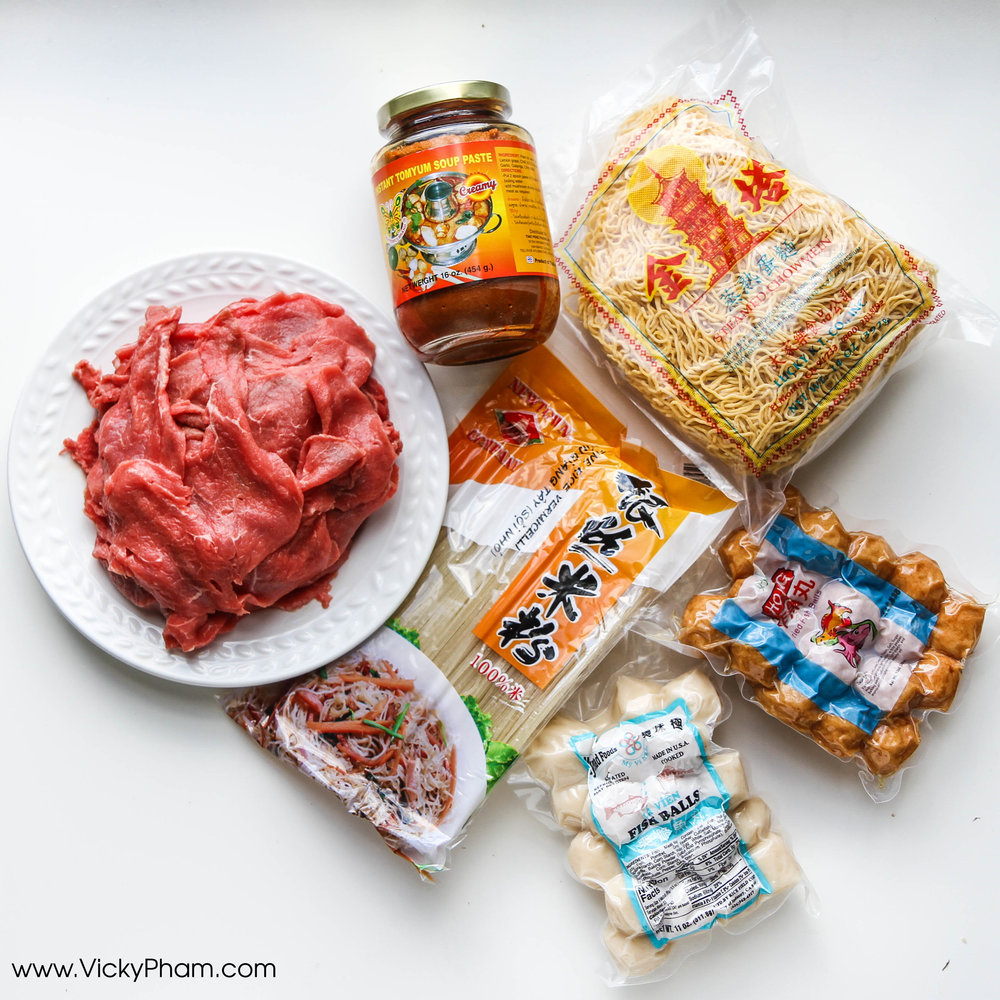 Thinly sliced beef, Tom Yum soup paste, egg noodles, rice noodles, and fish balls. Photo: Vicky Pham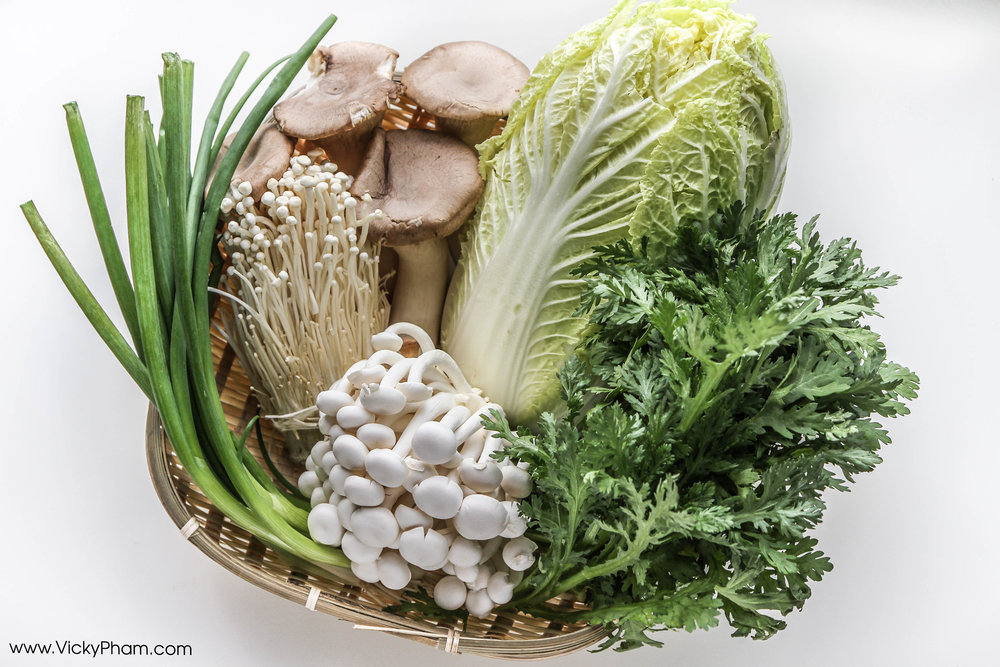 Green onions, King Trumpet mushroom, Napa cabbage, Shingiku, White Beech mushrooom, and Enoki mushrooms, Photo: Vicky Pham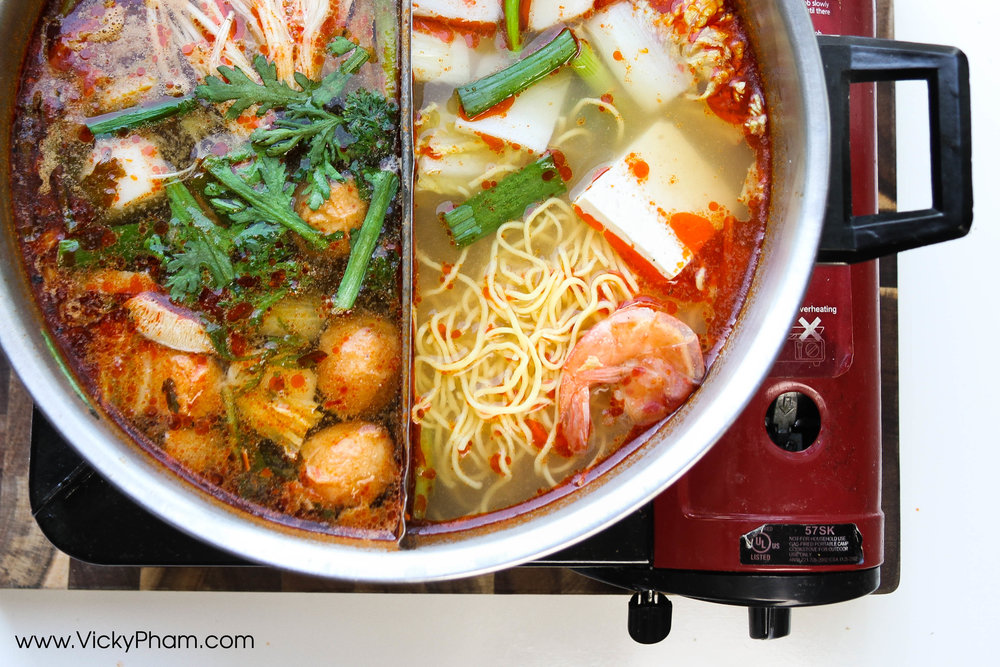 Vietnamese Style Tom Yum Hot Pot (Lau Thai). Photo: Vicky Pham