US Dollar (USD) Exchange Rates
The US Dollar is the currency of United States. Our currency rankings show that the most popular United States Dollar exchange rate is the USD to EUR rate. The currency code for Dollars is USD, and the currency symbol is $
News on April 7 said that with the Federal Reserve printing a ton of money, investors seem reluctant to go all-in on the greenback; however, as "fighting the Fed" has been a tough strategy in the past. This point of view is confirmed by ING's observations that Dollar positioning still remains very neutral,
"We highlighted how speculators' stance on the dollar (according to CFTC data) had not moved in line with the recent dynamics in the spot market. This week, data up until 31 March shows that USD aggregate positions vs. G7 currencies (i.e., G10 excluding the Norwegian krone and Swedish krona) are still in neutral territory, and at the bottom of the 5Y 1 s.d. band
Below, you'll find US Dollar rates and a currency converter: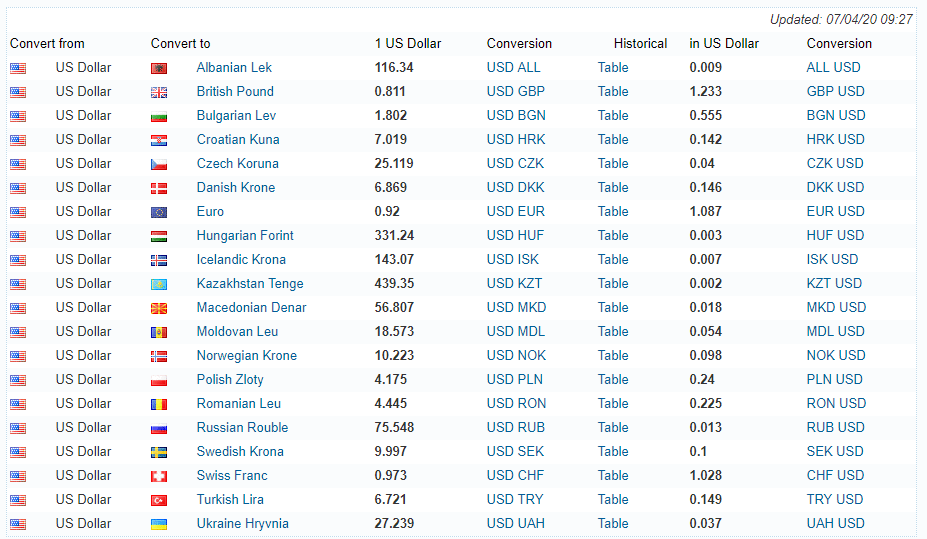 US Dollar exchange rate on April 7 on Exchangerates.org (Photo: exchangerates)
This Euro to Dollar conversion tool allows you to compare the live inter-bank currency rate with competitive travel money exchange rates available within the foreign exchange markets.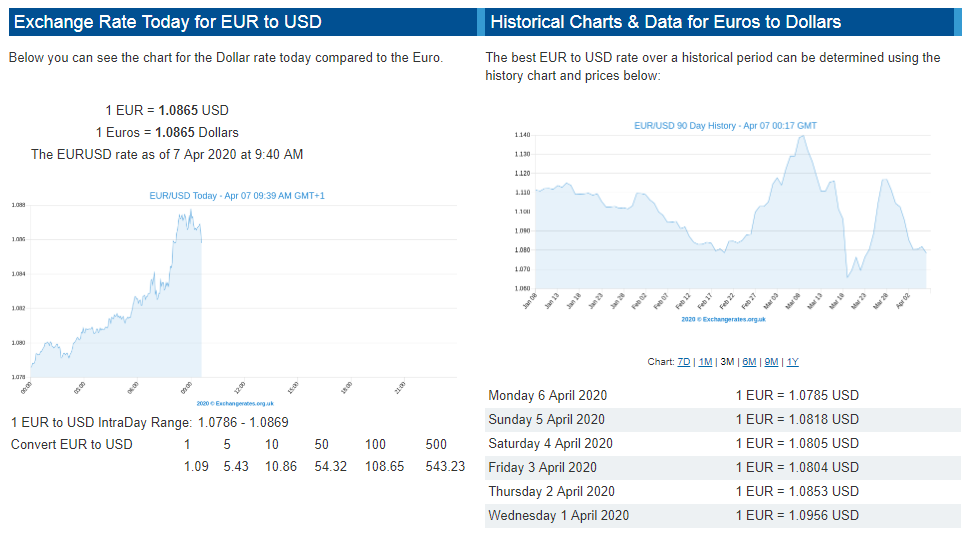 US Dollar exchange rate to Eur on April 7 on Exchangerates.org (Photo: exchangerates)
TOP 10 CURRENCIES AND US DOLLAR EXCHANGE RATES TABLE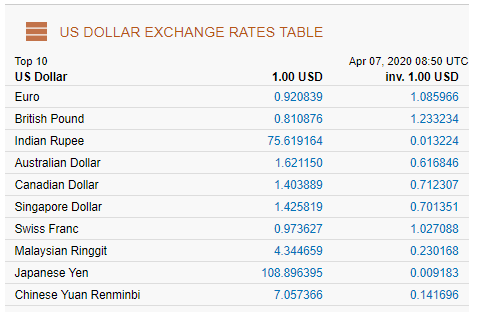 (Photo: x-rates)
Dollarization of the USD
Due to its international acceptance, some countries like Panama and Ecuador use the USD as an official legal tender, a practice known as dollarization. For other countries the Dollar is an accepted alternative form of payment, though not an official currency for the country. Multiple currencies are pegged to the US Dollar:
| | |
| --- | --- |
| Country | Peg Rate |
| Aruban or Dutch Guilder | 1.79000 |
| Bahamian Dollar | 1.00000 |
| Bahraini Dinar | 0.37690 |
| Barbadian Dollar | 2.00000 |
| Belizean Dollar | 2.00000 |
| Bermudian Dollar | 1.00000 |
| Cayman Island Dollar | 0.82000 |
| Cuban Convertible Peso | 1.00000 |
| Djiboutian Franc | 177.721 |
| Dutch Guilder | 1.79000 |
| East Caribbean Dollar | 2.70000 |
| Eritrean Nakfa | 15.0000 |
| Hong Kong Dollar | 7.80000 |
| Jordanian Dinar | 0.70900 |
| Lebanese Pound | 1507.50 |
| Omani Rial | 0.38450 |
| Panamanian Balboa | 1.00000 |
| Qatari Riyal | 3.64000 |
| Saudi Arabian Riyal | 3.75000 |
| United Arab Emirati Dirham | 3.67250 |
| Venezuelan Bolivar | 6.30000 |
Dollar Exchange Rates into Vietnamdong (VND) by Vietnam Commercial Bank (Vietcombank)
Tarah Nguyen
VNT