Don Shula: Biography, life and career
Don Shula, who won more games than any head coach in National Football League history, led the Miami Dolphins to the league's only perfect season and helped usher pro football into its modern era, died on Monday in Florida. He was 90.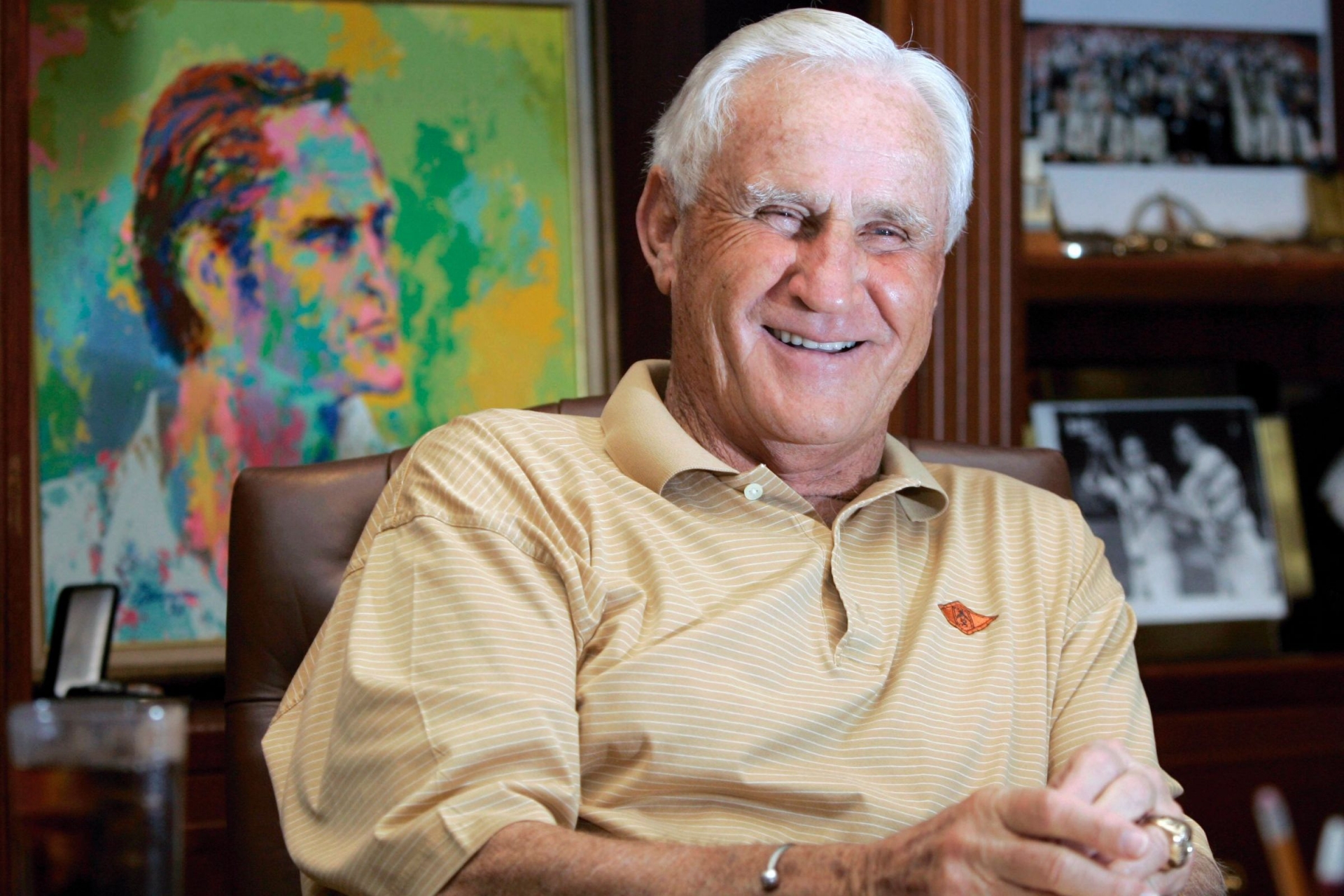 Donald Francis Shula passed away May 4 at the age of 90 (Photo: Military.com)
Don Shula's death leaves unfillable void in the footbal world
Shula is most famous for leading the 1972 Miami Dolphins to the only undefeated NFL season in history. The team said in a statement on Monday that Shula had "died peacefully" at home.
"Don Shula was the patriarch of the Miami Dolphins for 50 years," the Dolphins' statement read. "He brought the winning edge to our franchise and put the Dolphins and the city of Miami in the national sports scene. Our deepest thoughts and prayers go out to Mary Anne along with his children Dave, Donna, Sharon, Anne and Mike."
Bill Cowher, who led the Pittsburgh Steelers to victory at Super Bowl XL in 2006, said Shula had been an inspiring figure. "We lost one of the most iconic men in the history of NFL coaching in Don Shula," wrote Cowher on Twitter. "His leadership and wisdom helped to guide me and many others who have made a life in coaching football."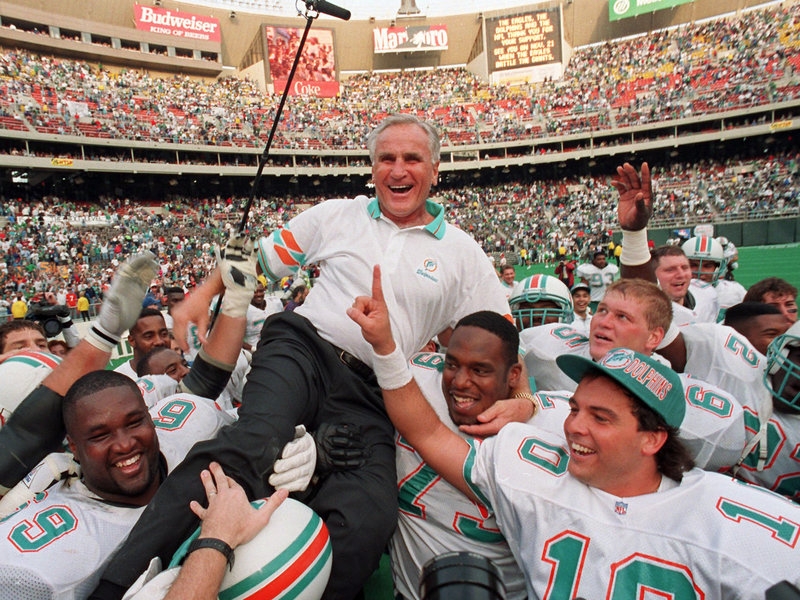 Miami Dolphins coach Don Shula is carried on his team's shoulders in 1993 after his 325th victory, against the Philadelphia Eagles in Philadelphia (Photo: AP)
Don Shula biography
Donald Francis Shula was born on Jan. 4, 1930, in Grand River, Ohio, about 40 miles east of Cleveland. He was a running back at John Carroll and earned a bachelor's degree in sociology there with a minor in mathematics in 1951. He received a master's in physical education at Western Reserve (now Case Western Reserve) in 1954, New York Times reported.
He is survived by his five children and second wife, Mary Anne. His first wife, Dorothy, died of breast cancer in 1991 and Shula became active in cancer charities after her death. His two sons, Dave and Mike, also became coaches in the NFL.
Don Shula - life and career
Shula started his career as a head coach at the Baltimore Colts before taking over at the Dolphins in 1970. He would remain as head coach in Miami until 1995, winning two Super Bowls. His 347 wins as a head coach is an NFL record, The The Guardian reported.
In his 33 seasons as a head coach, first with the Baltimore Colts and then later with the Dolphins, Shula took his teams to six Super Bowls. With the Dolphins, Shula recorded the NFL's only perfect season ever, according to NPR.
Shula recorded only two losing seasons during his 33 seasons as a head coach and was inducted into the Pro Football Hall of Fame in 1997. Shula remained in Florida after his retirement and such was his popularity that Miami named a highway, the Don Shula Expressway, after him.
"If there were a Mt. Rushmore for the NFL, Don Shula certainly would be chiseled into the granite", the team said in a statement. Dolphins Chairman of the Board Stephen Ross added.
Hall of Fame Quarterback Dan Marino played under Don Shula for 13 years. In an interview with the Miami Herald, Marino said Shula was simply a great coach and a great man. Marino said it started with "what he expected of himself, how competitive he was and it just went throughout the whole team. He made everybody kind of come to his level", NPR quoted.
Shula led Miami for 26 years and became an institution. Today, there's an expressway in Miami named for him and his statue stands outside the stadium where the Dolphins play.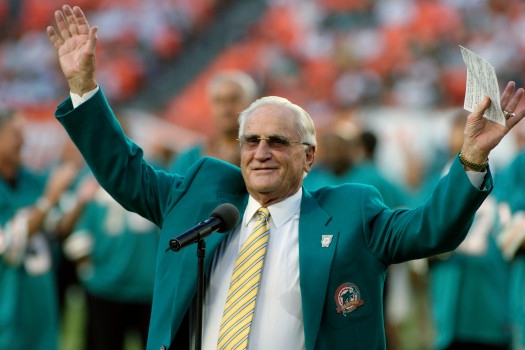 (Photo: East Bay Time)
When he announced his retirement after the 1995 season, it was broadcast live throughout South Florida. At the news conference, Shula said, "I'd be lying to you if I didn't say that it's going to be gut-wrenching when that ball is kicked off in September. Because this is going to be the first time in 43 years, that I haven't been on the sideline in the National Football League."
After football, Shula played golf, owned a hotel and golf club, ran a chain of steakhouses bearing his name and made speaking and charity appearances.
Shula was not happy to stop coaching. "The toughest part will be in September," he said after retiring, "when that ball is kicked off, and for the first time in 43 years I won't be on the sidelines. That is what I will miss most."
Before he was a football coach, Don Shula was a player — a defensive back mostly with the Cleveland Browns and the Baltimore Colts. When he was hired as Baltimore's head coach in 1963, Shula was just 33, at that time the NFL's youngest head coach ever. He led the Colts to seven winning seasons and the Super Bowl.
Don Shula Coaching record
1963, Colts: 8-6
1964, Colts: 12-2
1965, Colts: 10-3-1
1966, Colts: 9-5
1967,Colts: 11-1-2
1968, Colts: 13-1
1969, Colts: 8-5-1
1970, Dolphins: 10-4
1971, Dolphins: 10-3-1
1972, Dolphns: 14-0
1973, Dolphins: 12-2
1974, Dolphins: 11-3
1975, Dolphins: 10-4
1976, Dolphins: 6-8
1977, Dolphins: 10-4
1978, Dolphins: 11-5
1979, Dolphins: 10-6
1980, Dolphins: 8-8
1981, Dolphins: 11-4-1
1982, Dolphins: 7-2
1983, Dolphins: 12-4
1984, Dolphins: 14-2
1985, Dolphins: 12-4
1986, Dolphins: 8-8
1987, Dolphins: 8-7
1988, Dolphins: 6-10
1989, Dolphins: 8-8
1990, Dolphins: 12-4
1991, Dolphins: 8-8
1992, Dolphins: 11-5
1993, Dolphins: 9-7
1994, Dolphins: 10-
1995, Dolphins: 9-7
33 years: 328-156-6
Playoff record: 19-17
Won NFL championship with Colts in 1968, and Super Bowl with Dolphins in 1972 and 1973. Coached in three other Super Bowls in 1969, 1971, 1982, and 1984.
Don Shula playing career: All-Ohio QB at Harvey High School in Painesville, and a defensive back at John Carroll. ... Was defensive back in 73 games with Browns, Colts and Redskins. ... Had 21 career interceptions and four fumble recoveries in the NFL.
Source: News-Herald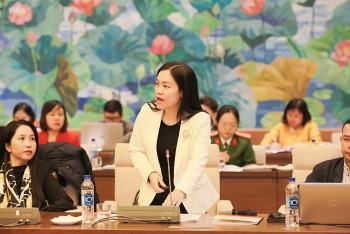 Friendship
Doan Thu Huyen, Vietnam Country Director for Campaign for Tobacco-Free Kids, made the statement at the "Child Downing Prevention" seminar.