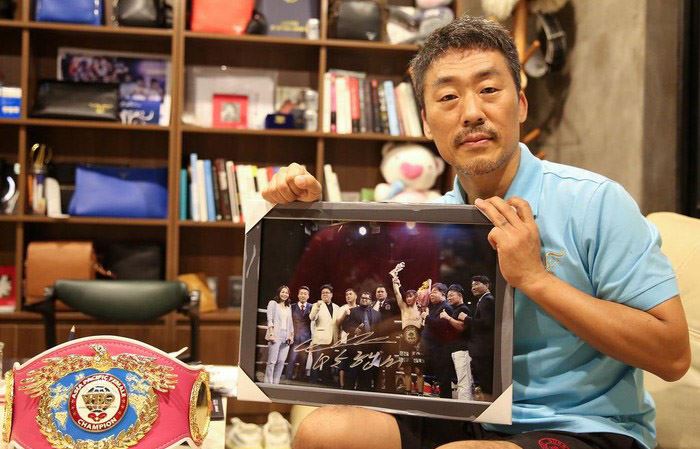 Boxing coach Kim Sang-bum poses with a photo in his office at Cocky Buffalo gym in Ho Chi Minh city, Vietnam, in March 20. Courtesy of Kim Sang-bum
Forty-nine year-old businessman Kim Sang-bum never thought he would become the manager of a boxer who is only one step away from becoming a world champion. However, in June, Vietnamese boxer and Asia Pacific champion Nguyen Thi Thu Nhi will have a world title shot in her homeland. Boxing is not a popular sport in Vietnam but Kim believes Nhi will create a boxing craze in the country if she wins.
It has only been five years since Kim met Nhi during her professional debut.
"Korean boxing champion Yuh Myung-woo hosted a pro match here in 2015 and I met Nhi then while helping Yuh. I instantly knew she was gifted," said Kim during an interview with The Korea Times. "I wanted to sign a contract with her to train under me but she belonged to an amateur team already so I had to wait three years until she was free."
"She had bad eye sight and Yuh promised he would pay for her surgery if she came to Korea. I brought her to Korea and Yuh kept his promise. This is where we started our journey," Kim said.
At first Kim struggled to communicate with Nhi and teach her a better boxing style.
Kim was never a professional boxer himself but he turned out to be a talented coach as he led Nhi to fight for the World Boxing Organization's Asia Pacific Minimum Weight crown after only three wins in her professional career. Nhi defeated her counterpart Kanyarat Yoohanngoh of Thailand over 10 rounds in the fight held in Cambodia.
Vietnam's national football team coach Park Hang-soo invited Kim and his boxers to Hanoi to encourage them.
"I met him twice. The very first time, he gave me advice on training athletes. The second time, he called my boxers to give them encouragement," Kim said.
Boxing is slowly beginning to become popular in Vietnam.
Twenty years ago, Kim came to Vietnam for personal reasons. He started many different businesses, including a trading company, a restaurant and a casino, but they all failed.
But he loved boxing and he had passion for the sport. He also had connections in the field in both Vietnam and Korea. Now he owns the biggest boxing gym in Ho Chi Minh, the Cocky Buffalo.
Twenty boxers train under Kim and four of them are aiming for Asian champion titles in different weight divisions.
"I spent my 20s and 30s in Vietnam and I feel like the country is my second home. I want to give something in return. I want to make heroes and a history here. I think this is the best gift I can give to Vietnam," Kim said.
Nhi, from the HCM City-based Cocky Buffalo Gym, is a rising star in Vietnamese boxing.
In 2018, she defeated three-time world champion Filipino Gretchen Abaniel at the Victory 8 championship.
The 24-year-old woman from the southern province of An Giang will be the first Vietnamese to enter the WBO World Championship, which will be held in the Republic of Korea in April 2020./.
Kim Jae-heun/Korea Times