UEFA, Blue Dragon join hands helping street children in Vietnam
A partnership between the UEFA Foundation for Children and the Blue Dragon Children's Foundation - the well-known charity dedicated to rescuing kids in crisis, is helping to give street children greater opportunities to break the cycle of violence, abuse and poverty by using sports activities as a catalyst for positive change.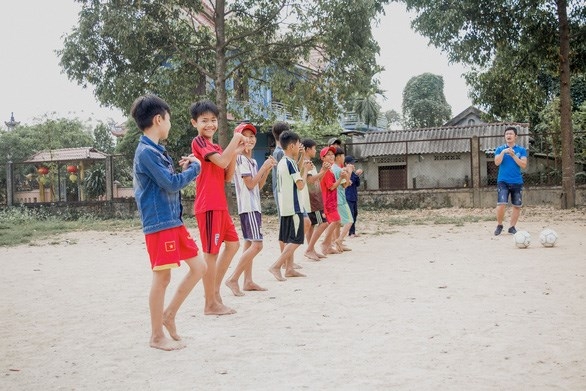 Children in Hue warm-up for football training. Photo: Blue Dragon Children's Foundation
Children from disadvantaged backgrounds in Vietnam are extremely vulnerable to abuse and trafficking. The streets of Hanoi are home to many children from around the country who have made their way to the capital in search of work or to run away from domestic problems, such as violence, drug abuse, extreme poverty and neglect.
On the streets, children are at a high risk of abuse, by being coerced into forced labour of sex trafficking. However, a local organisation is trying to help the most vulnerable sections of society in Vietnam by offering them the chance to turn their lives around and by providing practical solutions to the daily problems that are keeping poverty alive.
Education through sport
Since the start of this year, the UEFA Foundation for Children, which celebrates its fifth anniversary on April 24, has been embarking on a project with the Blue Dragon Children's Foundation, which has been based in Vietnam since 2003, to improve the lives of street children by using sport as a catalyst for change.
By encouraging the children to play football, the aim is not only to foster a healthier lifestyle with access to education, but also to break the cycle which sees them leave home at a young age and enter the job market. The workshops will teach the children important life skills such as how to communicate and teamwork, while they will also be made aware of the dangers of child labour and human trafficking.
This project will provide access to sports and recreational activities for 1,585 highly disadvantaged children in three provinces in Vietnam. They will all have the chance to improve their physical fitness, while also developing life and work skills which will improve their employability, thus providing themselves with a pathway from which to escape a cycle of poverty.
The aim is also to increase awareness amongst the adult population of the dangers that children face. As part of the programme, over 250 community members will be given a great knowledge of children's rights and how to become more aware of any warning signs.
"Every child should have the opportunity to enjoy his or her childhood, without the threat of being trafficked for the illegal and repulsive gains of others. I would like to praise the sterling work being undertaken by the UEFA Foundation for Children and the Blue Dragon Children's Foundation in order to try and tackle the route causes of child poverty and save street children from a life of misery," said legendary football star and current UEFA football advisor, Luís Figo.
Football is a powerful tool
UEFA President Aleksander Čeferin chairs the foundation's board of trustees and hails the work undertaken since 2015, and how football is proving to be a major force for social good.
"Having had the opportunity to be personally involved in various projects, I have seen that football is an extremely powerful tool," said the UEFA President.
"Whether it is in refugee camps across the world, the troubled suburbs of European cities or forgotten conflict zones, all the activities supported by the UEFA Foundation for Children have strengthened my desire to see European football assume its role in the social development of young people all over the world."
In the five years since the UEFA Foundation for Children was set up, around one million children have benefitted from its broad palette of activities worldwide, while it has provided support for projects in 100 countries on all five continents.
Through sport, and football in particular, the foundation is helping to give hope to children from difficult backgrounds to help them achieve their goals in life./.