Dong Lam steppe, a new destination for camping in the North of Vietnam
Dong Lam in Huu Lien commune is new destination for visitors, where they can enjoy beautiful with landscapes, mountains, steppe, caves and having outdoor activities with friends or family in the ecotourism area.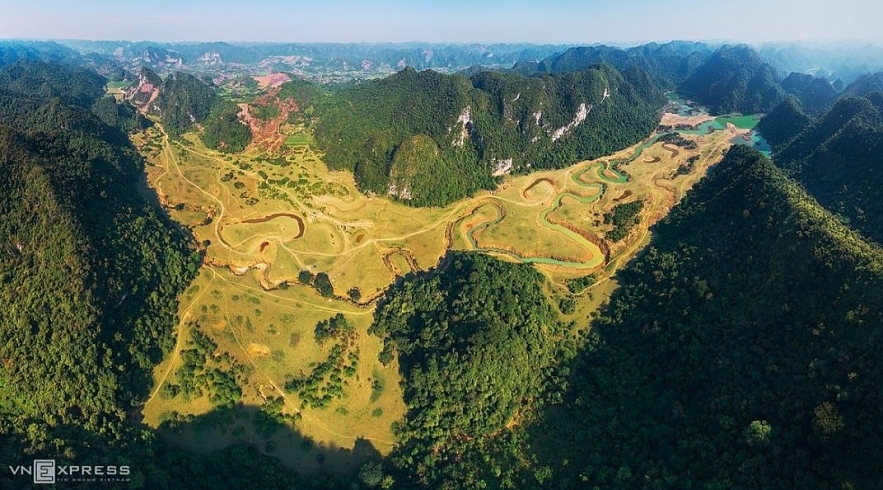 The Panoramic view of Dong Lam steppe. Photo: Vnexpress
Huu Lien commune is located about 25 km north of the center of Huu Lung district, Lang Son province which is about 150 km far from Hanoi.
The commune has a total area of ​​more than 6,000 hectares with population of more than 3,000 people, including ethnic groups of Kinh, Tay, Nung, Dao and Mong.
Visitors to Huu Lien will have opportunity to enjoy the magnificent limestone mountains, the vast meadows, moss-covered waterfalls and emerald green lakes.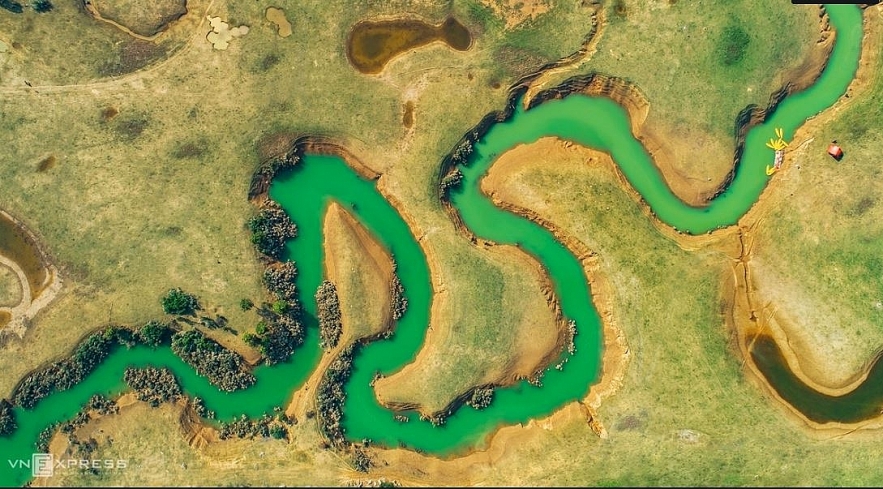 The Dong Lam from above. Photo: Vnexpress
The Dong Lam steppe is an ecological area of ​​100 hectares with charming and beautiful scenery, located in the north of the commune. In Dong Lam, you can explore caves on the mountain, walking on the vast green grass field with a winding turquoise stream flowing through.
Clear emerald green lake is covered by limestones mountain. Photo: Vnexpress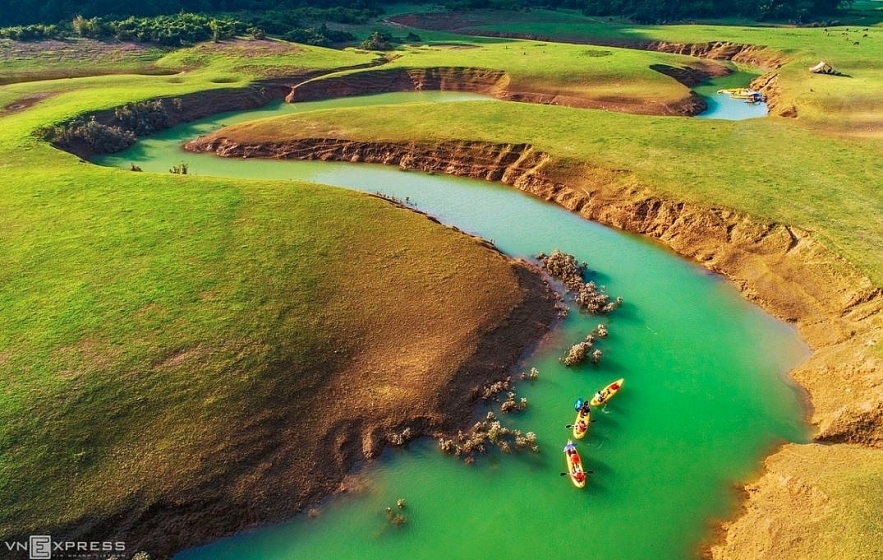 Visitor can Kayak on the river. Photo: Vnexpress
The water runs from the limestone blocks flowing to the end of the meadow where is the clear blue Dong Lam lake. In flooding season, ​​the lake is crowded with people moving by rafting for fishing.
Herd of horses graze on the steppe in the dry season. This is mostly a purebred wild horse, which is trained by local people to take pictures or rent a horse-drawn carriage to get more income and develop local tourism. The green field is also place where people raise livestock such as cows and buffalo.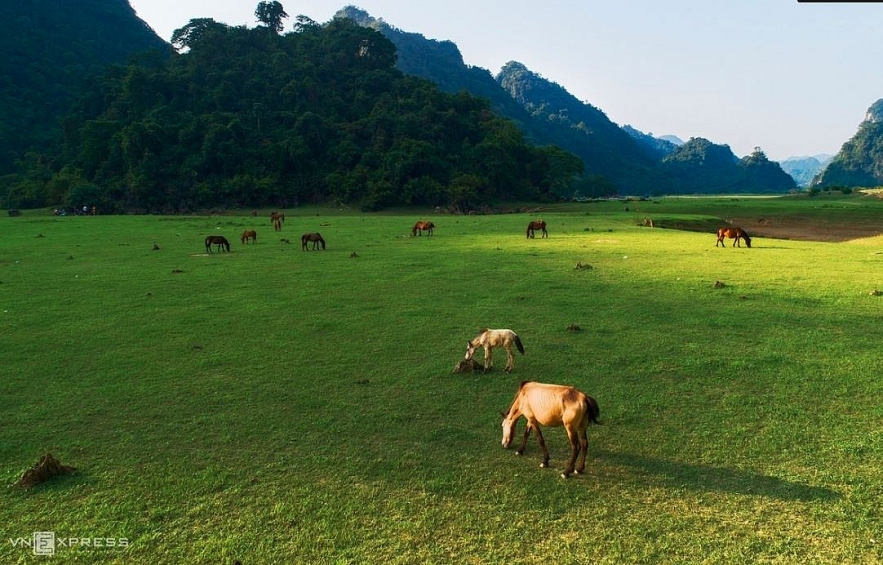 Horses are grazing on grassland. Photo: Vnexpress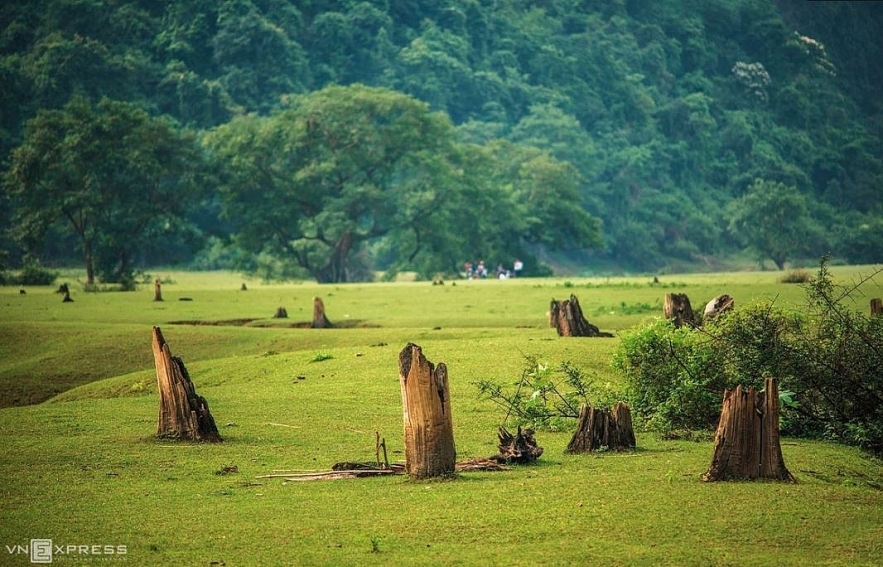 Photo: Vnexpress
The stream flowing on the Dong Lam grassland is drying up. In the dry season, the steppe is suitable for outdoor tourism activities, culture and sports, and climbing to explore caves. However, in the rainy season, from July to October, water will flood the grasslands with a depth of 2-3 m. This is the reason why people do not cultivate agriculture on this steppe because water will wash away all crops.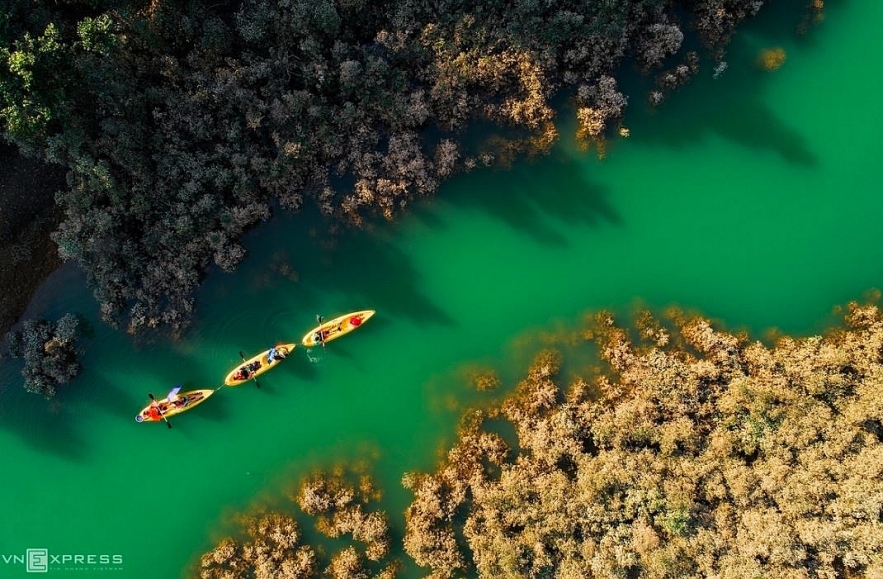 Photo: Vnexpress
Photo: Vnexpress