Dong Son-era bronze drum found in Lao Cai
A relatively intact bronze drum, believed to belong to the Dong Son civilization, was recently discovered in Bao Thang district, the northern mountainous province of Lao Cai.
The bronze drum found in Lao Cai on March 28. Source: dantri.com.vn
The drum, 0.63 metres in diameter and 38 cm in height, was found at a household in Ta Thang hamlet, Gia Phu commune on March 28, according to the provincial museum.
A number of antiques such as bones and bronze axes were also excavated at the site.
Experts said it is a Dong Son bronze drum – an icon of the Dong Son culture (700 B.C. – 100 AD) of the ancient Vietnamese people.
It contributes to confirming the long-term development of ancient Vietnamese communities in the northern border area.
The Dong Son civilisation got its name from Dong Son village on the bank of the Ma River in the north central province of Thanh Hoa, where several bronze drums were discovered in 1924, marking the first evidence of the civilization's existence./.
VNF/VNA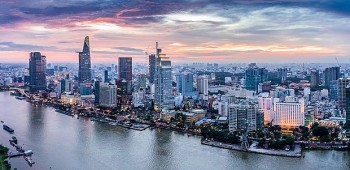 Economy
Japanese investors have been interested in the property market in Vietnam.