Tens of tourists evacuated in Da Lat after heavy rain
Dozens tourists evacuated, greenhouses blamed for erosion in Da Lat resort city
Continuous rain in two hours hit the resort city of Da Lat, the Central Highlands province of Lam Dong, forcing the evacuation of 44 people, including 30 tourists, on July 23 afternoon.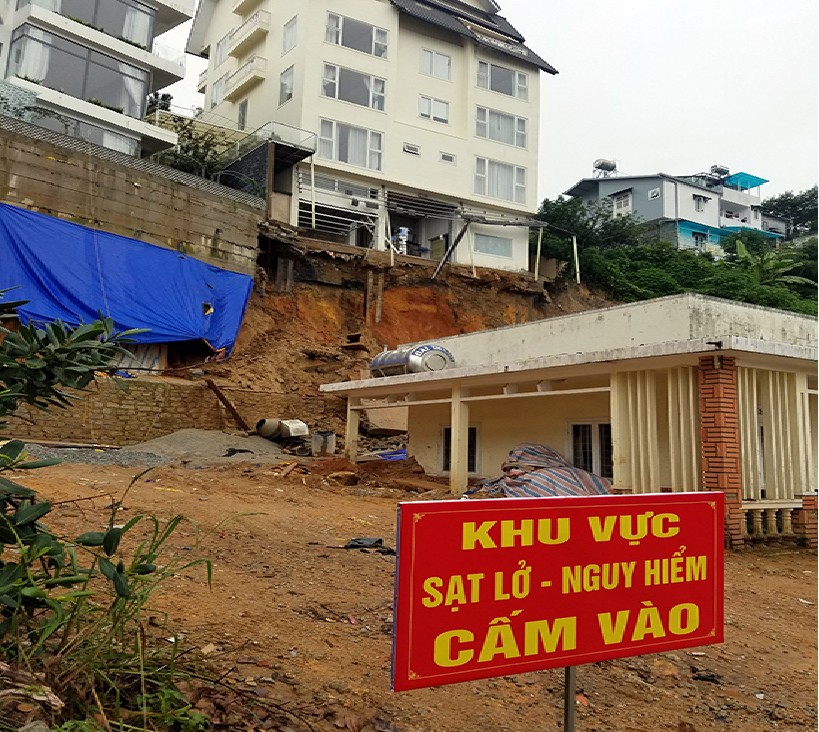 The hotel where the evacuated tourists stayed (Photo: VnExpress)
The holidaymakers were staying at a four-storey hotel in Ngo Thi Sy Street, Da Lat city, which faced the risk of collapse following the heavy rain.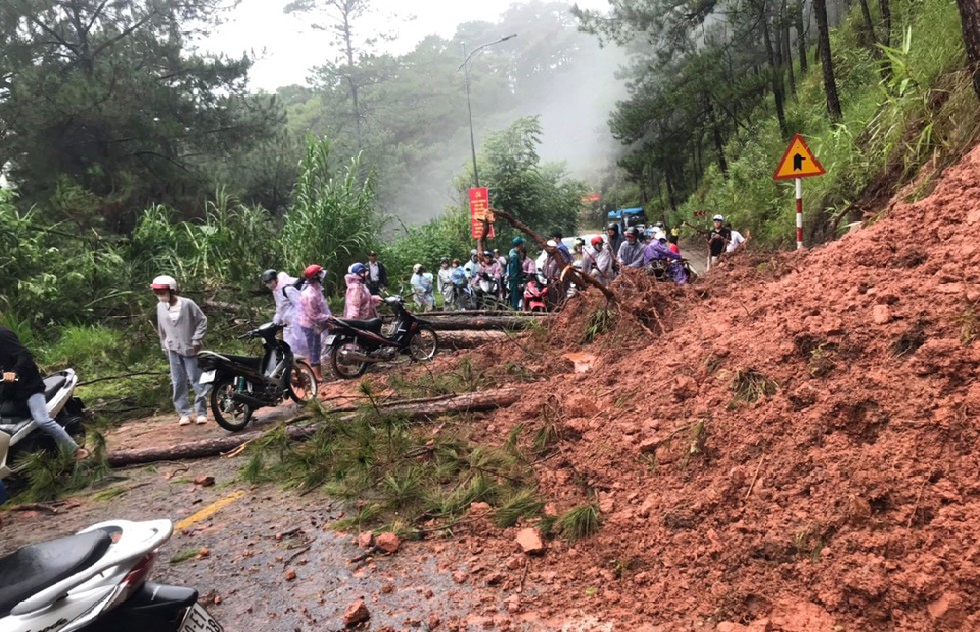 Traffic congrestion at Prenn Pass following the rain (Photo: thanhnien)
The rain uprooted many trees, including those on Prenn Pass – the gateway to the city, and blocked the route with water and stones falling down from high hills for many hours.
Fortunately, no fatalities have been reported so far, and local authorities are making efforts to deal with the consequences.
Greenhouses and deforestation
Over the past years, torrential rains have triggered floods and landslides in Da Lat. Last month, a runner was washed away by flash floods when he was crossing a stream during the 2020 Ultra Trail Dalat Marathon.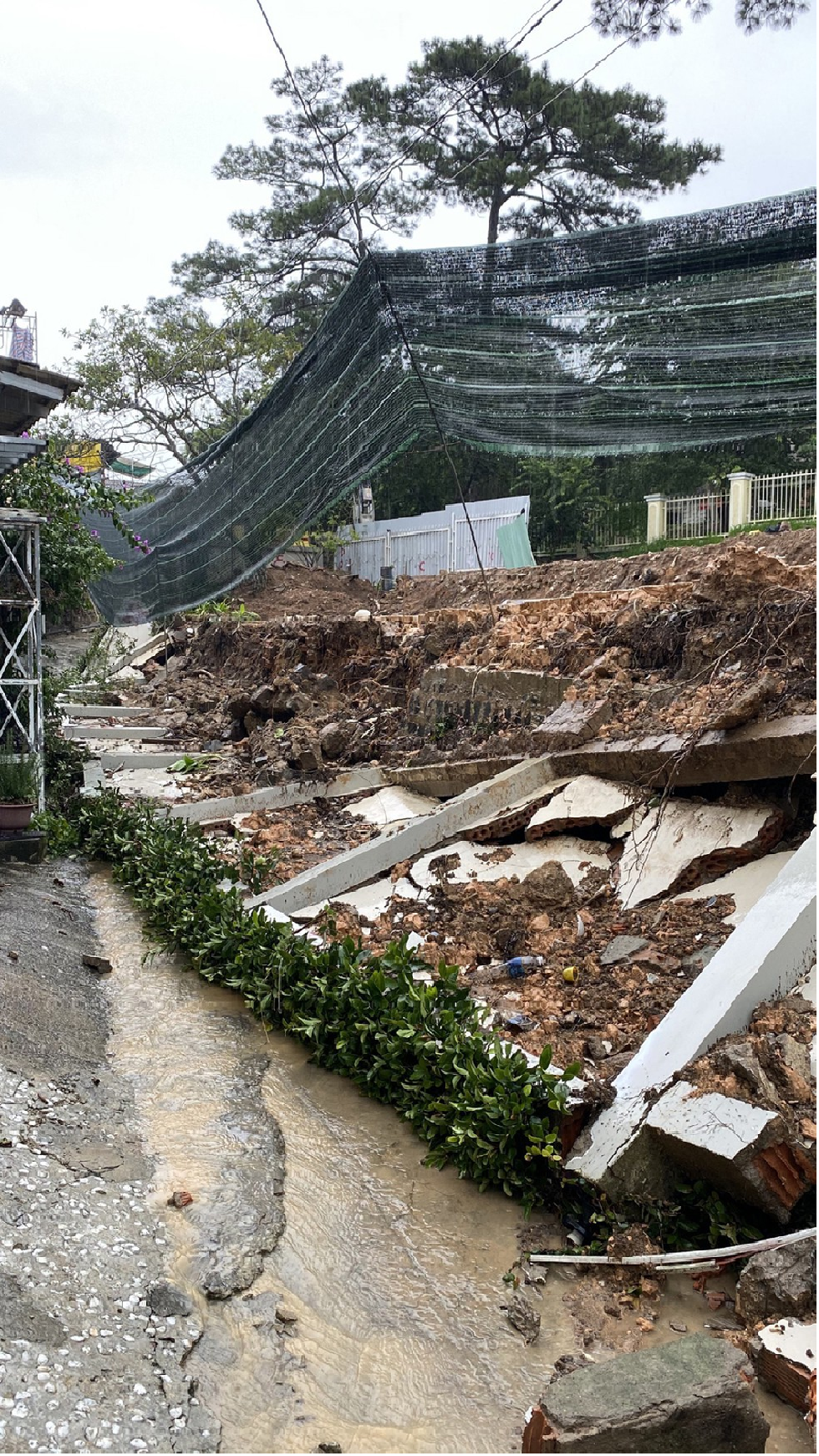 Over the past years, torrential rains have triggered floods and landslides in Da Lat. (Photo: thanhnien)
Experts blamed the situation on rapid urbanisation, deforestation and the mushrooming of agricultural greenhouses.
The provincial Department of Agriculture and Rural Development said Lam Dong now has 4,500ha of greenhouses, and 1,222ha of net houses, a five-fold rise as compared with five years ago. Da Lat city alone is home to about 2,800ha of greenhouses, making up more than 60 percent of the total area.
By the year 2020, Lam Dong looks to have over 17,500 hectares of 'hi-tech' farming land, meaning even more greenhouses will be built to realise this vision.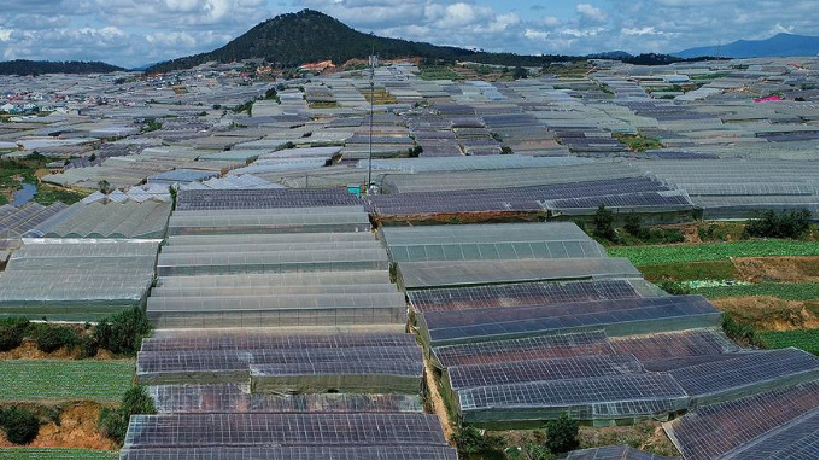 Agricultural greenhouses in Da Lat (Photo: VnExpress)
Greenhouses, despite their benefits, can have three major adverse effects on the environment - raising air temperatures, reducing soil quality, and polluting the water system of an area, Vu Ngoc Long, former president of the South Institute of Ecology said.
"The high density of greenhouses in Da Lat allows no room for ventilation, which leads to the build-up of hot air," he was quoted by vov as saying.
Readings show that the average yearly temperature in the Central Highlands city has climbed by 1-1.5 degrees Celsius over the past ten years.
In areas with large numbers of greenhouses, this spike is even more noticeable, at around 3-5 degrees Celsius.
Destruction of hillside forests to build greenhouses has also led to the degradation of soil quality, which is why there have been increased reports of landslides in the areas in recent years, explained Long./.
Famous for its mild climate all year round, Da Lat has two distinct seasons, the rainy and the sunny season. The rainy season usually begins in May and finishes in October.
It is also well-known for its beautiful French colonial architecture, such as King Bao Dai's Palace, Ngo Dinh Diem and Nguyen Cao Ky's villas, and the Hang Nga villas.
The number of visitors to Da Lat as of mid-May was 160,000, down more than 70 percent year-on-year.
Of the total, the number of foreign visitors was 1,800, down 95.7 percent year-on-year, while domestic visitors totaled 158,200, down more than 68 percent compared to 2019.
Da Lat, however, has witnessed a growing number of visitors in recent weekends. It is expected that by September, the number of tourists to Da Lat will reach 70 percent of the same period in 2019./.