Educating on Child Marriage & Human Trafficking
In the four provinces of Ha Giang , Lai Chau, Quang Binh and Quang Tri, a social project called Em Vui has carried out online lessons about how to prevent child marriage & human trafficking.
Em Vui comes within the framework of "Enhancing the awareness of ethnic minority children and young people on human trafficking and child marriage through digital technology," a project by the Delegation of the European Union and the Organization Plan International in Belgium.
The project is implemented in 11 districts and 52 communes of four provinces Ha Giang, Lai Chau, Quang Binh, and Quang Tri from 2020 to 2023.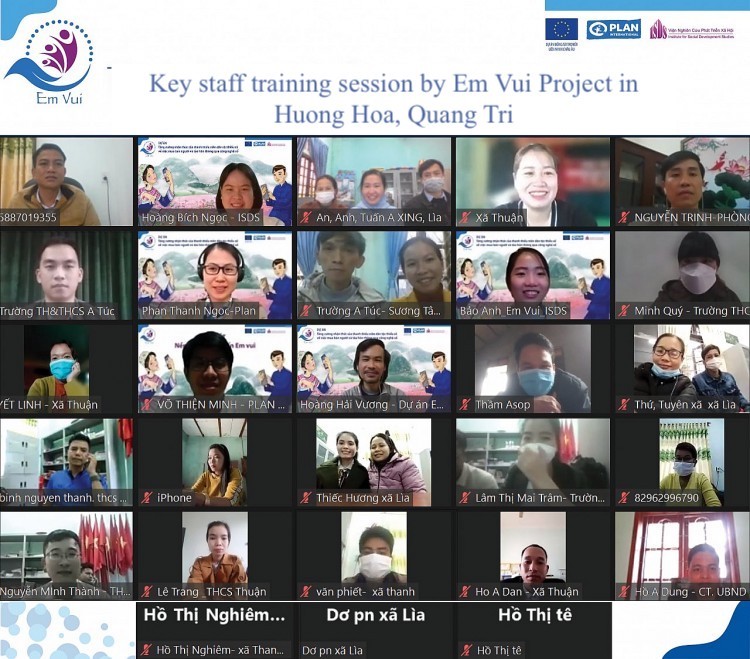 The first training session was carried out online in November 2021. Photo: Em Vui Project
The Em Vui project aims to provide children and young adults from 10 to 24-year-olds of ethnic minority groups with knowledge and skills such as how to use the internet safely and how to prevent child marriage and human trafficking,
It starts by giving instructions for local key staff Ha Giang, Lai Chau, Quang Binh, and Quang Tri so that they can train more than 10,000 ethnic minority youths.
In addition, the project promotes the use of online platforms and applications with the same name. After receiving training, the staff and local people can use "Em Vui" app on their phones to access support services.
The first training session was online in November 2021. The next training sessions are to be held in December 2021, hopefully on-site, depending on the situation of the COVID-19 pandemic at the training site.
It is implemented by the Institute for Social Development Studies (ISDS) in collaboration with Plan International in Vietnam, with the cooperation of the Department of Children, under the Ministry of Labour, Invalids and Social Affairs, and other agencies.
The project wants to spread meaningful messages and useful knowledge for the young generation.
Em Vui launched the website emvui.vn in late 2021. The mobile application on six social networking platforms (Facebook, TikTok, Zalo, YouTube, Instagram, and Twitter) are all under the same handle: Em Vui.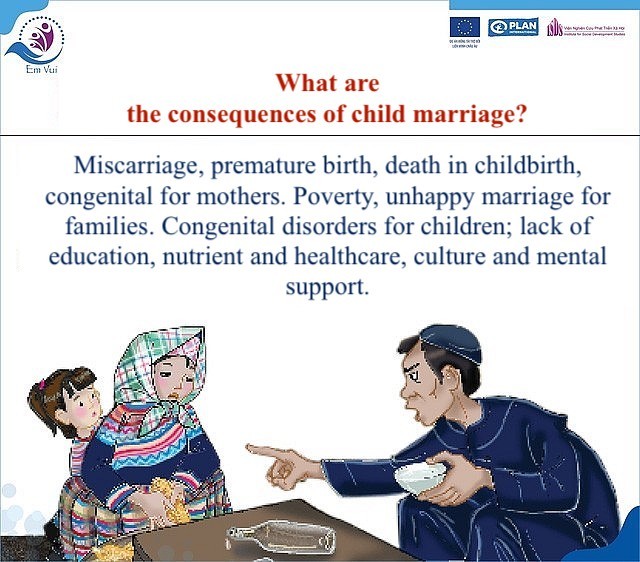 Em Vui is on Facebook, TikYok, Zalo, YouTube, Instagram and Twitter. Photo: Em Vui Project
Em Vui acts as a friendly and reliable forum with lots of interesting know-how for young people. Users can take part in many activities such as learning, reading, playing games, and watching videos.
This is a community where the locals have the chance to connect with intellectual individuals, agencies, and organizations.
During the trial period from July 15 to Sept. 15, the platform had more than 30 videos and documents related to online safety, reproductive health, how to protect children from child marriage and human trafficking.
It was a success with 170 registered members, nearly 6,000 visitors and more than 6,000 interactions, comments, lessons and downloads.
Once registered on the Em Vui application, users can access the library of documents and resources on how to prevent human trafficking and child marriage.
Users can also receive valuable gifts if they complete a learning session with high scores or a round of a fun game.
About 72% know at least two consequences of child marriage, which are less or no career or study and underdeveloped personal health. Only 60% (most are students) are willing to oppose forced marriage.
Most children are not aware of the risks of human trafficking or how to avoid it, with only 3% aware of most of the risks of trafficking.
The least-recognized risks associated with working across borders, risks come from close relatives and loved ones.
Only 11% know how to avoid such risks, with the lowest rate in the 10-year-old group.
Currently, 91% of ethnic minority children and youth are using the internet. However, only 10% of children have an understanding of online safety.
Le Quynh Lan, representative of Plan International Vietnam, said: "The project's goal in the next five years is to accompany Government agencies, donors, families and communities to reach 2 million girls in Vietnam."
"Em Vui wants to raise awareness of ethnic minority children, youth and adolescents through digital technology. We want them to join Em Vui online platform and learn how to protect themselves. We will work with other projects to help realize full commitment in promoting gender equality and protecting children, especially those in ethnic minority areas."