Elections in Vietnam in the eyes of international friends: special political festival
Any citizens who are 18 years old or more has the right to be fully informed, profoundly question, ask everything and self-decide to choose candidates representing themselves in the national political system. Likewise, anyone eligible has the right to run for elections fairly and publicly to be elected to the people's leadership.
Going to the polls is a pure main activity in many countries. Tensions, hardships, or even fierce struggle between constituencies and candidates are common. But in Vietnam, interestingly, this political event is not only important, serious and rigorous but it also brings eagerness, vibrancy and harmony for all classes of people as well as candidates. These are the common feelings of international friends when being interviewed by Thoi Dai about the festival of the entire people.
Right to be fully informed
"I see candidates' information has been publicly posted in different places and bulletin boards in neighborhood for residents to follow. Besides, many other people learn more about their candidates by using the Internet. Although there are no boisterously outdoor speaking activities or parades calling for voting for candidates, I see Vietnamese people are more interested in the elections than people in my countries as anyone passing by looks at the bulletin boards, carefully read and discuss", said Cristy Fannie Suarez Bonotan (25, from Philippines, an English teacher at Nha Trang City, Khanh Hoa Province).
Sharing the same view with Fannie Suarez Bonotan, Lee Gwi Soo, Director of Plaza I&C., Ltd, President of the South Korean Association of Small and Medium Enterprises in Vietnam said "I think it is very important to verify the candidate before voting. First of all, morality is the most important, and policies on how to develop and lead one's districts are important, so it is necessary to verify this and that of the candidate".
Lee Gwi Soo – CEO of Plaza I&C.,Ltd; Head of Vietnam Federation of Korea SMES
Ahead of the election day, every corner in Vietnam have been radiantly bedecked with flags, panels and posters, which draws attention from Liv Lavidaloca (23, from Brighton City, the U.K). The elections in Vietnam have left a strong impression on Liv Lavidaloca, but one thing impresses her most is that voter cards and candidates' biographies are solemnly printed in color and sent to each household.
Liv Lavidaloca added that it was very unique to send list and biographies of candidates to each household, it might be a bit costly, but it was a great way for the elderly especially those who do not know how to use the Internet to know more about candidates they would elect for without coming to information announcement sites, thereby preventing the spread of the disease.
Right to ask and request
Ouan Yang was born in 1995, his hometown is Vientiane, Laos, and is currently studying for a Master's degree at the Diplomatic Academy. In recent days, due to the complicated development of the COVID-19, he learned that there are areas that have organized online voter contact to keep voters safe, but still ensure they know information about the delegates and their candidacy. In addition, there are also areas where early voting or voting in a state of distance is required to ensure everyone can exercise their citizenship. Ouan Yang said that this is a very special thing in this election.
"Just like in my country, the National Assembly and People's Council elections in Vietnam are the occasion for the people to assert their ownership. Every citizen, regardless of rich or poor, male or female, or religion, has his or her own vote to vote for the candidate that they believe will contribute to the development of the country," Ouan Yang said.
Meanwhile, journalist Alberto Salazar (Head of Cuba Prensa Latina residing in Vietnam) clearly feels the festive atmosphere of the National Assembly election in Vietnam is approaching when flags, billboards, and election posters appear brilliantly on the streets.
"Through the information on the media, as well as during my work, I realize that Vietnamese people, regardless of age, class, religion, are very concerned and responsible before this great event. They seek information and discuss with each other about candidates. This shows their interest as well as their responsibility for their vote to find the most deserving candidate. In my opinion, the National Assembly election in Vietnam is a clear demonstration of the Vietnamese people's choice of representatives who express the people's will, aspirations and mastery.
In 2021, Vietnam's National Assembly election takes place when the COVID-19 pandemic has complicated developments. However, not because of that, the election atmosphere became quiet. Vietnam has cleverly chosen online methods to ensure the right of voters to contact candidates, as well as provide information widely to the people. That is the creativity and also the memorable point of this year's National Assembly election," said journalist Alberto Salazar.
Right to vote and run for election
In Vietnam, all citizens over 18 years old have the right to vote and those qualified have the right to run for election.
"I can clearly see that all Vietnamese must participate in voting and elect capable lawmakers. It is necessary to select candidates who develop national and regional economies and contribute to the promotion of people's safety and welfare," Lee Gwi Soo, director of Plaza I&C Co. Ltd, president of Vietnam-based Korea Federation of Small and Medium Business, said.
"I've read about the electoral processes in Vietnam. It's very democratic. All people have the right to stand for election through an organization at the communal, district, or provincial levels. Information of candidates and action programs are all updated in detail," Yoshida Hiroshi, lecturer from Da Nam university in Hanoi said.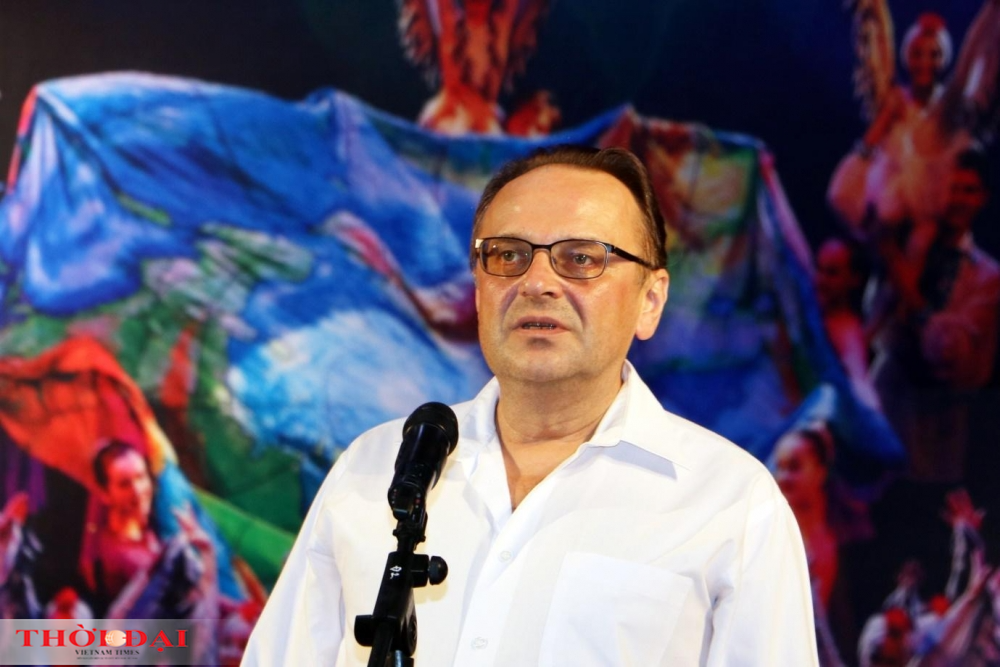 Vladimir Goshin, Ambassador of the Republic of Belarus to Vietnam
"Vietnam's voting processes ensure the stability of the political system without resulting in major shocks for the society. In the next stages, 800 National Assembly deputies will be chosen from 800 candidates. Of the candidates, nearly half are females, a considerable percentage are minority ethnic people. There will be around 69 million constituencies," Vladimir Goshin, Ambassador Extraordinary and Plenipotentiary of the Republic of Belarus to the Socialist Republic of Vietnam, commented.