England Faces Calls To Be Banned From World Cup After Euro 2020 Fan Violence
There have been calls for England to be banned from 2022 World Cup after ticketless fans clashed with police and security while trying to storm into Wembley for their Euro 2020 final against Italy.
Ticketless England fans clashed with police and security while trying to storm into Wembley for their Euro 2020 final against Italy. Now there are increasing calls for England to be excluded from the World Cup next year to prevent similar scenes.
Groups of England fans without tickets forced their way through the Wembley turnstiles before the Euro 2020 final against Italy, multiple witnesses have told the Guardian.
Supporters breached security barriers outside the stadium and squeezed behind ticket-holders or burst through the electronic gates that allow entry to the concourses and seats. Witnesses said the numbers may have been in the hundreds. There were unconfirmed reports that hundreds of fans charged a disabled entrance door when it opened.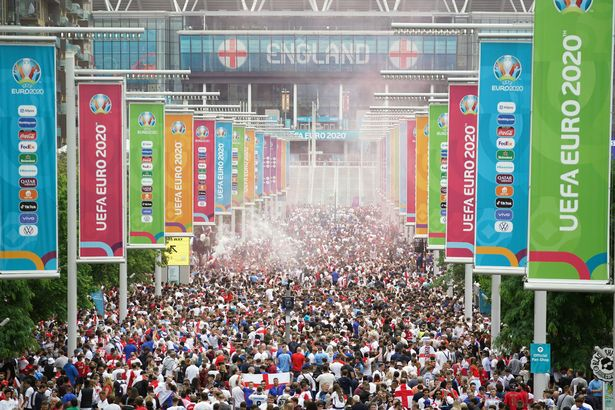 England are facing increasing calls to be banned from the 2022 World Cup over the fan violence which marred their Euro 2020 final defeat against Italy on Sunday night (Image: PA)
The Guardian has been told that one supporter was left stuck outside after he scanned his ticket and two fans without one pushed through the turnstile ahead of him. Other ticketless fans were seen trying to persuade supporters with tickets to allow them to squeeze in. Stewards were seen failing to prevent fans from forcing their way through a turnstile.
About two hours before kick-off hundreds of fans were filmed breaching a gate and running up steps towards the stadium. Stewards and police sought to hold back supporters as they pushed through barriers.
A Wembley Stadium spokesperson said "safety measures were quickly activated in the relevant areas there were no security breaches of people without tickets getting inside the stadium" but a later statement was issued which acknowledged this was not the case.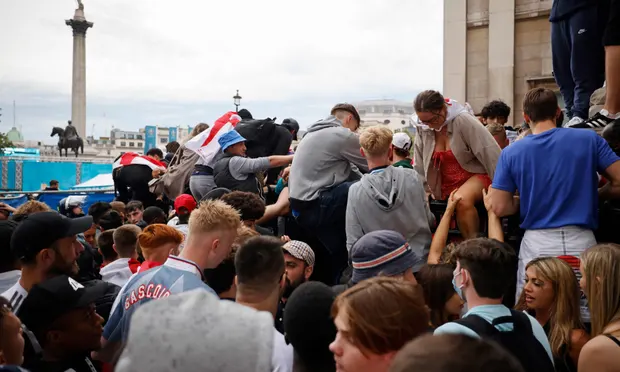 Fans at the security barriers for the fan zone screen in London's Trafalgar Square. Photograph: Tolga Akmen/AFP/Getty Images
The statement said: "There was a breach of security and a small group of people got into the stadium. We are now working closely with stadium stewards and security to remove these people. Anyone inside the stadium without a ticket will be instantly ejected."
A Metropolitan police spokesperson said: "There was a breach of security at Wembley Stadium, which resulted in a small number of people getting into the stadium without a ticket. Officers worked closely with security officials to prevent any further breaches. We will also support action by Wembley Stadium officials to identify those without tickets and eject them."
Reports from around Wembley suggest the stadium was "locked down" after fans without match tickets breached the security barrier and "stormed on to [the] concourse". Police officers on horseback were deployed to control the crowds as security staff tried to reassemble fences around the stadium.
Fans have also descended on central London in huge numbers before the final, the first at a major tournament for the England men's team since the 1966 World Cup. In Leicester Square, bottles and other objects were thrown.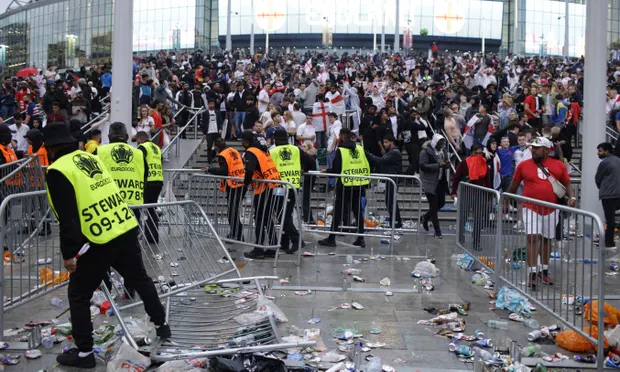 Stewards replace barricades after they were knocked over by supporters outside Wembley during the Euro 2020 final. Photograph: David Cliff/AP
As a result, a number of Britons are calling for England to be banned from next year's World Cup in Qatar, taking to Twitter to lambast the fans' behaviour before Sunday's final.
One wrote: "I hope England get banned from the World Cup and the next Euros for the fans behaviour tonight absolutely disgusting".
Another said: "England should be banned from participating in the World Cup next year. Treat the fans like the children they are and take it away from them.'
A third commented: "Embarrassed to be British! If that is how England fans behave, it does NOT deserve to 'come home'. But we DO deserve to be banned from the World Cup! Maybe that will teach the hooligans a lesson! Or not".
UEFA's investigation on England fan violence, and what will happen next
England defender Harry Maguire said his father had injured ribs and trouble breathing after being caught up in the surge when hundreds of fans without tickets broke through security barriers to get into Wembley Stadium in a bid to watch Sunday's European Championship final against Italy.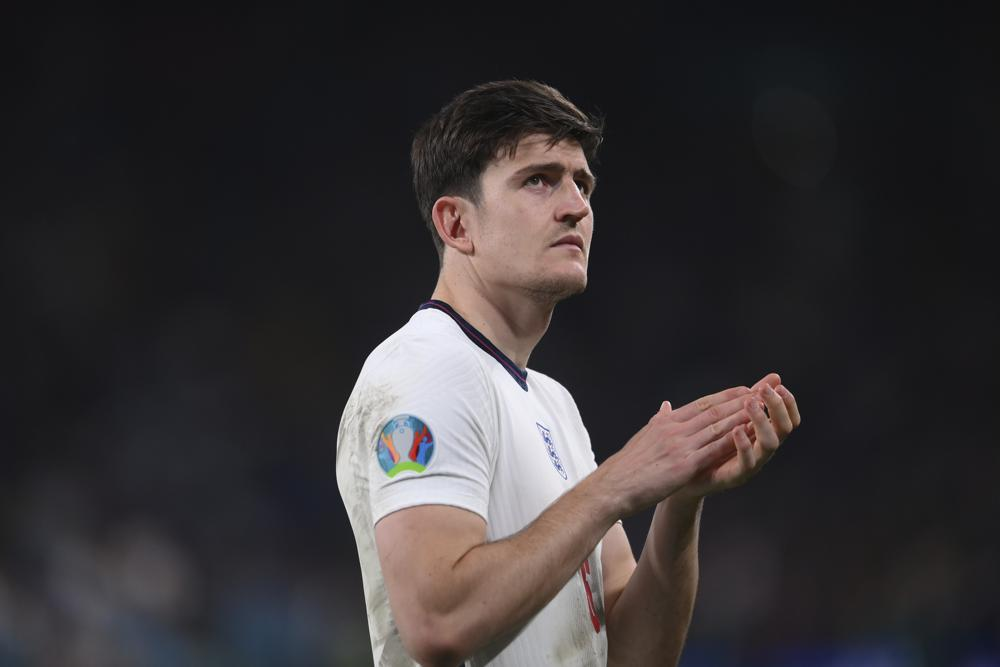 England's Harry Maguire applauds after the penalty shootout of the Euro 2020 soccer final match between England and Italy at Wembley stadium in London, Sunday, July 11, 2021. (Laurence Griffiths/Pool via AP)
UEFA on Tuesday asked an investigator to study violence by England fans at the game, according to AP News.
The English Football Association has been separately charged with multiple offenses by fans before and during their team's loss to Italy in a penalty shootout after a 1-1 draw.
Maguire told The Sun newspaper his father was "in the stampede" and had been scared but didn't seek medical treatment.
"I have seen a lot of videos and have spoken to dad and my family. It was my dad and agent who suffered the most," Maguire told the tabloid. "He was struggling with his breathing afterwards because of his ribs, but he's not one to make a big fuss — he got on with it."
UEFA's charges against England's FA also relate to booing Italy's national anthem, a fan who stopped play by running on the pitch, throwing objects, and lighting fireworks.
While those offenses typically result in fines, more serious punishment such as full or partial stadium closures can follow the kind of violence seen on Sunday.
The official attendance was around 67,000 of the stadium's 90,000 capacity, with many seats intended to be left empty to distance fans during the COVID-19 pandemic.
But there was extremely high demand for tickets for England's first major tournament final in 55 years.
Fans could be seen standing in the stadium bowl unable to access their seats before the game and stadium officials confirmed "a small group of people got into the stadium" without tickets.
UEFA gave no timetable for the disciplinary cases.
The FA was fined 30,000 euros ($35,000) for fan incidents after the team's semifinal at Wembley last week, including booing Denmark's anthem.
England could be forced to play without fans after Uefa investigates final chaos
England face being handed a stadium ban by Uefa after the governing body opened an investigation into the chaotic and violent scenes at Wembley around the Euro 2020 final, meaning one or more of their Nations League games next year could be played behind closed doors.
The Football Association faces an anxious wait to see what Uefa's ethics and disciplinary committee makes of what became a disturbingly unruly afternoon on Sunday. Uefa said its investigation would be into "events involving supporters which occurred inside and around the stadium"; it is already understood that hundreds of people without tickets attempted to break through barriers, turnstiles and gates to enter Wembley, and that a significant number succeeded in doing so.
Although a stadium ban would be at the sharp end of Uefa's punishment scale, the scenes on Sunday are likely to be looked upon dimly. Should England be forced to play in front of empty stands, they would be required to do so in their next match – or matches – under Uefa's direct jurisdiction. That means their Fifa-run World Cup qualifiers against Andorra and Hungary this autumn would be unaffected, but games in the 2022-23 Nations League campaign could be at risk.
Uefa has shown this summer that it is willing to clamp down on associations whose fans misbehave seriously at venues. This month it ordered Hungary to play two games behind closed doors in Uefa competition, and pay a €100,000 (£85,500) fine, for racist and homophobic abuse during the Euro 2020 group stage.