EURO 2020 TODAY (July 8): England 2-1 Denmark, Kane steers England to the final
EURO 2020 TODAY (July 8): England will face Italy in the UEFA EURO 2020 final after Harry Kane's extra-time finish eliminated dogged Denmark.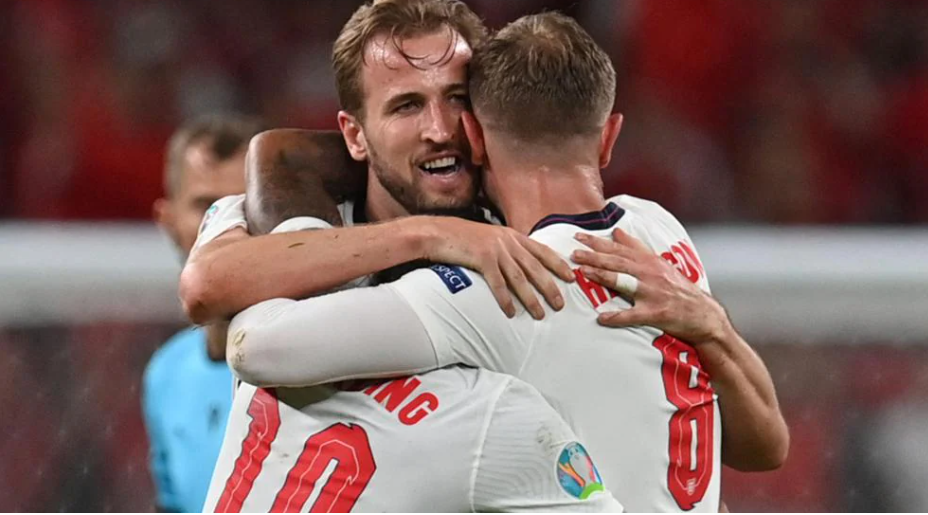 Raheem Sterling, Harry Kane and Jordan Henderson celebrate at the final whistle. Photo: Getty Images
England started with purpose, but Denmark pressed relentlessly to cut supply lines and scrap for openings, and had created a couple of half-chances before a foul 25 metres out invited the menacing Damsgaard to score the first direct free-kick of the tournament. His brilliant effort flew past the diving Jordan Pickford on the half-hour mark: the first goal England had conceded in 480 minutes at EURO 2020.
Gareth Southgate's men were momentarily crestfallen, but should have levelled when Kane squared for Sterling, Schmeichel blocking his close-range attempt. The equaliser came soon afterwards, though, Saka redirecting Kane's ball across goal from the right for Kjær to nudge into his own net in a futile bid to deny Sterling. It was the first own goal that has ever gone England's way at a EURO.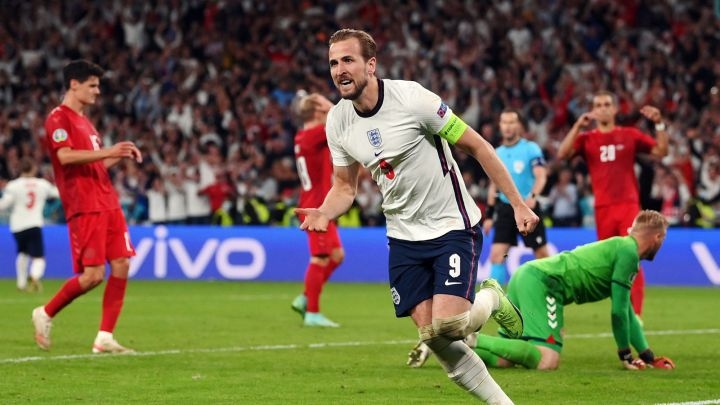 Photo: AS
England had blown Ukraine away early in the second half in the quarter-final, but Denmark offered stiffer resistance. Schmeichel produced a terrific one-handed stop from a Harry Maguire header, but the arrival of Jack Grealish off the bench coincided with a more concerted English push, tiring Denmark digging deeper and deeper to hold the line. Pressure did not translate into clear-cut chances though, with extra time the inevitable outcome.
Schmeichel repelled a low Kane shot early on, then pounded away a Grealish drive. The goalkeeper made another fine save to push away Kane's penalty after the Danes were penalised for a foul on Sterling, but could not prevent England's captain from putting away the rebound: the No9's fourth goal of EURO 2020. It was all about game management from there; Denmark scrapped to get back into contention, but the hosts ultimately did enough. Not necessarily pretty, but effective.
Reactions:
Gareth Southgate speaks
Digging deep to beat Denmark:
"I always felt we would get there, but I knew it might be a tortuous path […]. The great thing about this group pf players is they've had so many different experiences and found so many different ways to win matches in the last few years."
Contentious penalty:
"I've not seen… I don't now how the incident looks. Obviosuly there's VAR so I'm assuming they've checked it and stuck with the referee's decision."
Final against Italy:
"We know the size of the task, we know they've got those two warriors at the back who have been through everything, but what a brilliant moment for us."
Denmark:
"They ran out of steam at the end, but they've had an incredible tournament and I have to give my congratulations to them."
Harry Kane speaks
England "dug deep"
"Unbelievable. What a game, a tough game, credit to Denmark. They put on a really tough game for us, but we dug deep"
"What a feeling"
"We reacted really well to going 1-0 down. A final, at home, what a feeling."
On his penalty:
"It wasn't the best executed penalty I've ever had, but that's football. Sometimes you miss, sometimes it goes your way."
Sunday's final:
"It's going to be a very tough game against Italy, but we've had a great tournament so far. One more game to go."
Sterling: It was a "definite penalty"
Speaking on UK television, Raheem Sterling has insisted that England's match-winning penalty was a spot-kick. "Was it a penalty? Yes," he told ITV. "I went into the box and he touched my legs, so it's a definite penalty."
Hmm. I'm not sure, Raheem. Former England international Karen Carney has admitted on BBC Radio Five Live that she'd be upset if Denmark had been given that penalty.
"It wasn't a pen for me," ex-England winger Chris Waddle told the BBC.
"What a team": UEFA lauds Denmark's Euro 2020 campaign
UEFA has rightly tweeted its praise for Denmark, whose achievement in overcoming Christian Eriksen's collapse to come within a whisker of reaching the final is just beyond impressive. What a group of players.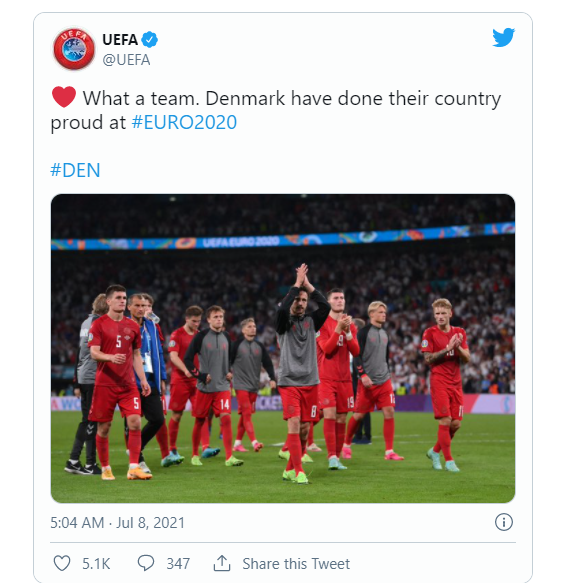 Photo: Captured
Kane: "Wow what a night!"
Photo: Captured
Key STATS
Kane is now level with Gary Lineker as England's all-time leading scorer at EURO and World Cup final tournaments with ten goals; his extra-time goal was England's 50th in EURO final tournaments.
The No9 is only the third England player to score four or more at aEURO after Alan Shearer (five at EURO '96) and Wayne Rooney (four at 2004).
Damsgaard's opener was the first direct free-kick scored at EURO 2020 and made him the fourth Danish player to score two or more at a EURO. Two of the last four EURO finals goals England have conceded have been direct free-kicks: Damsgaard's plus Gareth Bale's for Wales at EURO 2016.
It was the first goal England had conceded in 480 minutes at EURO 2020; they had not conceded in 691 minutes in total, a run stretching back to March.
England's equaliser was the first own goal that has ever gone in their favour at a EURO tournament.
At 19 years and 305 days, Saka became the youngest player to start a match for England at the semi-final stage or later of a major tournament.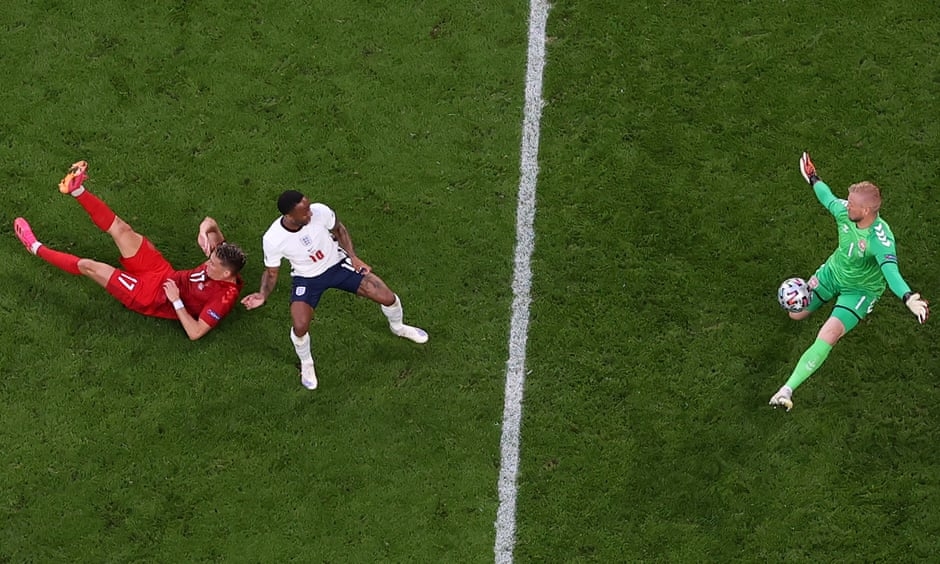 Raheem Sterling's point blank shot is saved by Denmark keeper Kasper Schmeichel. Photo: Getty Images
Just three teams have let in the first goal and gone on to win the game in the previous 49 matches at EURO 2020: Belgium (2-1 v Denmark), Germany (4-2 v Portugal) and Spain (5-3 v Croatia).
This is the first time since 1992 that all four teams have scored in the semi-finals at a EURO tournament; both semi-finals also went to extra time in 1976, 1984, 1996, and 2000.
Excluding penalty shoot-outs, England have lost just one of their last 17 EURO final tournament matches (W10 D6 L1); they have won 13 of their last 15 matches at Wembley.
Denmark's last appearance in the semi-finals at EURO was in 1992 when they won the tournament. The 29-year gap between their appearances in the last four is a EURO record.
Denmark's total of 12 goals scored at EURO 2020 is their highest ever at a EURO tournament and also eclipsed their previous major-championship high of ten goals (1986 World Cup); they scored the first goal in 14 of their last 17 international matches.
Line-ups
England: Pickford; Walker, Stones, Maguire, Shaw; Phillips, Rice (Henderson 95); Saka (Grealish 69, Trippier 106), Mount (Foden 95), Sterling; Kane
Denmark: Schmeichel; Christensen (Andersen 79), Kjær, Vestergaard (Wind 105); Stryger (Wass 67), Højbjerg, Delaney (Jensen 88), Mæhle; Braithwaite, Dolberg (Nørgaard 67), Damsgaard (Poulsen 67)
Final
Sunday 11 July
England vs Italy (21:00, London)