Italy vs England EURO 2020 Final: Italy beat England on penalties to win second European Championship title
Italy vs England UEFA Euro 2020 Finals: Italy sealed a win in the penalty shootout to edge past England, at the Wembley Stadium on Monday.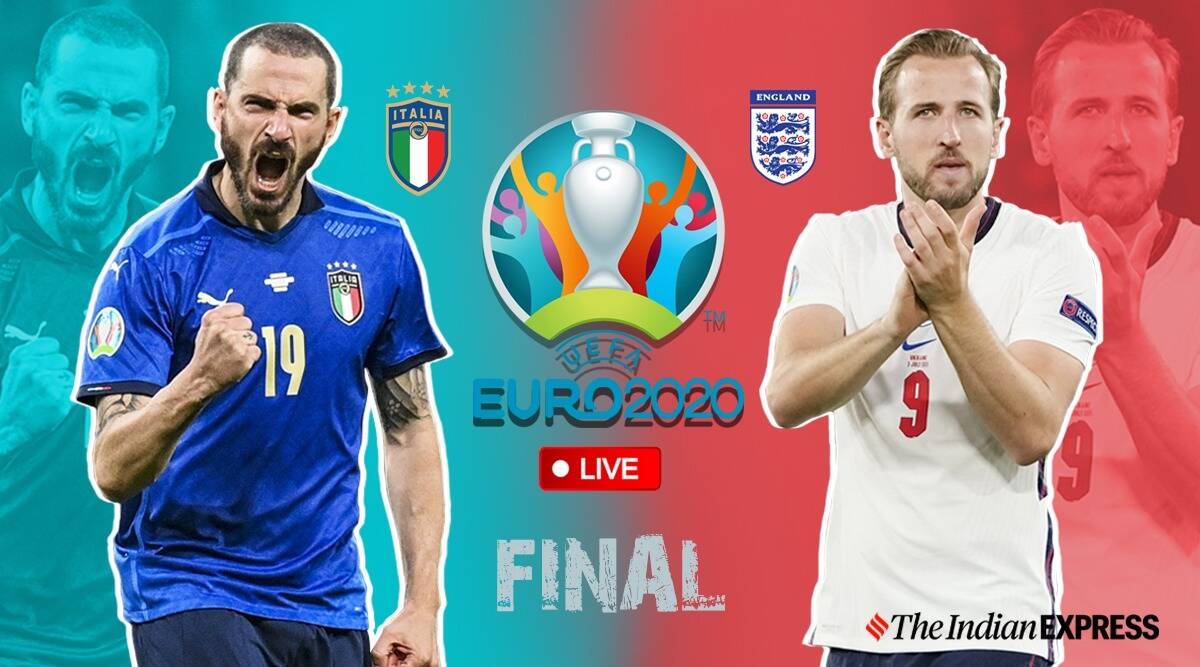 Photo: Indian Express
Italy had to wait until the penalty shootout to edge past England in their UEFA Euro 2020 Final, at the Wembley Stadium on Monday. With the score level at 1-1 in regular and extra-time, the Italians sealed a 3-2 win in the penalty shootout. Bukayo Saka missed the penultimate penalty for England, even Jadon Sancho and Marcus Rashford missed their respective spot-kicks.
Match highlights
(Video: KYRGYZ PUBG)
According to News 18, Italy wrecked England's Euro 2020 party at Wembley on Sunday, winning the final on penalties to plunge the host nation into despair and prolong their 55-year wait to win a major title.
Roberto Mancini's men recovered from the shock of conceding the quickest goal ever in a European Championship final to equalise and held their nerve to claim a 3-2 shootout victory.
It is the second time Italy have been crowned European champions and comes after the embarrassment of failing even to qualify for the 2018 World Cup in Russia.
The partisan crowd was whipped up to a state of fever pitch by rousing renditions of "Three Lions" and "Sweet Caroline" before kick-off.
Both teams took the knee before the whistle in a display of solidarity against racial injustice before England raced out of the blocks.
Gareth Southgate's team were ahead in just the second minute when defender Luke Shaw finished cooly at the back post after an inviting cross from the recalled Kieran Trippier.
It was the fastest goal ever in a European Championship final and stunned a disbelieving crowd of more than 67,000, mostly decked out in red and white.
In steady rain, the crowd provided a relentless wall of noise as the home side repelled Italy's attacks and threatened to increase their lead.
England goalkeeper Jordan Pickford made a fine one-handed save from Federico Chiesa's effort to preserve his side's advantage with about half an hour to go.
Italy vs England, Euro 2020 Finals: Italy defeated England on penalties, at Wembley. Photo: AFP
But minutes later they were level when Leonardo Bonucci scrambled the ball into the net from close range after England's defence failed to clear.
Italy were now dictating play and their supporters found their full voice behind the goal they were attacking.
With four minutes remaining of normal time a pitch invader stopped the action and stewards struggled to catch him adding to a sense of chaos at the stadium after ticketless fans earlier forced their way in.
Normal time finished goalless despite a flurry of substitutions and the sides were still locked at 1-1 after extra time.
Pickford saved spot-kicks from Andrea Belotti and Jorginho but Marcus Rashford, Jadon Sancho and Bukayo Saka all failed to find the net.
The atmosphere around the stadium was frenzied in the build-up to the match, which kicked off at 1900 GMT, with supporters draped in England colours downing pints of beer and chanting anthems.
But as the start neared, the climate became tense, with thousands crammed into the pedestrianised Wembley Way, strewn with broken glass.
Fans — with few signs of mask-wearing despite surging coronavirus infections in Britain — threw cans of beer, flares and traffic cones into the air.
Footage posted on social media showed hundreds of supporters battling to get past lines of stewards and police, trying to force their way through security cordons and scaling walls.
Another video appeared to show violent clashes between fans inside Wembley itself.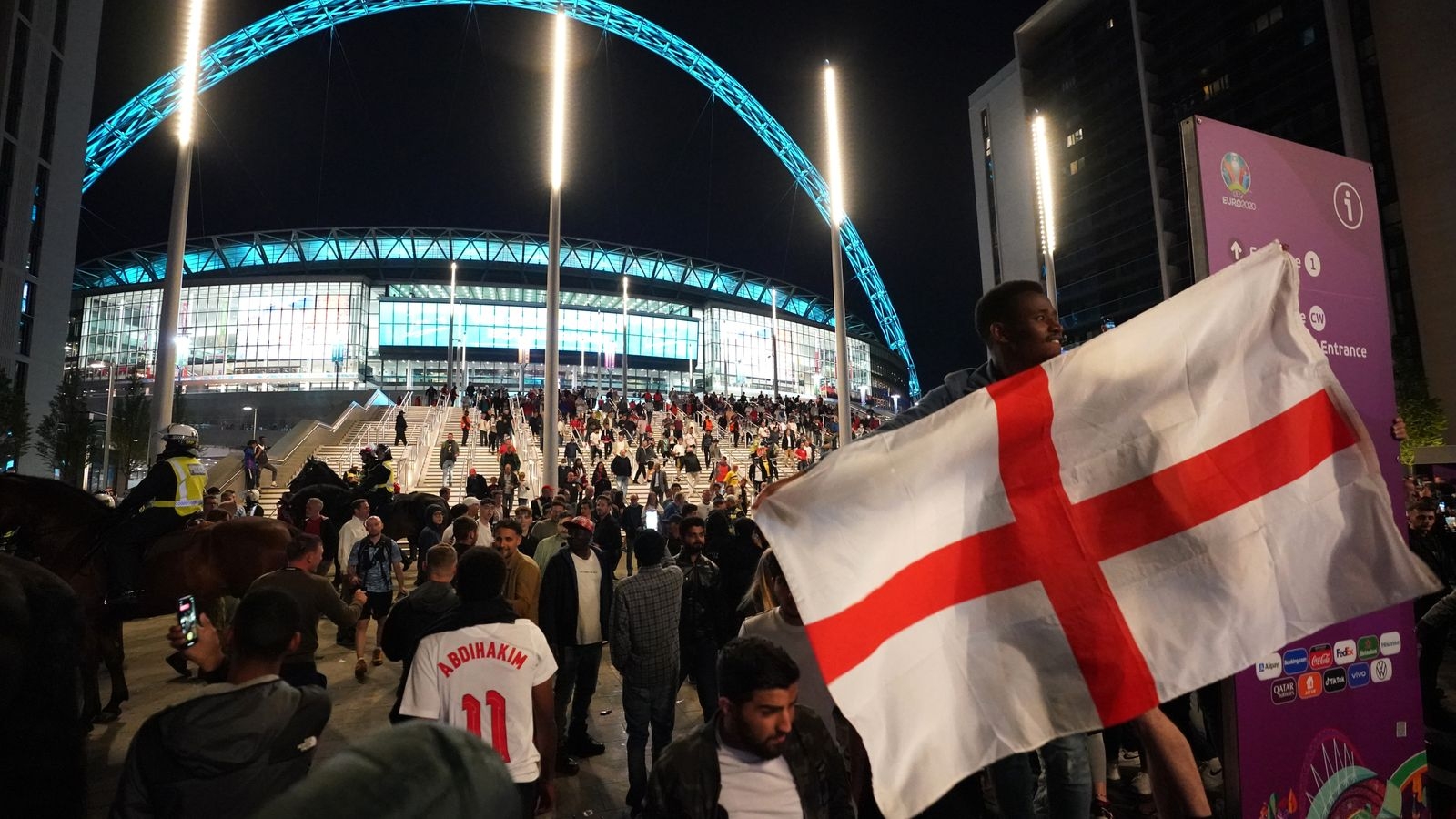 Police said in a statement that a "breach of security… resulted in a small number of people getting into the stadium without a ticket" but the number appeared to swell the official crowd significantly.
Italy had been arguably the team of the tournament heading into the final, sweeping through the group stage with a perfect record before knocking out Austria, top-ranked Belgium and Spain to reach the final.
Revitalised since Mancini took over after their failure to qualify for the 2018 World Cup, the Azzurri were on a remarkable 33-match unbeaten run before the final.
The four-time world champions' lone European Championship triumph came in 1968. They were beaten finalists in 2000 and 2012.
Southgate has revolutionised English football since taking charge in 2016, leading his team to the semi-finals of the 2018 World Cup, where they were beaten by Croatia but they fell just short at Wembley.
British authorities had warned of the dangers of large gatherings ahead of Sunday's final, fearful of the highly transmissible Delta coronavirus variant that is firing outbreaks across the world.
Health experts have expressed concerns about Euro 2020 events becoming super-spreaders throughout the tournament, especially in Britain and Russia.
Reactions:
Harry Kane proud of teams efforts
Kane told the BBC: "The boys couldn't have given more.
"Penalties are obviously are the worst thing in the world when you lose. It wasn't our night but it's been a fantastic tournament and we should be proud, hold our heads up high.
"Of course it's going to hurt for a while but we are on the right track and hopefully we can progress from this next year."
Kane felt England competed well throughout the game.
He told the BBC: "We were playing a against a very good side. We got off to the perfect start. We maybe dropped off a bit too deep – when you score that early it's easy to soak up the pressure and try to hold on to that.
"That's probably what happened, they had a lot of the ball and possession.
"But we looked fairly in control, they didn't create too many chances. They got their breakthrough from a set-piece.
"After that it was probably 50-50. In extra-time we grew into the game, had a few half-chances but then penalties are penalties.
"We went through our process. The players did everything we could but it wasn't our night."
Kane offered words of encouragement for the three players who missed penalties in the shoot-out.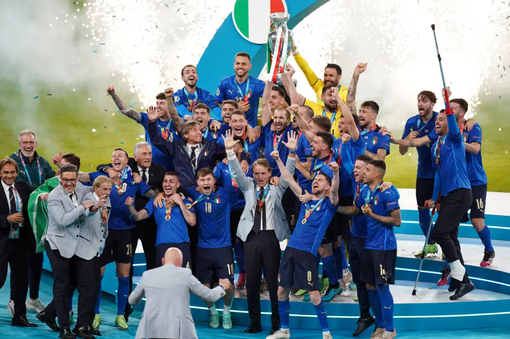 Final words from Southgate
On the night's performance Southgate added to ITV: "In the end we weren't quite able to see the game through in regulation time. Italy showed what an outstanding side they are.
"Our players have done themselves proud, everyone has been exceptional. Unbelievably disappointed not to have gone one step further
"It's hard to reflect at this moment because the disappointment is enormous for all of us but this group of players have done themselves proud.
"I know tonight will be the pin that burst the balloon but I hope they (the public) remember what this team has given them.
"I think we have given everyone some fantastic nights, we wanted to give them one more and we were so close to giving them that.
"It is hard for me at this moment to put that into words."
Asked about the positives looking forward to next year's World Cup the England boss added: "At the moment it is hard for me to look that far ahead.
"This was a wonderful opportunity and at the moment I need to let that sink in before I think about Quatar.
Southgate takes responsibility
Southgate took full responsibility for England's failure from the spot.
"We prepared as well as we could for that and that's my responsibility, I chose the guys to take the kicks," he told ITV.
"No-one is on their own in that situation. We decided to make the changes right at the end of the game and we win and lose together as team."
On selecting Saka to take the fifth penalty and also making very late substitutions to get more takers on Southgate added to ITV: "That's my decision to give him that penalty so it is totally my responsibility: it is not him, Marcus or Jadon.
"We worked on it in training and that's the order we came to. My call as coach.
"It is always the risk you run but they have been by far the best and to get all those attacking players on you have to do it late.
"It was a gamble but if we gambled earlier we may have lost the game in extra-time any way."
'How do you let a 19 year old kid take the most important penalty in the countries history?'
Former England forward Eni Aluko criticised the decision to elect 19-year-old Saka as a penalty-taker.
She tweeted: "Devastated and tweeting with emotion.
"How do you let a 19 year old kid take the most important penalty in the countries history?! Its too much."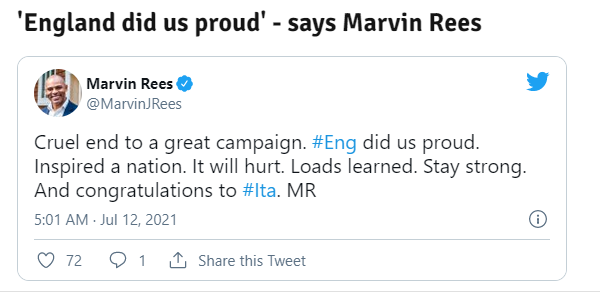 Photo: Captured
Some more reactions
Former England striker Michael Owen said on Twitter that the loss was "heartbreaking".
"Heartbreaking. But this squad has a bright future and they've lifted the nation both on and off the pitch after a shocking year or so," he wrote.
"Bring on the World Cup in Qatar."
Premier League chief executive Richard Masters said: "Tonight's result is a disappointment but huge congratulations to England for performances that filled the nation with pride.
"Praise must go to the players, and to Gareth Southgate and his coaching team and everybody at the FA, for a great Euro 2020 tournament. Gareth is a fantastic leader and instilled the players with belief, to go alongside their undoubted ability.
"Irrespective of tonight's result, I am excited for the future – to see not only what this squad can go on to achieve, but also for the millions of people their success will inspire to play, support and get involved with our sport."
Duke of Cambridge describes defeat as 'heartbreaking'
The Duke of Cambridge has described England's Euro 2020 defeat as "heartbreaking", telling the team "you can all hold your heads high, and be so proud of yourselves".
Team News
Defender Kieran Trippier returns to England's starting line-up for today's European Championship final. His inclusion will be at the expense of Bukayo Saka, who played as a right winger against Denmark in the semifinal. Midfielder Phil Foden missed England's final training session and in turn will also sit this contest out.
Italy, meanwhile, is unchanged from its last fixture.
ITALY XI
Donnarumma, Di Lorenzo, Bonucci, Chiellini, Emerson, Barella, Jorginho, Verratti, Chiesa, Immobile, Insigne
Subs: Sirigu, Locatelli, Belotti, Berardi, Pessina, Acerbi, Cristante, Bernardeschi, Bastoni, Florenzi, Toloi, Meret
ENGLAND XI
Pickford, Walker, Stones, Maguire, Trippier, Phillips, Rice, Shaw, Mount, Sterling, Kane
Subs: Grealish, Henderson, Rashford, Ramsdale, Mings, Coady, Sancho, Calvert-Lewin, Johnstone, James, Saka, Bellingham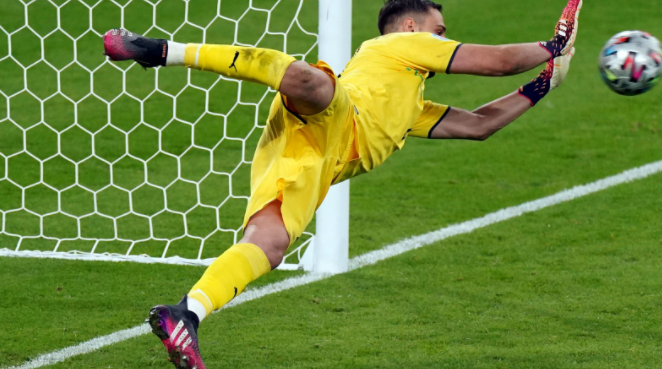 MATCH OFFICIALS
Referee - Bjorn Kuipers (NED); Assistant referees - Sander van Roekel (NED), Erwin Zeinstra (NED); Fourth official - Carlos del Cerro Grande (ESP); Video Assistant Referee - Bastian Dankert (GER)
England's route to the final
Group D: England 1-0 Croatia
Group D: England 0-0 Scotland
Group D: Czech Republic 0-1 England
Round of 16: England 2-0 Germany
Quarter-finals: Ukraine 0-4 England
Semi-finals: England 2-1 Denmark (AET)
Italy's route to the final
Group A: Turkey 0-3 Italy
Group A: Italy 3-0 Switzerland
Group A: Italy 1-0 Wales
Round of 16: Italy 2-1 Austria (AET)
Quarter-finals: Belgium 1-2 Italy
Semi-finals: Italy 1-1 Spain (AET - Italy win 4-2 on pens)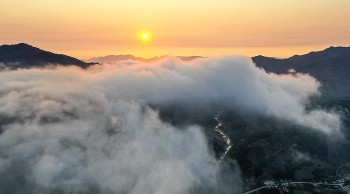 Multimedia
The gorgeous dawn behind a sea of fluffy white clouds creates a wonderful and beautiful picture of Truong Son Dong peak, Quang Ngai.