Expat Journalist Impressed by Vietnam's Luxury Train Experience
Chris described his Vietnam's first luxury train carriage as a soothing, at times surreal, journey.
"The six-hour journey in a beautifully reconditioned carriage offers endless bucolic scenes of rural Vietnamese life that kept one traveller glued to the window,"said journalist Chris Dwyer of South China Morning Post (Hong Kong).
When chasing after the tasty Banh Mi in Central of Vietnam, Chris chose Vietage - Vietnam's first luxury train carriage between Da Nang and Quy Nhon.
He said: "In early May, returning to the merchant town's ancient alleyways, temples, bridges and shophouses was remarkable, as they were almost entirely devoid of international visitors. Tables were easy to find at the best banh mi spots – "Madame Khanh, The Banh Mi Queen" has always won my vote, not least for her not-so-modest marketing – while fragrant, steaming bowls of cao lau braised pork noodles were served up in no time."
He was pleased right from the beginning as Vietage manager Quang Dang Vo proffered him and his partner prosecco. In the hot weather of the tropical summer, he did not mind drinking at 8.20am.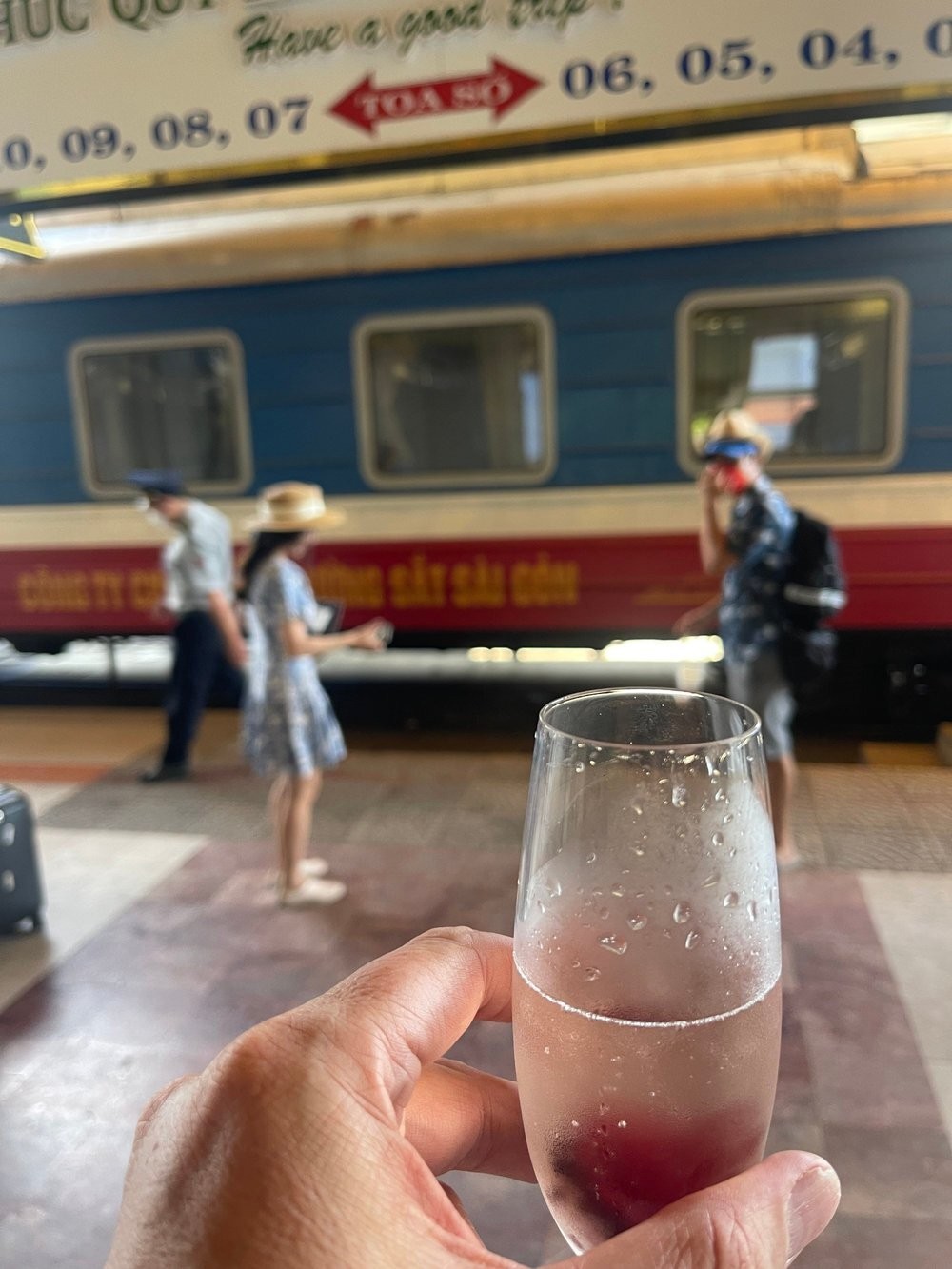 A cool glass of prosecco is offered before boarding. Photo: Chris Dwyer
The Vietage is just one carriage of a regularly scheduled train, meaning that the station features the usual cast of characters that make travelling by rail such a joy. Beyond the boarding gate, vendors offer snacks, toys and drinks, including super-strength local coffee with condensed milk, to passengers and the families that have gathered to say their farewells. Children on board excitedly press their noses against the train's windows.
Although from the outside it looks just like all the other carriages, albeit with spotlessly clean paintwork, inside, The Vietage is a whole different world, said Chris.
The reconditioned carriage is air-conditioned and is finished beautifully in soft woods and caramel-coloured rattan. Photo: The Vietage
Three things that Chris repeatedly mentioned: the booze, the scenery outside the window and the massage.
His recommendations include: free-flow bubbles, wine and beer If you were so inclined, your six-hour journey could be entirely fuelled, if you're feeling especially flush or flash, from an à la carte menu of premium champagnes, wines and caviar.
Chris praised that lunch was exemplary, and included a balanced salad of seafood from Quy Nhon, lifted by hits of chilli and the umami rush of fish sauce. He choose braised wagyu neck on a bed of shredded carrots and zucchini with a sesame jus, and the local flavors and ingredients continue with strawberries from the hill town of Dalat atop coconut yogurt and basil.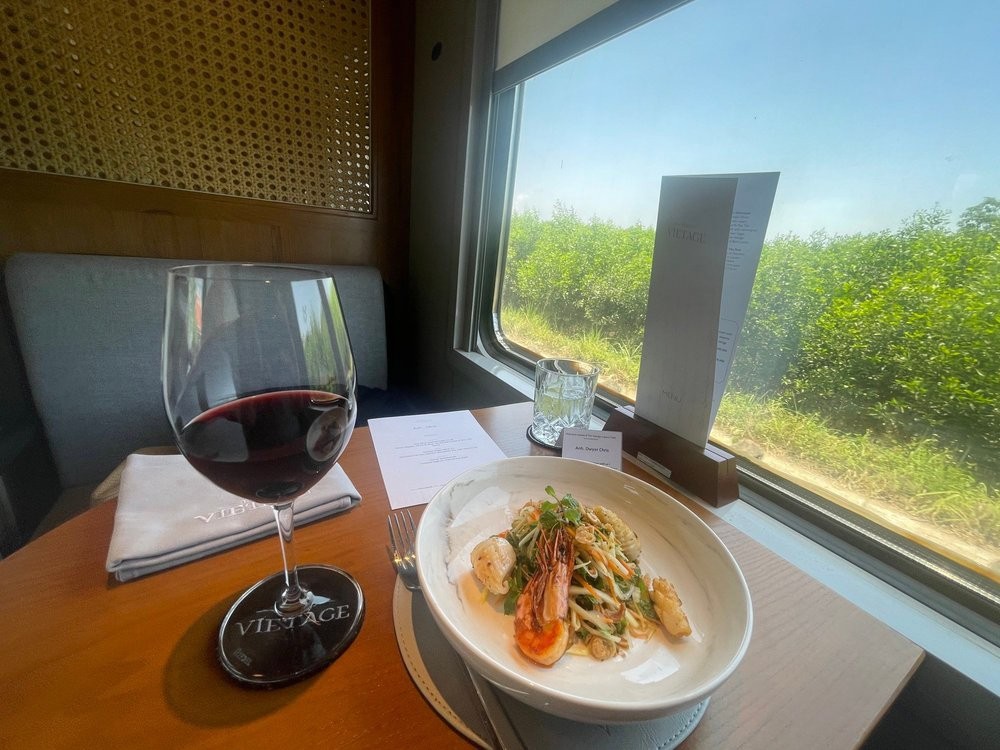 A Quy Nhon seafood salad and glass of wine aboard The Vietage. Photo: Chris Dwyer
"With fast Wi-fi, smug social media updates are posted and emails checked. I snooze on and off beneath soft blankets, but mostly I remain glued to the cinematic scale of the carriage window," commented Chris.
The remainder of the journey passes all too quickly and the expat journalist had a comfortable ride. He believed through this train ride he get the best of the view of rural Vietnamese life: water buffalo plough fields; rice is sown or harvested; bridges span mighty rivers with boats tethered to the banks far below; mountains rise on the horizon; every stop is manned by a serious-looking official in a spotless uniform.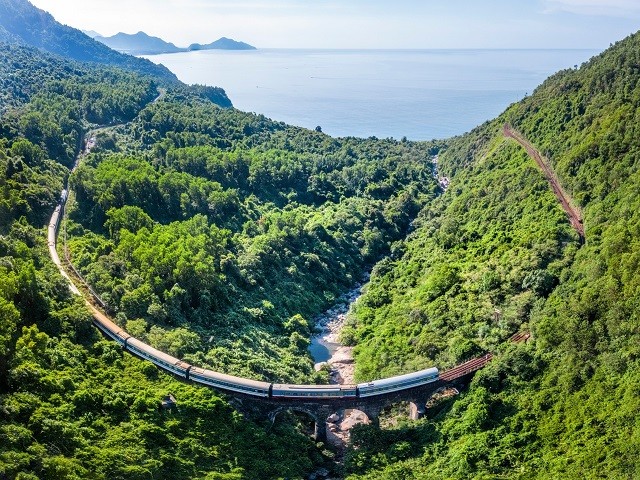 Photo: The Vietage
The massage left a great impression on the foreign traveler. Chris was able to relax while enjoying the view, which he loved so much he did not want to close his eyes. He said: "The therapist eases me onto a forward-facing massage chair as I put my face through the soft black-leather, paper-lined hole. I then face the large window; you're probably supposed to close your eyes but to do so would mean missing Vietnam unfolding before me,".
Chris Dwyer has lived in Hong Kong since 2005 and writes on travel and food for platforms including CNN, BBC and South China Morning Post. He has visited 80 countries to date and aims to double that, but still maintains that the only way is Essex.