Expat Spotlight: Cristina Bain - Helping Vietnamese Students Attend American Universities
With chic professionalism, American expat Cristina Bain mentors dozens of students hoping to study abroad in the United States. By encouraging both their critical thinking skills and individual passions, Cristina makes sure that even students from Vietnam have access to Western academia.
Outside of her swanky office, Cristina Bain awaits for her students to arrive. Photo by Cristina Bain.
Located on bustling Doi Can Street, Cristina Bain's office feels like an academic oasis, allowing stressed high school students the chance to breathe. In comfy, plush chairs, students can read, lounge, or chat with each other while completing their homework. In the kitchen, Oreos, Cheez-Its, and a treasure trove of American snacks are left out for hungry students, along with a smoothie machine and a few Vietnamese favorites - instant noodles and mochi to name a few. Cristinia's East Coast accent can be heard in the private meeting space upstairs, guiding the students through a mock Socratic seminar.
After exploring Vietnam in the mid-2000s and settling down in Hanoi in 2013, Cristina has made a second home for herself in Hanoi. During that time, she witnessed Vietnam's economic boom, catapulting the nation into a Southeast Asian powerhouse.
"A decade ago, Vietnamese students were mostly concerned with stability. Now, they think in terms of expansion," says Cristina in an interview with the Vietnam Times.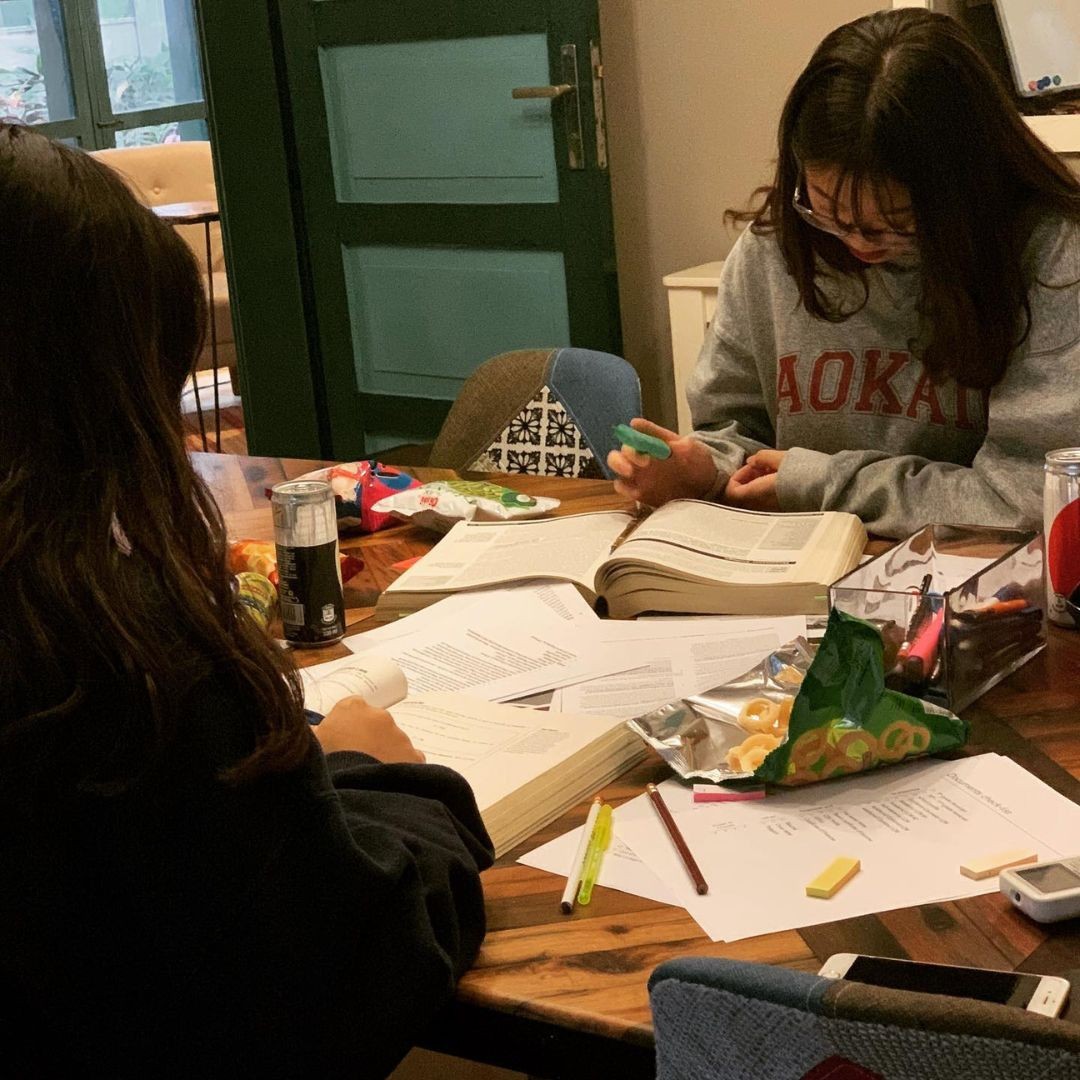 Cristina's students, hard at work. Photo by Cristina Bain.
Differing from the numerous afterschool programs found throughout Hanoi, her business, Cristina Bain Consulting, is dedicated to preparing students for life in a liberal arts college, or in universities that follow this curriculum. Most American and Canadian schools engage with the liberal arts, allowing young learners to flourish in a supportive setting. Cristina coaches students through the application process for different universities, gives helpful tips for the dreaded SATs, assists with narrowing down the vast college search, and teaches them how to be confident in interviews.
Additionally, Cristina goes the extra mile to simulate the liberal arts classroom by hosting several specialized classes that engage students' critical thinking skills. Most of her students spend five to six months doing creative and expressive writing, in preparation for writing a personal statement for colleges abroad.
"The liberal arts education encourages you to figure out what you are good at and try things so that you can find a career that makes you truly happy," says the 36-year-old American expat. "I think that is important for all young people."
The Vietnamese education system is more traditional and lecture-based than its American counterpart, giving students less options to explore their own personal interests. As most American universities encourage their students to have a breadth of knowledge outside their own field, graduates have a more well-rounded perspective and sharper critical thinking and communication skills, unlike a majority of Vietnamese universities that have their students only focus on one, specific field.
"You can't expect someone who was only trained in one thing to think critically about the environment, or expression, or identity, or their own emotional or mental health," says Cristina.
Cristina is aware that American universities still have their issues, such as equitable access and student safety. However, she still believes that Vietnamese students can achieve more at American universities.
"Asking any 17 or 18-year-old what they want to be for the rest of their life is crazy," explains Cristina. "Teenagers are really unsure of who they are, even on their best days. One of the things that I love about the American education system is that it allows much more exploration of who you are and what skills you may have than other education systems."
While campuses like VinUniversity are slowly adopting the liberal arts method, the USA is still the best place to get a personalized education while networking with people from around the globe.
"[American universities] push you to be a bigger and better person," says Cristina. "It is less training to be a professional and more like training to be a better human."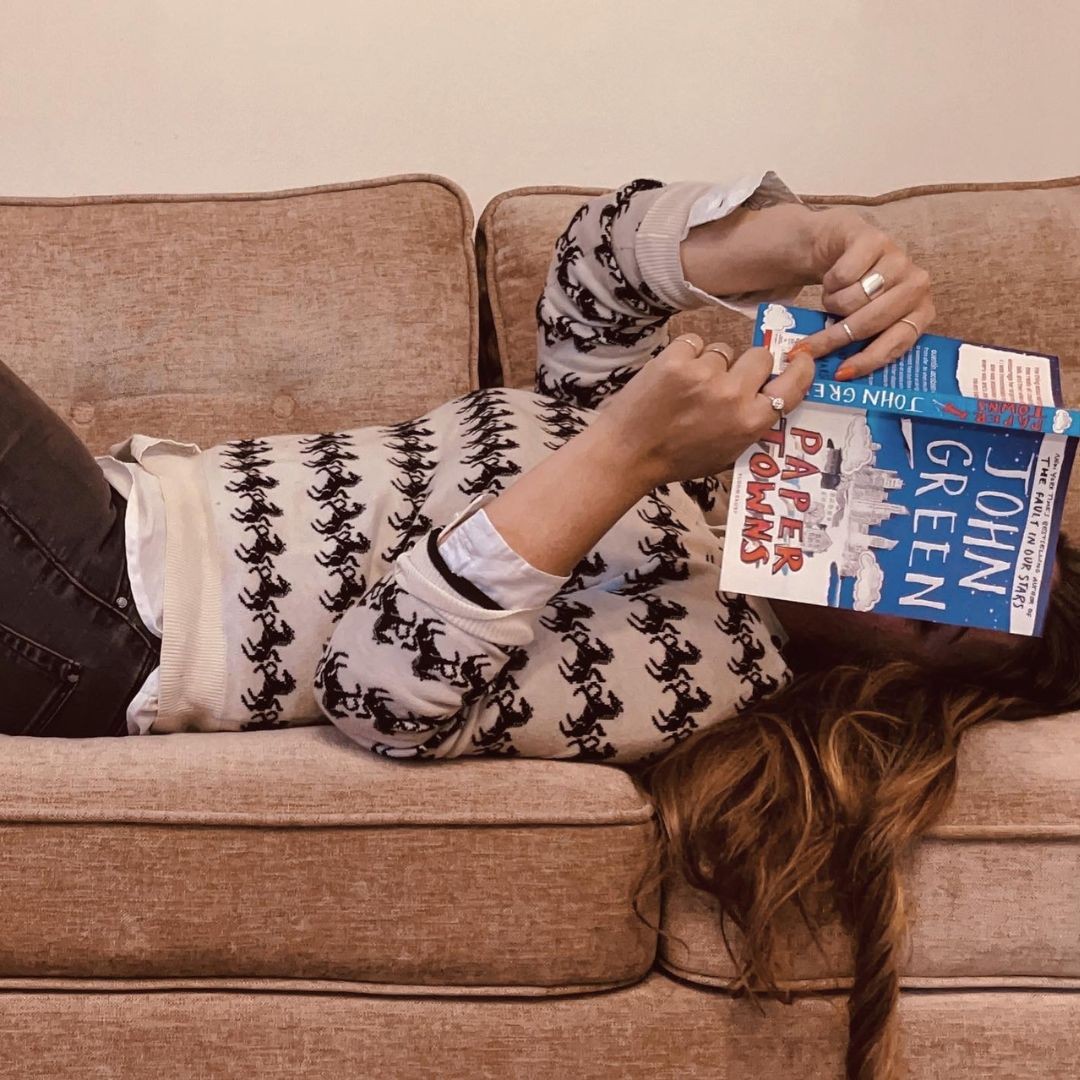 Leading by example, Cristina tells her students to spend less time on their phones and more time with books. Photo by Cristina Bain.
While a champion of United States' education, Cristina is also deeply invested in Vietnam. Her love affair with the country began in 2006, when she first arrived as a Fulbright scholar, participating in a language program at the Hanoi University of Science and Technology. Her interests in economic development and gender issues "came alive" in Vietnam, as she interviewed women who formerly served in the Vietnamese military.
Despite her American background, Cristina never received any hate from the Vietnamese people. Rather, she describes her first meetings with Vietnamese as "incredibly welcoming."
When asked about why Vietnam remains hospitable toward Americans, Cristina recounts the words of a fellow researcher of Southeast Asian studies; "Vietnam is an ancient culture but it is a future-focused one. To be friends in the future is more important than holding animosity about the past."
Thanks to her years of studying Vietnam and living within the culture, Cristina understands that furthering the country's success is more important to the Vietnamese people than the tragedy of war. Therefore, Cristina, with her access and knowledge of the liberal arts education, wants to help enhance Vietnam's success by providing its youth with special opportunities in the USA, thereby bridging the gap between the two former rival nations.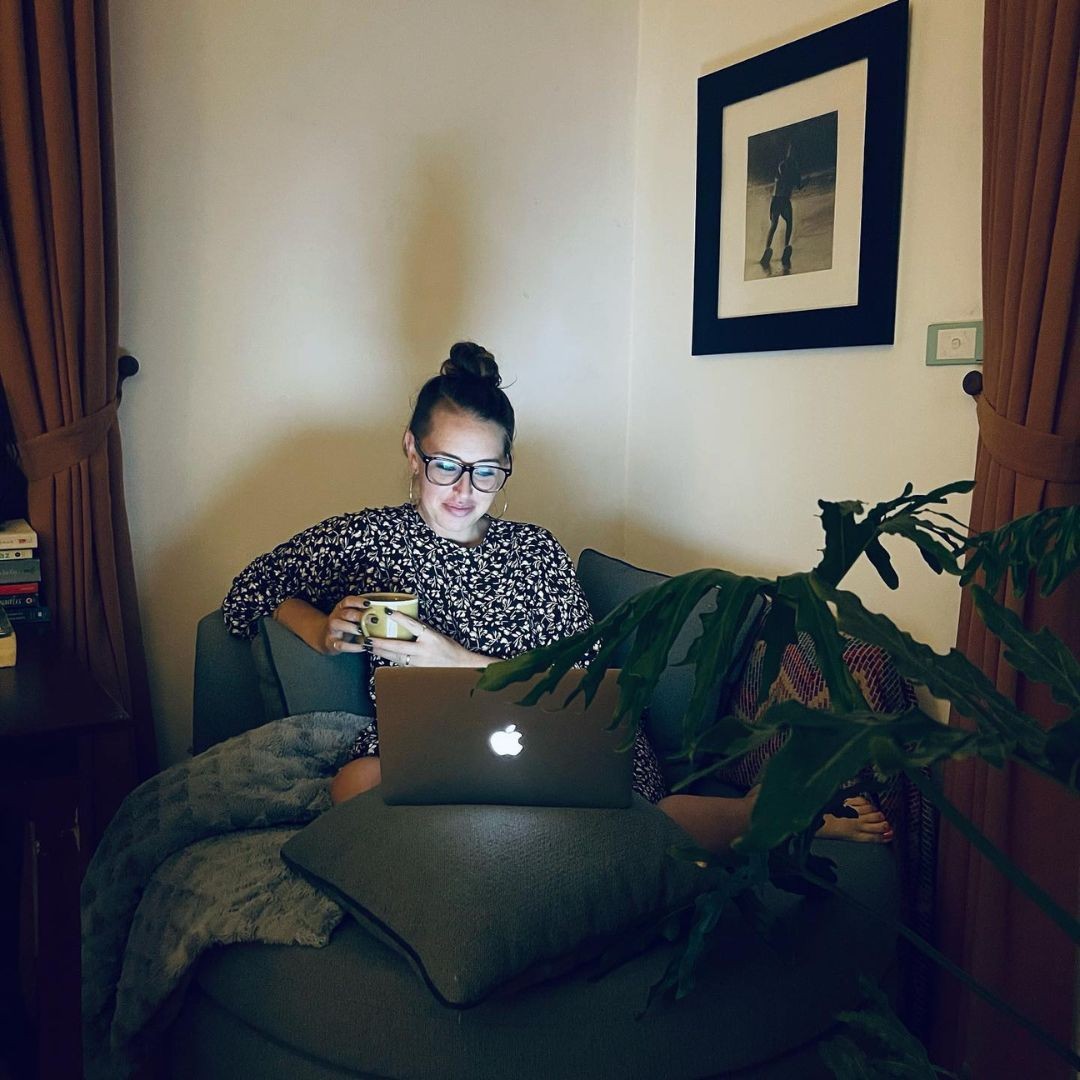 When speaking with universities on the other side of the world, Cristina often works late into the night. Photo by Cristina Bain.
As a college counselor in Vietnam, Cristina finds Vietnamese students to be very fastidious learners, making them great additions to American classrooms. Dynamic, hard-working, energetic, and high-achieving are how she describes Vietnamese students. Yet, she often advises her students to not simply "check off boxes," but to revel in the American college experience.
"Once you are enrolled in an American university, you need to adopt a new attitude," recommends Cristina. "You need to take the time to enjoy the classes, the clubs, and the campus community!"
Thanks to her expert advice and encouragement, Cristina's former students have found great success abroad.
For example, one of her students, Khue Nguyen, was accepted into McGill University, a top school in Montreal, Canada. Majoring in statistics, Khue is more than ready to make his mark on campus thanks to his work with Cristina Bain Consulting.
"[Through working with Cristina] I developed my way of thinking and implementing ideas," says Khue. "Besides her direct advice on my work and performances, I learned considerably from her life stories. I'm so glad I got the chance to work with such an amazing and inspiring human being like her, especially in the crucial period of Grade 11th and 12th. Also, I love our beautiful office! Cristina totally did a great job creating a chill and cozy atmosphere for students, and the workspace was always filled with snacks and drinks."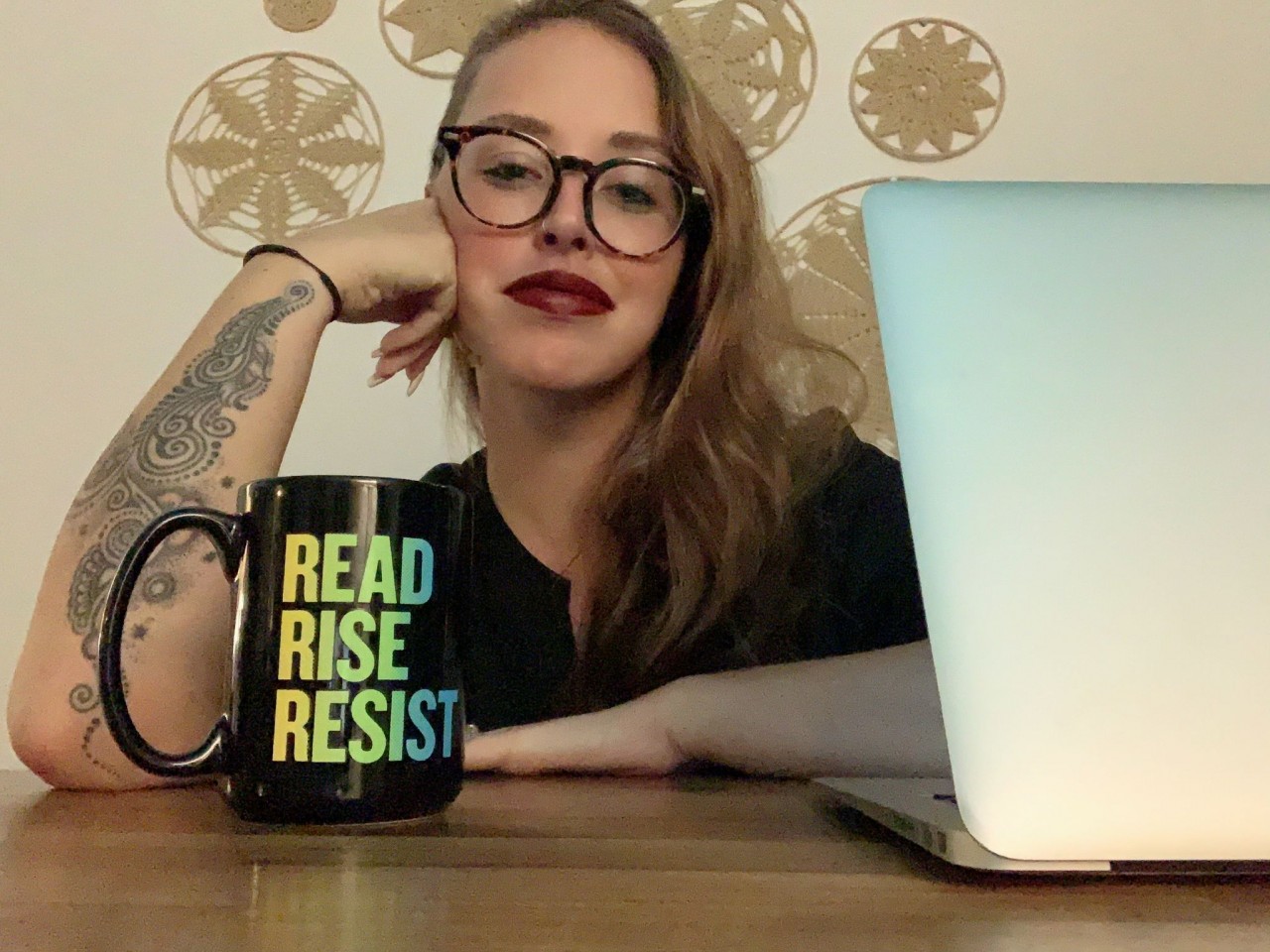 Powered by Vietnamese coffee, Cristina is ready to help her students. Photo by Cristina Bain.
According to the Vietnam Government Portal (VGP), Vietnam is the sixth leading country with students studying American universities, accounting for almost 11% of international enrollments. Currently, there are 21,631 Vietnamese students studying in the USA. As these numbers continue to grow (in part by Cristina's efforts), this American counselor is happy to continue living in Vietnam.
"What makes Vietnam a great place to live is the sense of entrepreneurship and opportunity that is a part of the Vietnamese identity," says Cristina. "Everyone I know has ideas for side hustles, everyone wants to try stuff, to create something of their own."
As a new monthly series for the Vietnam Times, the Expat Spotlight aims to highlight interesting members from Vietnam's diverse expat community. Be it through travel, charity, business, art, or diplomatic works, these expats have a deep love for Vietnam and wish to see it progress. Stay tuned to learn about the other expats and their various projects. If you would like to nominate someone for a future feature, please message the Vietnam Times via Facebook.