Expat Spotlight: Eleanor Sander O'Hearn - A Dedicated Advocate for Better Lives in Vietnam
In celebration of International Women's Day earlier this month, the Vietnam Times is proud to highlight the work of Eleanor Sander O' Hearn, an Australian with a heart of gold and the first female subject in our ongoing Expat Spotlight series.
When meeting Eleanor "Ellie" Sander O'Hearn at the KOTO Villa, she still has the energy and adventurous passion for Vietnam as she did when she first arrived in 2017. At that time, she was the marketing manager of a local travel agency, after which she volunteered for KOTO, Vietnam's first non-profit social enterprise, founded in 1999 by Vietnamese-Australian Jimmy Pham.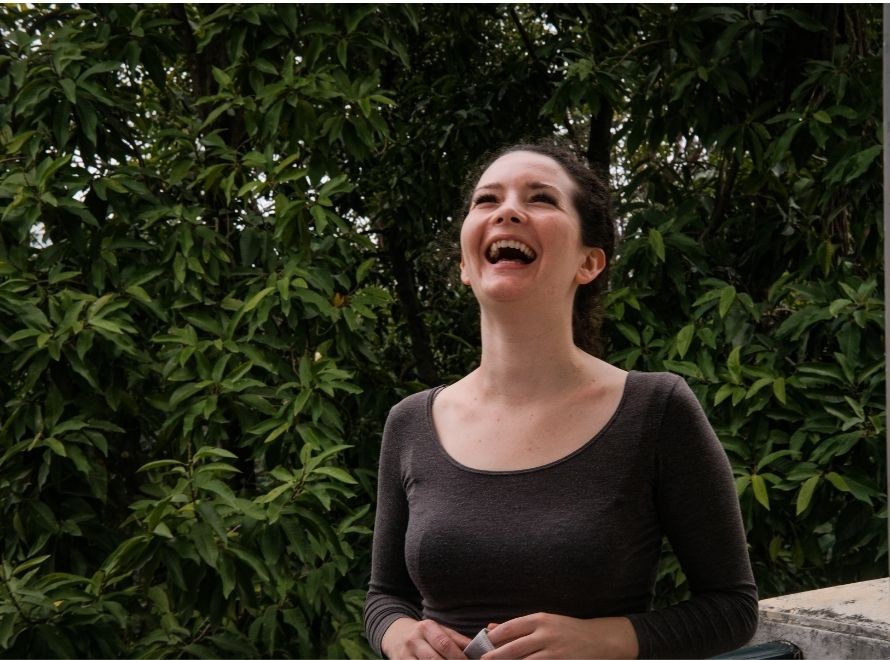 Ellie on the KOTO Villa terrace. Photo: Reka Markos
It is through her work with KOTO that she met Huong Dang, a graduate of the holistic training program in KOTO and the founder of HopeBox, an organization that is close to O'Hearn's heart. She initially helped HopeBox with digital marketing and continues her work with HopeBox Australia, now a registered charity in Australia. HopeBox's aim is to raise more awareness about gender-based violence and provide work-based therapy to women who are survivors of gender-based violence in Vietnam.
There are deeply ingrained gender-inequality issues especially in rural Vietnam with domestic violence and sex trafficking. Though working with this organization, the Australian expat learned a lot from passionate Vietnamese women, with hopes to bring a better life to women and girls across their homeland. O'Hearn is adamant that Vietnamese women are some of the strongest women she's ever worked with.
Enchanted by Vietnam and wishing for its people to prosper, O'Hearn continued to give back to the Vietnamese community through various international organizations. Last October, she became official volunteer through the Australian Volunteers Program. As a firm believer in the power of volunteering from a young age, O'Hearn feels lucky to now officially be a part of the Australian Volunteer Program, created as a people-centered approach to capacity development and helps organizations in developing countries to deliver on their own objectives.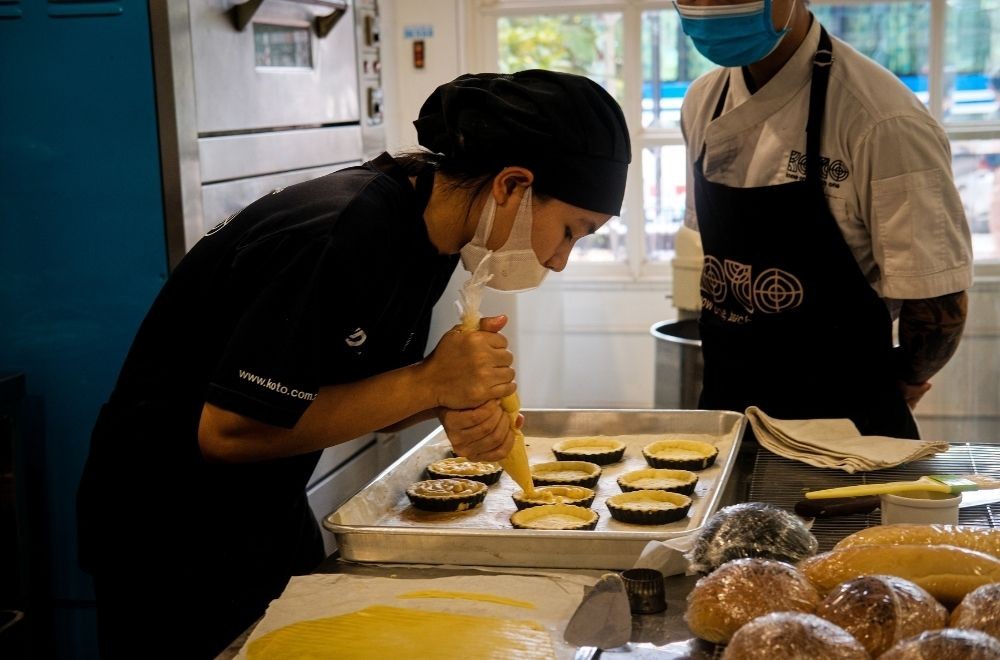 Monitored training at the bakery. Photo: Reka Markos
Originally, O'Hearn passion wasn't in Marketing and Communications. It was a backup from working extensively within the hotel industry that eventually led to her involvement with organizations that she's truly excited about. She complemented her vocational education with a business degree and is confident that "vocational education is great alternative pathway to earning a sustainable income."
She then taught herself digital marketing, accumulating transferable skills along her path that eventually led her to her current work with KOTO. O'Hearn is immensely proud of her work in KOTO. The program puts disadvantaged and at-risk youth aged from 18-22 through a free two year free training course, from where they can choose to specialize in areas such as commercial cookery or front of house.
Upon completion of the course, the participants are then given a Cert III in Commercial Cookery or Front of House from Box Hill Institute - an Australian certification which provides a pathway to work in the hospitality industry here in Vietnam and other countries.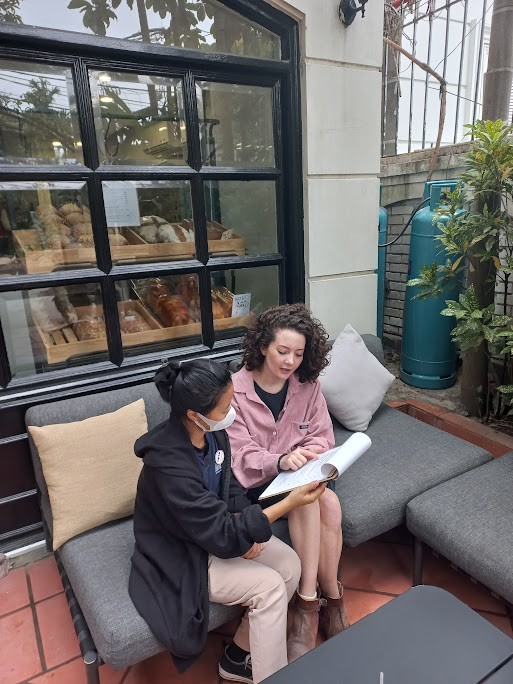 Ellie taking time with trainees. Photo: Eleanor Sander O'Hearn
The name KOTO stands for 'Know One, Teach One' and in addition to incorporating both vocation training and life skills, it depends on the idea that once you have the knowledge, it should be shared to help someone else get a start. KOTO's aim is simple: to better lives while providing excellent food and service along the way. KOTO uses the proceeds from the training restaurant KOTO Villa to help fund the program and of course utilize grants, sponsorships, and fundraising so they can further grow their trainees' knowledge and employability.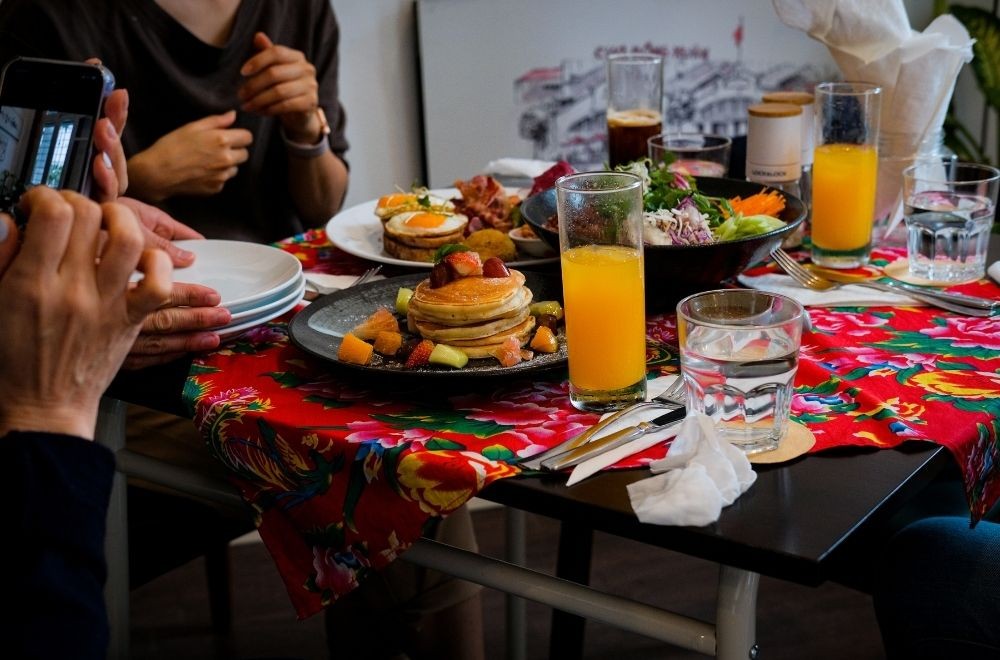 Brunch at KOTO Villa. Photo: Reka Markos
Despite the success of both the program and the restaurant, it's not always a seamless, smooth ride with continuous closures and lockdowns due to the pandemic. O'Hearn has been in hospitality for long enough that she knows the industry well and this has made the difference when marketing not only the mission, but developing the concept of the restaurant, which opened in December 2020.
As O'Hearn has had experience working and studying in different countries, she is able to bring a broad, inclusive vision to KOTO. Developing a successful Western style brunch is a practical example of how she has invested in the day to day trajectory of the social enterprise.
She also works with people who didn't have the opportunity to use computers growing up, giving them some basic IT knowledge, such as training for Excel and Word to having a suitable playlist to enhance the mood of the restaurant.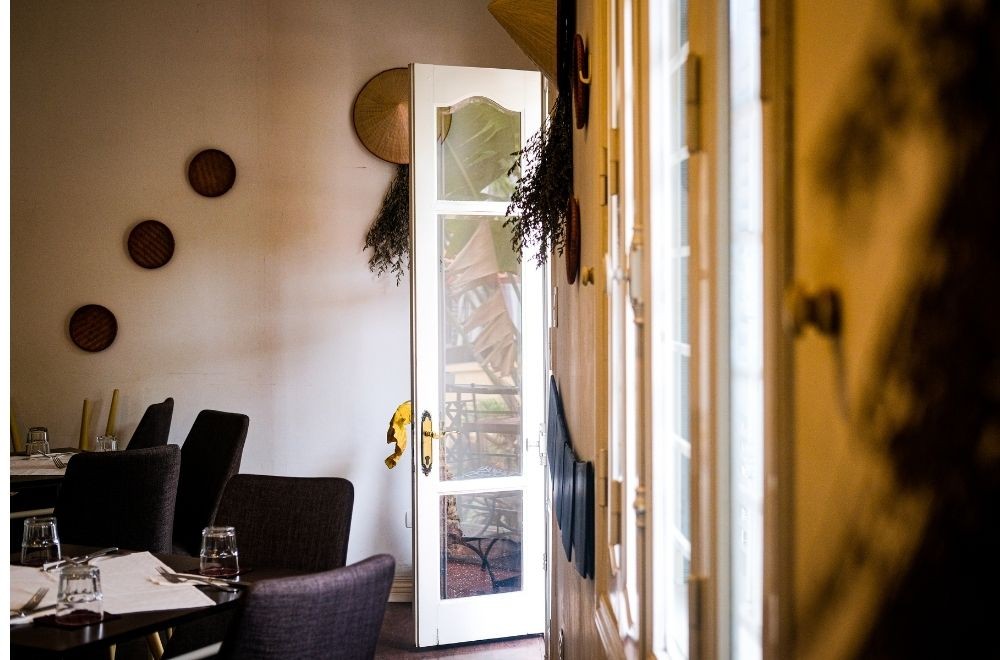 KOTO Villa dining room. Photo: Reka Markos
"With a bit of training and simple branding, it can make for a much more presentable business," said O'Hearn.
Another force for O'Hearn is her experience working in the events industry, making her an admittedly very demanding person to work with. She believes that having worked in hospitality for most of her life has bred a certain directness.
That being said, she's understanding and dedicated, and has gotten along well with teams she's worked with in the past, whether it be in the Netherlands, Vietnam, or Australia.
What is undeniable is her wonderful rapport with the trainees, always matching their enthusiasm and energy. Even outside of work, they fondly call her "Chi Ellie!" when they see her around Tay Ho. She loves watching them grow in confidence, and seeing who develops certain passions, be it a barista or a chef. It's the day to day life that makes her smile.
"Walking into KOTO Villa it's clear to see that everyone is so friendly, happy, pleased and enthusiastic to be there," said O'Hearn. "It's an uplifting environment to work in."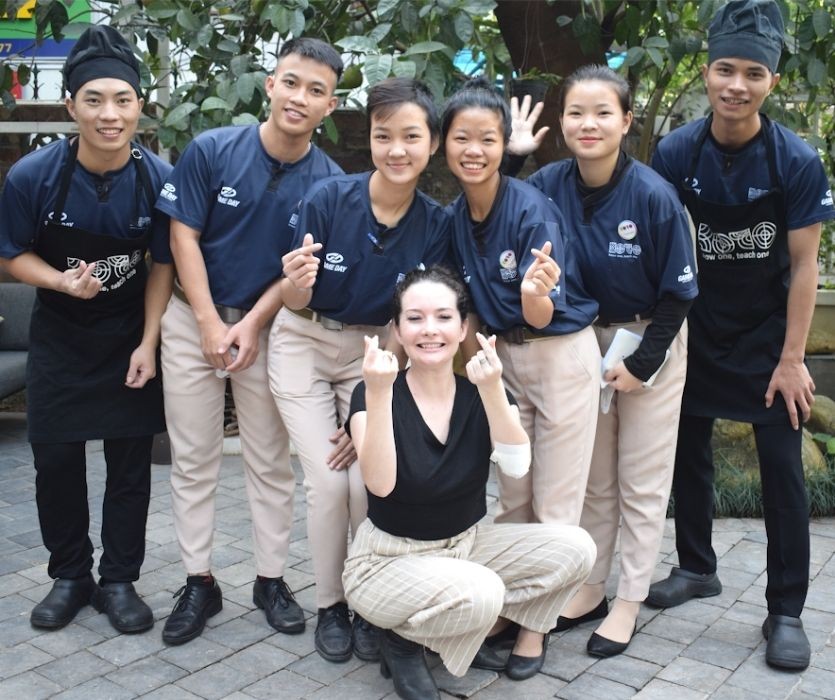 Ellie with the trainees. Photo: Eleanor Sander O'Hearn
Having worked previously in acknowledging the importance of women's empowerment at HopeBox she applies this to the workplace environment in KOTO as well. She also injects this into the marketing side of things.
"A lot of women are running the show here, from the chefs to the foundational director of accounting. Women have significant and important roles at KOTO. I love an online post that empowers them, alongside a nice professional photo which succinctly and eloquently describes what they do and then watching their reaction as they feel empowered at being acknowledged for their work."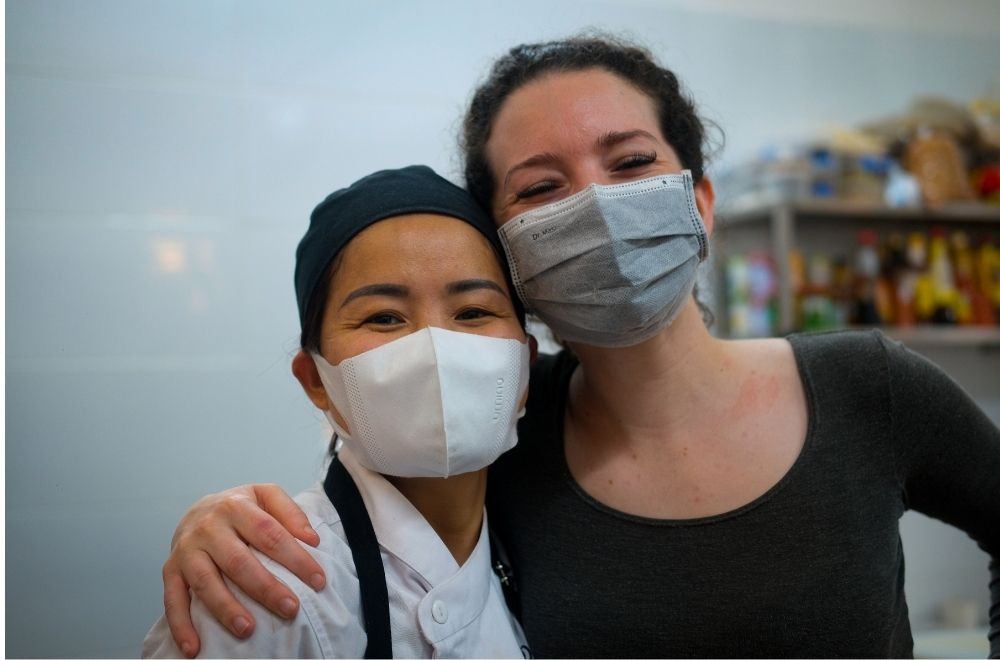 Ellie with KOTO Villa Sous Chef, Hau Hoang. Photo: Reka Markos
O'Hearn's biggest achievements since living in Vietnam encompasses both opening KOTO Villa, working in a large team, as well as helping to build HopeBox and fostering a kindred spirit in a smaller, tight-knit organization.
Her goals moving forward will be to focus on HopeBox. "It's growing and I've been in it pretty much since it started," said O'Hearn. "It's something I hold close to my heart. I love the team and the impact we have."
If there is something difficult to be done, O'Hearn knows the subject, having seen and experienced it, and has the energy and force to shift things into action. She recommends anyone looking to get involved, to look toward what matters to you.
"If there's something that makes you feel something and stimulates you, look into charities that are locally supporting this." said O'Hearn. "Volunteering can be tough and takes commitment, but one simple thing you can do is hold small fundraisers and take the workload off a charity, for example. It doesn't need to be recurring."
Since coming to Vietnam, she's had more direction in life working for something she's truly passionate about. Initially, O'Hearn got into the hotel industry to travel, but now she is more focused on providing better opportunities for at-risk individuals.
"I haven't just fallen into it, it's now more just all my past experiences forming into something more concrete. I've always been open to change and new experiences. One constant thing is that I'm truly lucky to have a network that supports me, so then I can go out and do what I do to support others."
Thanks to the work of O'Hearn and her amazing team, Hanoi is now home to a few more safe spaces. At these locations and programs, members of Vietnam's most vulnerable communities can gather and flourish together.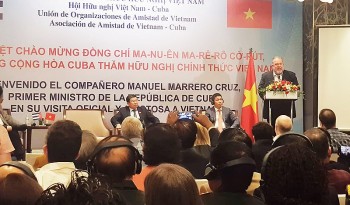 Friendship
Cuban Prime Minister Manuel Marrero Cruz met representatives from the Vietnam-Cuba Friendship Association in Hanoi on September 30, as part of his visit to Vietnam from September 28 to October 2.