Expat Spotlight: Tom Divers - Founder of the Vietnam Coracle
Written with such love and care for Vietnam, the brilliant travel guides of Tom Divers inspire expats and foreign tourists to explore the wild, remote corners of the nation.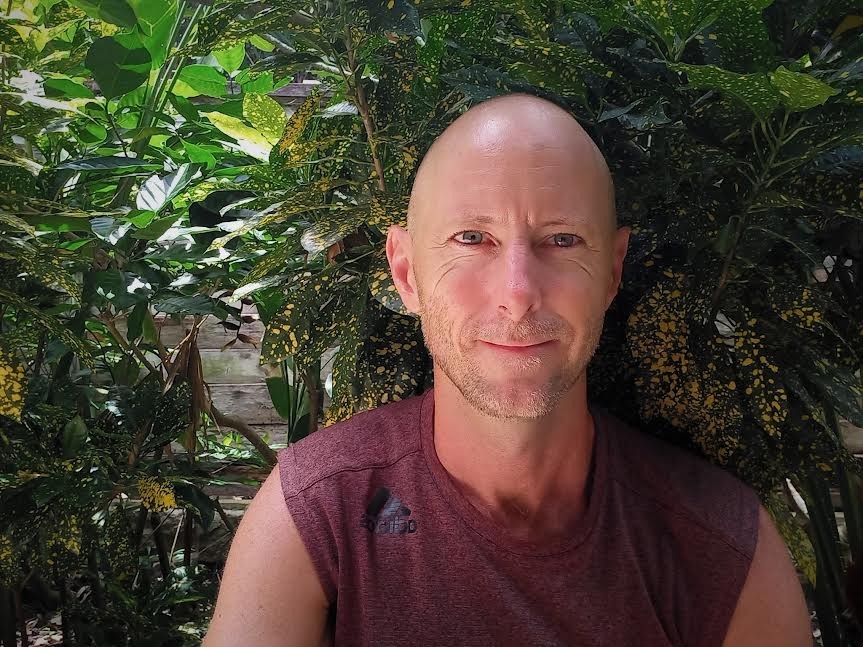 Tom Divers in the wilds of Vietnam, his natural setting. Photo by Tom Divers.
When traveling around Vietnam, keep an eye out for a wiry Brit speeding along the country's endless backroads on his motorbike, affectionally named Stavros. Since 2005, Tom Divers has been living in Vietnam, determined to explore every inch of the S-shaped land. After getting acclimated to the culture as an ESL teacher, Divers struck out on his own, following his sense of wanderlust. In 2012, Divers began the Vietnam Coracle, an independent travel blog that recounts his adventures across Vietnam.
With a decade's worth of information, Divers's inspired writing has become an important resource for anyone interested in exploring the country. Recently, the Vietnam Times reached out to Divers to learn more about the adventurer and his wayfaring ways.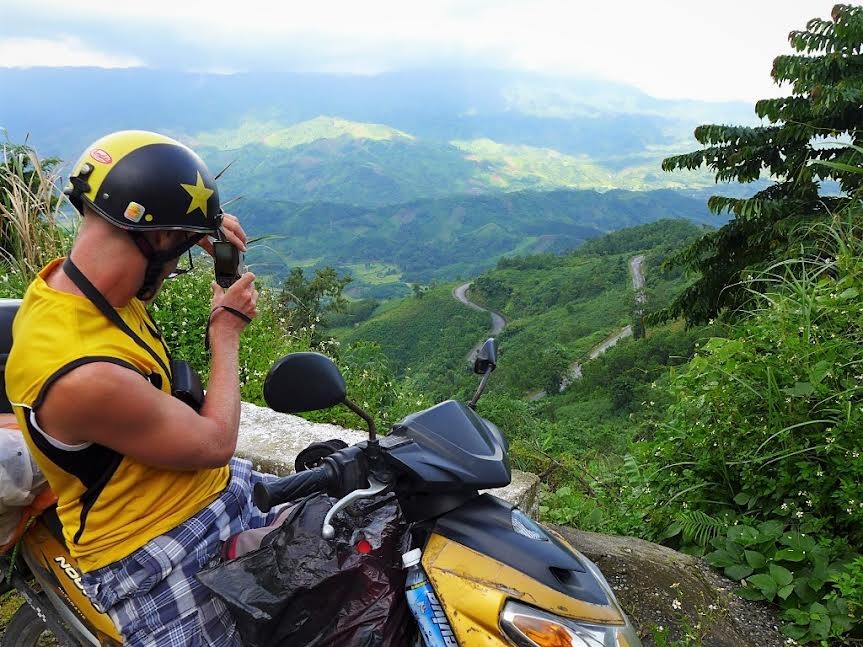 Driving down the Vi Ô Lắc Pass. Photo by Tom Divers.
After reading a few of his articles, it is obvious that Divers is well-read. He casually mentions literary giants such as Graham Greene and Ernest Hemingway, who were also talented individuals and avid travelers. Divers follows in that style, compelled to intimately detail the goings-on of a foreign land. In some of his articles, he writes about everyday sights of Vietnam but focuses on them with such passion.
For example, last August he published an "Ode to the Banyan Tree." While quite common in Vietnam, Divers's research and fascination with the subject paints the distinct tree in a new light; "Growing to enormous sizes and living for many centuries, banyans connect generations and are a symbol of life, longevity, stability, growth and vitality. The mesmerizing scale and complexity of their organic architecture has made banyans the tree of poets and wanderers; a refuge for travelers and rebels; a place of worship and deities," he writes. In only a few words, Divers transforms the banyan tree from a simple plant to a metaphysical object, rooted in Vietnamese history and lore.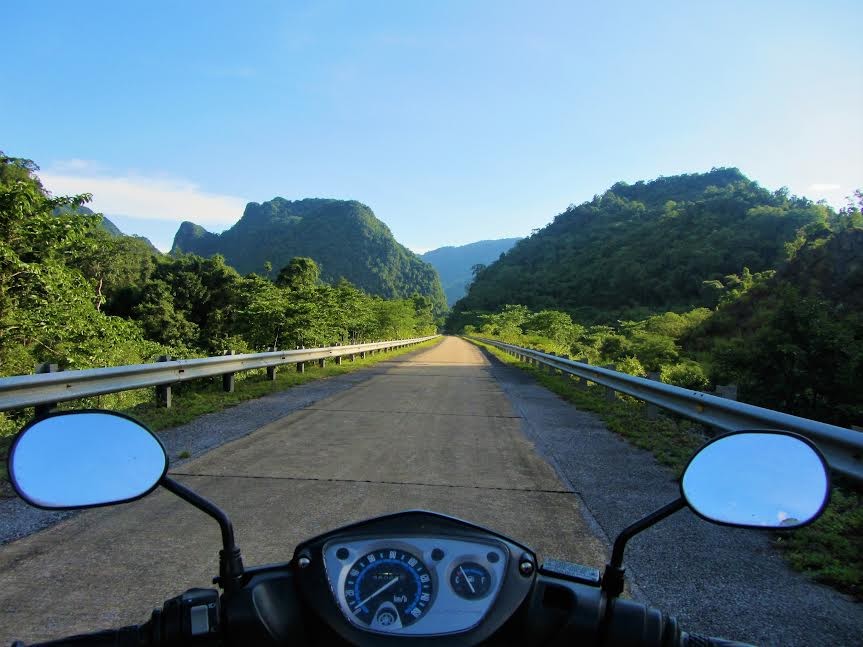 The thrills of the open road. Photo by Tom Divers.
While Divers's adventurous/studious life may seem like an idyllic breeze, running the Vietnam Coracle requires a lot of hard work. Unlike most of travel blogs, the Vietnam Coracle is entirely independent. Divers does not work with sponsors nor does he rely on Google Ads or marketing on social media. Rather, the blog's success depends entirely on word of mouth. Therefore, it is crucial for his travel guides to be high quality.
"Being independent means you have to create your own projects, have your own high standards, be your own editor, set your own deadlines and make your own goals," said Divers via e-mail. "These are all things that I want and that I embrace, but they do also require a certain amount of self-discipline, motivation and dedication over many years. Being independent in the travel 'industry' is difficult but precious, precisely because it's unusual. Really good, truly independent travel writing, advice, guides, reviews and stories available online for free are very rare these days."
Divers's authenticity is the biggest selling point of the Vietnam Coracle. Breaking from the norms, he is not interested in making money. "At the risk of sounding corny, it has to be a passion first, a business second," said Divers.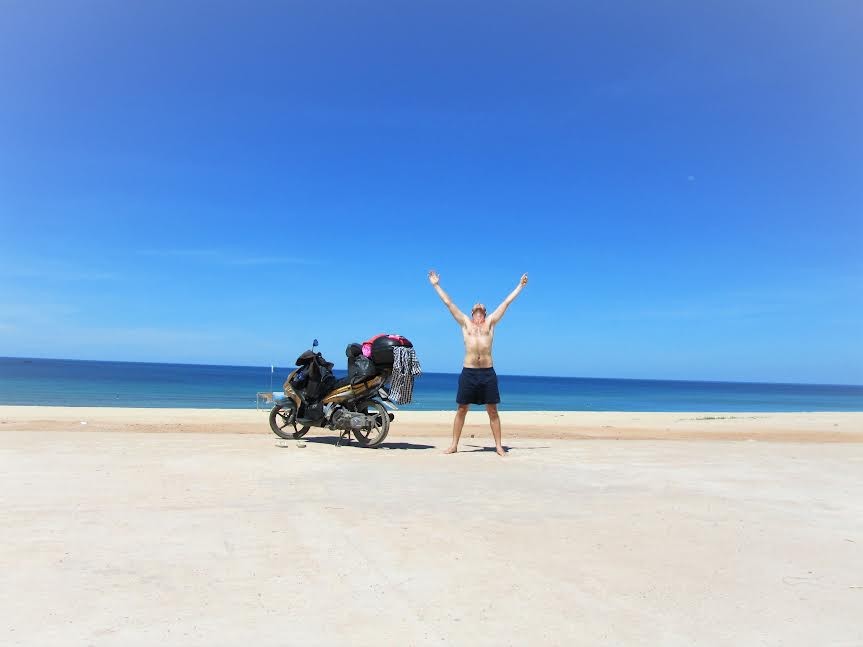 Beachside drives are his favorite pastime. Photo by Tom Divers.
Despite his best efforts, Divers and the Vietnam Coracle has also experienced some hard times. During last year's nationwide lockdown, travel was an impossibility. Even though it was a harsh time, Divers's creativity never waned.
Divers was very fortunate to ride out Vietnam's terrible 'fourth wave' from the warm shores of Phu Quoc, a treasured isle in Vietnam's southern waters.
"The lock-down (in Phu Quoc) was not as strict as in other parts of Vietnam, and the Covid-19 case numbers were far fewer than elsewhere," said Divers. "I had access to nature, space, and good company. I spent most of my days working on various aspects of my website, including a brand new site design and dozens of new articles and guides, some of which focused on the pandemic and lock-downs in Vietnam."
On his blog, Divers chronicled his time on Phu Quoc and the fast friendships he made with other stranded guests of a swanky coastal resort; "During the pandemic... my social circle was secure, because no one had the opportunity nor the desire to leave. I got closer to, and spent more time with, the people I knew in Vietnam, and they in turn got closer to me. We all had more invested in our friendships and we all shared the good fortune of being in the right place at the right time: Vietnam during the pandemic."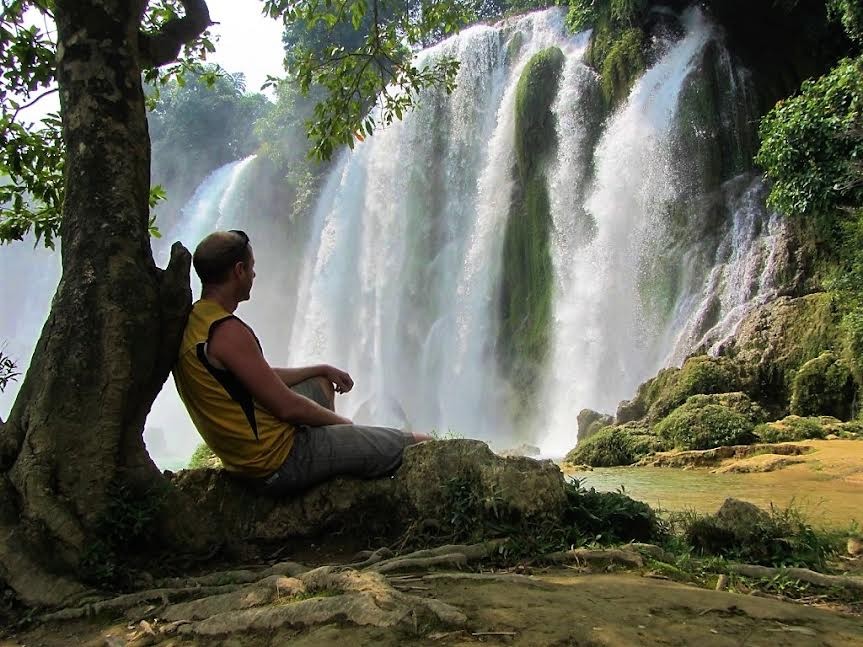 Enjoying the mists of Ban Gioc Waterfall. Photo by Tom Divers.
In the Covid Era, Divers travels reminds his audience that adventure is still out there, even during the bleakest of times.
"I think, pandemic or not, it's difficult not to find adventure in day-to-day life in Vietnam, and that prospect has always excited me about living and traveling here," said Divers. "In Vietnam there's adventure around every corner: in the cities, your next meal on the streetside is almost guaranteed to be an adventure; in the countryside, there's so much to explore - from the mountains to the coast - especially on two wheels; and the people you meet along the way - all of them have interesting stories. There is an undeniable energy and pulse to life in Vietnam, even during the pandemic, which imbues every situation with something special."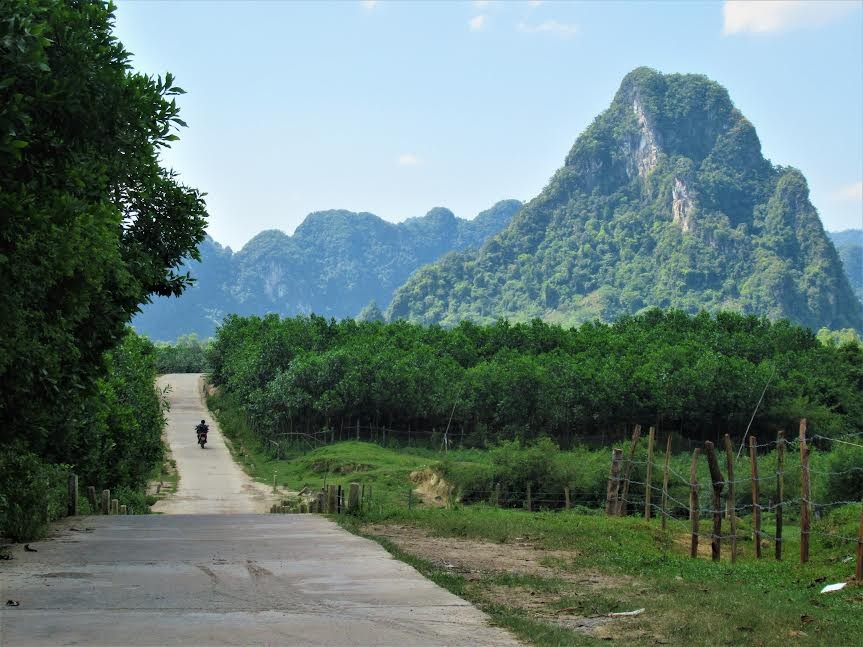 Exploring the jungles of Phong Nha Ke Bang National Park. Photo by Tom Divers.
Although he has seen and done more than the average expat, Divers does not label himself as an adventurer.
"I don't really think I have an especially adventurous spirit - most people I know are far more adventurous and outgoing than I am - but I have never become bored in Vietnam; never struggled for ideas to write about for my next guide or article; never felt jaded or like there's nothing left to explore. In fact, the more of the country I see, the more I write about, the more I learn and travel and meet people, the more I realize how much more there is to see and do. Whatever adventurous spirit I do have, Vietnam feeds it and keeps it alive."
As a new monthly series for the Vietnam Times, the Expat Spotlight aims to highlight interesting members from Vietnam's diverse expat community. Be it through travel, charity, business, or diplomatic works, these expats have a deep love for Vietnam and wish to see it progress. Stay tuned to learn about the other expats and their various projects. If you would like to nominate someone for a future feature, please message the Vietnam Times via Facebook.