Expat Spotlight: Denis Bissonette - A 20-Year Contributor to Vietnam's Flourishing Tourism Industry
As a lecturer at Hanoi Open University, providing students with his worldly knowledge of hospitality and travel, Canadian expat Denis Bissonette has played an influential role in developing exciting tourism opportunities in Vietnam over the past two decades.
Despite his multiple years abroad, Denis Bissonette claims to have felt homesickness only once; it was in 1981, on the Greek isle of Santorini.
"It only lasted 30 minutes," says Denis with a laugh. Meeting with the VietnamTimes in Hoan Kiem's Cai Mam Bistro, Denis appears in a Vietnam t-shirt, slacks, and a dress shirt. Kind eyes rest behind his thick-rimmed glasses. In a moment he could be ready to give a university lecture or unwind at a local bia hoi. As an adept world traveler, Denis is ready for anything.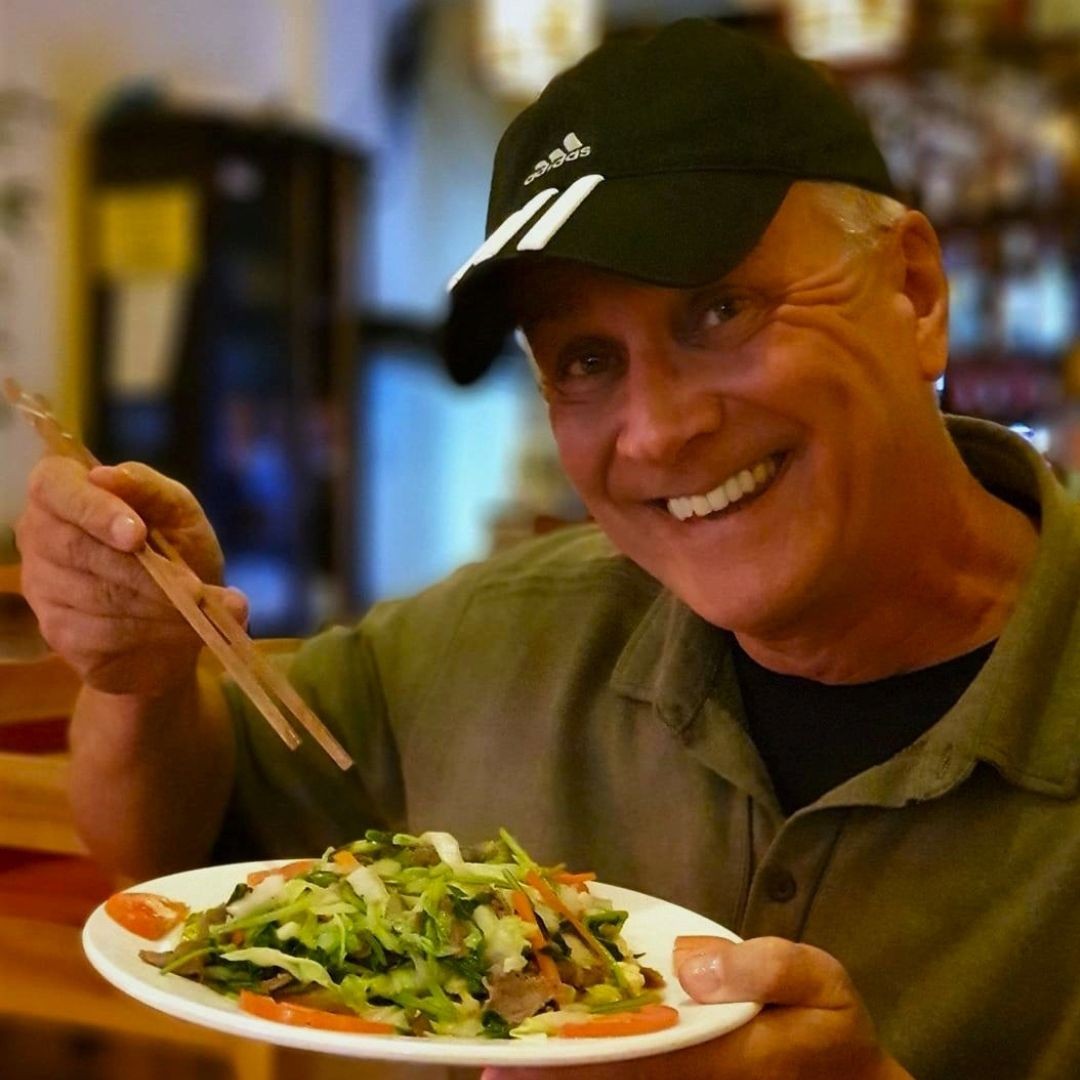 Denis, enjoying some Vietnamese cuisine. Photo by Denis Bissonette.
After experiencing his fleeting moment of homesickness in Santorini, the tail-end of his backpacking tour through Europe and North Africa, a 21-year-old Denis decided to further indulge his wanderlust and travel to Israel. Working in close quarters at a welcoming kibbutz for two years, the Canadian traveler learned life-long lessons about hospitality and communicating with different cultures.
Although he has had many travels over his life, Denis believes his time in Israel was the most influential.
"I arrived in Israel as a boy and returned as a man," says the 62-year-old expat.
With a passion for travel and experience in twenty-five countries, Denis would continue to gravitate towards various odd jobs the tourism industry. Even when at home in Montreal, Denis worked as a tour bus guide for French tourists. Eventually, he found employment at the World University Service of Canada (WUSC), an NGO providing Canadian expertise for special projects in developing nations.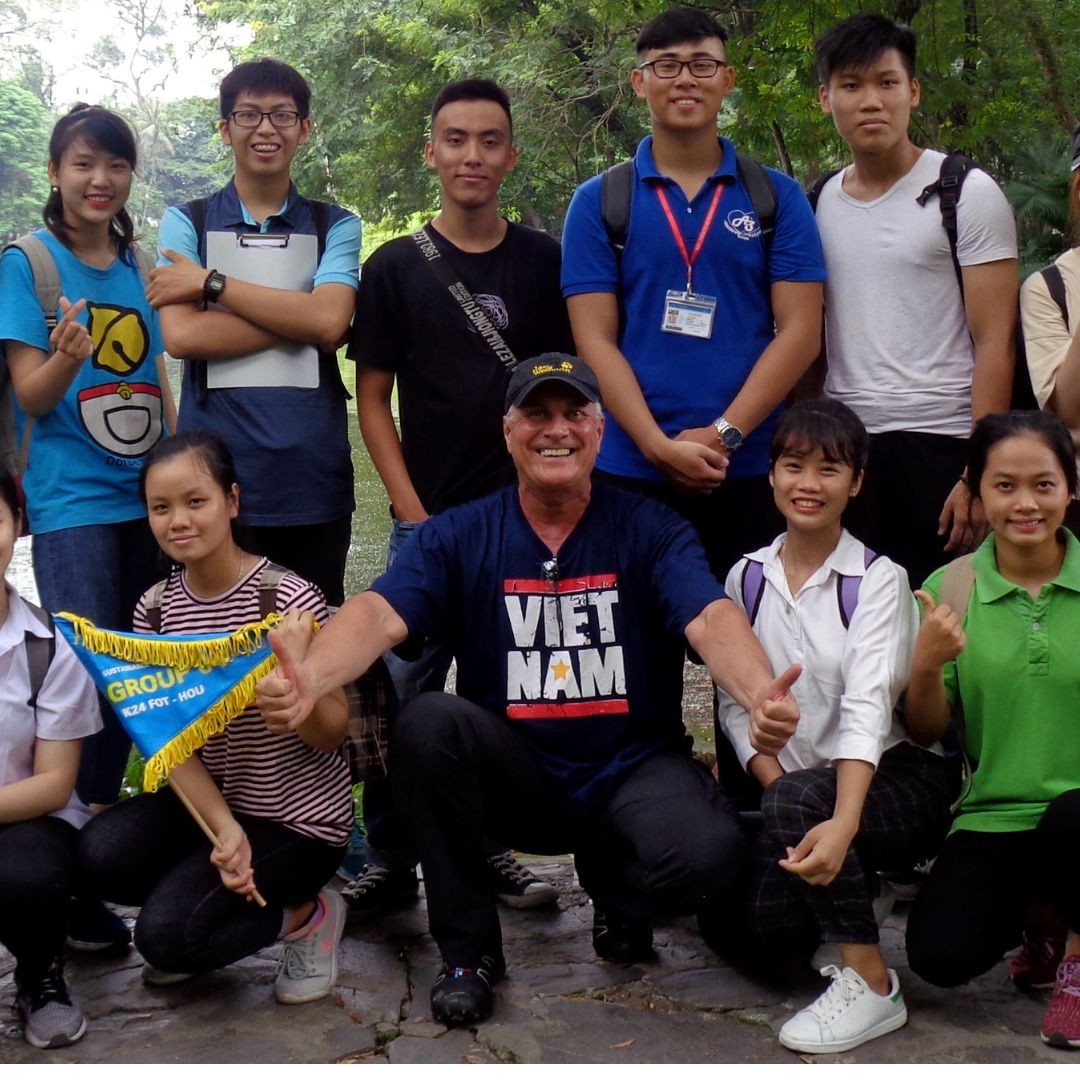 Denis, posing with his students during a field trip. Photo by Denis Bissonette.
With his knowledge of hospitality and previous work in Sri Lanka and Thailand, Denis was a suitable candidate for working in Vietnam. In 2002, he was offered a job in Hanoi Open University's Faculty of Tourism, where he currently still resides as a much beloved lecturer. Through his courses, Denis instructs Vietnamese students about the ins and outs of the tourism industry, trains tour guides, and teaches them how to understand the travel expectations of Westerners.
With a lifetime of travel, Denis is happy to put his knowledge to good use in Vietnam.
"It was destiny, I suppose," muses Denis, "If you believe in destiny."
Arriving in September of 2002, Denis spent the first three weeks in Hanoi acclimating to the extreme heat.
"It was so hot! Even the air-con was not enough," said Denis. "That is what I remember the most."
Additionally, at the request of Hanoi Open University, Denis was forbidden to drive a motorbike until he became more used to the chaotic roads of the capital. Therefore, Denis relied on one of his students to drive him to work. His early mornings were filled with the daily dramas of a Hanoian commute; rushing high schoolers, jam-packed buses, and a chorus of motorbike horns.
Thanks to this slow introduction to Vietnamese traffic, Denis now maneuvers through the nation's streets and highways with ease. Although happy with his teaching position, the bred-in-the-bone traveler still manages to get away and explore Vietnam and it's neighboring countries via motorbike.
"As soon as I have free time, I am off," says Denis.
A scene taken from Denis's photographic journey through Hai Giang. Photo by Denis Bissonette.
In 2004, he became the founder of the I Love Vietnam Travel Co-Op and Vietnam Hostelling International (IVF), making him an active participant in Vietnam's fledging, post-war travel industry. Working with many of his former students, Denis provided international travelers with pleasant accommodations and epic tours throughout Vietnam. As an avid motorist, he especially loves guiding convoys through the lush jungles of Vietnam and unknown Laotian backroads.
Denis giddily recalls the excitement of traveling on his Honda Wave, enjoying the good and the bad. No matter the situation, Denis approaches it in a positive manner.
"My joy is motorbiking," says Denis. "One of my favorite routes, besides the Ho Chi Minh Trail, is Hanoi to Luang Prabang. You travel on beautiful mountain roads and pass tiny villages that might have never seen a Western face. When driving through these breathtaking backroads, you often forget about refilling the petrol. If you find yourself in the middle of nowhere with an emptying tank, it is important to remain calm and just tell your travel buddies, 'it's okay! Let's explore some more!'"
In addition to working in Vietnam's travel and hospitality industry, Denis is also quite proud of his work for Vision Vietnam, a Canadian organization in which tourists would donate their unwanted eyeglasses to ethnic minorities across the nation. Denis and his fellow Canadian expats approached local villages with hundreds of eyeglasses, granting village elders better eyesight.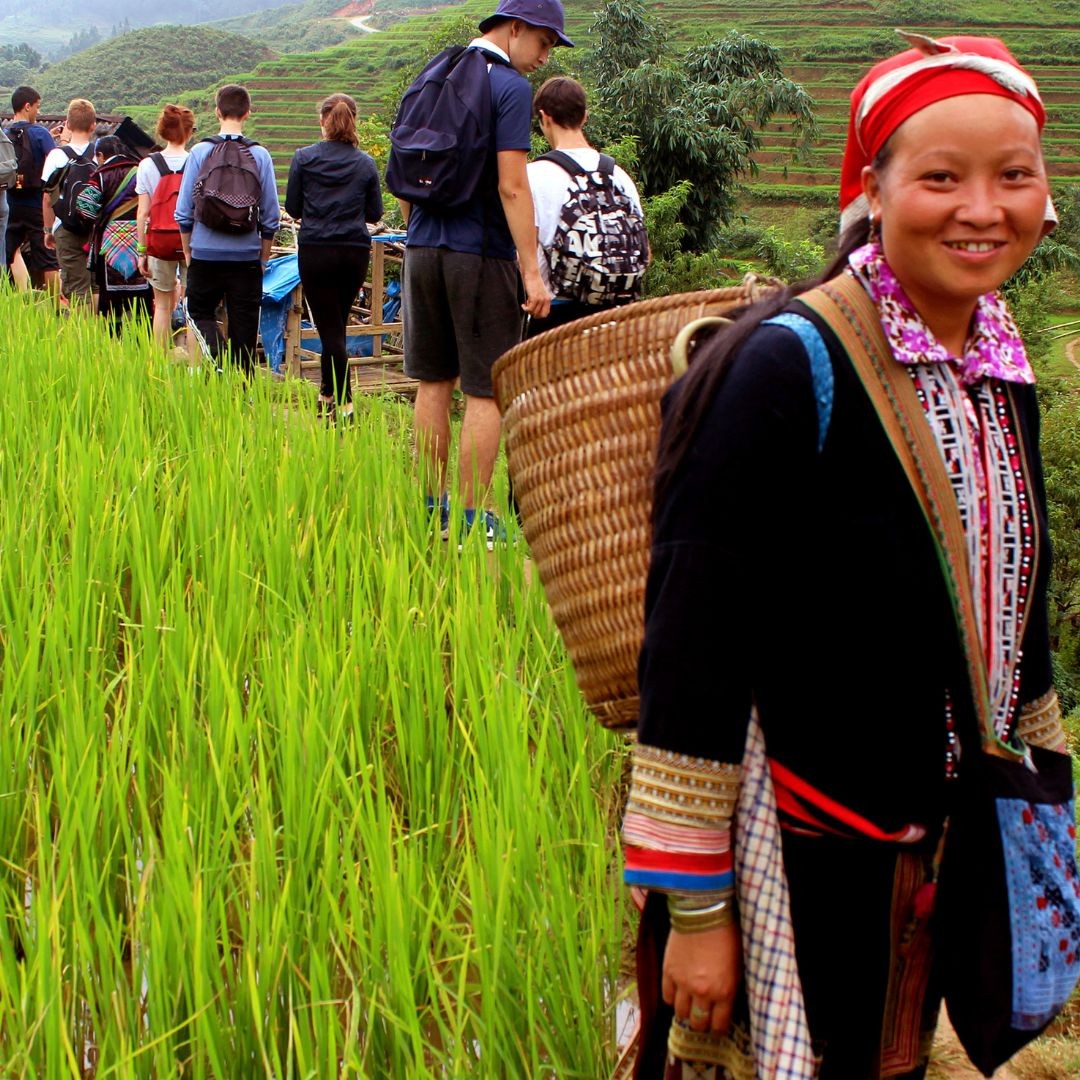 Vietnam offers some of the most unique travel experiences in the world. Photo by Denis Bissonette.
The first gift exchange happened on Christmas Day, 2002 in Sapa's rustic village of Ta Van. Each year, new communities would benefit from the kindness of Canadian tourists, organized by Denis's humanitarian efforts. Unfortunately, the project has been on hiatus since the Covid-19 pandemic.
Like numerous other of once-thriving tourist hotspots, Vietnam's tourism industry struggles to regain momentum in the post-pandemic era. While fighting off the virus better than Thailand and Indonesia, Vietnam still lags beyond those countries in tourism recovery. According to Denis, the main reason is because of the country's high price for visa applications.
"It is the same problem as before the pandemic," explains Denis. "Thailand has free visa on arrival, while Vietnam has differing visa prices. That is why Thailand's tourism industry continues to outpace Vietnam."
Hopefully, lower visa prices will encourage more international tourism to Vietnam, thereby giving Vietnamese tourism a much-needed jumpstart since the reopening of the borders last March.
Although the future of Vietnam's tourism industry is uncertain, Denis is still proud to work alongside his former students and create successful venues that showcase Vietnamese culture to curious tourists.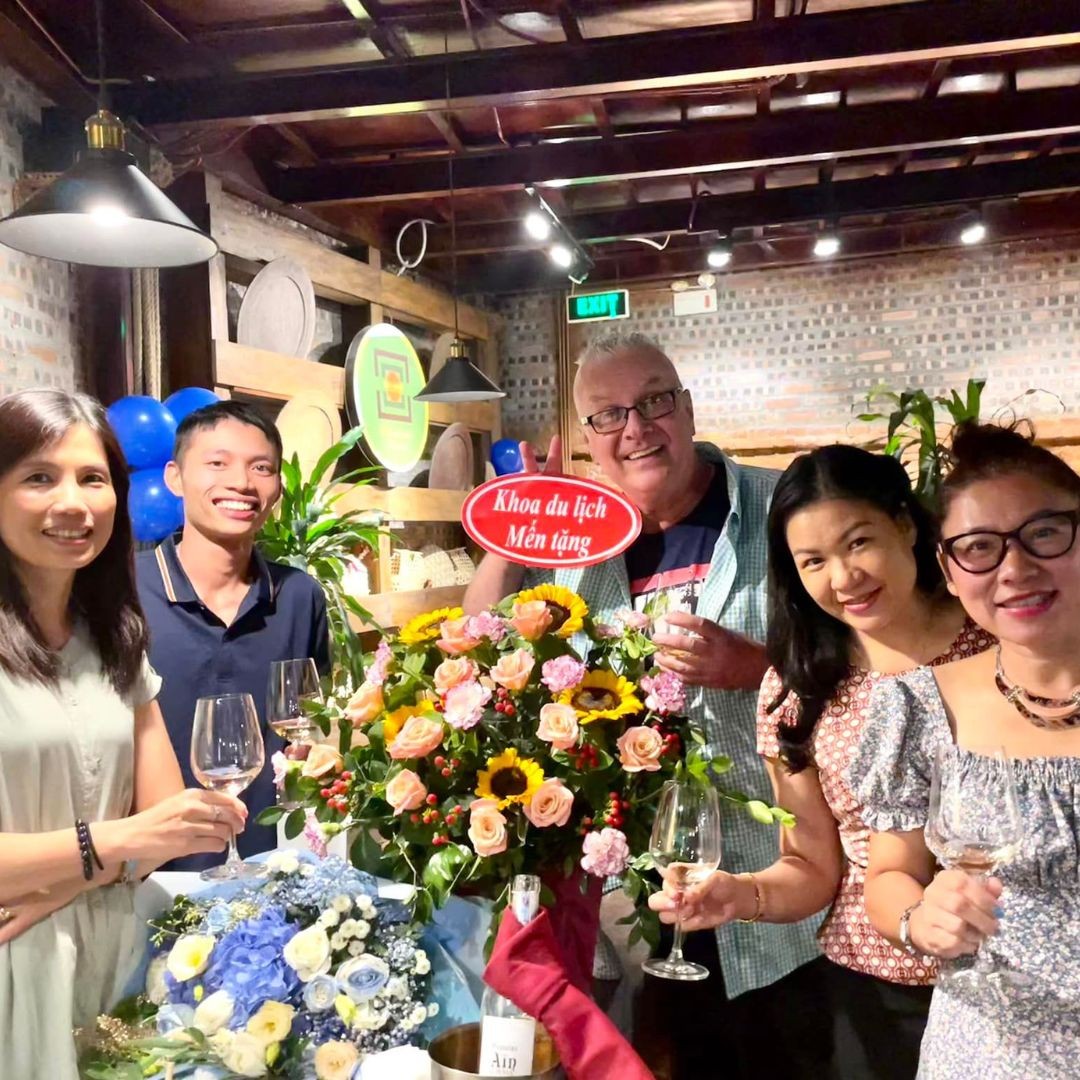 Dung, Denis, and friends celebrating the Canadian's successful 20 years in Vietnam. Photo by Denis Bissonette.
For example, restaurant owner Vu Van Dung is grateful for Denis's help over the years. Since meeting him in the lecture halls of Hanoi Open University in 2010, Dũng and Denis have maintained a close friendship that has resulted in the co-management of the charming Cai Mam Bistro, dedicated to the succulent complexities of Vietnamese cuisine.
"Denis supported me a lot this year, as Vietnam reopened its borders," says Dung. "He checked everything from the menu to advertising, to social media. He gave me a lot of advice on target marketing to improve my restaurant's brand. He did all of this work but he refused to take a salary. He just wanted to help me."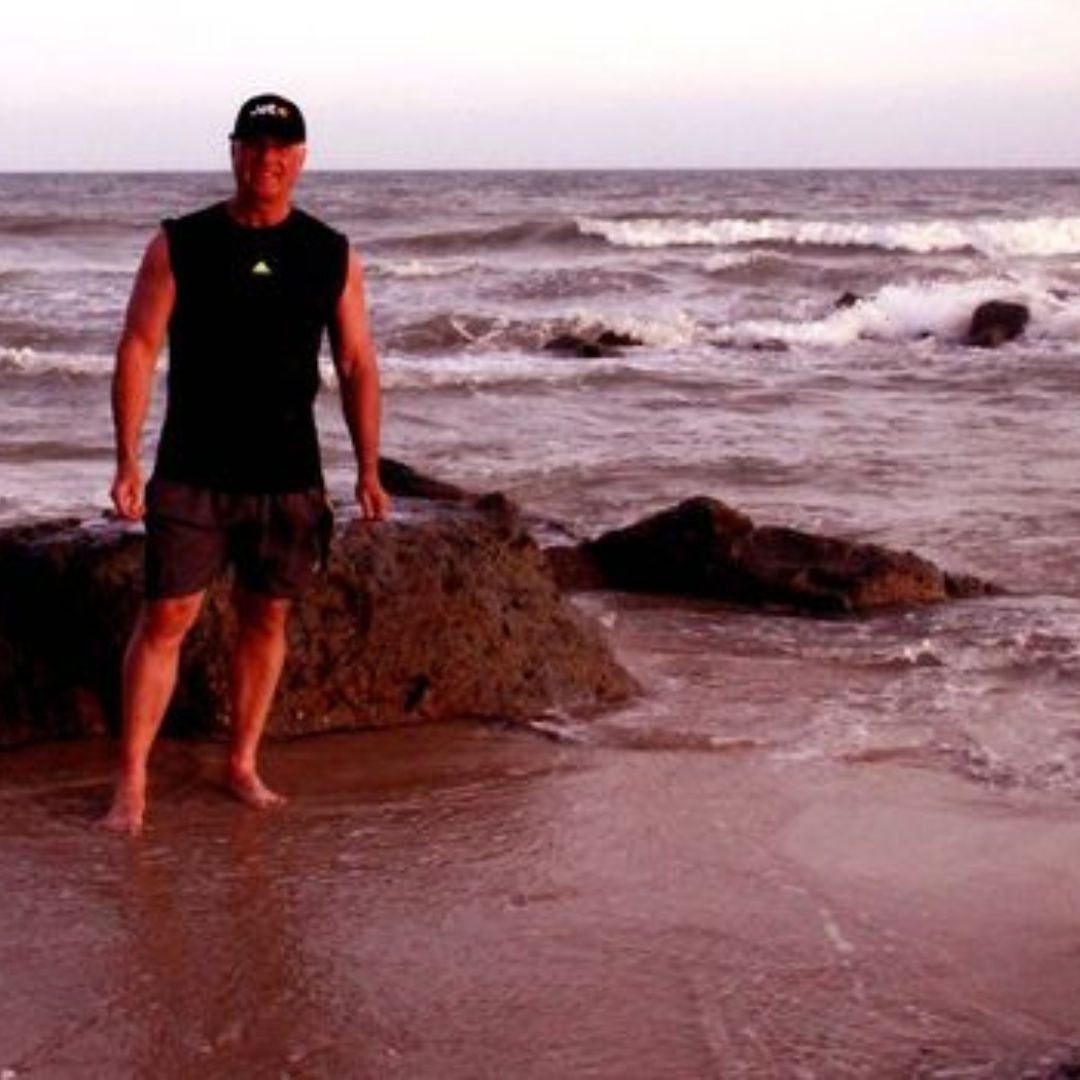 Denis, now in his early 60s, shows no signs of ending his Vietnamese adventures. Photo by Denis Bissonette.
Although no longer a student of Denis's, Dũng continues to be inspired by the worldly Canadian expat.
"No matter how old he gets, Denis always seems to have the strength and energy to work in Vietnam."
Recently, Denis, Dũng, and other friends celebrated his twenty years of living in the S-shaped Land. When asked why he decided to stay in Vietnam for two decades, Denis came up with five, distinct answers.
"One; the food. The fruit and vegetables seem to be fresher here than in the West. Two; the weather. The weather in Vietnam is pleasant. In Canada, you'll freeze your ass off. Three; the countryside. When living in Hanoi, if you want to see mountains you're not far. If you want to see water, you're not far. It is the best of both worlds. Four; the Vietnamese people are super friendly. And five; my wife, Van Anh. We've been married for eighteen years. She's gorgeous and I'm lucky."
In 2023, Vietnam and Canada will celebrate fifty years of diplomatic ties and Denis will have been present for forty-two percent of those years. As a proud Canadian and adventure seeker, Denis will continue to travel across Vietnam, Southeast Asia, and the rest of the world but will always look forward to returning to his Hanoian home.