Expat Spotlight: Kenjah David - A Parisian Performer in the Heart of Hanoi
With his guitar in hand and a song in his heart, Frenchmen Kenjah David shares his passion for world music with Vietnamese citizens. His newest song, "Latin Afroasia," highlights the international flair found throughout Hanoi's Tay Ho District.
From a balcony on Trinh Cong Son street, a fast-paced, jaunty tune emits from the Kenjah David's acoustic guitar. His skilled fingers deftly strum the chords and a smile slowly appears across his face. The music swells as he breaks out in a song. His Parisian accent effortlessly recites even the most challenging songs in Spanish or English. A few Vietnamese onlookers cheer him on, not understanding the words yet impressed by a voice influenced by worldly travels.
Kenjah reveals that his passions stems his anthropologist father, who instilled within him an appreciation for different cultures at an early age. Since he was child, Kenjah has lived abroad in an impressive list of different countries, including Mauritius, Spain, Japan, Morocco, United States, Senegal, and many more. No matter the country, Kenjah would always immerse himself in the local sounds, constantly adding to his musical expertise.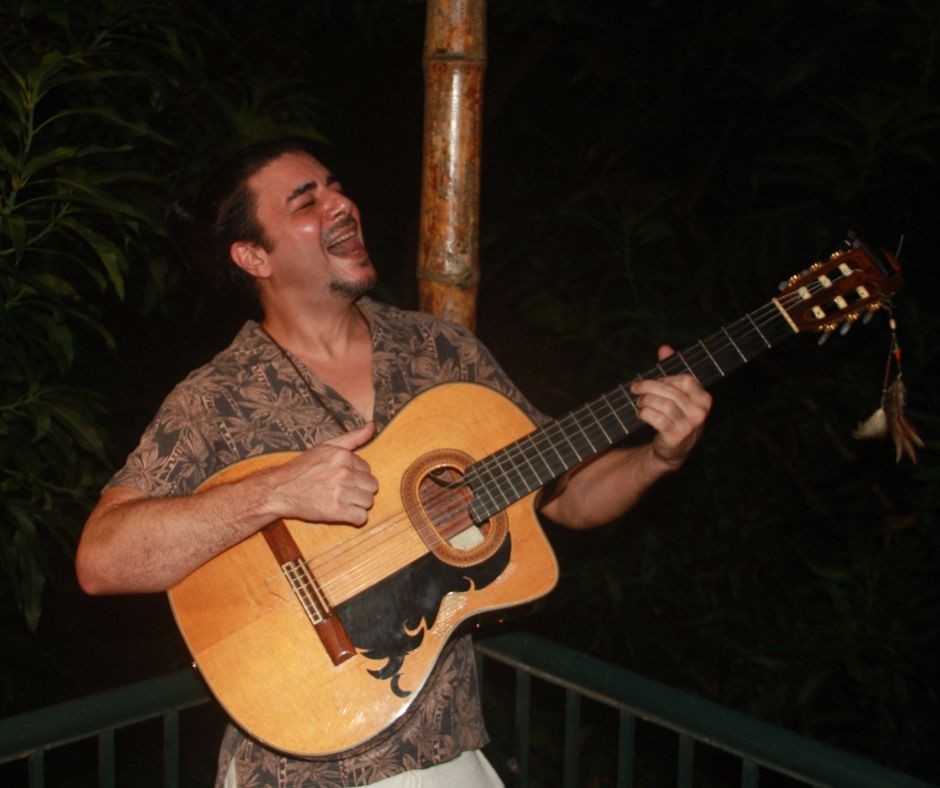 Singing into the night. Photo by Glen MacDonald.
"When making music, you have to be highly aware of the interaction of the elements and the space," explains Kenjah, before paraphrasing a famed French jazz musician. "As Django Reinhardt says, if representing the study of music as a person coming through the fog , first, we can hear the steps ( it's the rhythm), then, we see the silhouette (the harmony), then, we see the face and it's (the melody). Only once you can identify the rhythm, the melody, and the harmony, then the music will truly come to you."
Since arriving in Vietnam in 2017, Kenjah has collaborated with the French Institute and the French Embassy as part of the Glamour Project. Through his work, Kenjah introduces French music from different generations to Vietnamese people, giving them greater cultural insight and promoting further relations with the European nation.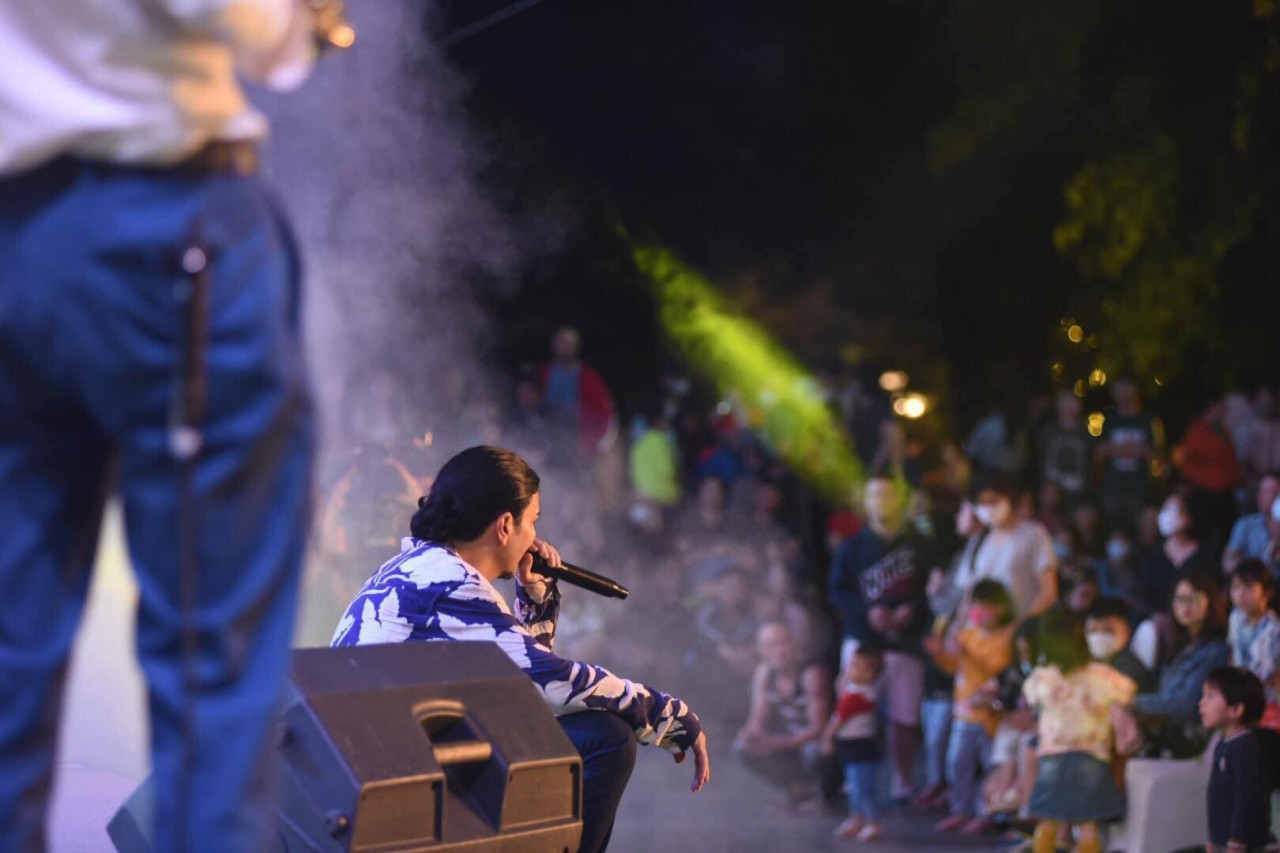 Performing at a Hanoian concert. Photo courtesy of Kenjah David.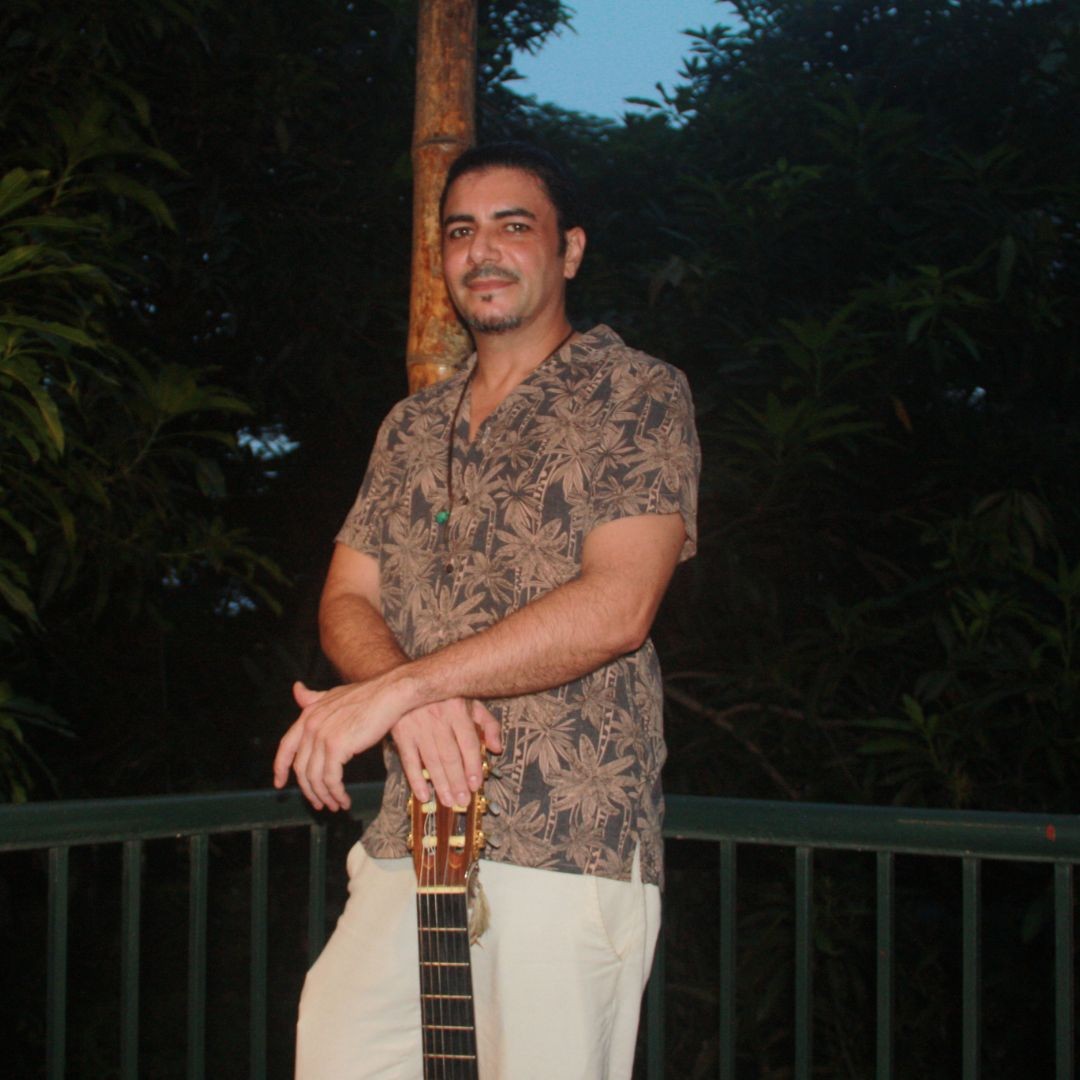 A Parisian performer in the heart of Hanoi. Photo by Glen MacDonald.
In the spirit of cultural exchange, Vietnamese music has also left an impression on the French musician.
"The Vietnamese people have a deep musical identity that I cannot wait to share, especially its ethnic music," says Kenjah. "Vietnamese sound is a very pure form of music, deeply rooted in culture and nature. You can listen to a Vietnamese flute while watching the landscapes and there is a very intimate correspondence."
Safe to say, Kenjah is a fan of Viet culture. Screenshot by Glen MacDonald.
Currently, Kenjah is translating a bunch of Vietnamese songs for Western audiences. A common theme that he notices in Vietnamese lyrics is the simplicity of everyday life in connection with the beauty of nature. In this fast-paced world, perhaps the serene sounds of Vietnamese music could be a much-needed remedy to modern hysteria.
In order to further promote Vietnamese music alongside other cultures, Kenjah is currently organizing a world concert that will hopefully debut next year. In anticipation of the event, Kenjah hopes to work with Trần Tiến, a Vietnamese music legend, to better understand the nation's unique sound. Known as the father of Vietnam's new generation of music, artists like Mỹ Linh and Thanh Lam look up to the revered singer because of his heartfelt lyrics.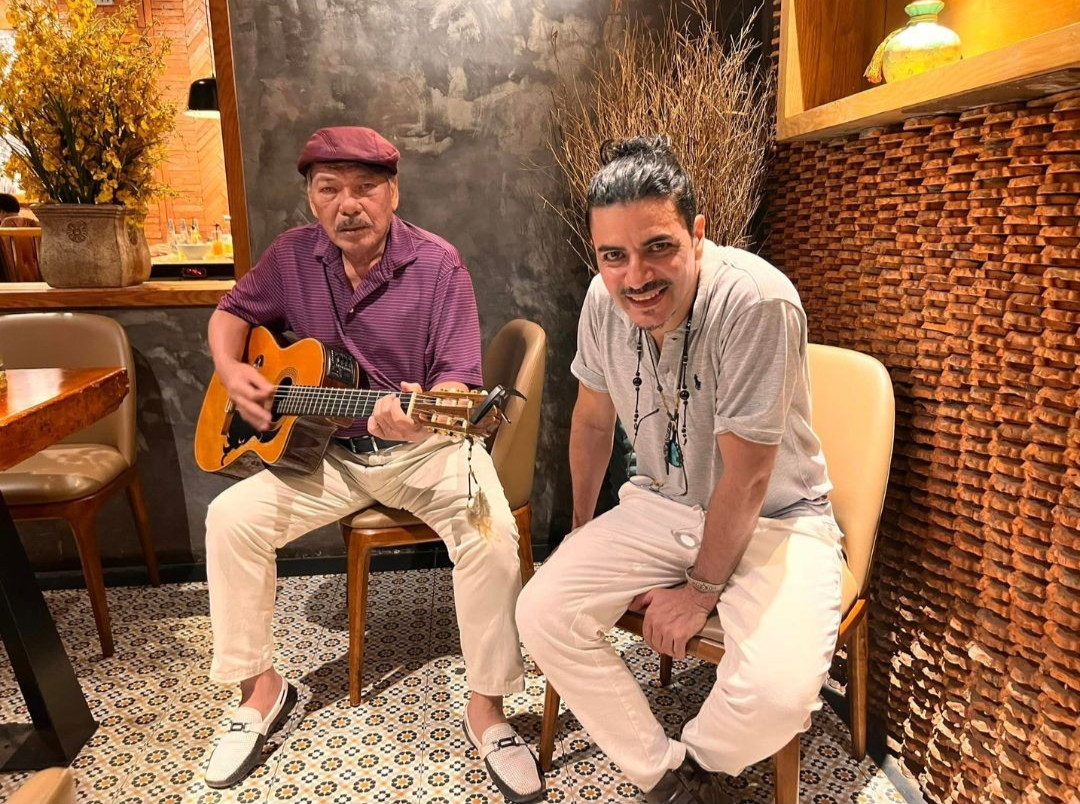 Jamming with Trần Tiến. Photo courtesy of Kenjah Davif.
"I wanted to become friends with him because he has a career spanning 50 years. To me, Trần Tiến is on the same level as Trinh Cong Son. Their history and heart is comparable to French singers. Their art is so deep."
After reaching out to the acclaimed singer, Trần Tiến invited Kenjah to his hometown for a spirited jam session. The musical pair got along well despite the language barrier.
"I didn't speak Vietnamese and he didn't speak English. We just played music and laughed for hours. It would be an honor to perform his songs one day in French, English, or Spanish."
In addition to working with homeland talents, Kenjah has also found inspiration within Tay Ho's expat community.
"Tay Ho is a cosmopolis," says Kenjah. "People from around the world meet here by chance. Here you have many different cultures and they have so much to learn from each other. In this difference of culture, sometimes there is doubt or gossip or fear but nonetheless, everyone is trying to be together. There is hope there."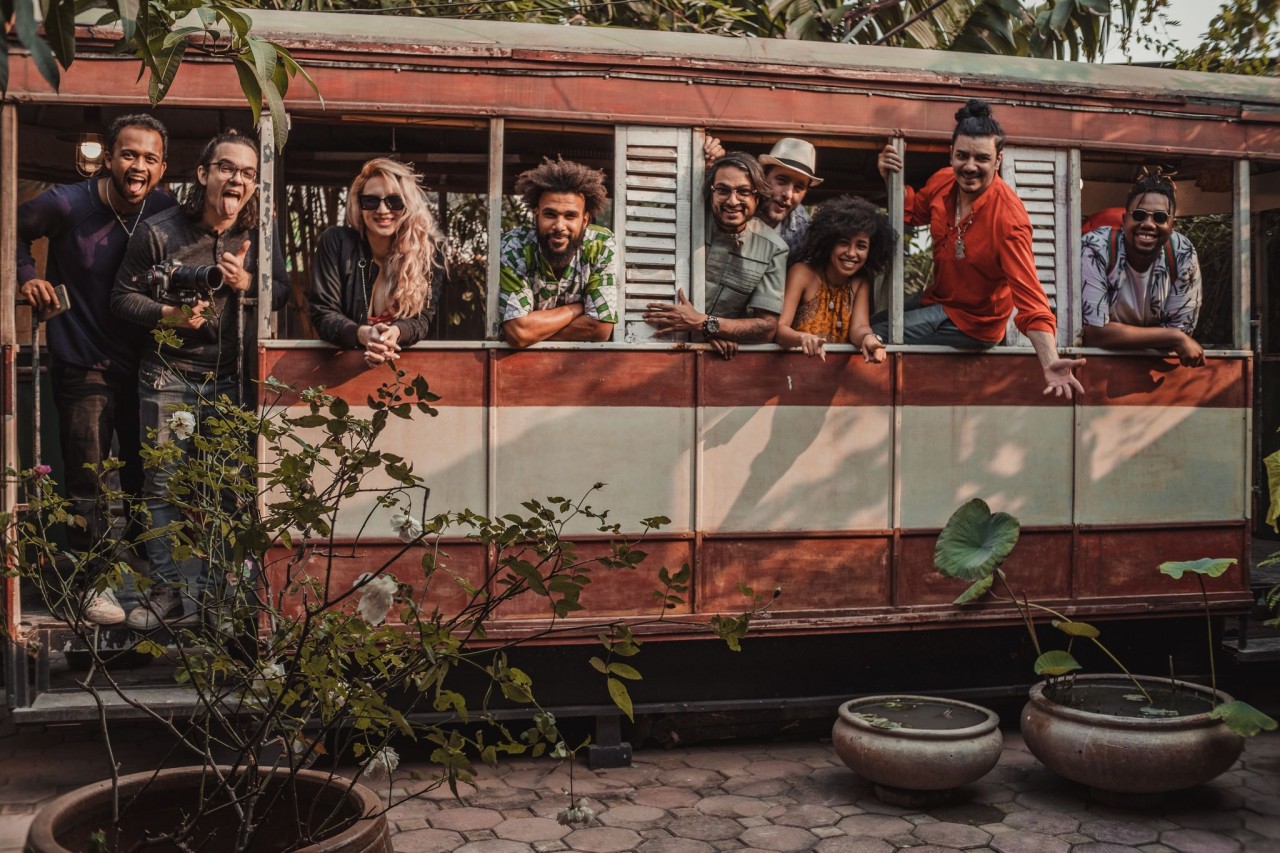 Kenjah (in red) with the cast from his music video. Photo courtesy of Kenjah David.
Thanks to Tay Ho's international flair, Kenjah was able to pull together talent from across the globe without leaving his neighborhood. Dancers, singers, and musicians, all hailing from different lands, came together in his joyful music video, celebrating the diversity and wonder of world music.
"Musicians in expat communities are always trying to create an ambiance by doing shows," says Kenjah. "I think it is a beautiful concentration. It becomes like communion at a certain point."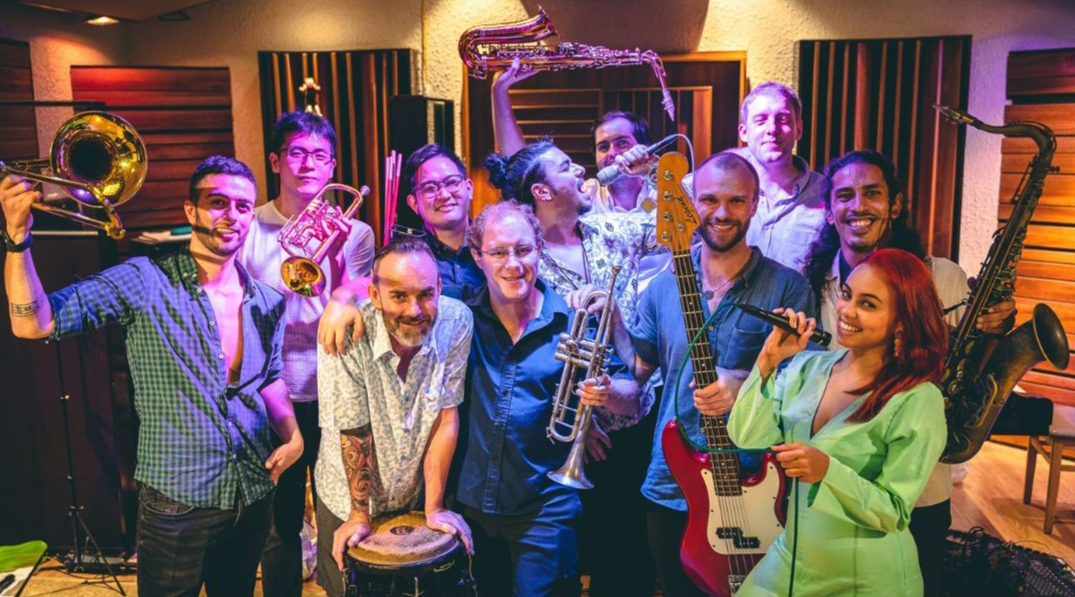 Kenjah and his musical expat friends. Photo courtesy of Kenjah David.
Despite being filmed in the heart of Hanoi, Kenjah's music video has a vibrant Latin style, juxtaposing the Vietnamese cityscape. However, unbeknownst to those outside the capital city, Hanoi has a surging Latin population as a result of the close friendship between Cuba and Vietnam.
Latin dances like the salsa are featured in Kenjah's video. Screenshot by Glen MacDonald.
"The Latin community in Hanoi is growing," says Kenjah. "There is a club called Habanera, a social place for Caribbean and Latin music. It is filled every weekend because people like to dance there. For salsa music, there are dance clubs like S-Fire. Latin music is popular here and everywhere else in the world because there is so much to discover!"
Kenjah's music video features a wide array of cultures, from a Vietnamese Nón lá ha to a colorful Carnival parade in Martinique. Instead of clashing, the epic mix of cultures results in what can truly be described as world music created by worldly talents.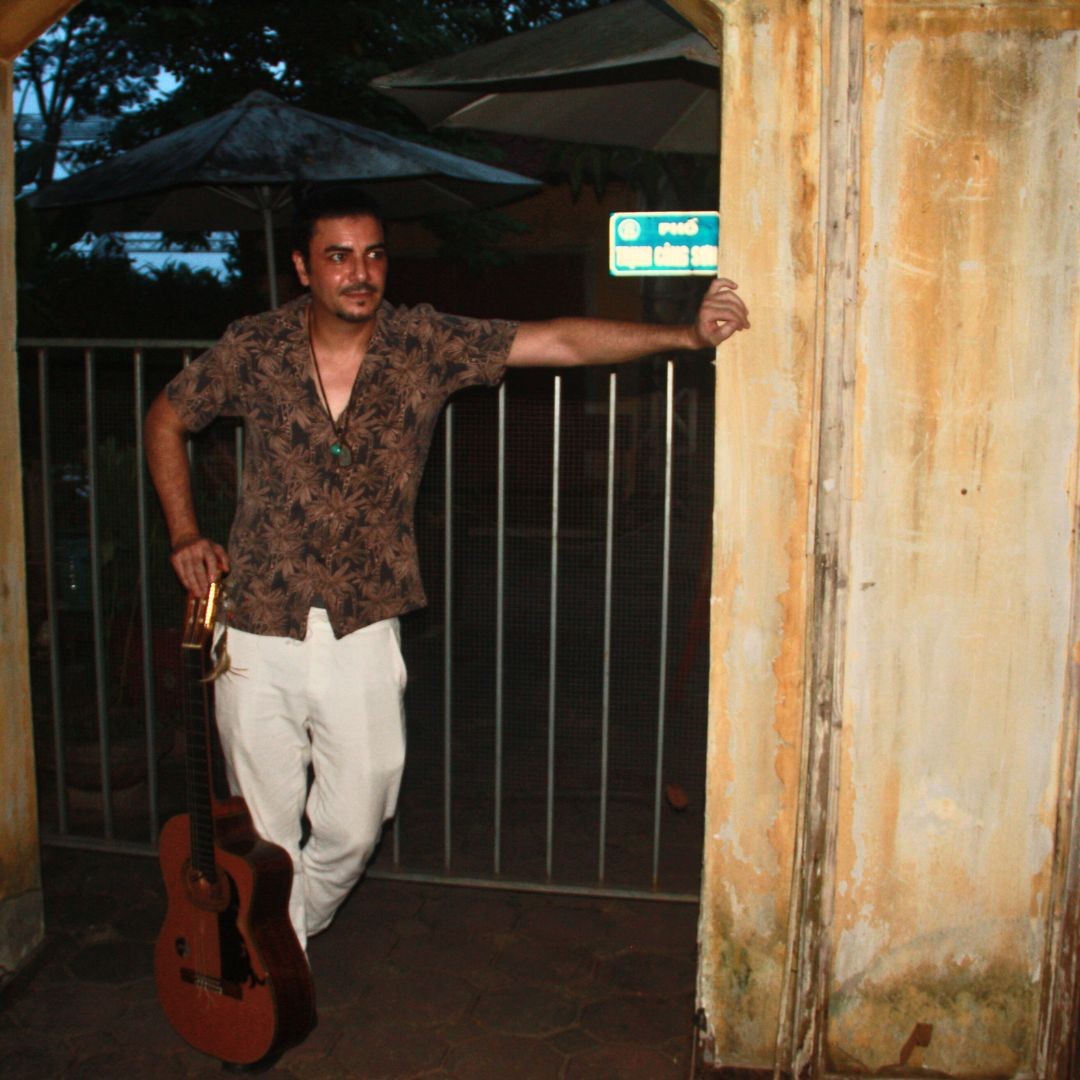 Kenjah and his beloved guitar. Photo by Glen MacDonald.
You can watch Kenjah David's new music video on YouTube.
Skilled fingers. Photo by Glen MacDonald.
As a new monthly series for the Vietnam Times, the Expat Spotlight aims to highlight interesting members of Vietnam's diverse expat community. Be it through travel, charity, business, art, or diplomatic works, these expats have a deep love for Vietnam and wish to see it progress. Stay tuned to learn about the other expats and their various projects. If you would like to nominate someone for a future feature, please message the Vietnam Times via Facebook.