Expat Spotlight: Amiad Horowitz - Political Journalist Who Bridges Vietnam and Foreign Readers
American reporter Amiad Horowitz spent many years removing the prejudices about Vietnam through articles on the nation's democracy, as well as the sincerity and friendliness of local people to readers around the world.
Amiad Horowitz first knew he wanted to visit Vietnam when researching the America-Vietnam war. Born in Israel in 1984 and raised in the United States, the American reporter's first impression of Vietnam was obscured by Western biases. As a journalist, Amiad desired to uncover the truth of Vietnam.
"At schools in America, materials about Vietnam are limited. I was a history major in Bar Ilan University (Israel) and faced difficulties doing my research due to too much false information and scarce reliable sources. At that time, I wanted to understand the country better, so in 2011 I came to Vietnam with the help of the Vietnamese Embassy in Israel," said Amiad.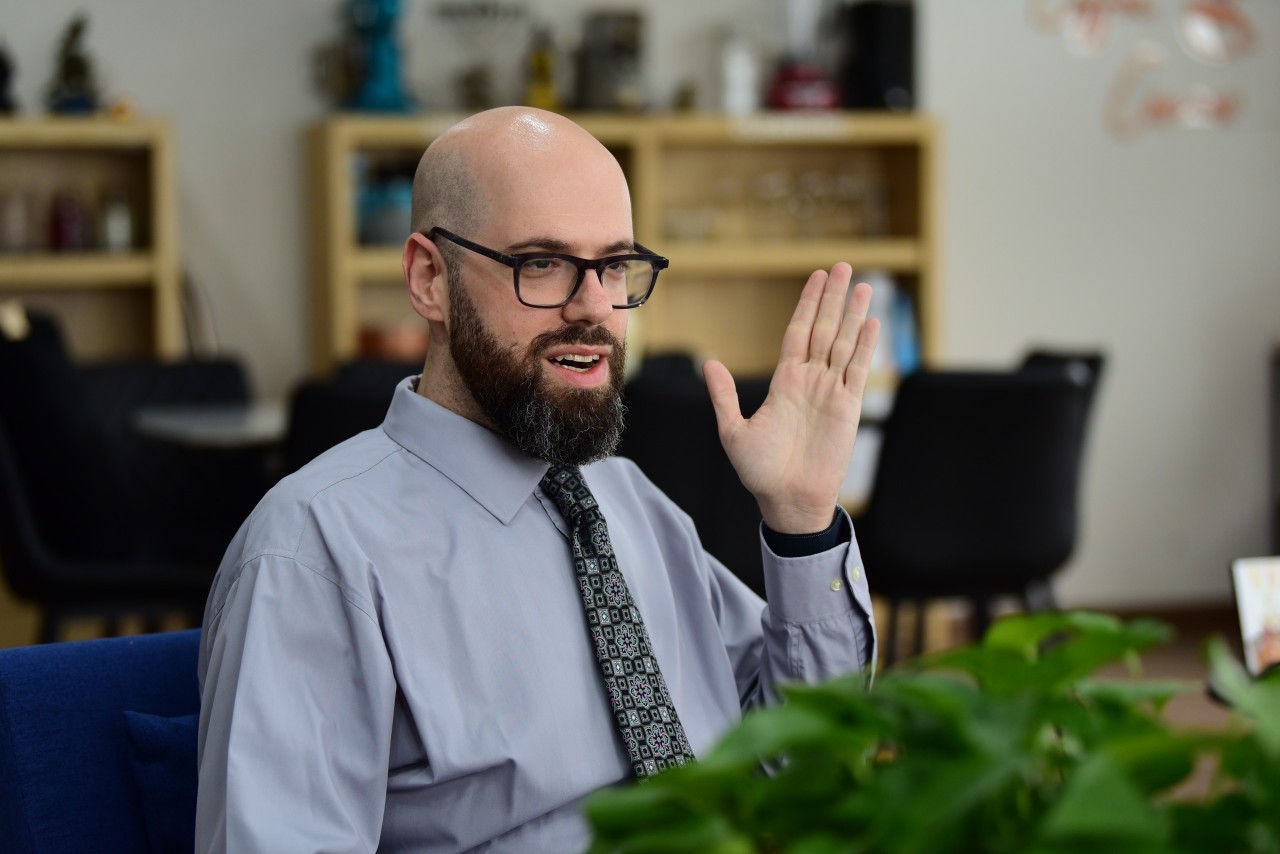 American reporter Amiad Horowitz has lived in Vietnam since 2013 (Photo courtesy of Amiad Horowitz).
Upon arriving in Vietnam, Amiad was able to experience first-hand what he saw on the news or in books. The foreign student then decided that this peaceful and friendly country would be his second home. In 2023, Amiad celebrated their 10th year of living in Vietnam. While figuring out the appropriate way to celebrate, he cannot seem to find the time in his fully-packed schedule.
From the end of 2022, thanks to his expertise in Philosophy studies and excellent Vietnamese skill, he became an editor at the Political Theory Journal of the Ho Chi Minh National Academy of Politics. Amiad is also working on his Ph.D. at the Academy of Journalism and Communication in Hanoi.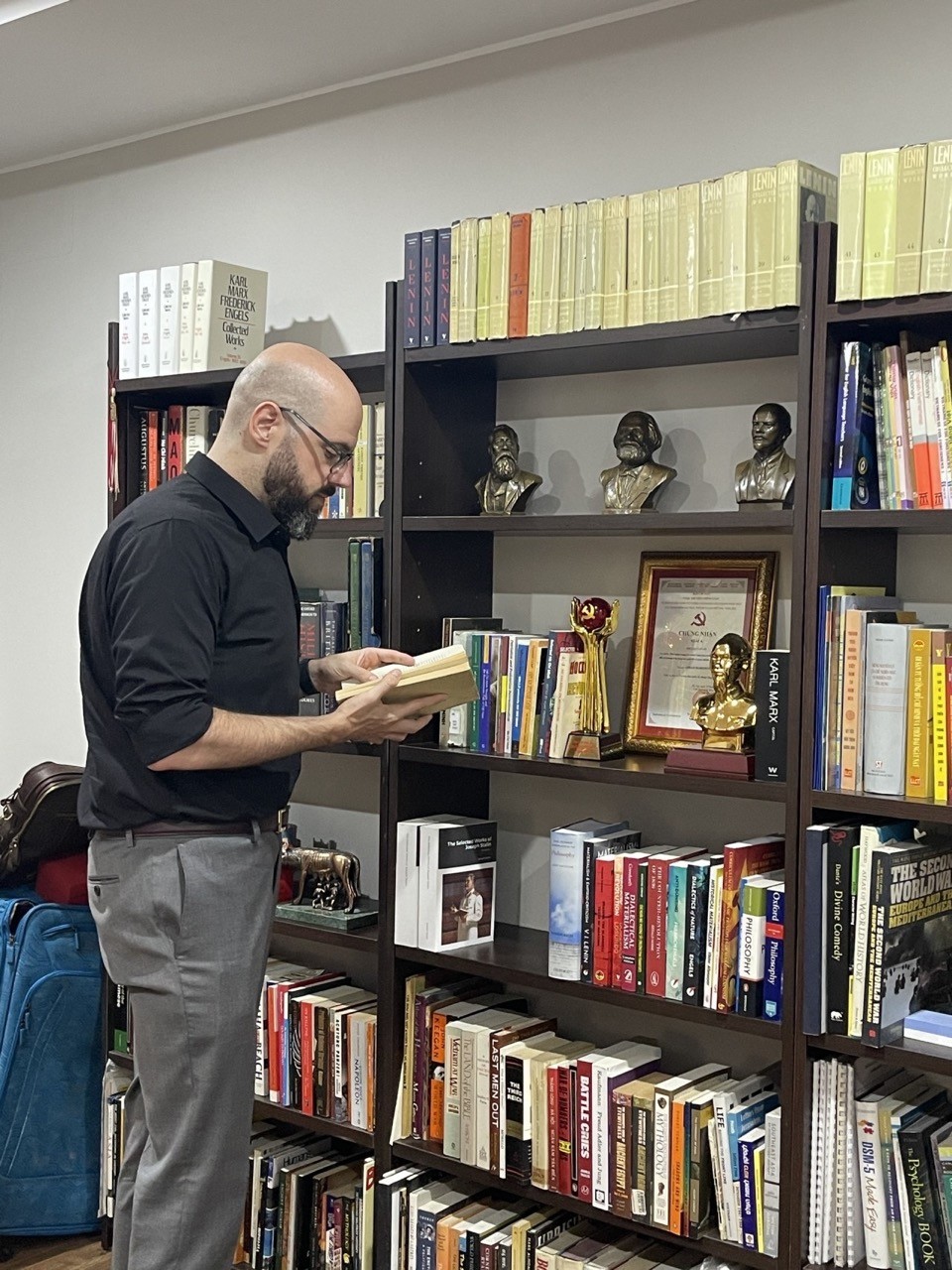 Amiad by the bookshelf at his home (Photo courtesy of Amiad Horowitz).
"I divided my daily work into two," explains Amiad. "Since I am busy with the work of the Communist Party USA (as a member of the Secretariats of the Foreign Affairs Committee), for example, writing articles for its online newspaper, I will do my editing work later in the day. This job allows me to work remotely and I interact with Vietnamese writers online. On weekends, I take lectures at the Academy, and meet with my professors who I am doing research with."
When writing for the People's World, the online news agency of the Communist Party USA, Amiad tries to combine the theoretical foundations he learned with his own experience of living and working in Vietnam. He believes that is the best way to tell how modern Vietnam is the result of a combination of many guidelines and policies that the Party and State of Vietnam have implemented. The goal is to become a reliable English source of information about Vietnam among a sea of inaccurate and unobjective sources.
He dedicated his first article on the People's World to the fight against the Covid-19 pandemic. Amiad described in detail the response measures made by the State and people of Vietnam, calling it "the 'safest place in the world'. Since there was little information about how Vietnam deals with the COVID-19 epidemic in the US, said Amiad, there were many calls and messages from friends and relatives asking why you called Vietnam "the safest" during the pandemic outbreak. He answered with real examples in his articles.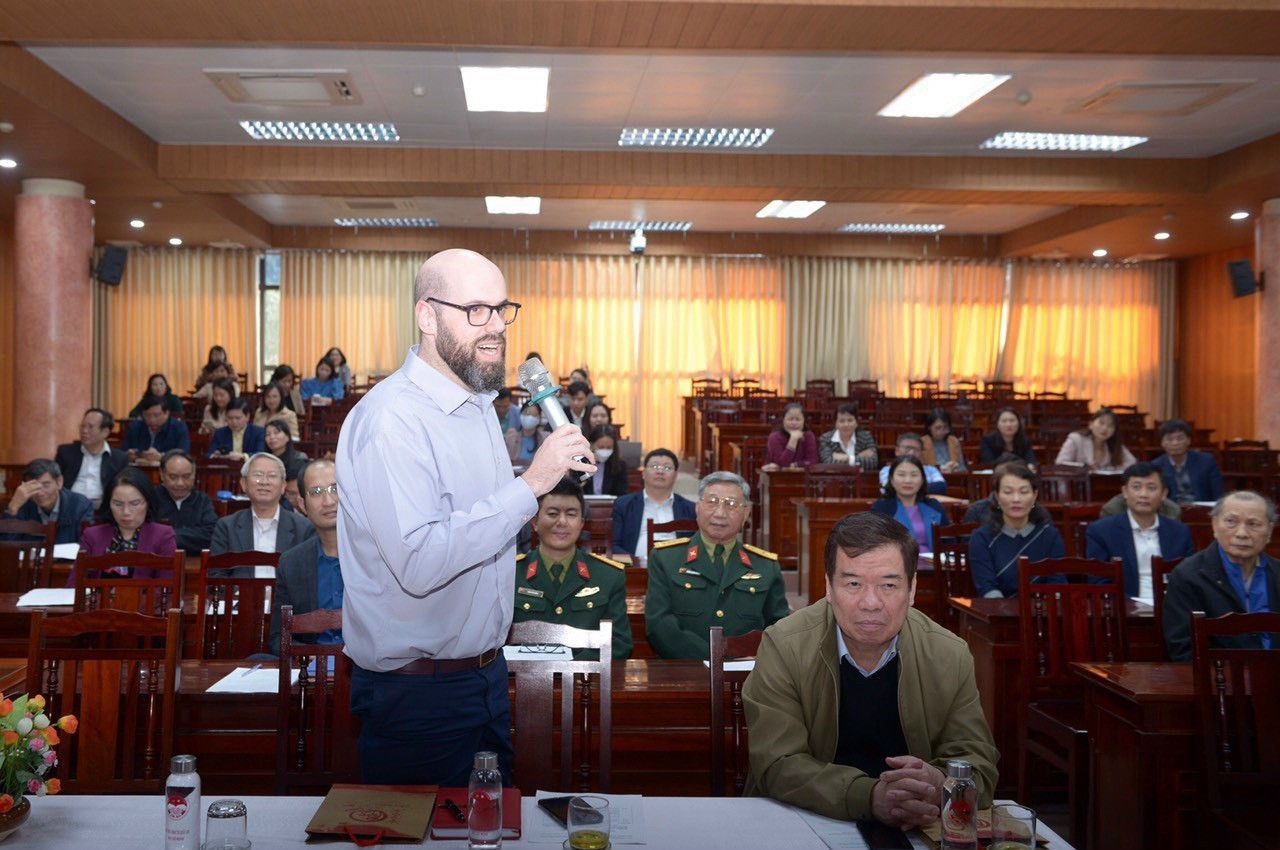 Amiad at the Political Theory Journal's Contributor Conference in early 2023 (Photo courtesy of Amiad Horowitz).
"Signs appeared around the city, and announcements were made on the news asking that anyone who had been to Wuhan contact the Ministry of Health to be tested for infection. The government launched a website and mobile app for people to report their travel history and current health situation... Whenever someone was found to be infected, regardless of their symptoms, they were immediately hospitalized, their neighborhood was quarantined, and the government contacted anyone that person had been in contact with and placed them under medical observation," Amiad wrote in the article.
Since this first article in April 2020, Amiad has published many more, exploring a wide range of topics such as the living condition of war veterans or his opinions on Vietnam's foreign policy.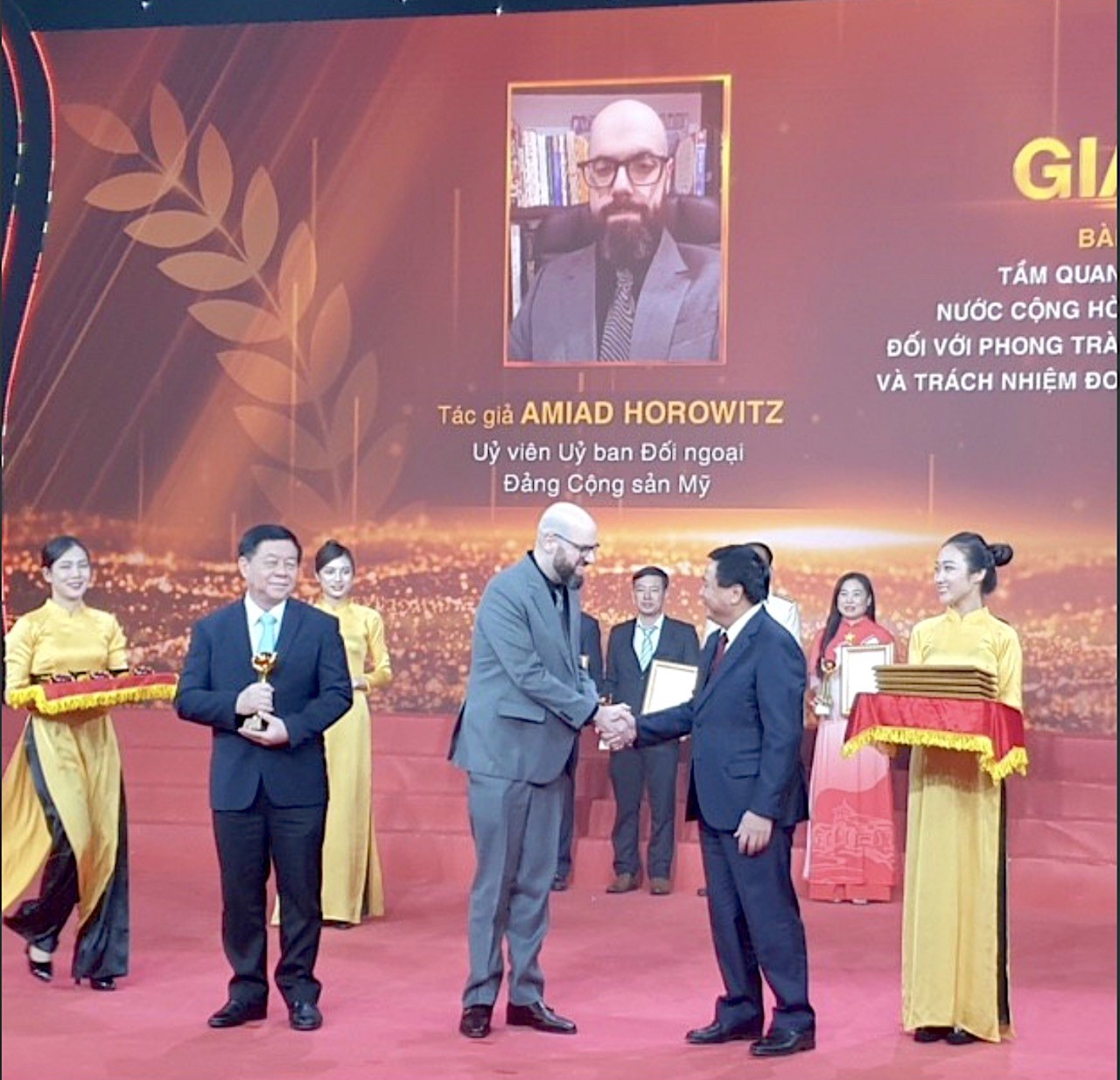 Amiad won Prize A at the "Protecting the Party's ideological foundation in the new situation" competition in 2023 (Photo courtesy of Amiad Horowitz).
He said that foreign policy recently became one of his favorite topics to write about, so he spent months reading academic works and reference books in both English and Vietnamese. He talked to instructors to get expert opinions. They helped him by sending more materials for him to study or inviting him to seminars.
"Vietnam's foreign policy clearly identifies three main pillars as Party diplomacy, State diplomacy and people's diplomacy, and especially emphasizes maintaining peace and stability in relationship with other countries. For that, Vietnam has an increasingly high international position, receiving respect from all over the world," said Amiad.
The American reporter wishes for his residence in Vietnam to never end. Being a journalist is not the first job he has taken while in Vietnam but thanks to this opportunity, he found a passion that brings him closer to the goal of erasing Western prejudices about Vietnam.
"The reason I work as a reporter is partly because it makes me a better member of the Communist Party USA. It is also great to help young people, especially young Party members from different countries to have reliable sources of information about Vietnam," said Amiad.
As a monthly series for the VietnamTimes, the Expat Spotlight aims to highlight interesting members of Vietnam's diverse expat community. Be it through travel, charity, business, art, or diplomatic works, these expats have a deep love for Vietnam and wish to see it progress. Stay tuned to learn about the other expats and their various projects. If you would like to nominate someone for a future feature, please message the Vietnam Times via Facebook.