Expat Spotlight: Younes & Khadija Bouguedra - A Cultural Bridge Between VN & Algeria
For this month's installment, The Vietnam Times is excited to focus the spotlight on a couple of remarkable expats instead of just one. Younes Ainar and Khadija Bouguedra are a beautiful Algerian 'power couple' that share not just a marriage but also a strong affinity for Vietnam; a hard-working, entrepreneurial mindset; and a desire to infuse aspects of Vietnamese culture into their individual creations.
As native Algerians, Younes Ainar and Khadija Bouguedra found several inviting similarities between their homeland and Vietnam, especially through their revolutionary history and longstanding diplomatic ties.
"It's rare that countries share more or less the same history scheme - the history is different in its details but the structures are parallel," explains Younes, who speaks with a warm smile. "French colonization, internal conflict, communism… we both even had the National Liberation Front with the same name, and there's a famous photo of Ho Chi Minh standing with the Algerian flag".
Khadija's Work on a Vietnamese Model. Photo: Khadija Bouguedra
This collective background was influential in their relocation to Vietnam, and in what they've produced since being here. Younes's architectural work incorporates the rich culture and history of Vietnam into magnificent modern structures. Meanwhile, his talented wife Khadija, who had already established herself as a unique fashion designer in Algeria by fusing conventional Islamic hijabs with a modern aesthetic, continues to innovate here with her Algerian-Vietnamese fusion beauty products. Inspired by the fondness for their homeland and the love of their current home, the couple creates different pieces that reflect the beauty of Algeria and Vietnam.
For example, Younes's fascination with Vietnam and architectural studies brought him to the well-managed chaos of the Vietnamese cityscape. In pursuit of a Ph.D, he left his school in France to conduct research on the streets of Hanoi, the capital of a country that was once a mystery to the Algerian architect.
Although aware of the deep historical ties between the two countries, Younes admits he had little knowledge of the Vietnamese way of life.
"I knew very little about present-day Vietnam other than its flag and some classic photos," said Younes, with a laugh.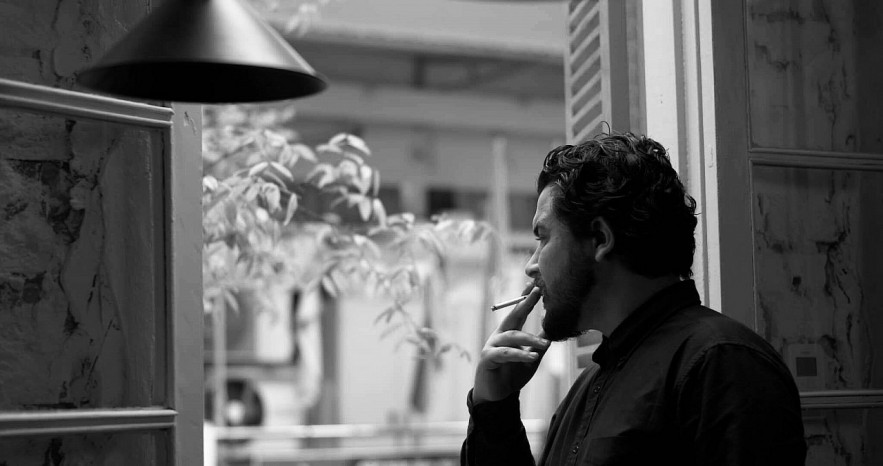 Photo of Younes Ainar
Like a lot of newcomers to Vietnam, he immediately fell in love with the place - but he could not afford to sightsee the usual touristy spots. Younes was here to study. He undertook an adlib photographic approach to his research, taking more than 20,000 photos of the city streets, sometimes even following a Bánh mì lady for a whole day or observing the interesting ways shopkeepers use their spaces.
One of the many interesting observations he makes about Hanoian life is the organic nature of its streets.
"When you see empty cardboard boxes outside of the shops, that's a display of opulence. It's the shopkeeper saying: our boxes are empty and our shelves are filled," says Younes. This idea starkly contrasts what many foreigners would deduce from seeing stacks of empty boxes outside of a business.
Younes goes on to explain the intricate connections between the Hanoian streets and its buildings;
"The line between the inside and the outside is very vague here, that's why many places here have open spaces - cafes, bars, and restaurants," says Younes. "Technically the concept of public space doesn't exist, it's an addition to small private spaces - the front of my house is still my house. When construction sites pop up for a new building, a street vendor arrives to sell Trà Đá (Vietnamese iced tea), and immediately they have created that connection between the street and the new structure". As Younes talks, his mind seems to be working at a thousand miles a second and filled to the brim with ideas as he offers his very unique insight into the multi-layered nature of Vietnamese infrastructure.
It's this philosophy that underpins much of his work. Whereas many architects seek to remove any trace of old structures and replace them with more contemporary ones, Younes strives to preserve the Vietnamese character of space while infusing it with modern design and construction. His vision is to "integrate local culture into new buildings," believing that the modernization of Vietnam doesn't need to be at the expense of its heritage.
You can see this ideology manifested in many of his works. TACH SPACES, a complex building in Hoan Kiem, was designed by Younes and his team at VG with city discovery in mind - the classic Vietnamese-French era alleyway-style entrance encourages exploration of its multi-storied space whose aesthetics are a combination of elegance, modernism, and the remnants of French villas. Similar artistic aspirations have been applied to other spaces such as Complex 01, located in Xa Dan, which used to be a paper factory but now serves as a commercial hub that has kept the original structure in place, and high end Asian-fusion burger restaurant Ngoam is built into a French colonial era maison de maitre.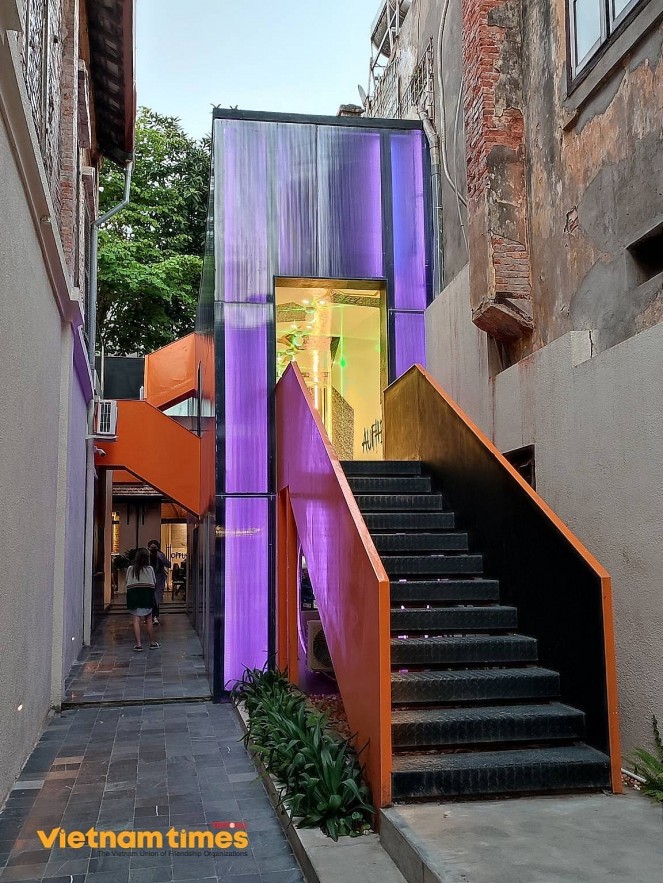 Tach Space. Photo: Ollie Le Nguyen
Even when there is no existing structure to work with, Younes stays conscious of the surrounding habitat. Working on a government contract with SDesign colleague, close friend, and mentor Salvador Pere Arroyo, he was tasked with building Nguyễn Thái Học bridge in Long Xuyên (An Giang) connecting the old and new districts of the city. What they created fits into the local environment, fulfills the officials' vision, and accommodates pedestrians and drivers - an accomplishment in and of itself. Younes speaks of man-made spaces as "organic urban networks," and Vietnamese society is the epitome of this notion.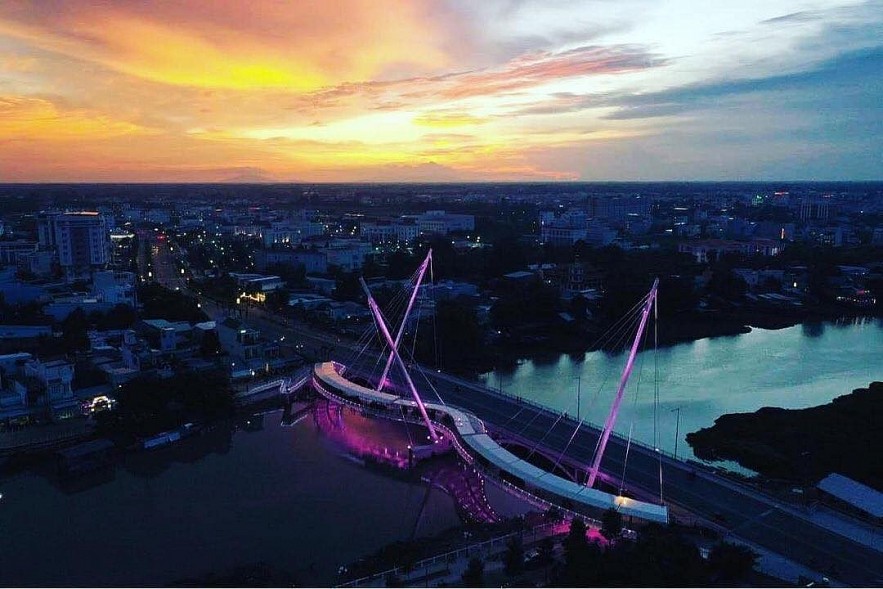 The Thanh pho long Xuyen bridge _2020 Sdesign _Salvador perez Arroyo _ younes AINAR head design
Younes came to Vietnam with a spark of interest, yet the country has left such an impression on him and his creations. It seems like destiny then, that in 2014 he would meet Khadija at her first-ever Hijab fashion show in Algeria. Younes, later on, made his move by reaching out to Khadija, expressing his admiration for her creative design work. He proposed to her in 2017 and they tied the knot in Oran (Algeria) in 2018. A week later, she moved to Vietnam to live with him.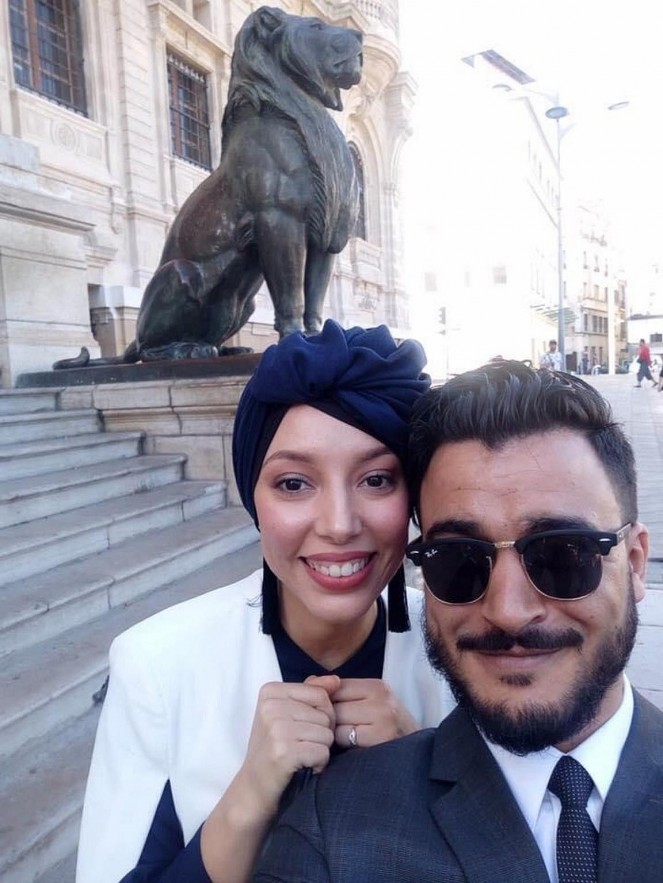 In Oran, that's the city hall behind Younes and Khadija, the entrance has 2 lions (symbol of our city) it was right after their civilian wedding. Photo: Khadija
Younes's love for Vietnam rubbed off on Khadija during the early days of their relationship. "For a year and even earlier, he sent me videos and I got to know Vietnamese life," she says. After joining Younes in Vietnam, she immediately felt at home, comparing the hustle and bustle of Hanoi and Ho Chi Minh to the naturally loud noise of Algeria's streets. A welcoming new local friend gave her the Vietnamese name 'Kim.' Khadija, now dubbed Kim, noticed many familiar cultural norms between Vietnam and Khadija.
When celebrating their own religious festival while living in Vietnam, they shared a plate of festive treats with their neighbor, who kindly returned the plate with two new mangoes on it the next day.
She recalls thinking "Oh my god, it's the same! In Algeria we do the same, you never give an empty plate. Even if you have nothing to give, you share some salt or sugar."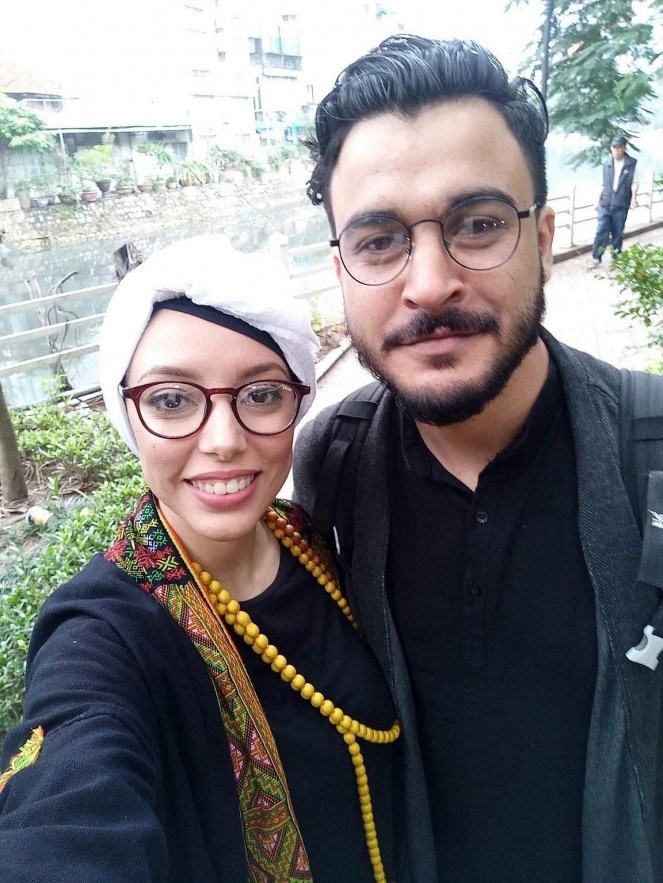 On the 1st day that the couple arrived in Hanoi. Photo: Khadija
Khadija is happy to have followed her love to Vietnam and to settle down in the S-shaped land, though she faced a problem common for those relocating here - her skin was not acclimatized to the humidity of Vietnam.
"My skin got crazy and I realized it's the problem of all foreigners in Vietnam because we're not used to the weather," she explains.
Being the entrepreneurial woman that she is, she decided to find a solution. Fortunately, the answer could be found in the cultures of Vietnam and Algeria.
"In Algeria, it's very common to use organic products like vegetables, fruits, and herbs for skin products," said Khadija. "and I realized that ancient Vietnamese women used to use cucumber, rice powder, and other organic ingredients, for healing and to treat the skin."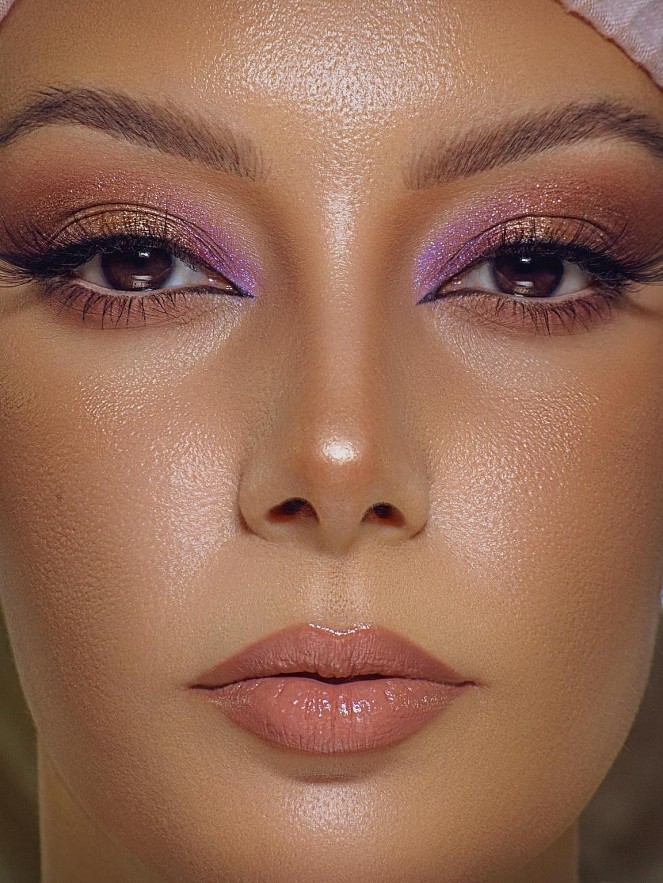 MUA Khadija. Photo: Khadija Bouguedra
She began researching recipes used by older Vietnamese women, asking the locals questions and studying natural healthcare and beauty remedies. After two years of extensive research, she impressively managed to combine ingredients imported from Algeria with those native to Vietnam. "I created the 'Khadijab Glow Potion mask' a miracle product that saved my skin and has become incredibly popular in both countries. It's crazy, whenever I put up a social media post, it's out of stock in twenty minutes".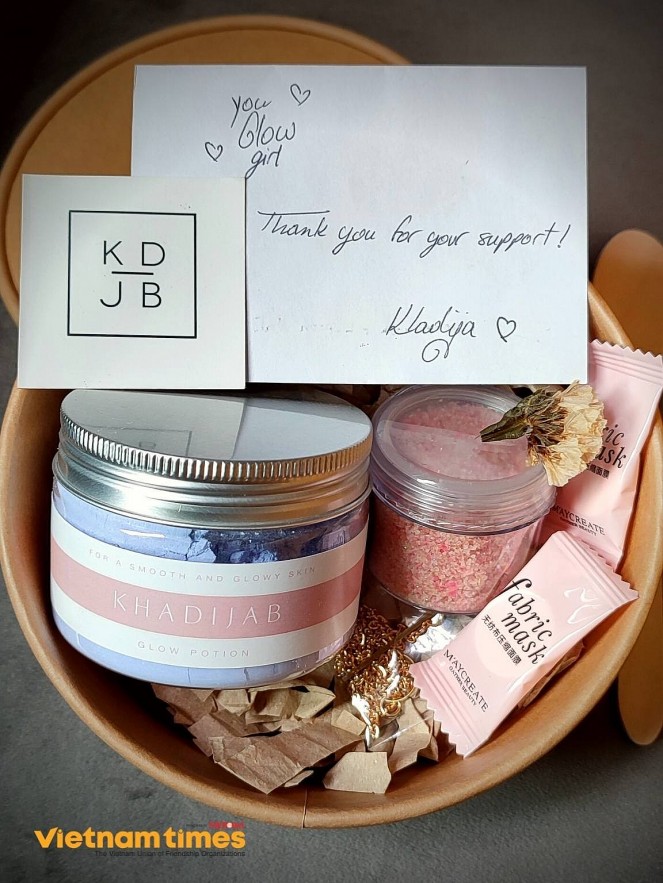 Khadija's magic skincare products. Photo: Ollie Le Nguyen
Khadija also creates serums for hair growth, peel-off masks for blackheads, and beautification products for hair, always fusing natural Algerian and Vietnamese remedies together. Much like her husband, what she creates pays tribute to Vietnamese heritage while incorporating modernity.
Younes and Khadija both speak fondly of the cultural commonalities between Algeria and Vietnam.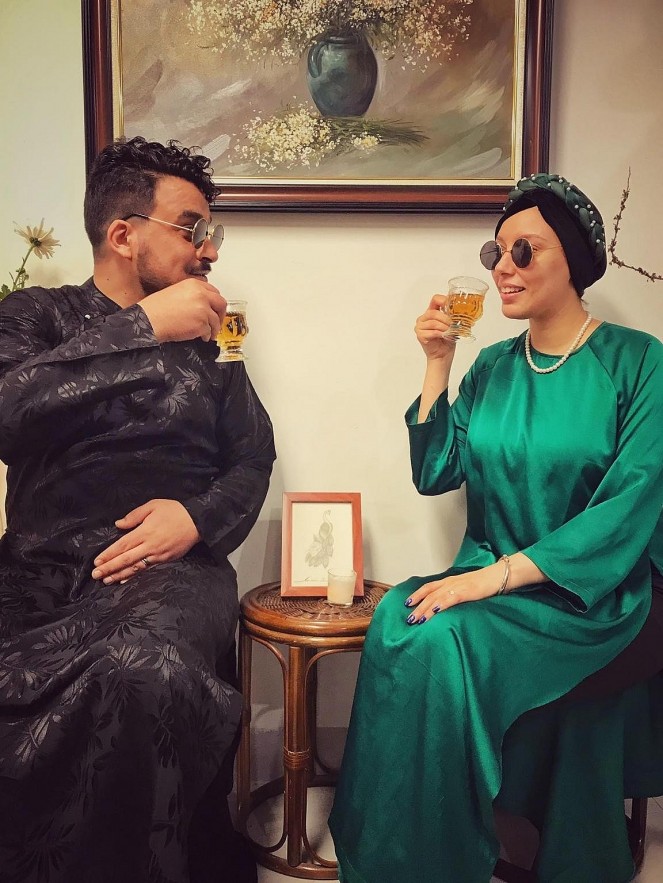 Khadija and Younes in Vietnamese Tradition Ao Dai. Photo: Khadija
"Vietnam is very cozy, very human, people are very helpful here. I experience the humanity here, in this lovely country," she says. This is the main similarity between Vietnam and Algeria that the couple agrees on.
The similarities also extend to familial ideals. The couple explains that there is no difference here to Algeria when it comes to family; people used to marry and live with their parents, and it is "noble" to take care of one's elders. This makes any Algerian feel at home when living in Vietnam.
"We share the same values, and that's what I love about Vietnam and Vietnamese people," Khadija reflects.
Speaking from an architectural perspective, Younes adds "In Algeria, we keep the metallic foundation on top of the house to allow an extension to be added on, in case one of the sons gets married - it's the same here!".
Observing the couple, it's very clear they have a deep connection, often finishing each other's sentences, joking together in a mixture of English and Algerian, and expressing symmetrical opinions and views. Their similar approaches to their work and their world perspectives seem to embody the ties between Vietnam and Algeria.
"It's the little things that make people feel at home," says Khadija.
When asked about the secret to making their marriage work, they both explained it's about a healthy balance of communication and space, and mutual understanding between the two individuals. "There is a quote in Algeria - relationships are like two people holding an elastic band - if one person lets go, the other person gets hurt. Both must give it equal strength" Khadija says.
Building a relationship as expats has its perks too.
"We've only got each other," said Khadija. "Even though we have friends, if something big happens, we are alone, without family, and we face it together".
Younes again uses an architectural analogy; "You build a common shelter of familiarity. Sometimes it's hard for others to understand because you've created a micro-society inside the society, with your own codes."
Younes in Ao The and Khadija in Algerian traditional gown at a friend's wedding. Photo: Ollie Le Nguyen
Moreover, their shared desire to learn and research played a central role in their growing feelings for each other. When they respect each other's space, they each can focus on what they truly love, and produce great results. Although the pair have not produced a child yet, they both consider Younes' designs as their own children. Khadija consistently learns from and loves his work. In turn, Younes feels his wife's work illustrates her creativity and artistic view, comparing her to "a firework".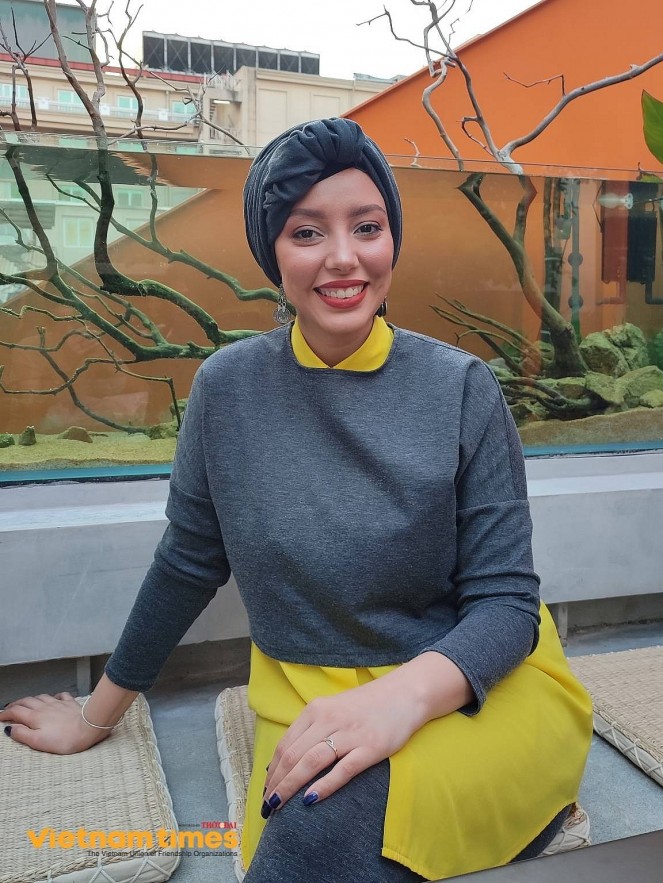 Khadija in the live interview with VietnamTimes at Tach Space. Photo: Ollie Le Nguyen
Younes and Khadija aren't sure what the future holds for them, comparing life to a tree that can branch out in many directions. For now, they are embracing everything that life in Vietnam has to offer, while also leaving a mark on Vietnam that will remain long after they leave, if at all.
As a new monthly series for the Vietnam Times, the Expat Spotlight aims to highlight interesting members from Vietnam's diverse expat community. Be it through travel, charity, business, or diplomatic works, these expats have a deep love for Vietnam and wish to see it progress. Stay tuned to learn about the other expats and their various projects. If you would like to nominate someone for a future feature, please message the Vietnam Times via Facebook.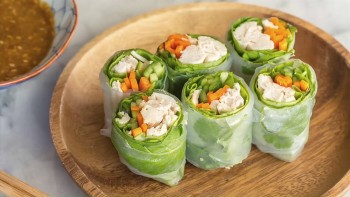 Travel
Rolls are a easy-to-make dish that is loved by many Vietnamese diners as well as Korean stars.