International Couples' Stories of Holiday Joy in Vietnam
The long holiday is a precious break for some couples to reconnect with family and for others to explore new experiences.
Quality family time
New parents Carlos Ottery (Anglo-Irish) and Hoang Thanh Nga (Vietnamese) welcomed their first daughter about a year ago so the family looked forward to the holiday more than ever. According to the Anglo-Irish husband, the holiday is a nice time to unwind, sit back and refocus. Heading out of the capital city, their destination for the 4-day long holiday is Yen Bai Province.
"People often get so locked into the everyday busyness of their working lives, that they don't take time to take a deep breath, and enjoy what is going on around them. The National Holiday is a great reset for that. I am really looking forward to it. Just not doing much, and taking things slowly. I might even turn off my phone for a couple of days," said Carlos.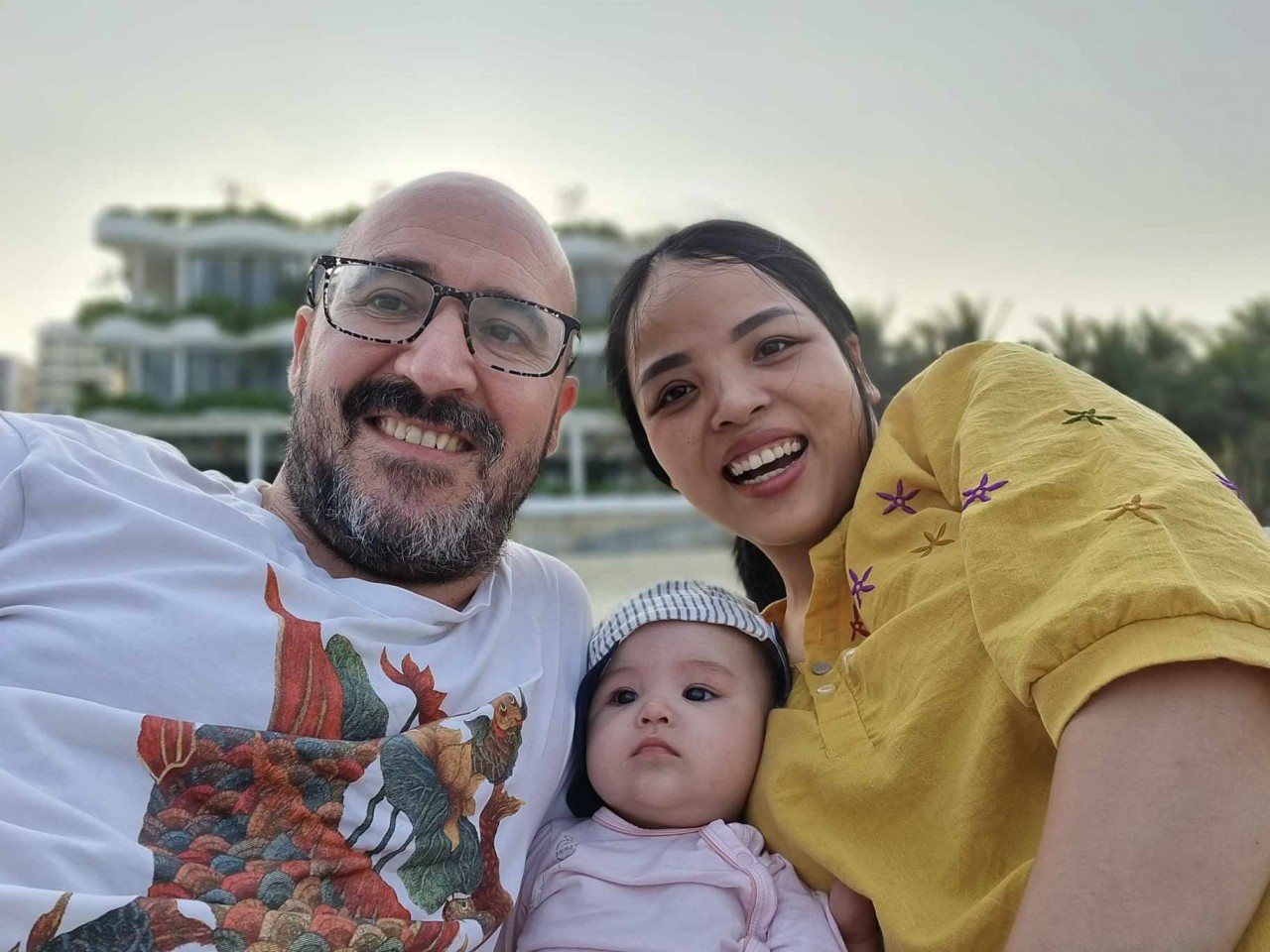 Carlos Ottery (Anglo-Irish) and Hoang Thanh Nga (Vietnamese) with their daughter on vacation (Photo courtesy by Carlos Ottery).
Going to Yen Bai is how the biracial couple usually spend the holiday because of quality time with the in-laws.
"It's my wife's hometown, so we will go there to visit her parents and the rest of the extended family. Things are more special now that we have our daughter baby An. The grandparents love her so much, so it gives them a chance to play and spoil her," exclaimed the Anglo-Irish husband.
One of the things Carlos enjoys the most is that the peaceful countryside is so different from the city. As they go out and explore the neighborhood, Carlos and Nga enjoy quiet walks around the lake or drop in to drink tea with the neighbors. Also, since the holiday is "family-focused," said Carlos, it is his chance to get closer with the Vietnamese in-laws and their extended family members.
Simple things hold special meanings
Biracial couple Hoang Kim Hieu (Vietnamese) and Amy Williams (British) adore the quiet days in Hanoi when many people left the city for the holiday. They also prefer to relax at home or to go to small gatherings with family at this time of the year. It has been only a year since Hieu and Amy got married but the couple and the in-laws get together often for delicious meals. Hieu's father even jokingly said that Amy is now a Vietnamese girl because she is adventurous with food and can eat many local dishes.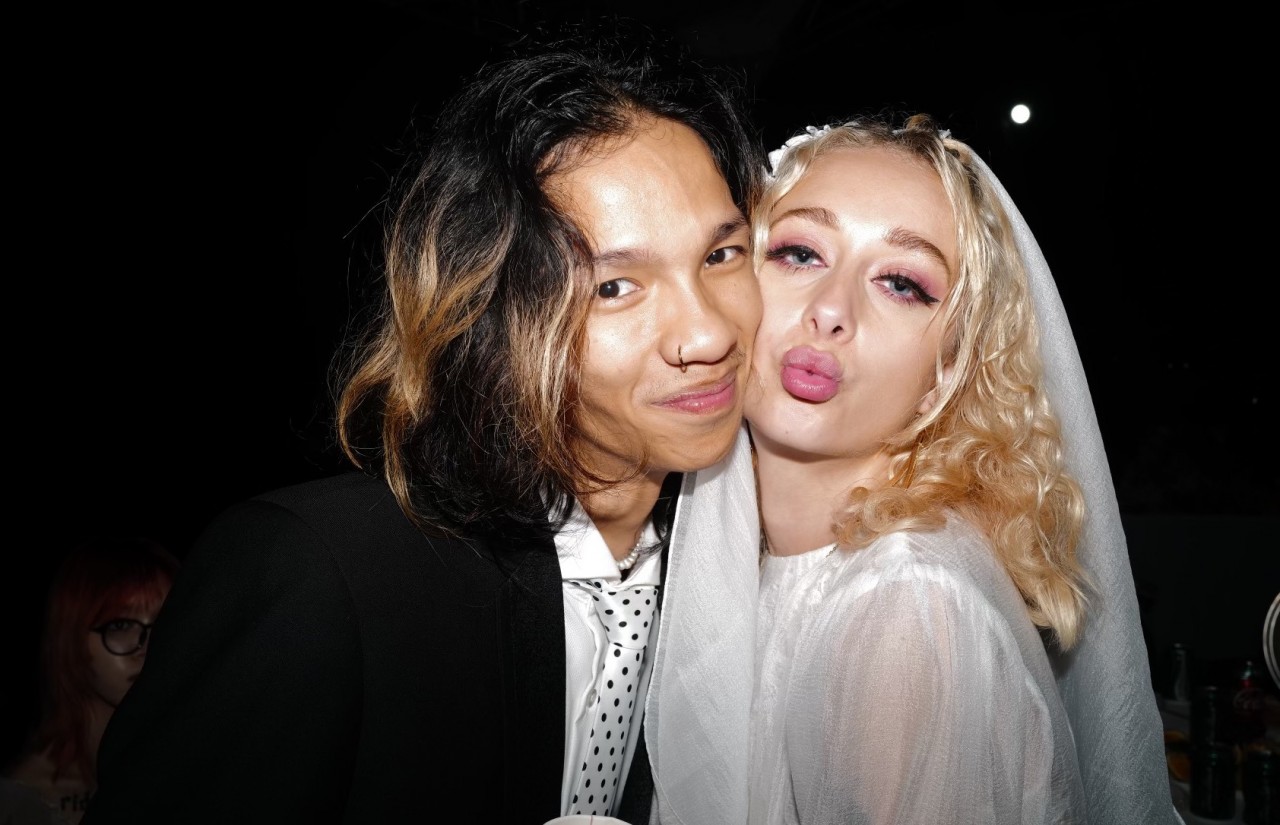 Biracial couple Hoang Kim Hieu (left) and Amy Williams (right) (Photo courtesy by Hoang Kim Hieu).
While the holiday does not influence their daily routines exceedingly, Amy thinks it will hold a special meaning as her first time celebrating Independence Day in Vietnam. She already understands many Vietnamese holiday customs thanks to her husband's help and cannot wait to learn more.
"Since this is my first time celebrating Independence Day in Vietnam, I don't know what to expect. It is a big cultural difference because this time of the year is usually when I would get ready to go back to school. While in Vietnam, it is about reflection for the whole year and has a significant historical meaning to the nation," said Amy.
In the Western world, there has not been any similar holiday celebration in Vietnamese culture, the British wife exclaimed. It was Amy's husband who introduced her to many new cultural aspects of the Southeast Asia country, which will also be a big part of raising their future biracial child.
"Amy used to spend Tet holiday (the Lunar New Year holiday) with my mom when we were in Germany so she understands how important traditional customs are to Vietnamese people. Now we are in Vietnam, she loves to see the authentic holiday celebrations, especially the preparation," said Hieu.