Expats in Ho Chi Minh City Rescue Trafficked Turtles
A foreigner paid VND2 million in an attempt to rescue two turtles being on sale on a pavement. However, he did not know that his action accidentally violated the law.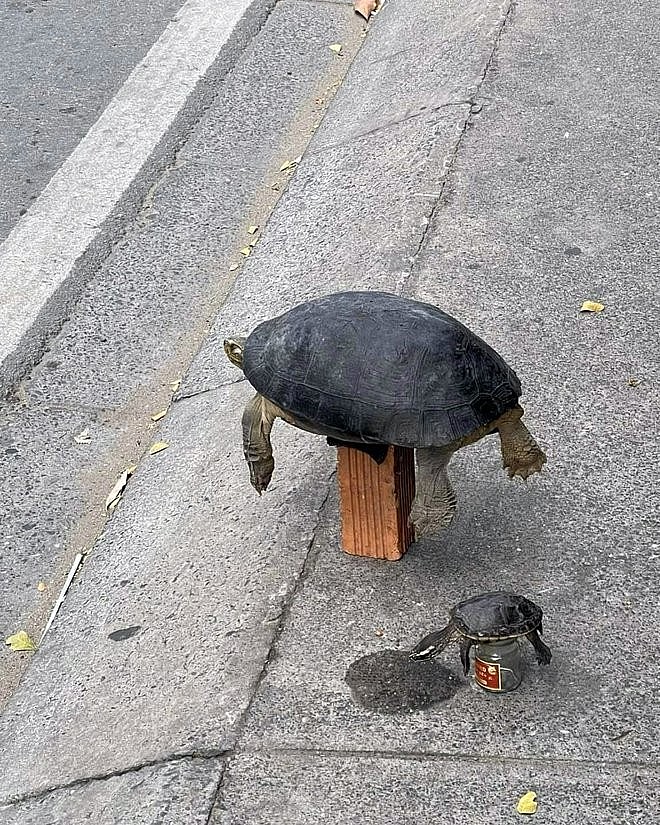 Two turtles, one big and another small are on sale on a pavement in District 7, Ho Chi Minh City on December 31. Photo courtesy of Robin Mahieux
On December 31, 2021, Robin Mahieux, a 30-year-old French expat living in Ho Chi Minh City, and his friend saw two turtles being sold by a man aged about 50 to 60 on a street in District 7.
"I know turtles are a species that needs to be protected. But I did not know what to do when I saw them being sold. The seller would take them away while I made a report to the police," he said.
"As we approached, the trafficker took precautions, maybe he was afraid that I would call the police. After that, I asked for the price. He said VND2 million (USD87). I did not negotiate but paid immediately," Robin said.
He could not help seeing the turtles being sold. He guessed the bigger turtle was possibly classified in the endangered animal list.
"We tried to take action as quickly as possible before the turtles are taken to the restaurant for food," he said.
According to Education for Nature Vietnam (ENV), Ho Chi Minh City is a hot spot of turtle trading on the streets.
ENV received reports of 128 cases in December 2021. Many of the reports were sent by foreigners.
A representative of ENV said "The trafficking not only violates the laws but also creates a bad impression on foreigners."
At this time Robin did not know what hotline he should call to report. "Many advised us to release the turtles in the pagoda. We hesitated for two weeks and then contacted ENV. The organization informed the city's forest rangers and I gave them the turtles," Robin's friend said.
A lot of foreigners said they were in the same situation as Robin when they rescued turtles in the wrong way. Paying to buy turtles sold on the street means to abet the turtle trafficking.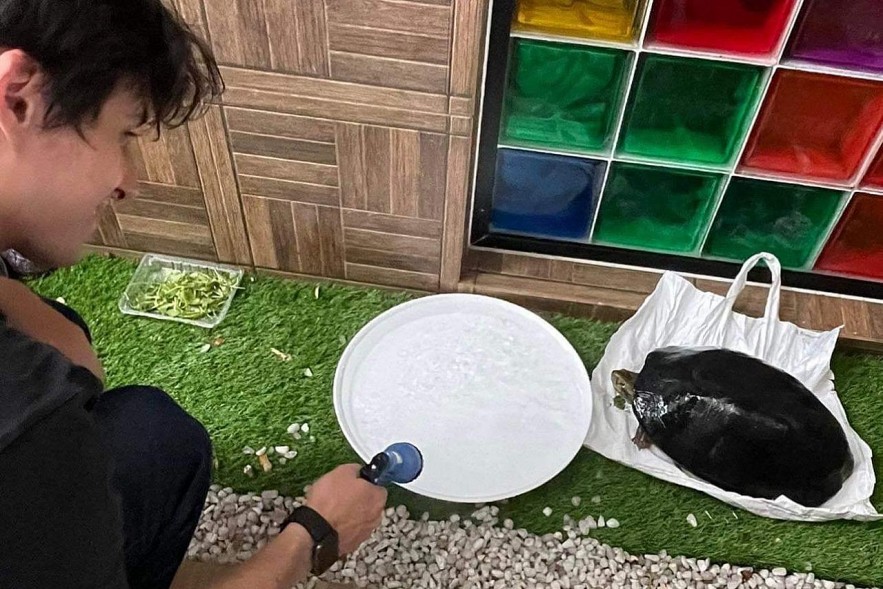 Robin brought a couple of turtles home, gave them water and vegetables. Photo courtesy of Robin Mahieux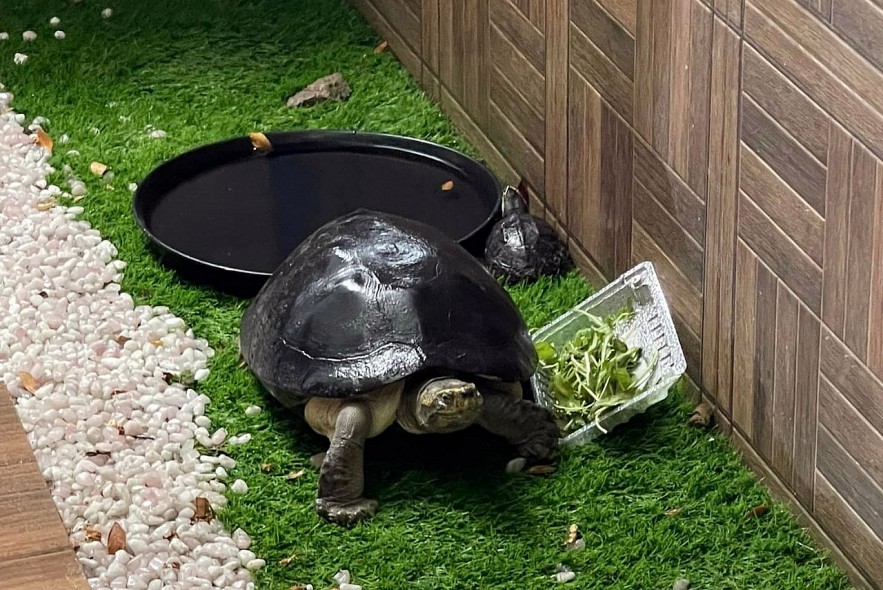 His friend posted information on the social networks to look for a veterinary clinic to check out the turtle's health. Photo courtesy of Robin Mahieux
A foreigner who declines to be named said "I saw turtles being sold on the street two times. I know that action is illegal but I did not know how to report it to authorities. Next time I will take photos and report to ENV."
According to the ENV, turtles are one of the most popular species in captivity or being illegally traded in Vietnam. From January 1, 2016, to November 30, 2021, ENV recorded 1,482 violations, as many as 695 of which were illegal turtle trading.
Speaking to Zing News, a representative of ENV said keeping and trading turtles without documents that prove their legal origin and not meeting other conditions were violating the law.
"Those with good intentions have spent their pocket money buying turtles, taken them home to take care or brought them to animal protection units. Those cases may be regarded as violations," said the ENV representative.
ENV advised those who witness violations to call ENV's hotline 18001522 to report to local authorities as soon as possible.
Illegal turtle trading is becoming more popular in the year-end as many people want to own turtles for luckiness or the custom of freeing turtles to get rid of bad luck.
A turtle trader said raising turtles at home or temples improves the feng shui of a place. "Turtles play the role of sucking the blood vessels of the land they live in, helping the landowner to be successful in business, prosper and have good luck. As turtles are slow animals, raising turtles will train owners to practice patience and perseverance."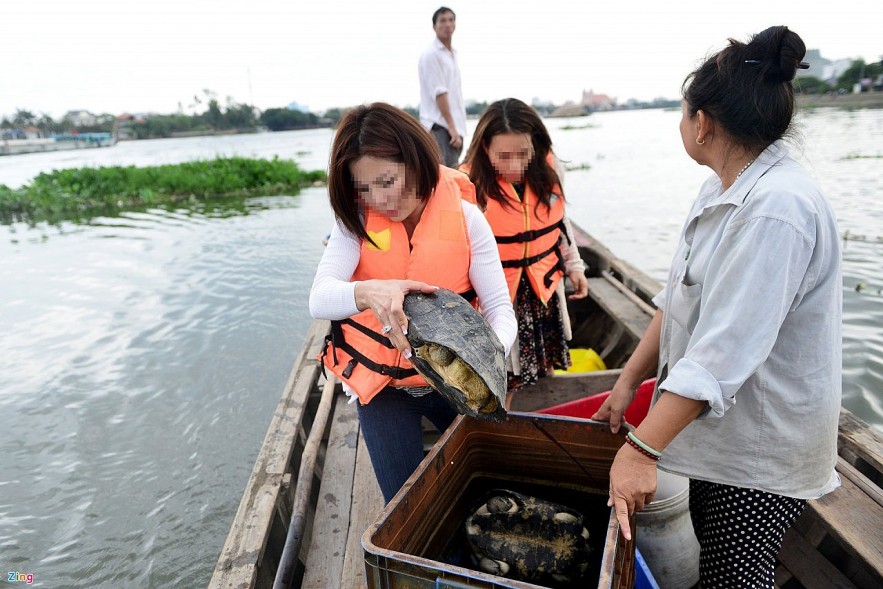 Some pagodas in Ho Chi Minh City offer boat rental services so that people can release turtles for luckiness. They write their wishes on the turtle shells and release them to the lake/river. Photo Zing News
In October 2021, ENV released a short film entitled 'Do not release turtles' on YouTube to warn people not to buy turtles for releasing purposes or keep them in captivity.

The video conveys the message that buying, selling, and releasing turtles are potentially risky and not in line with the religious spirit. Releasing them into ponds, rivers, and lakes without understanding the ecological characteristics of individual turtles can lead to their death.
The illegal trading, the captivity of turtles might face criminal charges of up to 15 years or administrative fines of up to VND400 million (USD17,391), depending on the scale of violations, quantity, and value of animals on sale.