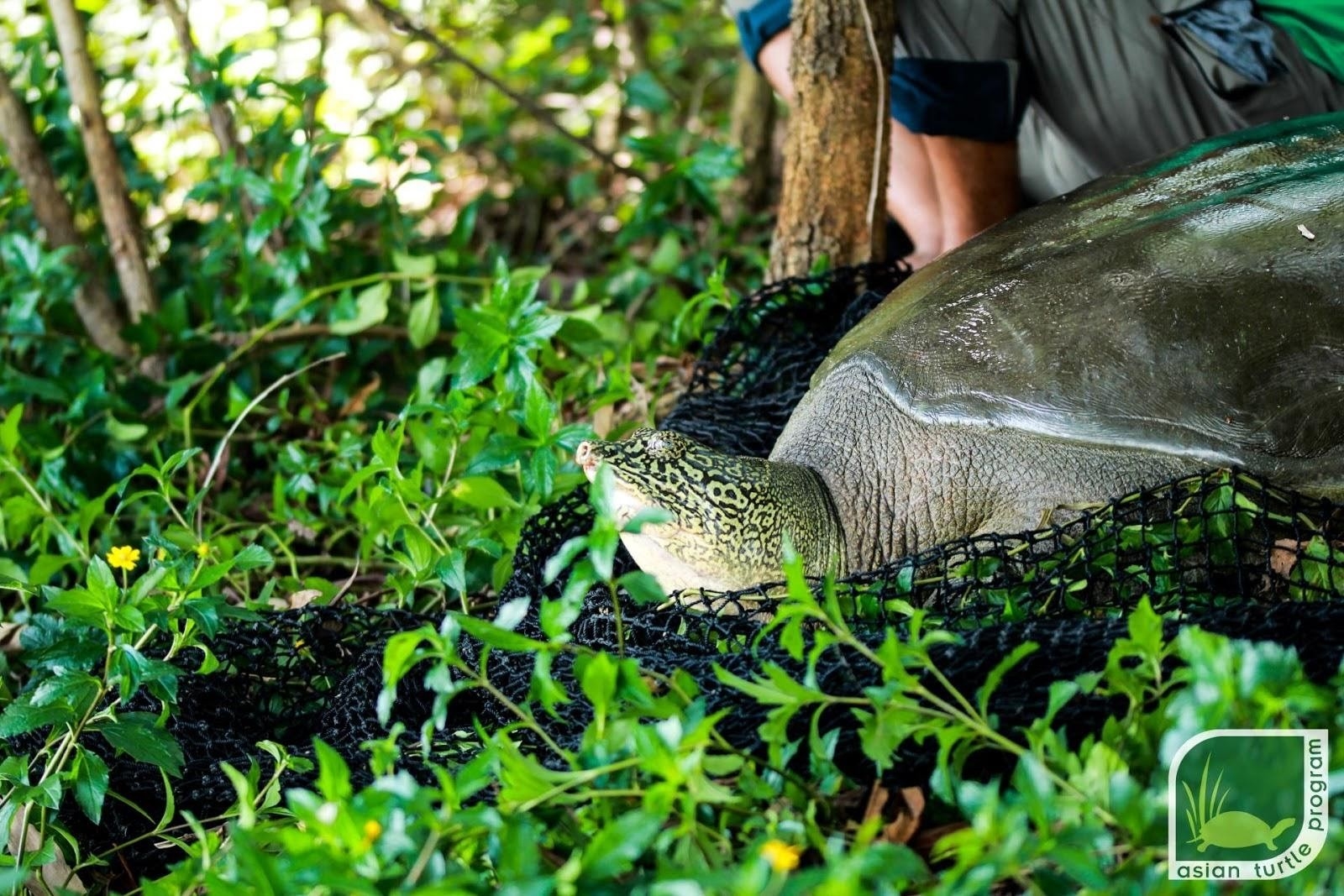 The Hoan Kiem turtle is released back to Dong Mo lake after the testing process. Photo courtesy of the Asian Turtle Program.
Experts from the Vietnam Academy of Science and Technology and Vietnam National University Hanoi analyzed its DNA and concluded it belongs to the species Rafetus swinhoei.
The female soft-shell turtle weighs 86 kg and measures almost 100 cm in length.
After thorough research by December 2020, scientists have generated enough evidence to prove the turtle discovered in Dong Mo lake (Hanoi) is a female Swinhoe turtle, also known as the Hoan Kiem turtle.
The giant Swinhoe's Softshell Turtle is critically endangered; reaching up to 150kg or more in size, it was heavily hunted from the 1970's until the 1990's for food, and is believed to be almost extinct in the wild.
The Swinhoe's softshell turtle, also called the Red River giant softshell turtle, Shanghai softshell turtle or Yangtze giant softshell turtle, was once known from the Red River in China and Vietnam and from China's lower Yangtze River floodplain, according to the Turtle Conservation Coalition that recently released a report on the world's 50 most threatened turtles. The loss of wetland habitats from river damming and infrastructure development, as well poaching for meat and eggs and capture for the pet trade, has reduced the species' population to just the four known specimens now.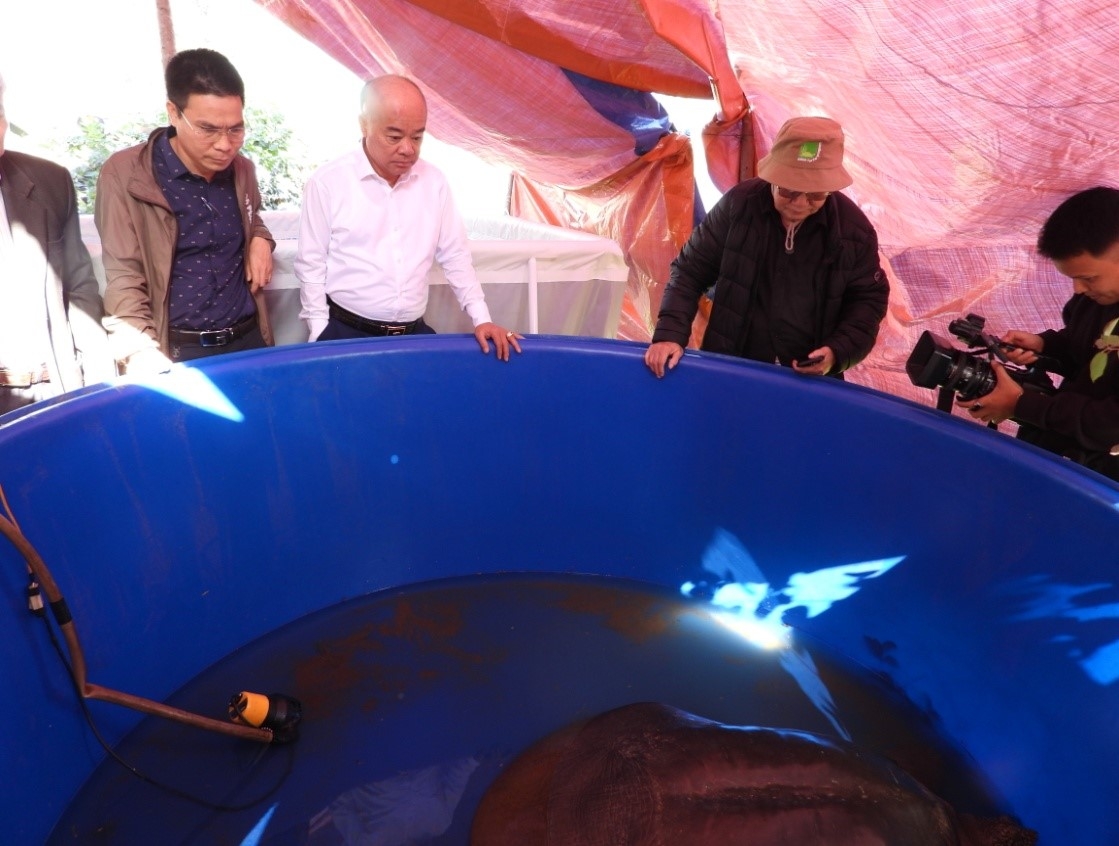 Representatives of Hanoi Department of Agriculture and Rural Development and expert monitor health of the turtle when she was in the water tank temporarily.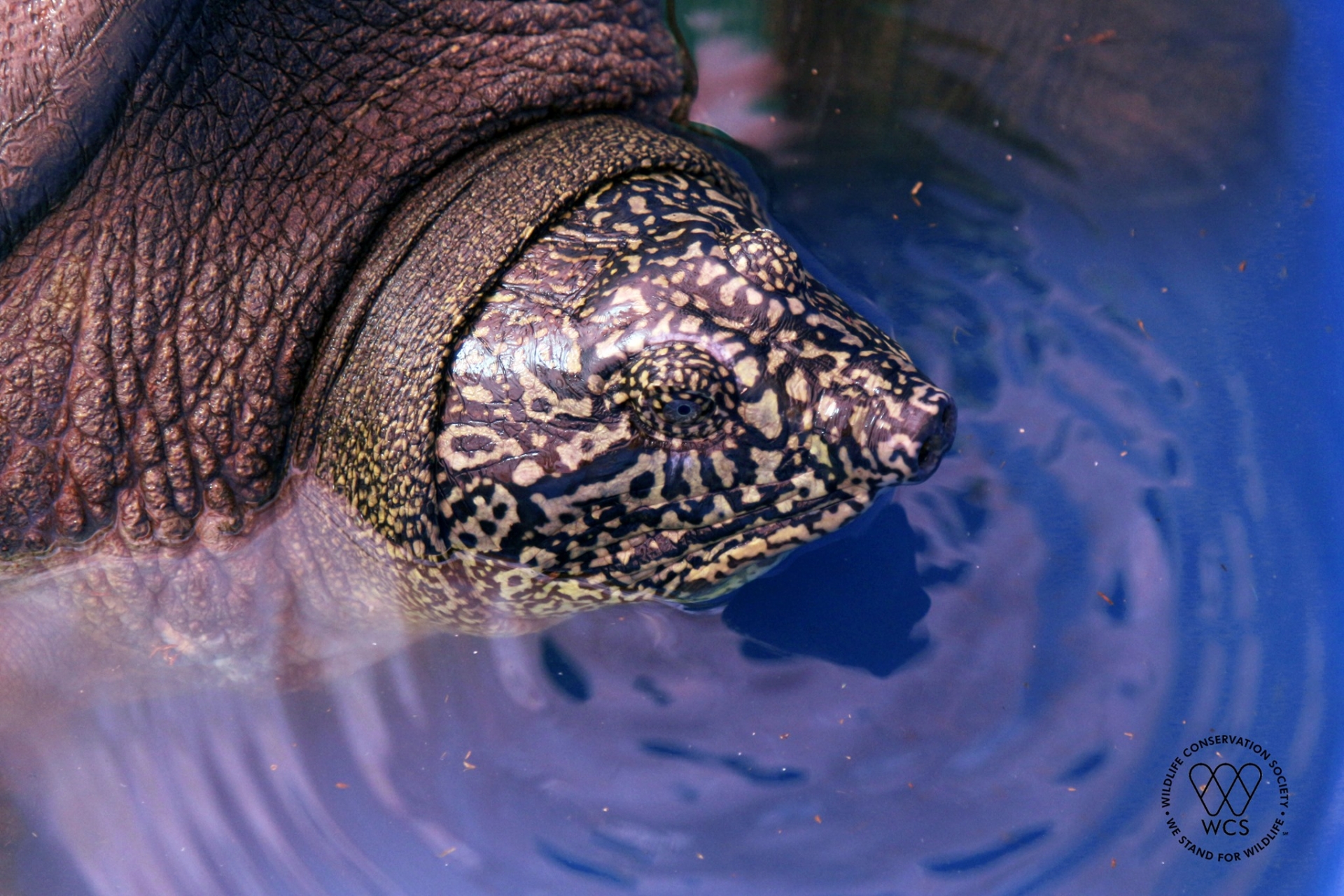 The Hoan Kiem turtle has a special pattern on its head. Source: Wildlife Conservation Society
This important discovery brings hope in the efforts to protect the entire species from extinction. Scientists believe that there are no more than three individuals alive worldwide. One of them is male and lives in Suzhou Zoo (China), and two other identified ones live in Vietnam (one in Xuan Khanh lake and the newly identified in Dong Mo lake).
However, protecting turtles against the illegal wildlife trade remains to be a complex issue for Vietnam, requiring the joint effort of relevant departments, agencies, conservation organizations, and citizens' awareness to save Hanoi's iconic and legendary creature.
According to the Hanoi-based Asian Turtle Program (ATP) of Indo-Myanmar Conservation (IMC), a UK-based conservation charity, there are at least two turtles in Dong Mo Lake after a photo taken last Friday showed another soft-shell turtle estimated to weigh 130-150 kg in the same lake.
Scientists plan to take its sample for testing in 2021. If it proves to be a male, authorities will create a sandy area around the lake so that the pair can reproduce naturally.
Another turtle was found in Xuan Khanh Lake in Hanoi, and its samples too will be tested in 2021.
A city conservation plan for the Hoan Kiem turtle in 2021-25 will identify a suitable environment for breeding the reptiles, and there will be programs for their conservation and reproduction./.
Hannah Nguyen