Explore The Wilderness Of Pu Luong – A "Petite Sapa" Of Vietnam
Nestled behind the forests and surrounded by the tall mountains, Pu Luong valley has a cool climate all year round, which is loved by many tourists, and is named "Petite Sapa in the middle of Thanh Hoa".
Pu Luong is about 170 km from Hanoi, located in Ba Thuoc and Quan Hoa districts, Thanh Hoa province. Nestled just behind the forests and surrounded by the majestic mountains, Pu Luong has a comfortable and cool atmosphere with the wilderness and tranquility of nature. In recent years, Pu Luong has become more popular for adventurous travelers and aspiring photographers and is called the "Petite Sapa" of Thanh Hoa.
Photo: Vietnam. travel
One glance at the Pu Luong Nature Reserve and you'll see why the ethnic Thai people made this enchanting valley their home long ago. The slow pace in Pu Luong is a striking contrast to life in the capital just a few hours away. Endless mountains, fertile valleys, and pristine jungles are just a few good reasons to visit.
Pu Luong is home to the Thai and Muong ethnic minorities. In the Thai language, Pu Luong means the highest peak of the village. This place covers an area of 17,662 hectares, including dense forests, large and small waterfalls, caves, and mountains, mixed with peaceful villages and terraced fields.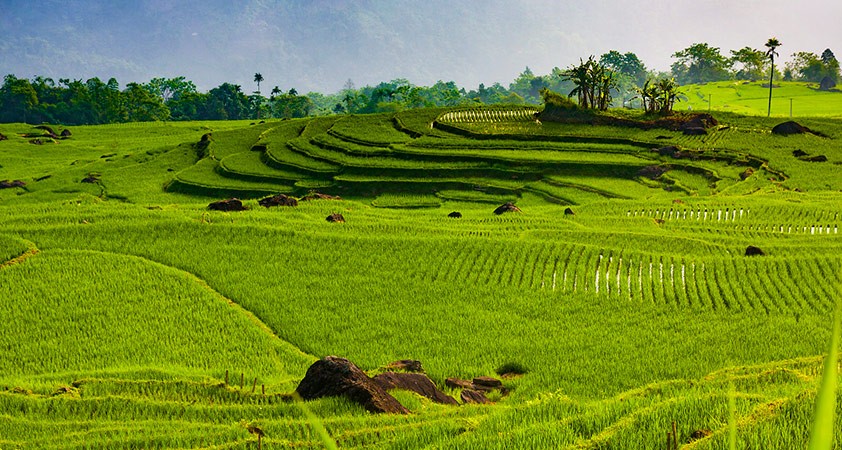 Photo: Puluong Natura Bungalow
Pu Luong attracts a large number of tourists, especially in the ripe rice season: late April-June or September-November every year. The rice season here often comes late and lasts longer than in other destinations in the northern mountainous region.
At the beginning of November, in Pu Luong, there are still many terraced fields planted with sticky yellow flowers that have not yet been harvested. The sun paints the rice fields a beautiful golden color, with the winding pathway creating a lovely scenery.
Currently, Pu Luong is a destination that attracts many international tourists because of its cool, fresh climate, unspoiled nature, and traditional culture of the ethnic people.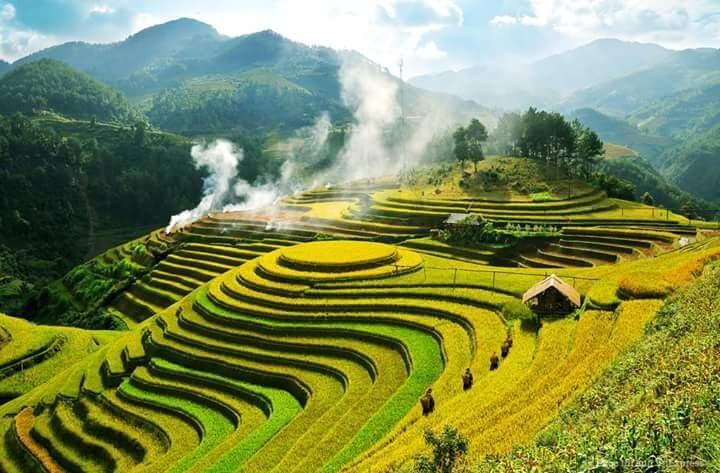 Photo: Active Travel ASIA
Aside from watching the ripe rice season, tourists can also have a chance to discover Kho Muong village and experience the Doi cave. Driving through a steep zigzag road, with a cliff on one side and a deep abyss on the other, you will reach Kho Muong village with roofs on stilts, rice, and corn fields.
Walking through the village and rice fields, visitors will come to Doi cave, also known as Kho Muong cave. The limestone stalactites here were formed about 250 million years ago and used to be the home of many species of bats. Going deeper into the cave, visitors will see a large space covered by strangely shaped stalactites.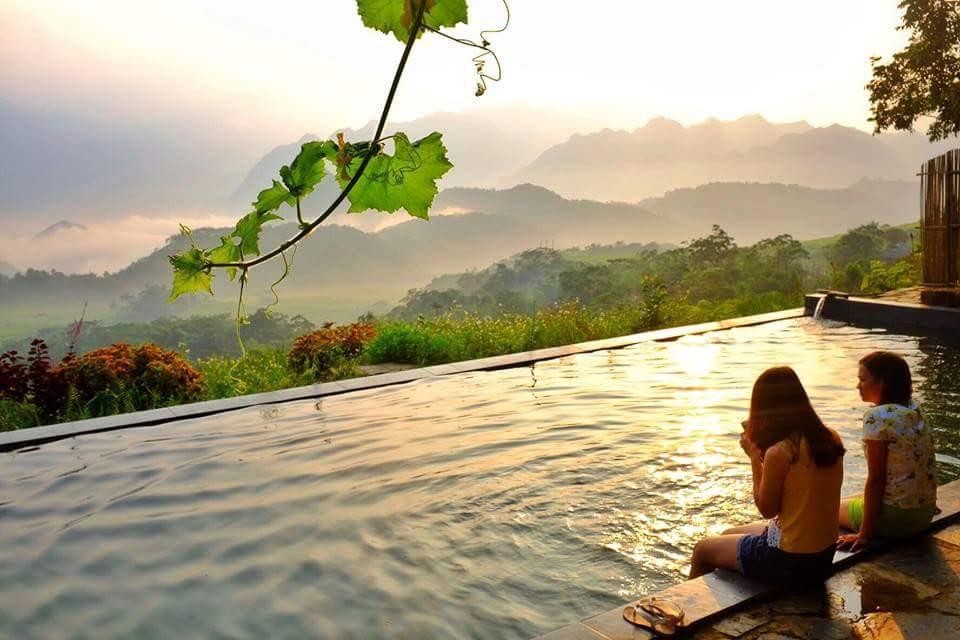 Photo: Active Travel ASIA
Coming to Pu Luong at the end of November, visitors will have the opportunity to visit the orange and tangerine gardens in the autumn season. According to the local people and farmers, this type of oranges and tangerines is organically grown, so it is safe to consume and good for health. When the fruits are ripe, they have a sweet and rich taste.
Photo: COMPASS TRAVEL VIETNAM
There's nothing more delightful than food made from ingredients grown right in the area. Pu Luong is home to an amazing array of vegetables such as baby pumpkin leaves, green beans, and bamboo shoots. With so many freshly harvested options, you're likely to find a few new favorites on the table. For a real Pu Luong lunch or dinner, try the locally raised pork and grilled mountain snails dipped in fish sauce.
Foreign tourists coming to Pu Luong love to enjoy and watch the dance and music performances of Thai people. Andy Decker and Reimund Ribarzik, two German travelers enjoyed listen to the local tunes.
"The melody here was wonderful, and it made us feel very excited. They have instruments that I have never seen before. The young female Thai dancers moved beautifully on the stage, and their moves were light, smooth, and stunning. I felt sad since I could only spend one night here, which was too short to experience the beauty and life of Pu Luong."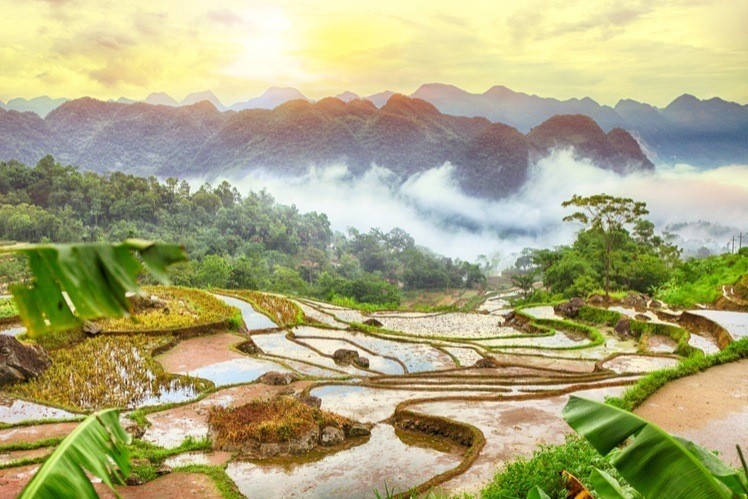 Photo: Asiatik Travel
Trekking is the best way to soak up the natural splendor of Pu Luong. Access to maps and marked trails is limited throughout the park, so hiring a local guide will save you time and help you plot the perfect route. You may like to hike to the summit of Mt. Pu Luong or do a multi-day trek through the entire reserve. Either way, you're in for an exhilarating experience.
In Pu Luong, there are many luxury resorts such as Central Hills Pu Luong Resort, Pu Luong Retreat, Pu Luong Eco Garden, Pu Luong Hillside Lodge, etc. These resorts often have a view overlooking terraced fields, with an infinity swimming pool, and many lovely corners for young travelers and couples to take beautiful pictures.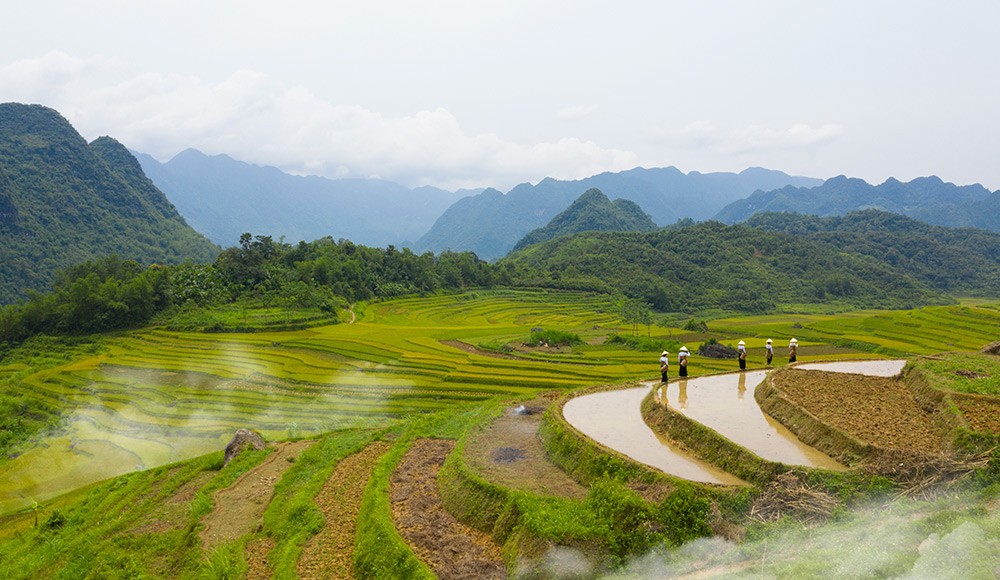 Photo: Puluong Natura Bungalow
Homestays make up the majority of accommodation options in Pu Luong. The good news is, each one is secluded and tranquil and you can take your pick from mountainside huts to stilted homes in the rice terraces. While there are also a handful of retreats, lodges, and even treehouses on offer, homestays will give you a memorable experience deep in the serenity of the reserve.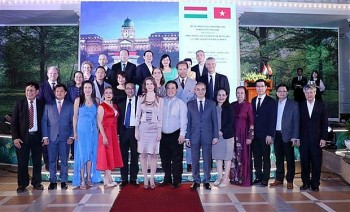 Viet's Home
Saigontourist Group in coordination with the Hungarian Consulate General held a series of events within the framework of the Hungarian Food and Culture Festival 2022 in Ho Chi Minh City