Explore Tra Su Cajuput Forest - The Enchanted Green Wonderland of Vietnam
Located just about 30 km southwest of Chau Doc, Tra Su Cajuput forest attracts hundreds of tourists each year for its unique and amazing natural beauty, and is also home for many rare plants and animals.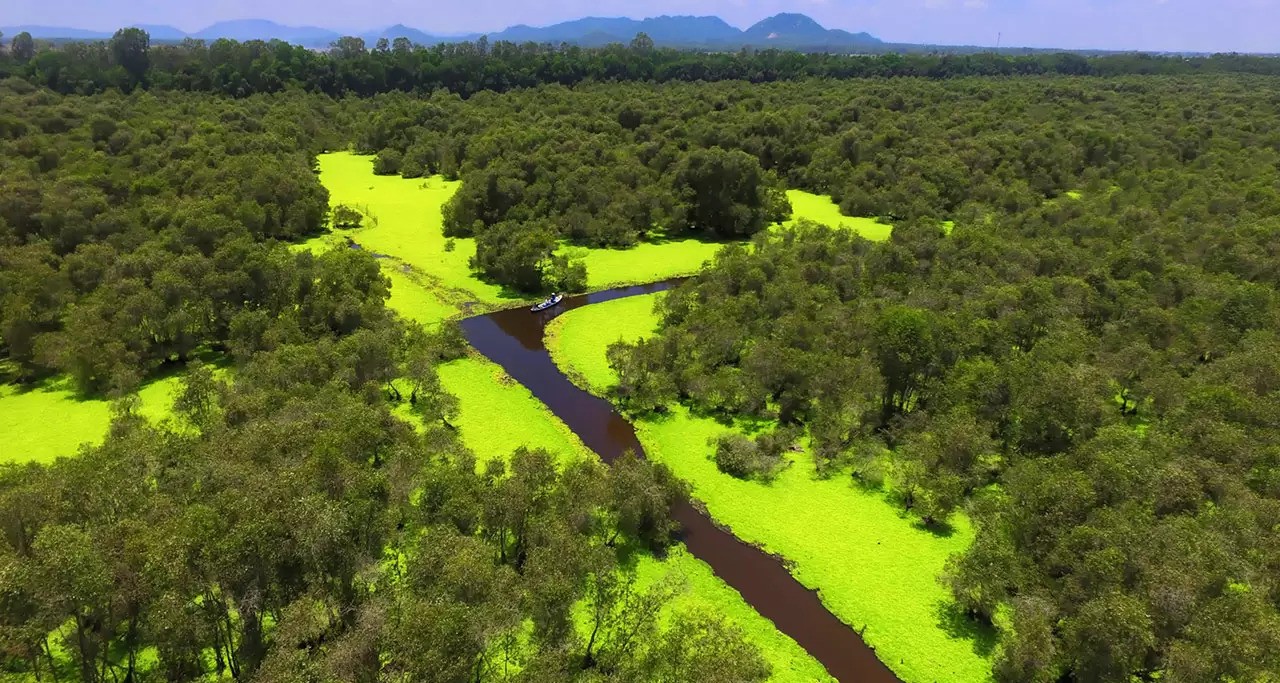 Photo: Vietnamtravel
Located in Van Giao Commune of Tinh Bien District in An Giang Province, Tra Su Cajeput Forest covers an area of 845ha, belonging to the national specialized forest system in the western region in Southern Vietnam. It is an ideal place for researchers and those who love wild animals.
The biodiversity of Tra Su Cajuput Forest
Prior to 1975, the local natural forests were destroyed by the enemy's bombs and became uncultivated areas. After the war, authorities in An Giang Province invested to reforest cajeput and build a 12km long, 4m wide and 4m high dyke system that helps prevent the area from being swamped during flood season.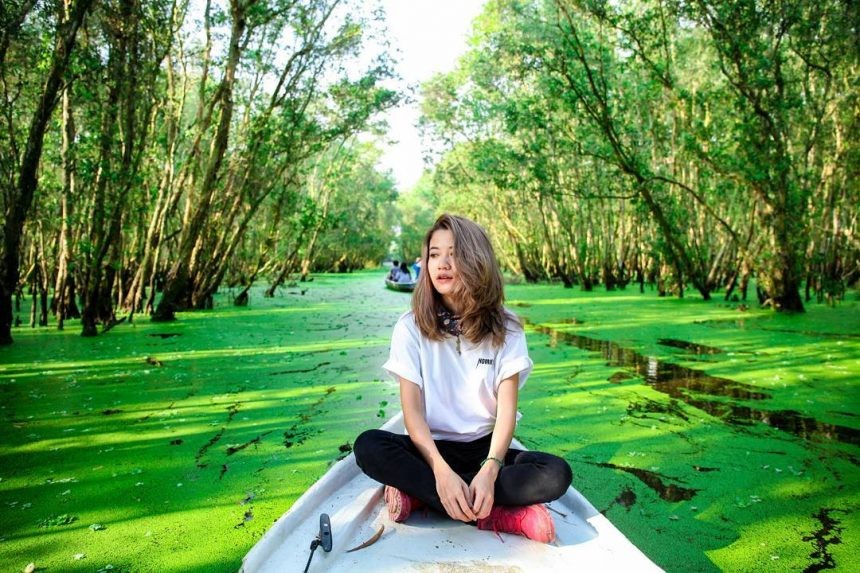 Photo: Asianway Travel
Today, with the area of 850 ha with a very rich ecological ecosystem, Tra Su offers a marvelous beauty of immense wetland, emerald-green duckweed carpet and dense cajuput forest. Visitors will be overwhelmed by the forest's magnificence while penetrating inside. Lines of cajuput trees along the waterway make the vista more alluring. Moreover, it is great to witness wide paddy fields dotted with Palmyra palm trees in proximity to the forest.
Tra Su forest has a significant effect on the water environment and climate regulation for the whole of the Seven Mountains (Bay Nui) region. It is the habitat of more than 70 species of birds and storks, of which two species named in the Vietnam Red Book are painted stork (Giang Sen) and oriental darter (Dieng Dieng). Also, there are 22 species of reptiles, 11 species of mammals, 23 species of aquatic animals. Not only rich in animals, there are up to over 140 species of flora spreading through the forest.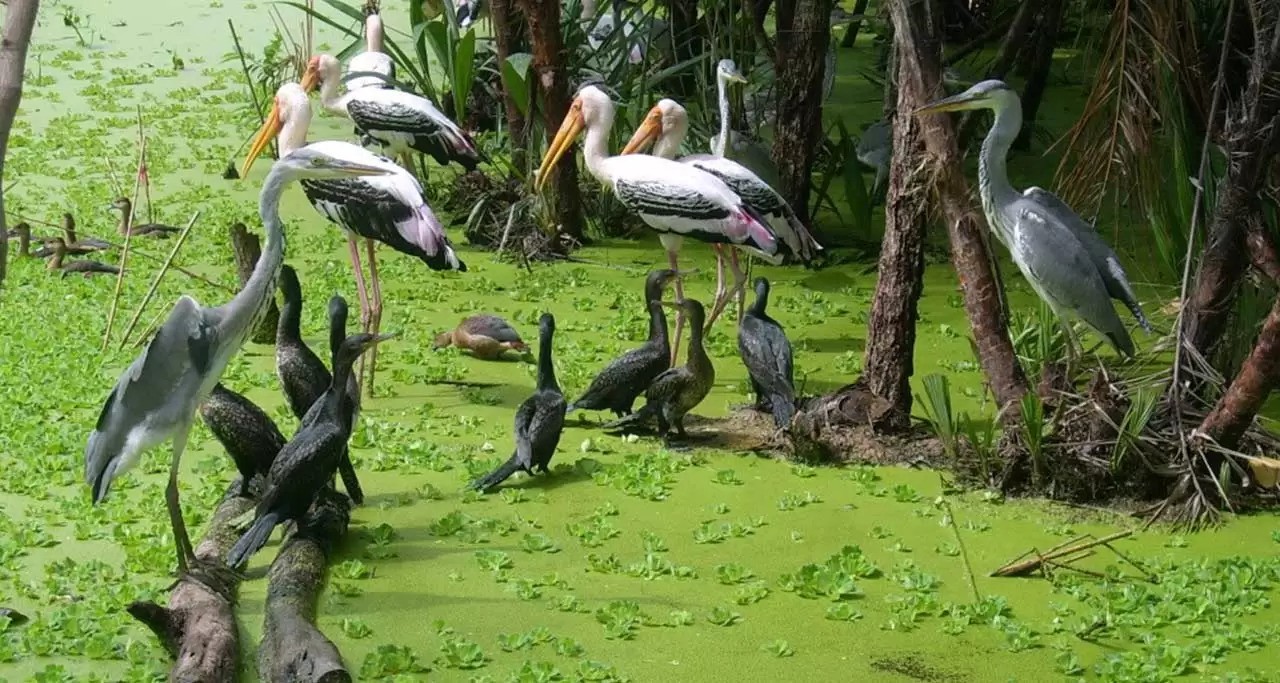 Photo: Vietnam Travel
The forest is sub-divided into several sites to make getting around easier, that include a 3,000m2 fishing area, a 3,200m2 bird sanctuary and a 2,500m2 bat sanctuary, all of which cater to the specific individual demands of different types of tourists.
Highlight Attraction: Tra Su Bridge - The Longest Bamboo Bridge In Vietnam
Tra Su - the Vietnam's longest bamboo bridge, also the longest bamboo bridge of the world, has been set a record on 15 January 2020 in the beautiful and famous Tra Su Cajuput Forest, An Giang Province.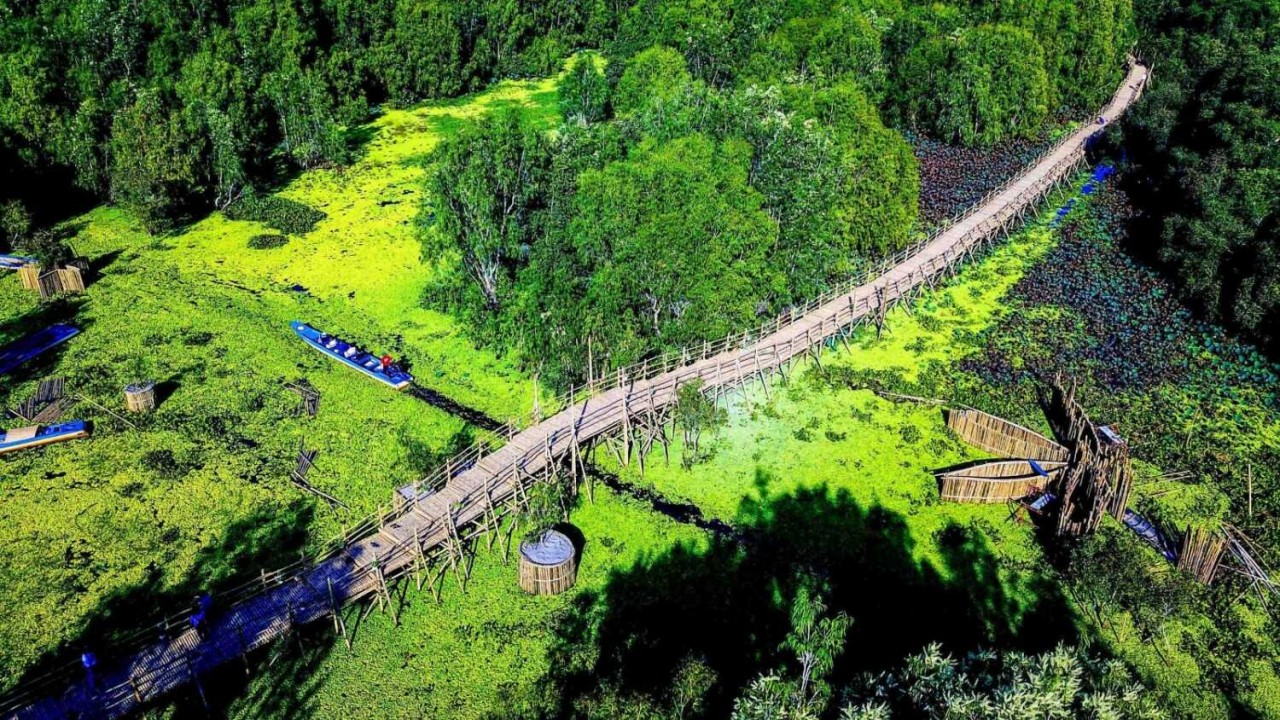 Photo: HoangPhu.vn
Called as "Bamboo Bridge of ten thousand steps" with the total length of over 10km, the bridge has become a signature of Tra Su cajuput forest ecosystem. The project was divided into 2 phases, with an expense of over 10 billion VND. The first phase has a length of nearly 4km, assembled by 500,000 bamboo trees, with a construction budget of over 5 billion VND. It was completed in just more than one month. The 4km long bridge has been put into use since 1 January 2020. After that, the investors have implemented the second phase to extend the bridge by another 6km, raising the total length to 10km. As a result, this bamboo bridge already broke the global record of Cambodia's Kampong Cham Bridge which stretching around 1km of bamboo structure. Now, Tra Su Bamboo Bridge is the longest bamboo bridge of the world.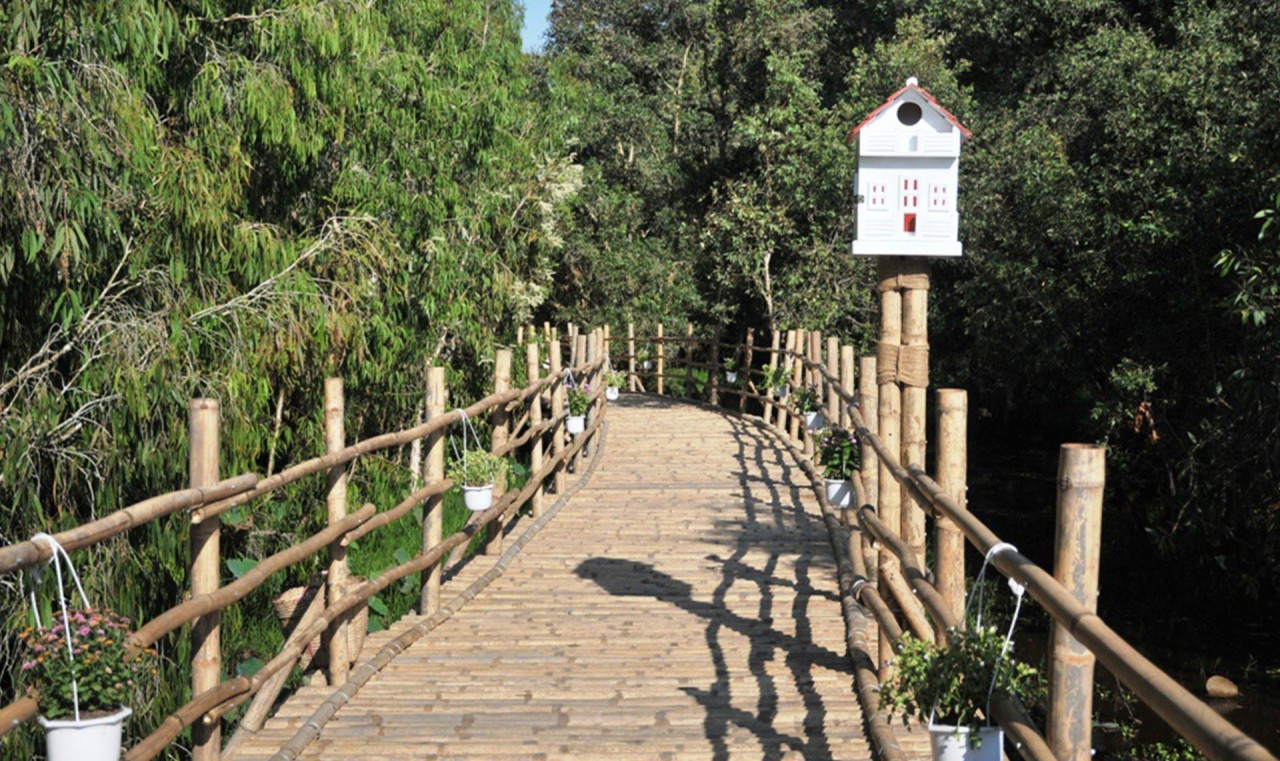 Photo: Vietnam Travel
Since its inauguration, this bamboo bridge has completely changed the appearance of Tra Su cajuput forest, attracting a lot of attention from tourists, especially foreign travelers, thanks to the unique and charm of the work. The bridge is designed to fit the terrain of this region. It bears the simple and natural spirits and reflects the love for culture and labor of local residents. From above, the bridge looks like a mystical bamboo dragon in the middle of green paradise. Crossing a bamboo bridge in the forest, you will see white cajuput flowers with a delicate scent. Cajuput flowers are a symbol for farmers in the south who are strong and unyielding to overcome challenges of life.
Get away from the city life for some footsteps, admire the lush cajuput forest with the fresh air and you will enjoy how wonderful nature is. Enjoy every step on the bridge and capture every striking scene you see. You don't want to miss a real treasure trove of photographic opportunities that Tra Su cajuput forest has to offer.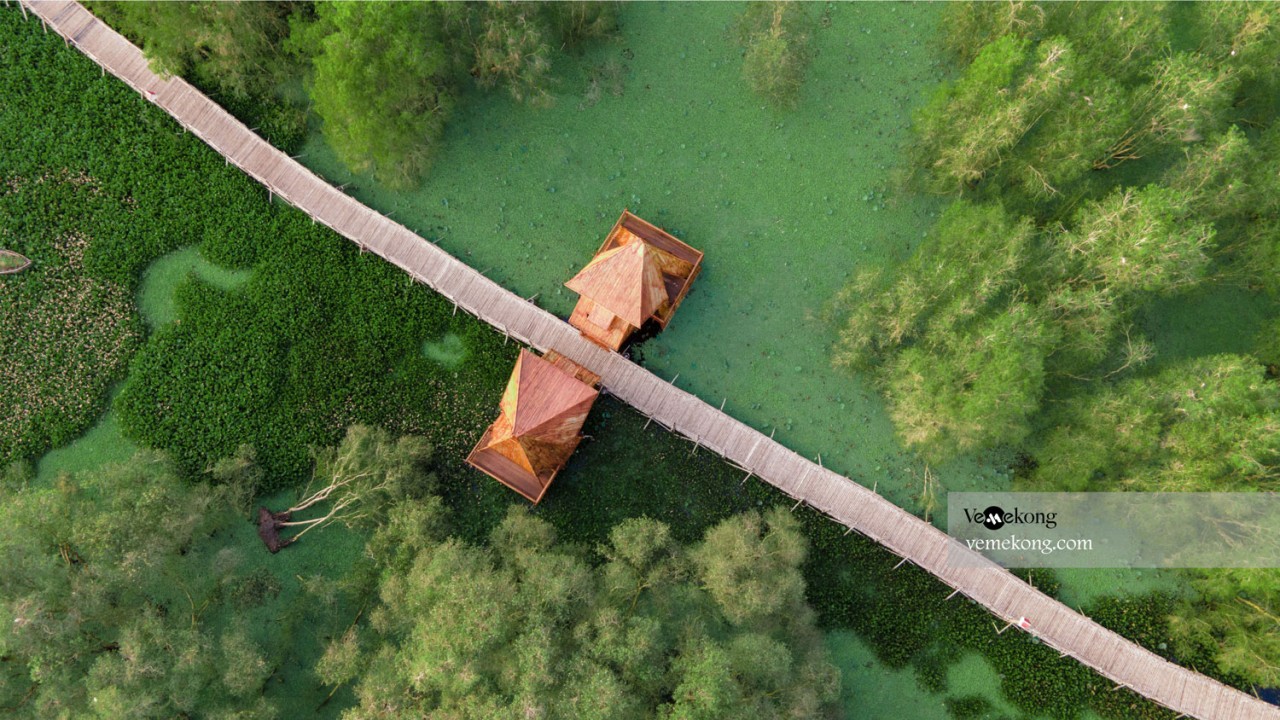 Photo: Vemekong
Best time to visit Tra Su Cajuput Forest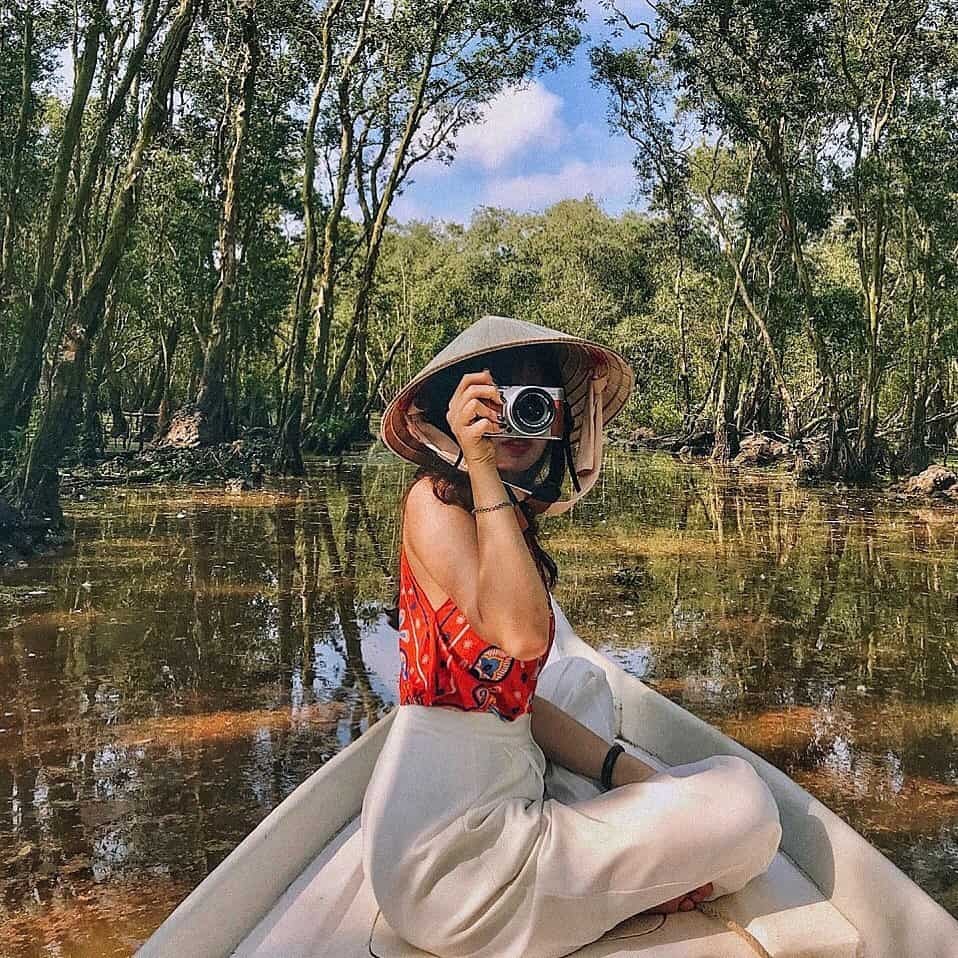 Photo: Instagram
The best time to discover Tra Su cajuput forest is from September to November – when water covers entire forest. This enables boats to ride around and make an incredible sight especially when the sunlight reaches down the water surface.
To admire the most vibrant perspective of the forest, you should be here from 7 A.M to 9 A.M as the weather is quite pleasant and you are rewarded to witness thousands of birds flying for food and singing songs of the wildlife. Between from 5:00 P.M and 6:30 P.M, it is also the right time to see birds returning their nests. Otherwise, you can hike to observation tower to watch closely the life of birds and storks through binoculars.
However, Tra Su is a year-round destination and it is worth to stop over for visitors traveling to Chau Doc or Mekong Delta.
What to eat in Tra Su Cajuput Forest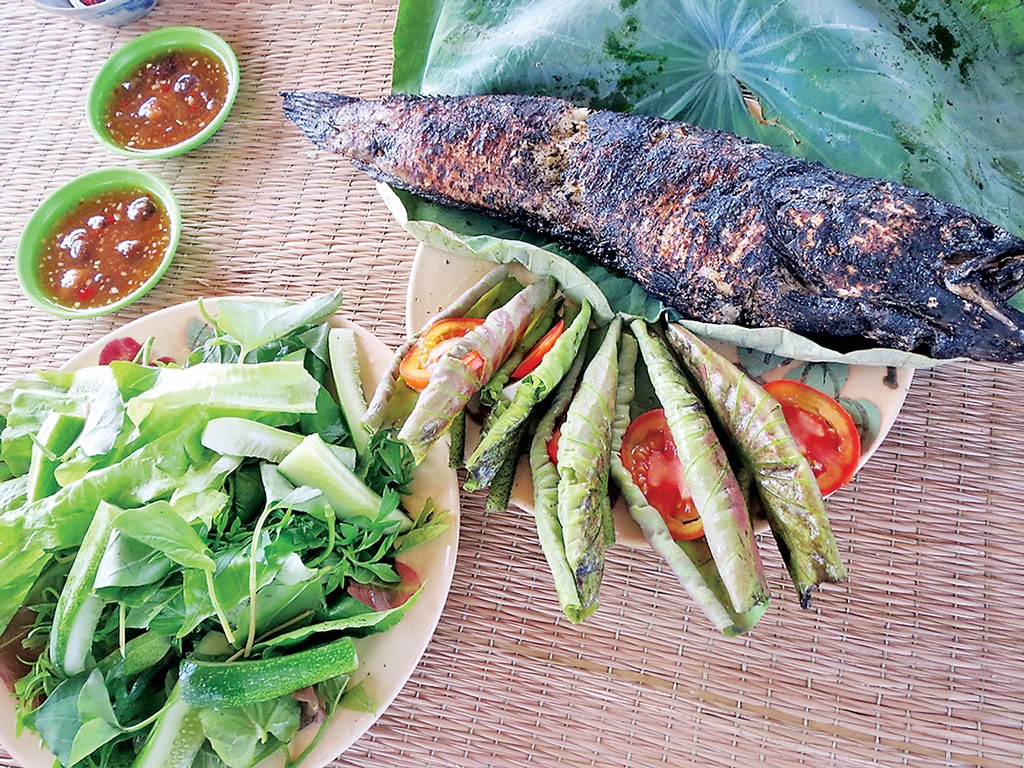 Grilled snakehead fish, a typical dish of the South of Vietnam. Photo: mekongsmiletour
The eating place in the center of Tra Su forest has a variety of dishes in the menu, including: hotpot of Linh fish and sesban flower, deep fried Linh fish, sour hotpot of catfish, honey grilled chicken, grilled snakehead fish… all of which are typical food for locals of this area. With healthy ingredients of tropical vegetables, fish from Mekong River and chicken around the gardens, a lunch among the natural atmosphere is a really unforgettable memory for those who go with their families and friends.
A journey to explore Tra Su cajuput forest starts aboard a long small motorboat which called "tac rang" by the locals. It is a very common mean of transportation in Mekong Delta region. Along the small canals lining the forest, you will admire the lush greenery of lotuses and water lilies on the water. To reach the heart of the forest, you will be switched to a small wooden rowing boat, just enough space for 4 people. Gently drift along the water and go deeper, through small canals, you will be in awe of different kinds of birds scattering all around. You can observe a thousand of white storks and other colorful species of birds flying above or perching on the branches. The further you go, the more peaceful you feel. The sampan rower will help you to understand more about the forest and show you where the birds are.
After the boat tour, climb up to a 14m high watchtower where you can enjoy a fantastic panorama of the vast Tra Su cajuput forest, dotted with birds in the silhouette of the Forbidden Mountain (Nui Cam) in the background. In particular, there is also a telescope for those who wants to get more details of the bird nests or a closer look to the birds underneath when they are finding food or building nests. The forest rhythm of life seems to be exposed to the visitors and even become more vivid and lively. Get there when the sun is about to go down, it will be the most memorizing scene of this trip.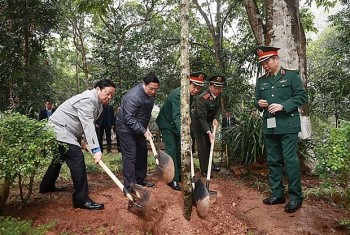 National
The Prime Minister launches a tree planting festival in Ba Vi on New Year of Cat.