Explore Tuyen Quang: Staging a Revolution Under the Shade of a Banyan Tree
The Tan Trao Banyan Tree (Cây Đa Tân Trào) is a pastoral beauty, marked by Vietnam's revoluntionary history.
Tan Trao Banyan Tree is an ancient banyan tree located at the top of Kim Long village (later renamed Tan Lap), in Tan Trao commune, Son Duong district, Tuyen Quang province. Tan Trao banyan tree is known for its luxuriant branches and leaves, consisting of two trees growing about 10m apart. Local people often call it with the folk names "Mr." and "Mrs. Banyan Tree." In 1993, due to a terrible storm, the banyan tree fell, leaving only a small branch. The mighty banyan tree that stood for generations was dying. By 2008, Tan Trao banyan tree only had a northeast branch of the banyan tree that was still alive but did not grow well, the main root part of the tree was almost dead.
Faced with an urgent situation, the local government coordinated with local organizations and businesses to come up with plans to care for and revive the Tan Trao banyan tree. Since then, Tan Trao banyan tree has gradually recovered, sprouting more young shoots and signaling a second life for this historic tree.
The Tan Trao banyan tree has just germinated from the old banyan tree, which was almost dead in 2009, and the prosperous Tan Trao banyan tree grows well in 2021. Photo: ThuyHang
This tree has a special place in the hearts of Vietnamese patriots. On the afternoon of August 16, 1945, General Vo Nguyen Giap read the Military Order No. 1, under the branches of the massive tree. Soon after, the Liberation Army conducted their march to liberate Hanoi from the French colonists. Members all ethnic groups in the North and 60 delegates nationwide were present for that historic meeting under the banyan tree. Since then, Tan Trao banyan tree has become a revolutionary symbol of Tuyen Quang.
The first feeling upon visiting the old Tan Trao war zone is the haunting silence, that echoes the sacredness of an ancient Viet Bac war zone capital.
Located in Tan Trao relic site, along with other landmarks: Tan Trao communal house, Hong Thai communal house, Na Lua shack, Hang Bong shack. This area serves as living history, inspiring the youth with tales of the hard-fought victories of the revolution.
Na Lua Shack is the place where President Ho Chi Minh lived and worked from the end of May to August 22, 1945, to prepare and lead the August General Uprising in 1945.
After the Japanese coup d'etat on France (9/03/1945), the uprising on 10/3/1945 in Thanh La won, Chau Tu Do was established, including the communes in the upper Son Duong district. Uncle Ho's choose to live and work from these refreshing woods, where he directed the August General Uprising.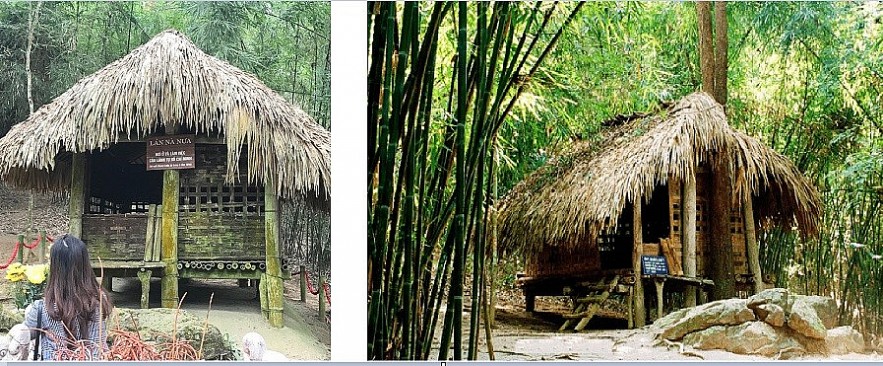 Lan Na Lua - where President Ho Chi Minh established the liberated zone and the Liberation Army in 1945 . Photo: ThuyHang
The current Na Nua shack was restored in 1972 when the late General Vo Nguyen Giap visited Tan Trao and remembered Uncle Ho and his years of operation in the old Viet Bac war zone. The stone slab in front of the shack is where President Ho Chi Minh sat reading, drafting documents every morning since 1945 and has remained intact until now even though green moss and dust of time have covered the surface.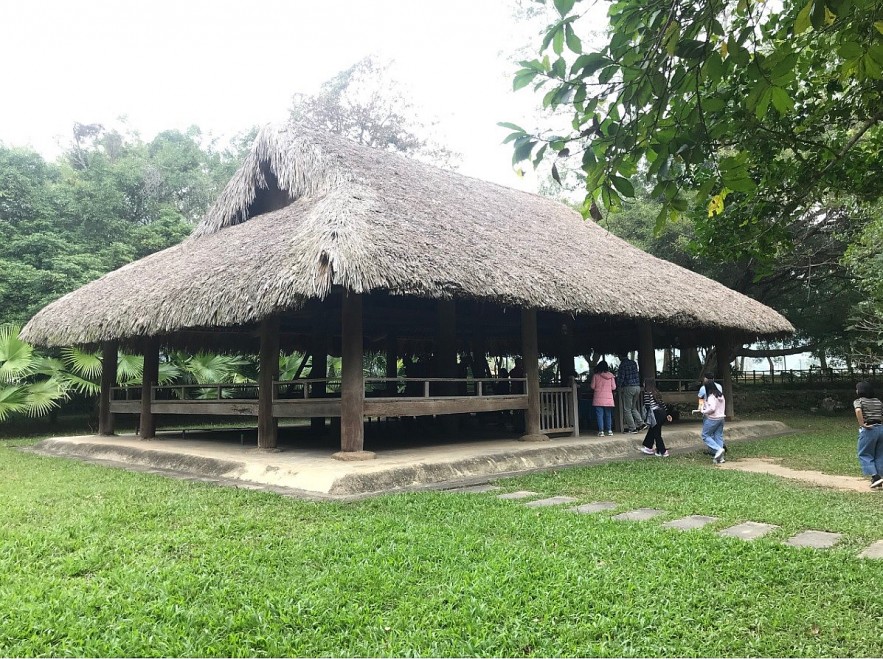 Tan Trao Communal House - 500m east of Tan Trao banyan tree, was the place where the National Congress was held in 1945 (Photo: ThuyHang)
Tan Trao communal house, formerly known as Kim Long, was built 400m west of Kim Long village, facing south, in front of Ao Rum mountain, at the foot of the mountain is Khuon Pen stream (Ngoi Thia). The communal house was built with the architecture of a mountain house on stilts, roofed with palm leaves, and surrounded by empty space. The communal house was built to worship Thanh Hoang village and the local mountain gods.
Tan Lap village has remained intact since the revolutionary period where Uncle Ho and General Vo Nguyen Giap used to live in order to liberate Hanoi capital. Currently, Tan Lap cultural village is becoming more popular with tourists. People can walk in Ho Chi Minh's footsteps and seek out the spirit of revolution within some of the most beautiful forests in Vietnam.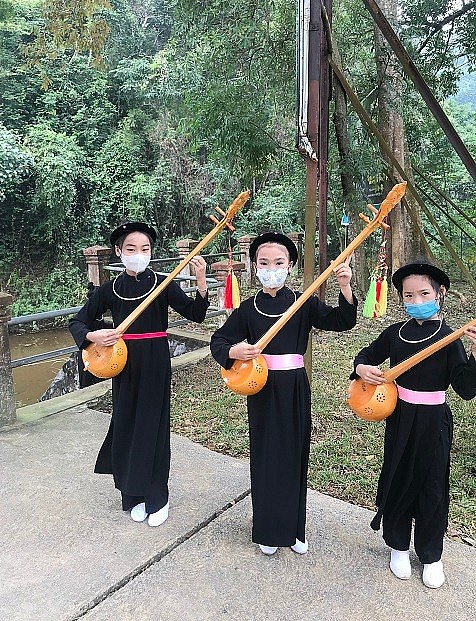 How to Get to the Tan Trao Banyan
Bus: At My Dinh bus station, there are many bus companies running the route Hanoi - Tuyen Quang, with fares ranging from 100-150k/way (US$4,5 to 7). Some reputable transport companies for your reference are Hung Thinh bus, Son Hung bus Bao Yen bus. Note: If you plan to travel to Tuyen Quang, you should book a bus in advance to avoid running out of tickets!
Car/Motorbike: About 150km from Hanoi city center, this is a relatively nice distance for a trip to Tuyen Quang on holidays or weekends. Starting from Hanoi, you move in the direction of Thang Long bridge > Phuc Yen > Viet Tri > Doan Hung > Tuyen Quang; or you also save time of a 25 km shortcut to drive on the road of Hanoi - Tam Dao - Dong Tinh - Tuyen Quang. It is about a three hour drive.
Accomodation: You can enjoy homestay in Tan Lap village with some unique and local - traditional restaurants or you can also stay in some big hotels in Tuyen Quang city as Muong Thanh Hotel, Royal Hotel, Royal Palace Hotel, and Mai Son Hotel.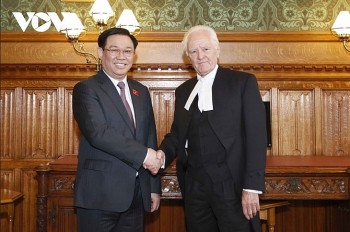 Friendship
Vietnam is willing to create all favourable conditions for investors of the UK to operate in the Southeast Asian country, National Assembly (NA) Chairman Vuong Dinh Hue told UK Secretary of State for International Trade Anne-Marie Trevelyan during their meeting on June 29 (UK time).