Exploring Hue City's Lunar New Year Fruit Jams and Cakes
Hue cuisine is considered not only a sophisticated work of culinary art but the embodiment of the philosophy of the ancestors.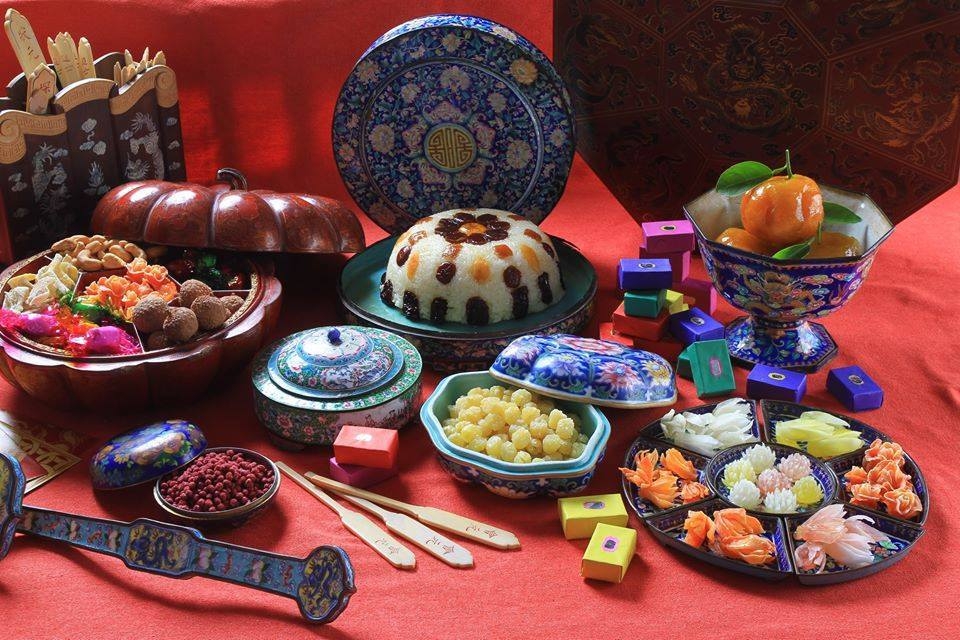 Various dishes of Hue royal gastronomy made by culinary artist Ho Thi Hoang Anh in 2016. Photo: VNS
The capital of the country under the last monarchy, the Nguyen Dynasty (1802-1945), Hue was a centre of Vietnamese gastronomy as top chefs from different regions moved there to serve the royal family. Today, Hue city is known as the home of about 1,700 of the country's 3,000 dishes.
Hue gastronomy, especially the art of cooking in royal palaces under the Nguyen dynasty was not only popular in the daily life and in preparation for ritual ceremonies but also a specific cultural feature of Hue in the past as well as at present.
Among hundreds of subtle and elaborate dishes of Hue culinary art, many sorts of cake or fruit preserves were created and handed down by ladies in the royal palaces. The most popular ones are snow-flaked cake, glutinous rice cake or green bean cake, etc in different styles of cooking.
The art of royal cuisine in Hue palaces often has many sorts of fruit preserves/jams and cake; the most popular of which is the snow-flaked cake created by the Nguyen royal ladies and handed down to their servants.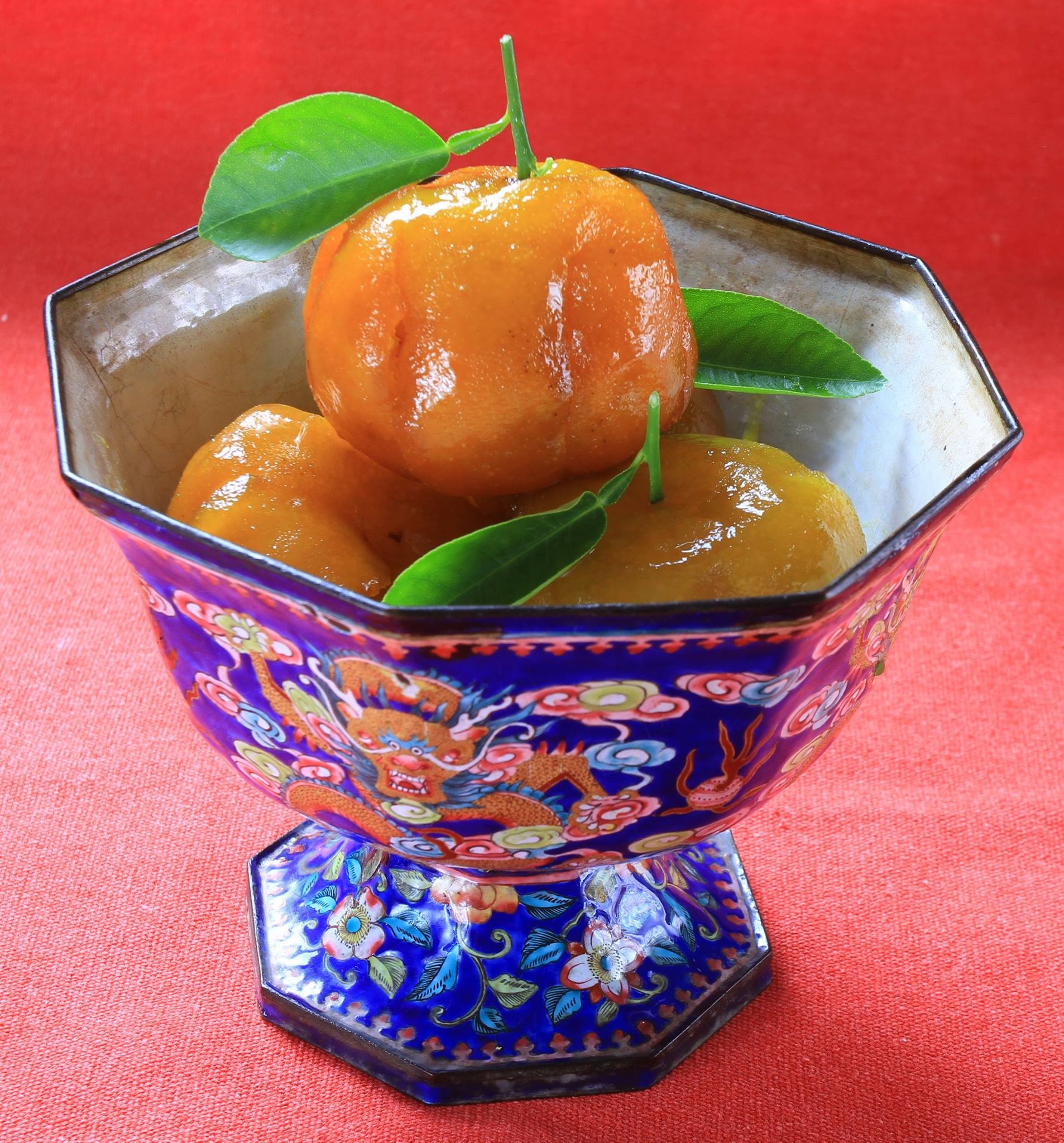 Mut cam sanh/Orange marmalade.
Hue's Tet (Lunar New Year) festival cannot lack of the rich and sophisticated cake or fruit preserves. It seems that any kind of fruit, through the talented hands of Hue women, can be turned into preserves such as mut gung xam (puncturing crystallized ginger bulb jam), mut cam (orange jam), mut san (cassava jam), mut dau trang (white bean jam), mut khoai deo (sweet potato jam), mut san day (kudzu jam), mut dua (pineapple jam).
But the most bold Hue flavor must be mentioned is ginger jams. Hue ginger is grown on hilly areas, so the tubers are small and dark yellow. The ginger can neither be too old (as the final product will then lack smooth texture), nor can it be too young, because it will not have its characteristic pungency, according to VNA.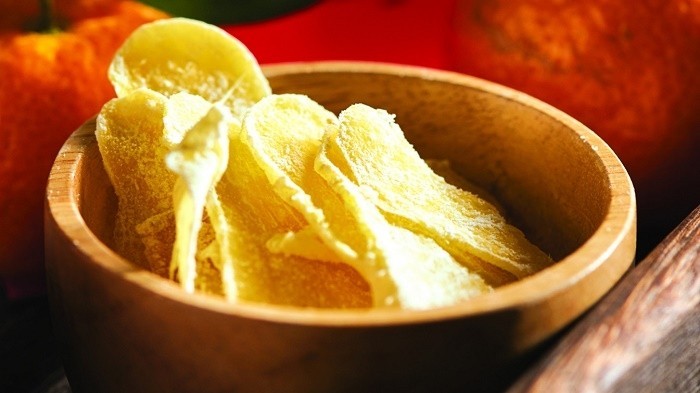 Ginger jam. Source: NDO
First, the ginger is peeled and sliced. Thin ginger slices are soaked in cold water with squeezed lemon juice for about 30 minutes in order to clean them, then mixed with sugar. The ginger is then cooked in sugar syrup on wood fires for about an hour until the slices become more firm and the sugar is neatly wrapped around each slice. To make this happen, the mixture has to be continuously stirred with chopsticks, so that it does not get burnt.
The ginger jam is then placed on a tray where it is cooled. Here, the jam-maker uses thin bamboo sticks to separate the ginger slices as they can easily stick together when hot. The aromatic, pungent taste is the unmistakable characteristic of Hue ginger jam.
The ginger 'jam' made in Kim Long Ward, Hue City, stands out for its authenticity and absence of additives. The specialty is muchly consumed during Tet festival.
Currently, the Kim Long Ward has about 20 households making the ginger jam in the most traditional way. Besides serving locals during the Tet holiday, Kim Long ginger jam is also ordered year-round by dealers from cities across central Vietnam and Ho Chi Minh City.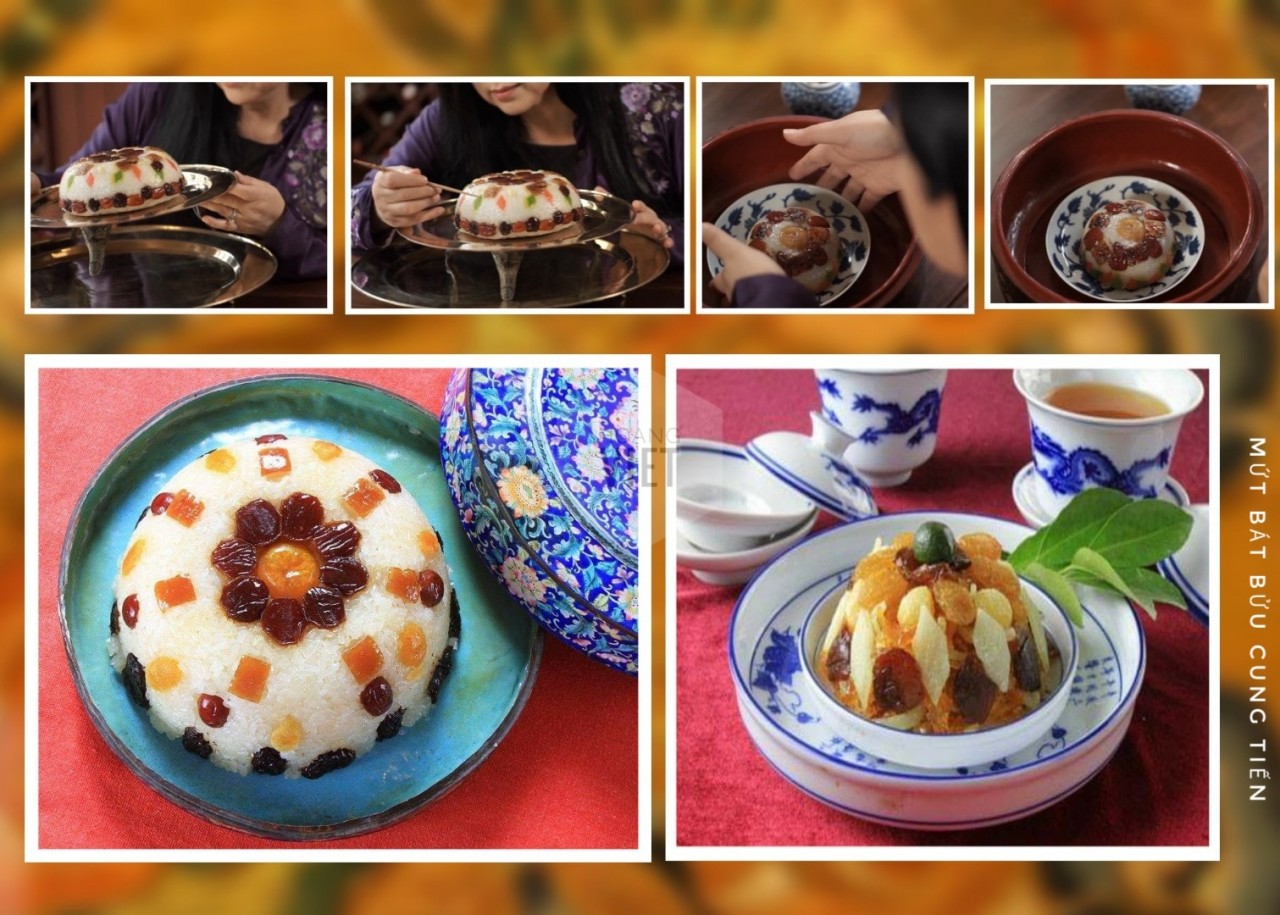 Mut bat bao/Eight kinds of fruit preserves with sticly rice. Source: Hoang Viet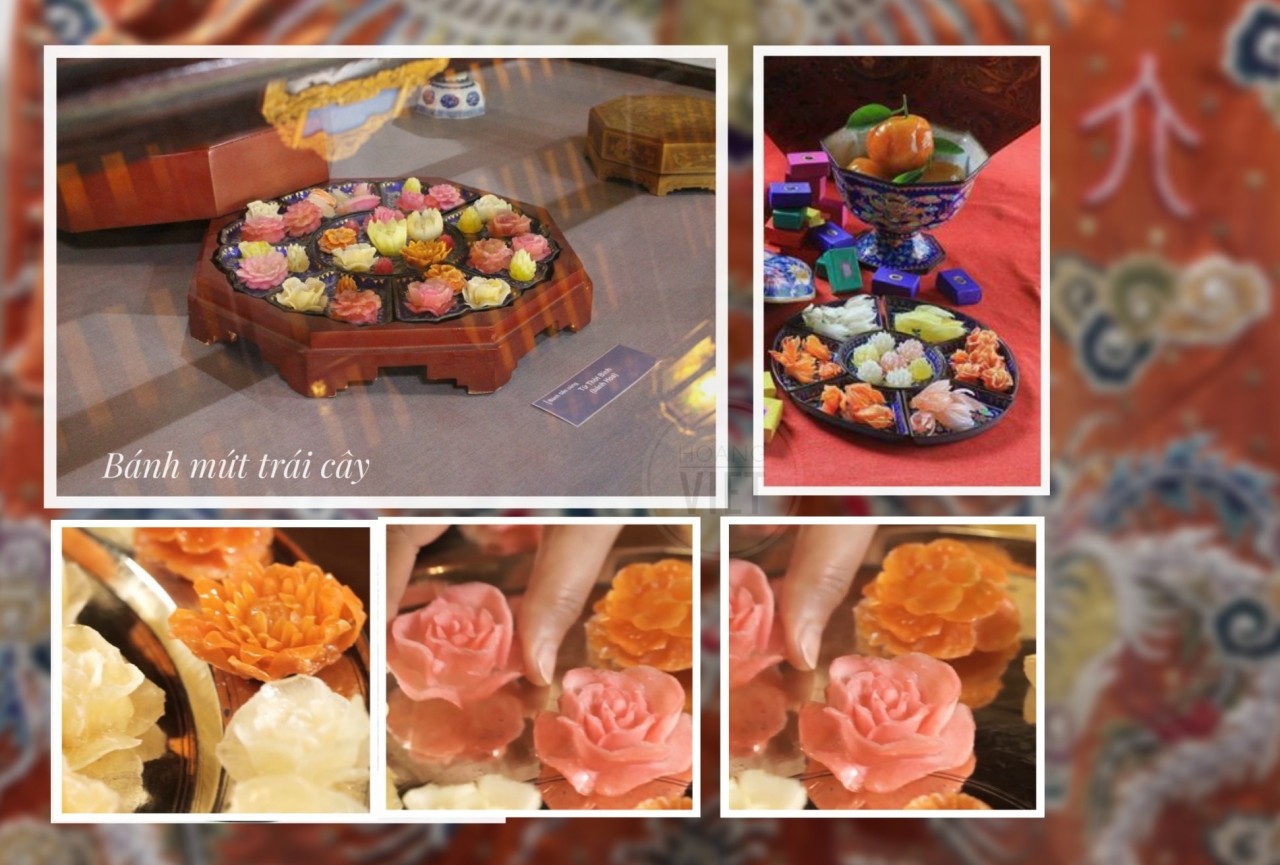 Flower-shaped cakes are made from fruits such as Buddha's Hand citron, jellies, tangerines and glutinous rice flour. Source: Hoang Viet
Cakes are usually dry cakes made from cereal flour (glutinous rice, green bean, lotus seed, arrowroot, kidney-shaped bean, broad bean) and shaped by bronze moulds in the shape of rectangle or flower; the lid of mould is decorated with Chinese characters of Longevity, Happiness and Rite, such as banh kho no (dry crackers), banh hat sen (lotus seed cake), banh sen tan (ground lotus seed cake), banh thuan (cupcake), banh sam (ginseng cake), banh dua (pineapple cake), banh phuc linh (tapioca starch cake)..
The cake is wrapped in iridescent cellophane paper so it is also called iridescent cake.
Tet preserves and cakes were mostly shaped by skillful hands of Hue women. Each type of cake and jam had a unique processing method which was elaborate from choosing raw materials to meticulous processing.
Phuc Linh cakes are an ancient tradition of Hue, itself the ancient royal capital city of Vietnam. The traditional cake is made of arrowroot which is well-ground with yellow sugar, pandan leaves and fresh coconut juice. Photo amthuchue.info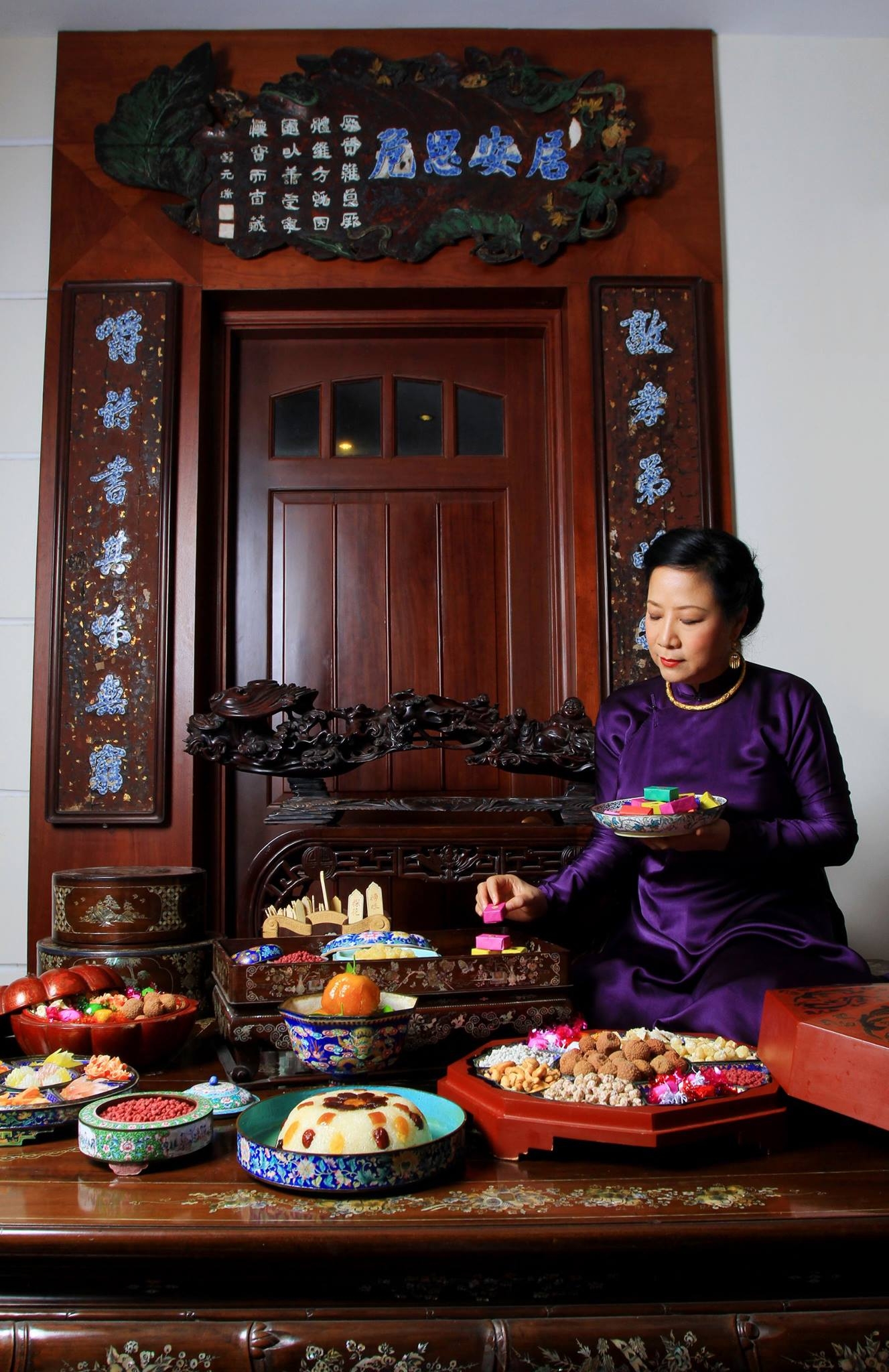 Artisan Ho Thi Hoang Anh - descendant of Royal chef Ho Van Ta under Khai Dinh and Bao Dai reigns, and Royal preserves cakes which she recovered. Photo: VNS
Culinary artist Ho Thi Hoang Anh is the successor of Ho Van Ta, head of a cooking team serving the last family of the Nguyen Dynasty. After many efforts, she has researched and restored a number of royal dishes. Endowed with skillful hands of artisans, she has made elaborate and meticulous cakes and jams, bearing the delicate and luxurious beauty typical of ancient royal dishes.
She made and recreated more than 20 preserve/jam dishes selected from the menu of offerings and cakes of the old royal court. Many kinds of jam and cake have folk origin but when they entered the royal court, it is transformed to become more subtle.
The fruit preserves and cakes were used both in their daily life and in ceremony at the temples in the royal palaces and tombs.
In recent years, Hue has emerged in the Vietnamese tourism map as a heritage destination where traditional rituals and cultural quintessence of the Nguyen Dynasty (1802 - 1945) have been well preserved.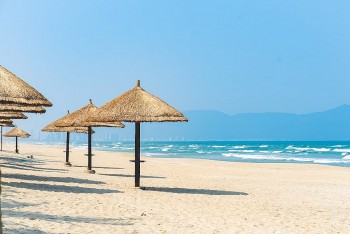 Travel
According to NZ Herald News, Da Nang beach is an ideal place to sunbathe during summer vacation.