FA CUP result: Man Utd 1 Chelsea 3, David de Gea error helps Chelsea book FA Cup final clash with Arsenal
Chelsea has reached the FA Cup final and will play Arsenal at Wembley on August 1. Frank Lampard's side deserved it from start to finish despite receiving a gift from David de Gea for the second. Just not Manchester United's day, according to Express.co.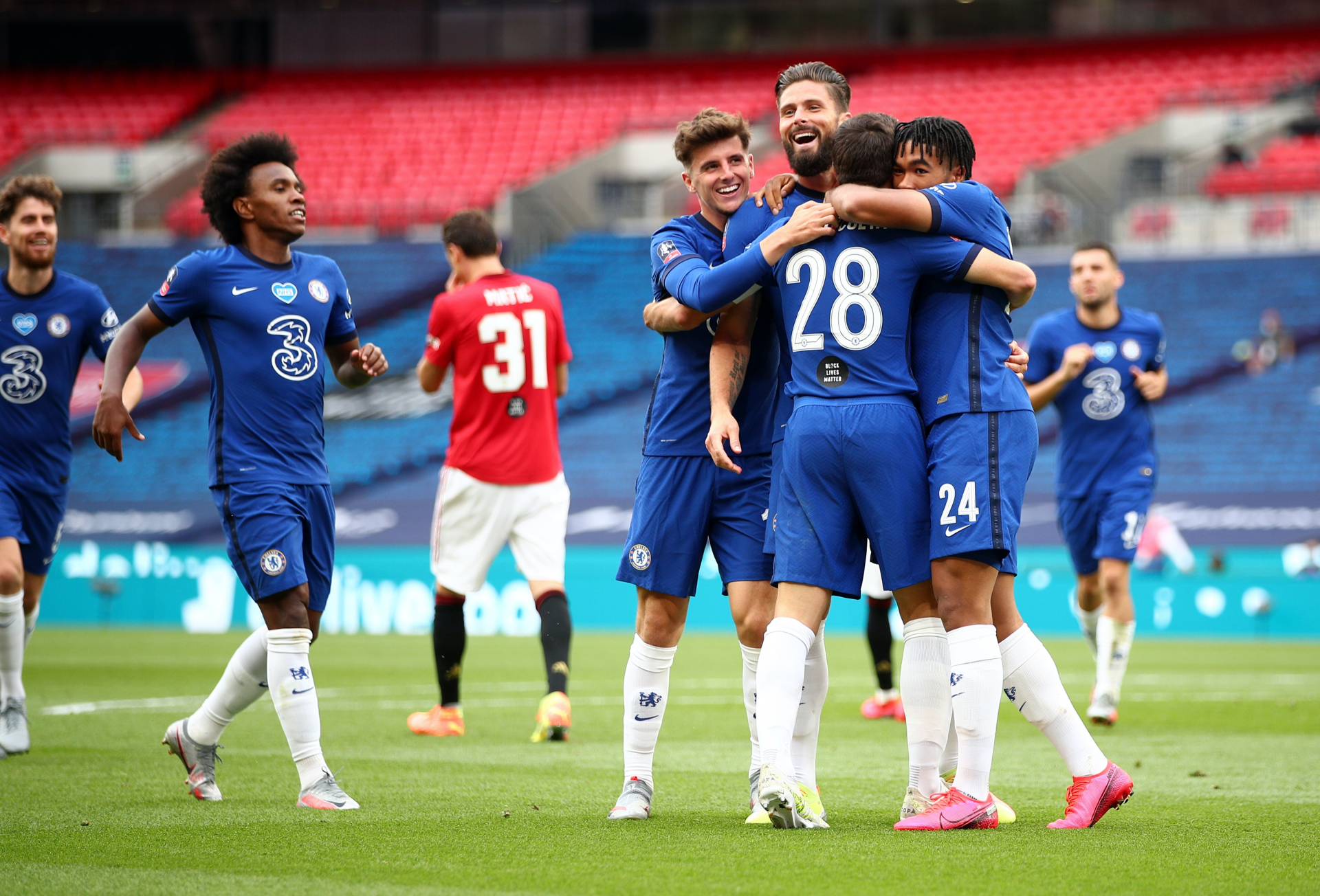 Giroud shines Chelsea after giving the Blues the lead on the stroke of half-time, it never seemed in doubt.
Telegraph reported, there have been a number of signature performances for Chelsea in Frank Lampard's first season in charge – Ajax away in the Champions League, Liverpool at home in the FA Cup and Manchester City in the Premier League all readily spring to mind – and here was another one.
Defeating Manchester United to reach a third FA Cup Final in four years was achieved through some shocking gifts from goalkeeper David De Gea, some collective mind-freeze from those in red but also with Lampard out-smarting his opponents tactically, with his team selection and with the way he motivated his players. In other words, Chelsea beat United all ends up. This was as comprehensive as it gets and was humiliating for the defeated.
At the same time, this was Chelsea's first win over United since the 2018 FA Cup final which, also, just happened to be the last time that De Gea played in this competition. Of all the questionable decisions taken by Solskjaer for this fixture, including his first-choice goalkeeper ahead of his cup alternative, Sergio Romero, was surely one he did not think would cause controversy. But so poor was De Gea's performance that the 29-year-old's future, because of his continued inconsistency, has to be in serious doubt.
This is a long way from being the "world's best" as Solskjaer insisted the Spaniard was still not so long ago and the clamour to bring back Dean Henderson, and not keep him on loan at Sheffield United next season, will only increase. At 29, De Gea should be in his prime but he is increasingly a liability while that new four-year deal he signed last year to make him the club's highest-paid player, and the world's best paid-goalkeeper, looks like a bad call.
United let this one slip away as Chelsea's first two goals slipped through De Gea's fingers. Even before those howlers, though, Lampard's side should have been ahead as they dominated a first half that was extended by 12 minutes because of a worrying head injury to United defender Eric Bailly who was taken to hospital.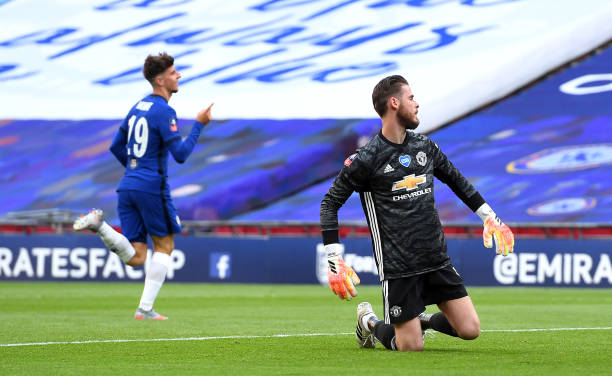 MU's defender line had a disaster counter day.
The Ivorian was one of three centre-halves fielded by Solskjaer who appeared overly worried about his team having played three times in a week, having less rest and so went on the defensive. He tried to counter-attack and found out that simply blunted his attack as he appeared to ask Bruno Fernandes to do it all.
Lampard sensed that also. He, too, deployed a three-man defence but with far more intent and with the impressive Olivier Giroud proving too much of a handful for Harry Maguire who was left bandaged by his clash of heads with Bailly but will also need his confidence patched up after this. The United captain's torrid evening was capped by an own goal, Chelsea's third, and although it meant De Gea was beaten at his near post it was probably the only one he conceded where he was not categorically at fault.
There is no way that could be said about the other two goals. In the 56th minute of the first half Cesar Azpilicueta, who combined well with Reece James throughout, crossed low with Giroud stealing in front of Victor Lindelof. Once again, Lindelof had shown himself slow to react but still Giroud had only guided the ball goalwards with the outside of his left boot and it surely lacked the power to beat De Gea. Instead it caught him out with the ball squirming through his fingers to trickle over the goal-line.
After that, to be frank, it looked like United felt sorry for themselves. Bailly was replaced by Anthony Martial and their shape was better but they did not give themselves a chance to recover as early in the second-half there was an even more horrendous error with the United defence also, again, at fault as left-back Brandon Williams played a careless pass infield which was collected by Mason Mount who strode forward.
Nevertheless there appeared minimal danger, especially when Mount's low shot from 20 yards appeared to lack power – only for De Gea to dive to his left but fail to turn the shot away, with the ball slipping through his hands and into the net. It was, to say the least, extremely strange technique. De Gea looked in a daze. At the second-half drinks break he stood apart, with assistant manager Mike Phelan speaking to him, before he threw his water bottle down and walked back to his goal. There were a couple of routine saves, however, before he was beaten again as Antonio Rudiger stretched to meet Marcos Alonso's cross but the ball came off Maguire to beat De Gea. Could he have saved it? Maybe if he was in top form and not at rock bottom.
United had some chances – Marcus Rashford, Maguire and Nemanja Matic could all, maybe, have done better – before Chelsea substitute Callum Hudson-Odoi caught Martial and Fernandes had stepped up, and with a skip he beat goalkeeper Willy Caballero from the penalty spot.
By now, though, their malaise was complete. There would be no cavalry charge from United as they slipped to their first defeat in 19 games and did so in such a limp, acquiescing manner. That is not to detract from Chelsea who were utterly dominant and unquestionably deserved to set up an all-London final, and a repeat of the final three years ago, against Arsenal. Lampard deserves the plaudits; De Gea (and Solksjaer) knows he will receive the brickbats.