Aston Villa vs Man United result: MU brushed aside rival 3-0, controversial penalty
By the end of the night, reborn Manchester United may well have crushed Aston Villa and push the latter closer to relegation from the Premier League with a 3-0 win. 
According to Daily Mail, Villa Park, it was possible to hear the sheer purity of thumping goals from Mason Greenwood and Paul Pogba forManchester United just as it was to hear the howls of complaint from home manager Dean Smith after his side conceded a first-half penalty that should never have been.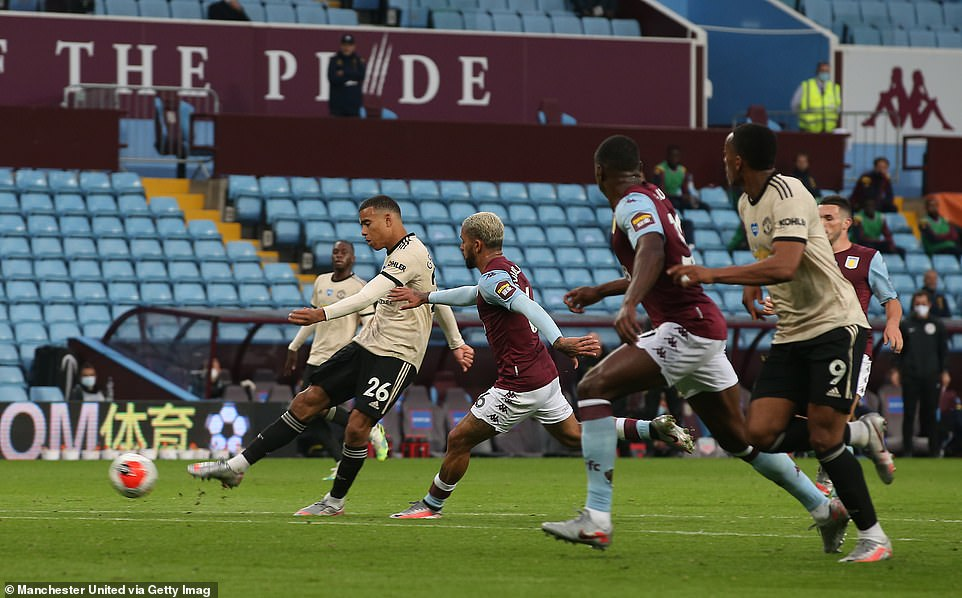 Mason Greenwood was on target for United once again after drilling low beyond Pepe Reina from the edge of the penalty area
That was the soundtrack of this game and it told the full story. As such, the trajectory of these sides' seasons remains unchanged. United will qualify for the Champions League if they win their remaining games – their last one is at rivals Leicester – while Villa remains in the mire.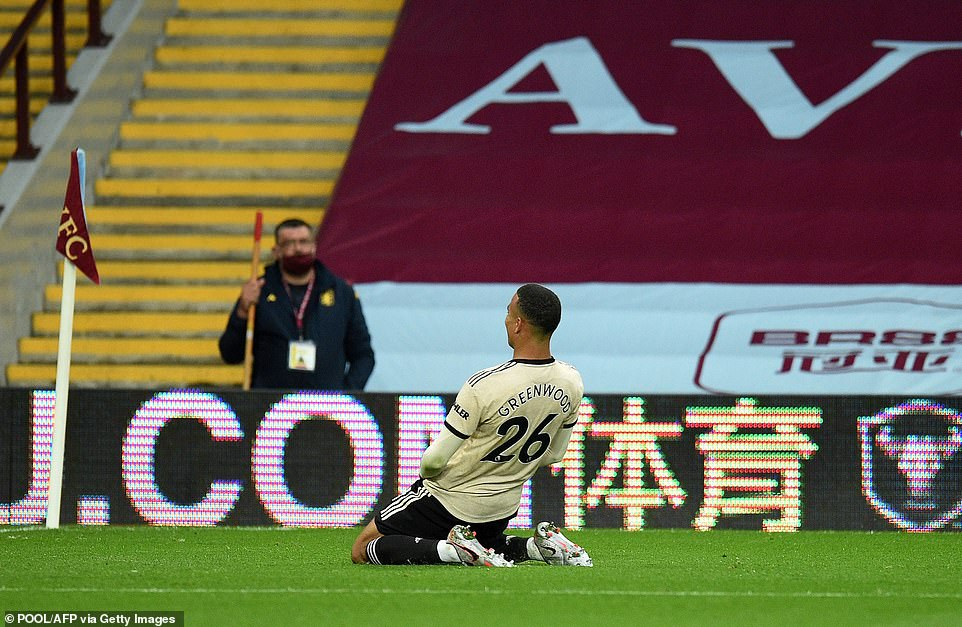 The in-form starlet helped double the visitors' lead before the break and placed United in cruise control for the second half
MATCH FACTS:
Aston Villa: Reina; Konsa, Hause, Mings, Taylor; El Ghazi (Hourihane 59), Luiz (Vassilev 84), McGinn (Nakamba 59), Trezeguet; Grealish; Samatta (Davis 59)
Subs not used: Lansbury, Jota, Guilbert, Nyland, Elmohamady
Booked: Konsa, Nakamba
Manager: Dean Smith
Manchester United: De Gea; Wan-Bissaka (Williams 66), Lindelof, Maguire, Shaw; Pogba, Matic (McTominay 66); Greenwood (James 80), Fernandes (Fred 71), Rashford; Martial (Ighalo 79)
Subs not used: Bailly, Mata, Pereira, Romero
Goals: Fernandes 27, Greenwood 45+5, Pogba 58
Booked: Matic, Wan-Bissak
Manager: Ole Gunnar Solskjaer
Greenwood and Pogba scored their goals either side of half-time. They were both perfectly struck with right feet from just outside the penalty area. No goalkeeper on earth would have saved them and for the second one Villa goalkeeper Pepe Reina didn't even dive in futility.
Preceding all that, though, was a penalty award that changed the course of the game. That is not to say United would not have won anyway. By the end they were streets ahead of a Villa side unable to raise themselves sufficiently to recover.
However Villa were the better team at the time Bruno Fernandes tangled with Ezri Konsa as we approached the half hour mark. They had just struck the post.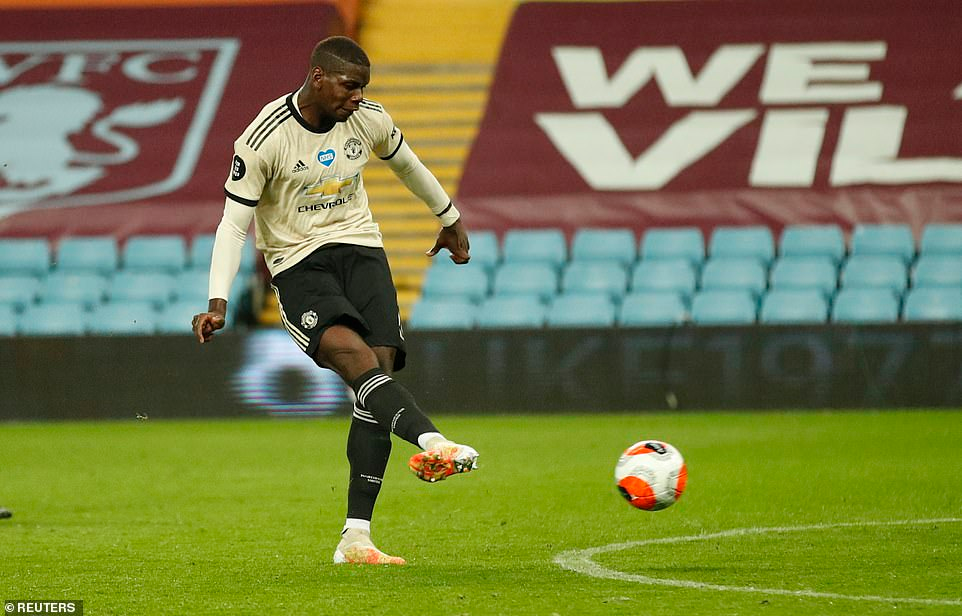 The French superstar, who may reportedly pen a new deal at United, was teed up by Bruno Fernandes and coolly converted
As Fernandes tried to turn he seemed to fall on to his marker, standing on him as he did so. He could feasibly have been penalised himself. But referee Jon Moss judged Konsa to have been the aggressor and VAR did not see fit to change that. Fernandes scored and the pattern of the contest changed immediately.
It really was tough on Villa and their likeable manager was apoplectic about it. For Moss to make what looked like an error in judgement was understandable. From the referee's angle, it could well have looked as though the Villa defender pulled Fernandes to the floor. But the true nature of the incident was clear on TV replays. At the worst, it was a bit of 50-50. It certainly did not look like a penalty.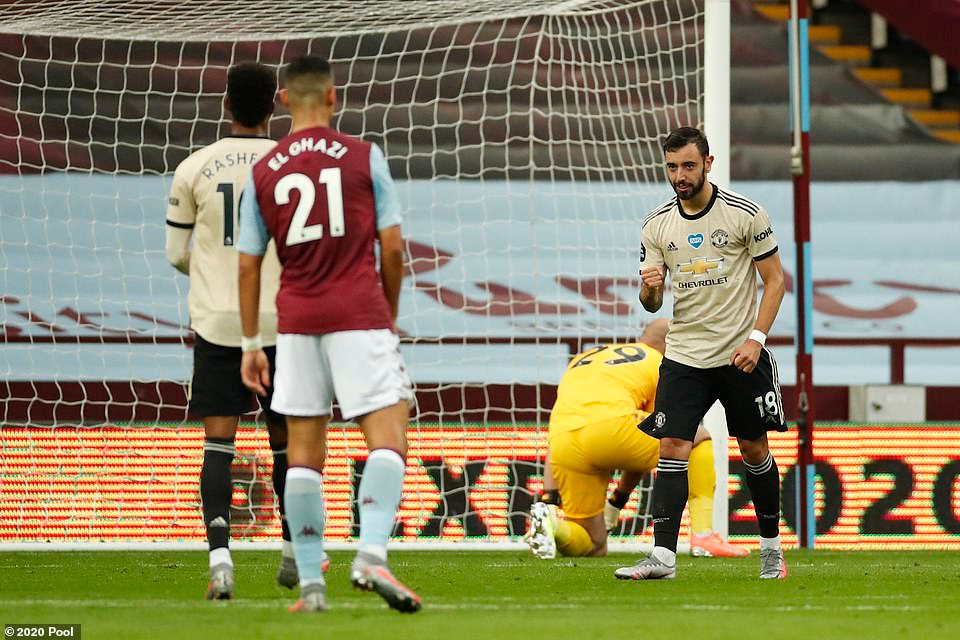 Fernandes netted the opening goal from the penalty spot as United edged ever closer to the Champions League places
Anthony Martial – impressive himself during United's recent uptick in form – played a part, robbing the dawdling Villa defender Tyrone Mings and then charging forward off the ball to take it back and nudge it to his young team-mate on the edge of the penalty area. Greenwood eased the ball from his feet and unleashed a shot like a rifle crack. That made it two nil seconds before half-time and the game was over.
Villa had been decent early on. They had enjoyed the majority of the ball and created two good chances. First Jack Grealish – quiet on the whole – volleyed over at the far post from a Konsa cross and then, shortly after, the Egyptian midfielder Trezeguet robbed Pogba 40 yards from goal, drove forwards and delivered a low shot against the outside of David de Gea's left post.
So not much had gone for Smith's team in the first half. That is what tends to happen when you are struggling and another typical trait of poor sides is that they are unable to recover once things do go wrong. That is what happened here.
From the moment Fernandes scored the penalty, United were on easy street. Aaron Wan-Bissaka should have scored early in the second half, heading a Marcus Rashford cross wide, and Pogba then delivered his own moment of excellence. This time the shot was delivered from the laces – Greenwood's had been side-footed – but it just as effective as it arced with pace low to Reina's left.
With more than half an hour still to play, it was hard not to fear for Villa. Martial sprang clear almost immediately to pump an angled shot against the bar but a smattering of substitutions took a little of the sting from United and Reina was not largely trouble thereafter.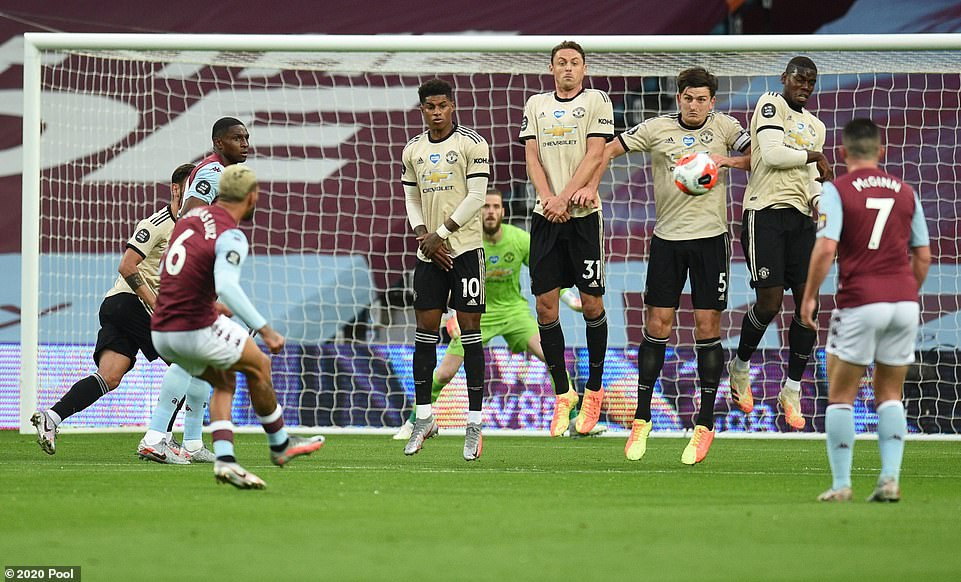 Douglas Luiz's free-kick from the edge of the penalty area was blocked by the United wall in the tight first half at Villa Park
The result was entirely predictable. There was another night of excellence from the remarkable Greenwood and United as a whole continue to grow. Suddenly they look a team with goals in them and that was not the case during the first half of the season.
Villa, meanwhile, have four games to save themselves and they must win at least one. Smith will hope for improvement from his players and maybe a little more fortune.
Villa's summer task
If they go down, Villa will probably be expecting to have to sell a few players – Grealish will obviously be one, the Independent reported.
Another may be Tyrone Mings, though on certain recent displays that's not something to be overly distraught about.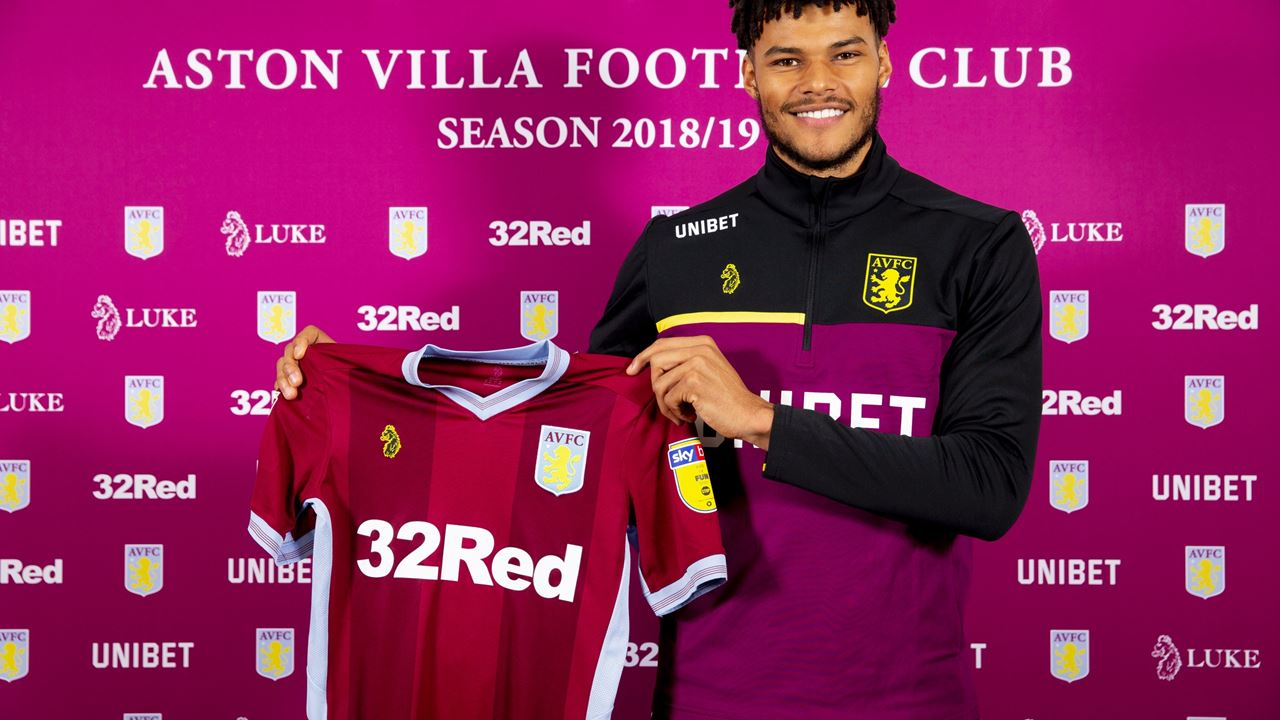 Tyrone Mings.
But some others have shown they are Premier League calibre. Konsa had to wait for his chance, but has been a solid performer. Trezeguet is another who has shown flashes of ability, though not consistently enough.
But Douglas Luiz is a legitimate talent, a carrier of the ball, a winner of possession and an organiser, a leader, in the middle of the pitch.
The Brazilian berated his team-mates for not countering quickly, demanded more movement of them, asked for more speed in the play – and technically he was mostly excellent. He'll be tough to keep around in the second tier.
Greenwood is unstoppable in full flow, capable of going either side, shooting with either foot, scoring from close in or long-range.
He'll probably get headlines again after this fixture, after netting a fourth goal in his last three games.
But United's real strength, their control of the game and their exploitation of the gaps Villa left, came once again from the more central duo of Pogba and Fernandes.
The Frenchman pulled the strings from deep, then pushed on once his team were in the ascendency and scored a tremendous goal. His new team-mate netted the opener, set up Pogba's goal and generally found space between the lines at every turn, always giving United a chance to play forwards, look to attack and get runners around him.
Champions League push
One point behind Leicester with four games to go – that's the situation now for United.
It looks increasingly as though a top-four spot, and a Champions League guaranteed spot with it, could come down to a final-day shoot-out between the two sides.
United very much have the form and confidence behind them, and more importantly, Ole Gunnar Solskjaer looks to have found his best XI.
In contrast to Leicester, who have had injuries, changed formation and poor results, it's looking extremely promising for the Old Trafford side to go on and secure the place they want.
Relegation beckons
It's the complete opposite for Villa, who dropped a spot earlier in the day after Bournemouth took a point and are now 19th in the table, four points from safety.
The goal difference took a bit of a beating here, too, though that will hardly matter if they continue failing to take any points at all.
Two goals in six games since the restart speaks volumes as to where Villa have struggled; with an attempt to tighten up at the back came a complete absence of attacking thrust.
And even that defensive resolve was lost early on here, with Villa's crumbling mentality as much of a concern to Dean Smith as the eventual scoreline on the night.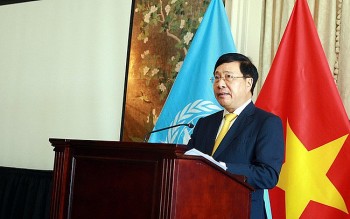 Friendship
Deputy Prime Minister Pham Binh Minh has asserted Vietnam's strong support for and commitment to the UN's role in leading and coordinating multilateral efforts to respond to global challenges.