FA Cup: Manchester United finally end 10-man Norwich's Cup
Manchester United were made to work devilishly hard to book their place in the FA Cup semifinals, but as Harry Maguire scored deep into a 2-1 extra-time win over Norwich City at Carrow Road, it was hard to escape the notion that this competition will prove to be the one that suffers most from an absence of fans. 
According to BBC, the England defender, who moments earlier had a header brilliantly saved by Tim Krul, reacted sharply to turn in the loose ball at the far post.
The game turned on the dismissal of substitute Timm Klose in the 89th minute. Norwich were in the ascendancy after equalizing and looked favorites to snatch a late winner before the German was shown a straight red for pulling back Odion Ighalo.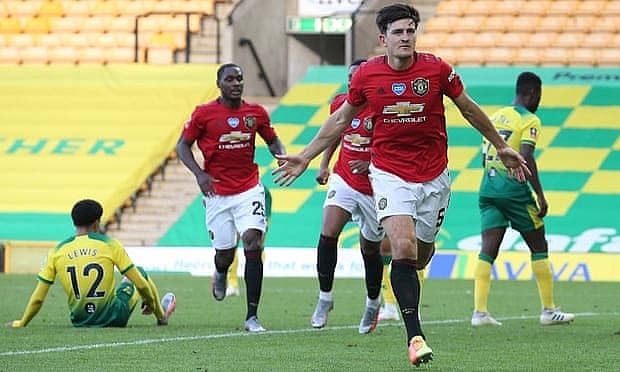 Harry Maguire celebrates scoring of Manchester United's second and decisive goal in their FA Cup quarter-final at Norwich. Photograph: Matthew Peters/Manchester United/Getty Images
According to The Guardian, it was a struggle at times, and not just for both sets of players. Over the 120 minutes, United had 36 shots at goal, 28 of them off target, many brilliantly saved by Tim Krul. They made six substitutions, a first in English football. For the final 25 minutes, they had four strikers on the pitch, plus the Pogba-Fernandes creative axis. Still, though, this felt like football played through a mist.
In the first half, it took 43 minutes for either team to muster something close to a shot on target, as Todd Cantwell produced a neat little swivel to feed Lukas Rupp, whose shot was well blocked by Maguire.
The lassitude was understandable. Name something stranger than a Premier League game in an empty stadium in late June. How about an FA Cup quarter-final in an empty stadium in late June?
At kick-off, Carrow Road had seemed a gentle place in the evening sunshine, with a sense of somnolence around the empty seats that seemed to transmit itself to both sets of players.
There were other factors, too. United made eight changes: sensible given the flood of games, but a note of disappointment for those intrigued by the growing fluency of United's attacking play. For Norwich, Cantwell and Teemu Pukki returned, a pleasant surprise for the dear old FA Cup, restored here to the status of A-list competition.
Jesse Lingard and Juan Mata combined nicely early on. Jamal Lewis began with a sense of long-striding adventure down the Norwich right. But steadily the red shirts settled into a pattern of stodgy lateral passing. Fred saw a lot of the ball, although this didn't always feel like the kind of relationship the ball's closest friends would necessarily encourage. "Keep moving it," a voice shouted from the touchline as Maguire doodled around in midfield.
It was left to the drinks break to provide a rare show of animation as Daniel Farke, dressed in a shiny black plastic raincoat, pounded his fist and demanded greater urgency. Soon afterwards Kenny McLean robbed Juan Mata, rumbled forward and smashed a shot high on to the plastic sheets behind the goal.
It was that kind of first half. For long periods nothing happened energetically. In between, nothing happened more slowly. The break seemed to come as a relief to both teams.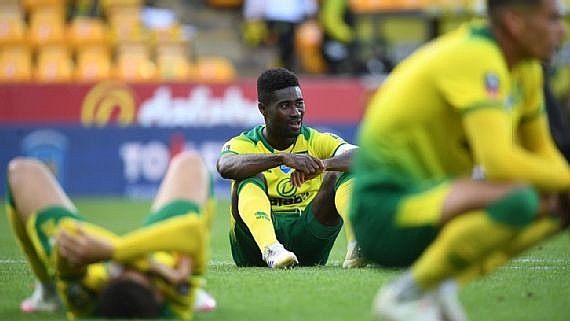 Norwich would have benefited from their raucous home support, with only the finest of margins denying them from taking Manchester United to penalties. Joe Giddens/Pool via Getty Images
According to ESPN, United's relief was palpable. Norwich were crestfallen, having given so much only to come up just short. Krul's antics at penalties are infamous, but he was denied the chance to open his box of tricks.
"It felt strange to play this type of game behind closed doors, especially this game because it was the biggest success for this club in the FA Cup for [almost] 30 years," said Farke after the match. "It would have had a fantastic atmosphere and would have made our supporters proud, but I think that is what we have also done with this performance and desire. We want to feel the interaction and create new memories for them, but it is a new normal at the moment. At least we can play football."
On a banner stretched across a section of empty seats on the far side of the ground read: "You cannot see us and you can't hear us, but we'll always be with you." How Norwich missed them today.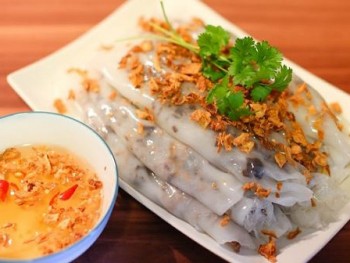 Travel
Banh Cuon is the next representative to bring Vietnam into the world culinary field.