Female Police Officers Join UNs' Peace Operations – Opportunities and Challenges
Domestic and international delegates discussed ways to encourage female security and police officers to engage in, and at the same time to promote gender equality in UN peacekeeping operations.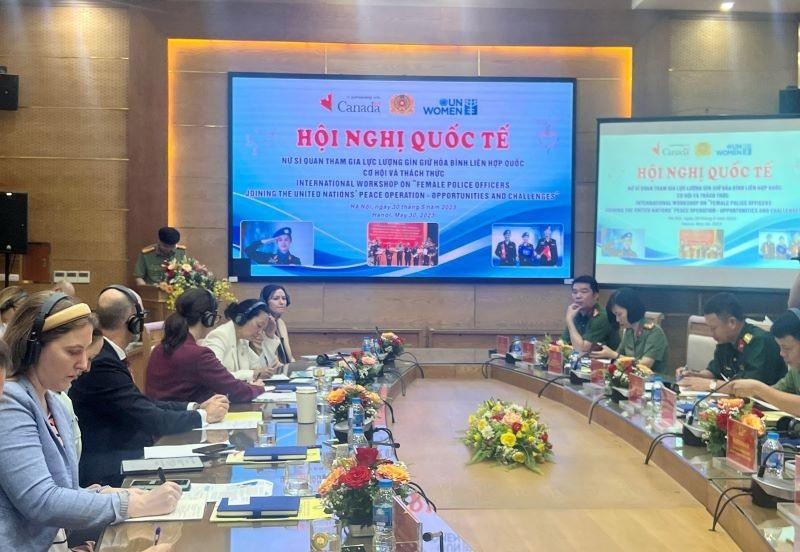 The international workshop takes place in Hanoi on May 30. Photo: congthuong.vn
An international workshop held in Hanoi on May 30 stressed the crucial role of female police officers in UN peacekeeping operations as well as the importance of promoting diversity in conflict settlement and post-conflict peace building, VNA reported.
The event was organised by the People's Security Academy and the UN Entity for Gender Equality and the Empowerment of Women (UN Women) with support from the Canadian Government. It was part of a regional project named "Empowering Women for Sustainable Peace: Preventing Violence and Promoting Social Cohesion in ASEAN" funded by the Canadian and Republic of Korean governments.
Women police officers often face additional barriers when seeking to deploy, including challenging gender stereotypes and limited access to resources and training opportunities. Vietnamese and foreign participants discussed measures for promoting female police officers' engagement along with gender equality in UN peacekeeping operations.
They looked into barriers and challenges to female officers' participation in UN peacekeeping operations but also pointed out improvements generated by the officers' presence such as enhancing community solidarity, boosting gender-sensitive access to justice, and a gender-sensitive approach to conflict settlement, thereby building up trust and promoting peace in conflict-hit countries and territories.
Delegates pose for a group photo. Photo: UN Women
Caroline Nyamayemobe, acting representative of UN Women in Vietnam, said the workshop was a precious chance to honour women's indispensable role in peacekeeping operations and share experience of Canada and other countries that have succeeded in promoting female officers' engagement in peacekeeping efforts.
With knowledge and good practices shared, gender equality and women's meaningful participation in peace and security are being bolstered, she added.
Jacqueline O'Neill, Canadian Ambassador for Women, Peace and Security, who is on a visit to Vietnam, said the Southeast Asian country is building its first national action plan for women, peace and security, which reflects its commitment to further increase the participation of women from security and defence forces in peacekeeping operations.
"It is an exciting time to visit Viet Nam with the development of Vietnam's first National Action Plan for Women, Peace and Security and Vietnam's commitment to greater participation of women from the military and police in peacekeeping operations. Discussions like today's are so valuable as they give us the opportunity to share experiences and learn from each other as we all work to identify and remove barriers faced by women in peacekeeping.
I thank the women who participated today, shared their experiences and have signaled their willingness to deploy in these challenging roles. You are powerful agents of change and your participation is essential to building lasting peace and prosperity," she said.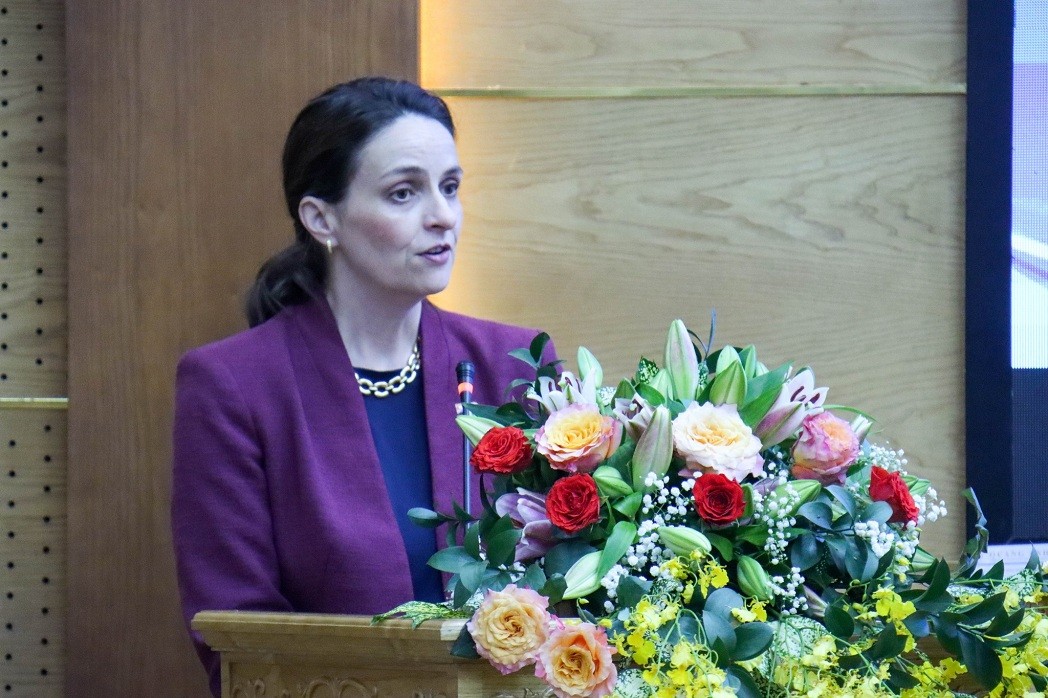 Jacqueline O'Neill, Canadian Ambassador for Women, Peace, and Security visits Hanoi to promote Vietnamese female Police in UN Peacekeeping Operations. Photo: UN Women
Concluding the workshop, Col. Trinh Ngoc Quyen, Director of the People's Security Academy, called for assistance to help the academy expand cooperation with suitable training establishments or law enforcement bodies of Canada in the fields of common concerns, including training police officers for UN peacekeeping operations.
The participation of Vietnamese women as military experts in peacekeeping missions, engineering units, and field hospitals, constantly exceeds the UN's target.
By March 2022, the number of Vietnamese women serving as UN Military Experts on Mission/Military observers is at 28.4%, or 3.4 higher than the target set in the "Uniformed gender parity strategy 2018-2028" of the UN (25%). Similarly, the ratio of women serving in contingent Troops (Field Hospital 3rd rotation) is at 17.4% surpassing the UN's 2028 target (15%). Viet Nam also has the highest ratio of female troops deployed among ASEAN countries.