First Impressions of Vietnamese Students in Laos
Each Vietnamese student gets a distinct impression of the people, culture, and language of Laos when they first arrive in the neighboring nation.
In the last days of the year, the delegation of Vietnamese students at Laos National University organized to welcome new Vietnamese students to study abroad under the scholarship of the Cooperation Agreement between the Ministry of Education and Training of Vietnam and the Ministry of Education and Training of Laos.
The Ministry of Education and Training of Vietnam accepted and sent 22 Vietnamese students to Laos to study in 2022, including four students for a two-year Lao language training program, three students for a three-year graduate program, and 15 undergrad students for a five-year undergraduate program.
The awarded scholarships including training fees and accommodation in the dormitory with the applicable costs in accordance with the regulations of the Lao Government for international students under the Agreement.
Additionally, under the terms of the Agreement in Laos, the Government of Vietnam pays international students' monthly living expenses, travel costs, passport and visa fees, and health insurance.
Vietnamese students from abroad are primarily recent high school graduates who are leaving their families for the first time in 2022. It is unavoidable to experience some initial difficulties when starting a new life in a foreign country.
In order to welcome their new friends to Laos in a warm and exciting environment, the delegation of Vietnamese students at Laos National University organized assistance in a proactive manner.
Young people's energy and confidence have increased while studying abroad, and at the same time, their presence has actively contributed to the growth of the Vietnamese student community here.
The new students have initially stabilized their housing, adapted to the new way of life, begun to interact, and begun to become familiar with the Lao language with the support and enthusiastic help of former students.
TG&VN had a discussion to document the initial impressions of new students about the nation, its people, as well as about settling down in life, starting activities, and starting to study in Laos.
Missing home and eager to learn Lao
For the first time away from you family, did you face many difficulties, Ha Mi?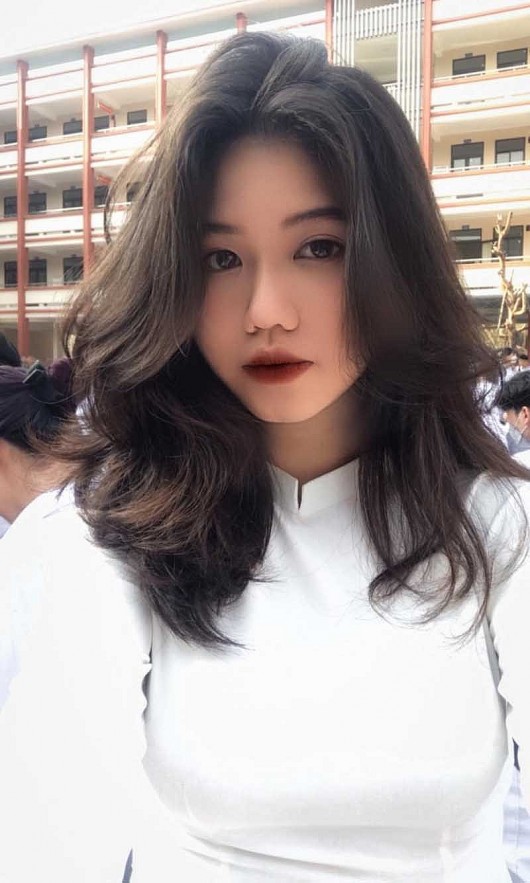 Hà Mi (born in 2004), Hanoi
Ha Mi: I've never spent time apart from my family acclimating to a new setting, so at first I was still perplexed. Without my parents' support and assistance, I must participate actively in my everyday activities.
Additionally, I am unable to communicate using Lao, which makes it challenging for me to purchase food, school materials, and personal stuff.
I was able to adjust to the new atmosphere, however, and initially calmed down, thanks to the eager assistance of senior students.
When you first arrived in Laos, how did you feel?
Ha Mi: I felt homesick when I initially came in Laos. That usually makes me feel depressed and isolated from other people.
My parents at home phone me daily to encourage me to make an effort to adjust to the new environment so that I would be prepared for the future study work.
At the same time, senior students and classmates engaged in candid conversation, sharing experiences about studying and living in Laos.
Because of that, a few days after coming in Laos, I was able to restore my attitude and interact better with others.
How did you find the Laotian language?
Ha Mi: In comparison to other languages I've learnt, such as Vietnamese and English, Lao script is utterly foreign to me. I first had trouble remembering the alphabet and putting letters together to form words.
Additionally, my present Lao pronunciation is not particularly accurate.
I will thus work harder the following time to achieve good academic scores.
Lao friends are very sincere
Hi Dai, can you share about the student life in Laos that you have experienced?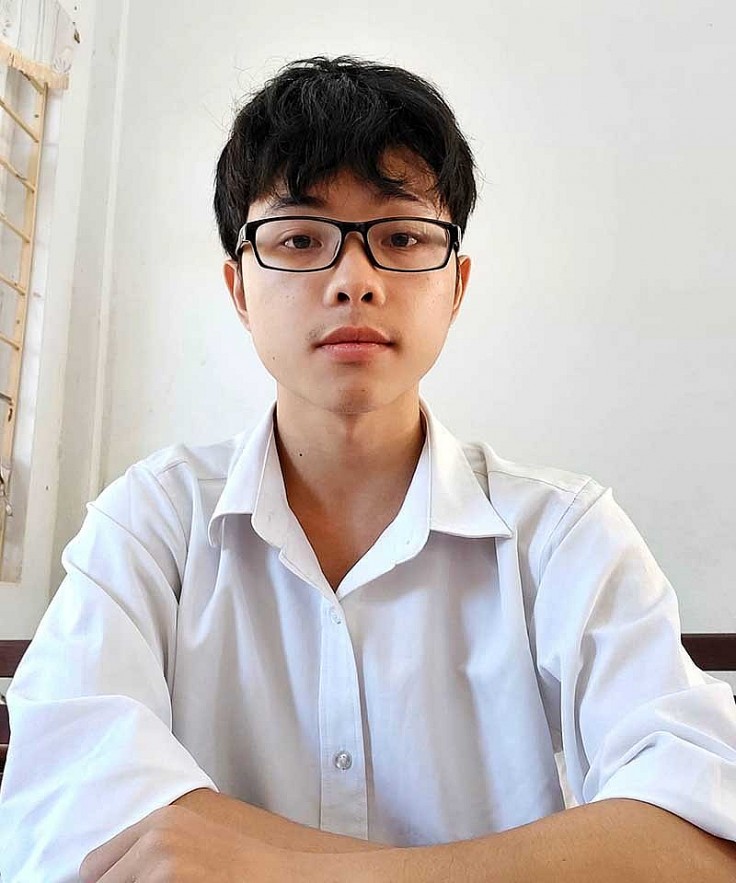 Đặng Tấn Đại (Born in 2003), Quảng Nam Province.
Dai: I'd say I'm rather independent. From an early age until I graduated from high school, I spent a lot of time away from my family. I spent a lot of time away from home studying at a university in Vietnam from 2021 to 2022, in particular.
As a result, when I travel to Laos to study abroad, I can adjust to the new environment and take care of myself right away.
In addition, I have family in Vientiane who live and work, giving me the chance to contact with people from outside the community and make Lao acquaintances.
How do you feel after having the opportunity to interact with Lao friends?
Dai: I've come to believe that my Lao friends adore Vietnam and are very true and honest via communication. They are really excited and carefree in their willingness to assist Vietnamese people. This demonstrates the history of cooperation and ties between two nations and two peoples.
For you, is the Lao language an obstacle?
Dai: I was already familiar with the Lao language before to coming here to school since I have family who reside and work in Laos.
The Lao alphabet was challenging to retain and read when I first started learning.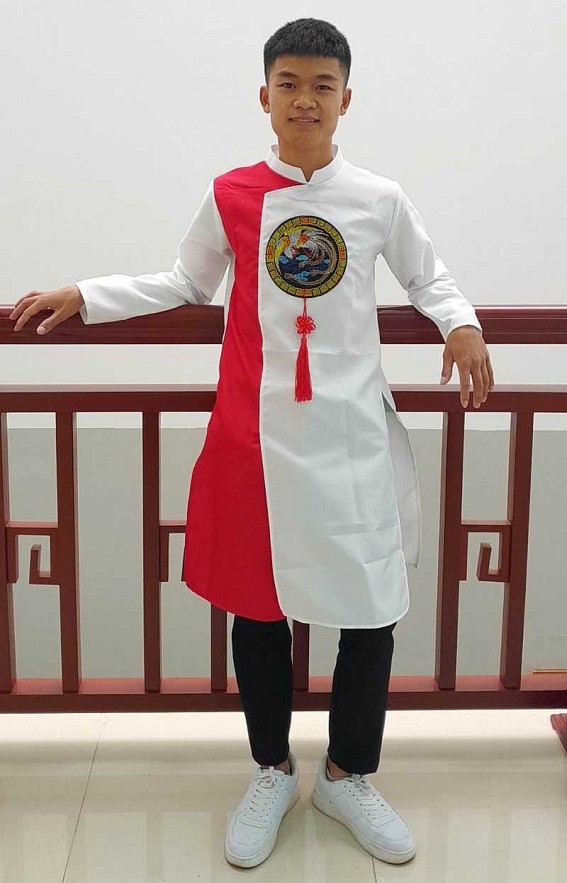 Tòng Văn Thái (born in 2000), Dien Bien Province
But now that I am comfortable with the Lao alphabet, I can communicate with my Lao pals using a few phrases.
Studying Lao provides more benefits than learning other languages, in my opinion, because the two languages share a great deal of grammar.
Impressed with the solidarity of the overseas student community
After settling down and living in the dormitory, have you spent time visiting tourist attractions in Vientiane, Thai?
Thai: I was also taken by the senior students to visit some places in Vientiane. I feel that the attractions in the capital are beautiful and typical of the traditional culture of Laos.
How do you feel about student life in the dormitory?
Thai: I observe the strong sense of community and eagerness to provide a hand among the Vietnamese students at Lao National University. The older citizens assisted us in settling in and beginning our activities when we first arrived.
The Vietnamese delegation also sent some excellent Laotian students to help us get started by teaching us the alphabet, grammar, etc. As a result, we were prepared before formally beginning the language preparation year program.
Additionally, the delegation made it possible for freshmen like us to take part in cultural acts, which helped us assimilate into the group more quickly.
Six Wonders You Must See in Laos

VIENTIANE, LAOS - Media OutReach - 26 December 2022 - A country of untouched wonder and pristine beauty, Laos also boasts incredible hospitality where tourists ...
Thời Đại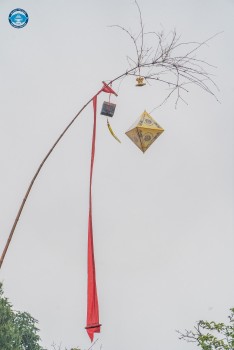 Viet's Home
In the past, the Neu pole (a tall bamboo pole with red garment strips used to ward off evil spirits during the lunar New Year) lowering ceremony at the royal palace of the Nguyen Dynasty was performed to mark the end of the New Year holiday and prepare to enter a new working year.