First Wooden Architecture Made by Vo Trong Nghia, The Traditional Among Natural Landscape of A Modern Society
Located in Ben Tre Province, Vietnam, Ben Tre Buddhist Temple & Ancestral Hall has a gross floor area of 450m2. It contains an altar space, a seating area, an event space, and a kitchen.
The design is not only embedded in the refinement of Vietnamese traditional architecture but also responds well to the local tropical climate through characteristic features: deep eaves, continuous spaces, Koi fish pond in the front courtyard creating a microclimate.
The spatial continuity blurs the boundary between inside and outside, between different spaces which meet the need for family-gathering, a Vietnamese lifestyle.
Ben Tre Buddhist Temple and ancestral hall creates a harmonious dialogue with the surrounding landscape of local coconut trees. It is our effort to retain the overall condition of coconut tree forest by replanting those that were removed during the construction.
Given that timber structure in Vietnam remains distinctly rare due to over-exploitation and deforestation in recent years, the project has been made from imported timber from sustainable forests that are well planned and certificated.
Ben Tre Buddhist Temple & Ancestral Hall is the first timber project of architect Vo Trong Nghia - VTN Architects in Vietnam, who is famous for his sustainable architectural design by integrating inexpensive local materials and traditional skills with contemporary aesthetics and modern methods.
It imprints the local tradition and provides excellent adaptation to the tropical climate of the site.
The design team incorporated typical elements of traditional architecture into the project: deep porches, interconnected spaces, and air-conditioned front aquarium.
The building is connected inside and outside the continuous spaces to suit the need of family meeting in the Vietnamese culture and way of life.
The space inside the house is completely made in wooden and is arranged suitable for worshiping Buddha and worshiping family ancestors. The spaces of the house are connected seamlessly.
The house is imbued with Vietnamese traditional architecture
The open space helps the house to be filled with wind and natural light
The architecture of the building blends with the typical local coconut forest landscape, trying to keep the existing trees. The trees that had to be removed during construction were then replanted so as not to affect the overall landscape of the coconut forest.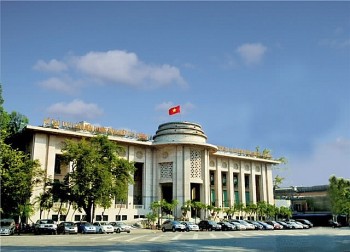 National
The State Bank of Vietnam (SBV) has used the bill issue channel again to net withdraw money out of the banking system for the first time since June 2020.