Webinar Discusses Influence of Indian Architecture in Vietnamese Cham Towers
Cham temples in central Vietnam are proof of the cultural connections between Vietnam and India, says Ambassador of India to Vietnam.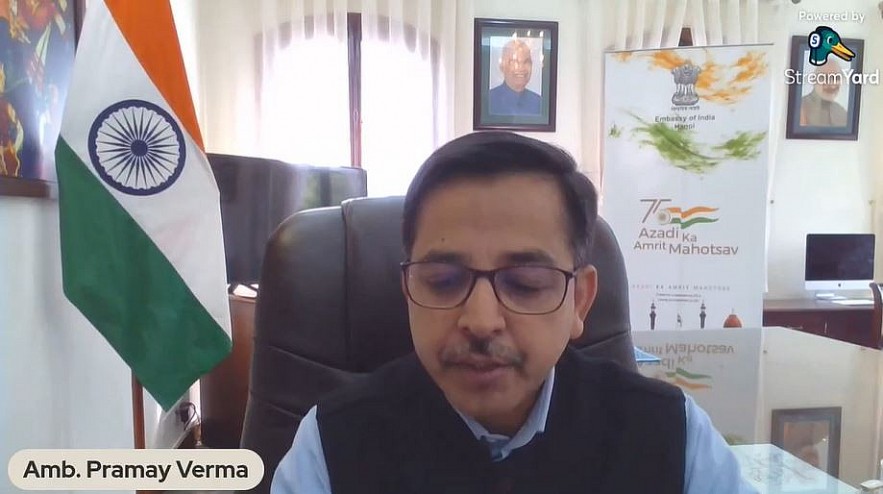 Ambassador of India to Vietnam Pranay Verma. (Photo: Screenshot/ ICCR in Vietnam Facebook Page)
The Embassy of India & Swami Vivekananda Culture Centre (SVCC) in Hanoi held a webinar on "Indian Temple Architecture and Cham Temples" on Feb. 25.
The webinar is part of a series of events commemorating the 75th Anniversary of India's independence and the 50th anniversary of India-Vietnam diplomatic relations.
In his opening speech, Pranay Verma, Ambassador of India to Vietnam, highlighted the role of architecture as a cultural bridge to connect the Vietnamese and Indian people.
"In Vietnam, the imprints of Indian architecture are quite visible in the temples in the central and southern provinces of the country, which shows our age-old civilizational and cultural connection," he said.
Cham (Champa) temples in central Vietnam are proof of the two countries' relations despite their geographical distance.
The ambassador is pleased that Indian archaeological experts have supported the conservation works of some Cham temple blocks in Vietnam, namely the UNESCO-recognized My Son Sanctuary.
"Some of the findings that Indian archaeologists have made in My Son are extremely significant as it shows our rich cultural interactions," the ambassador said.
"We are grateful to the government of Vietnam that many of those icons are also included in the list of the national treasures of Vietnam, for example, the altar of the A block temple where an important Shiva linga was found was included in the list in December 2021."
Ambassador Pranay Verma believes that temple architecture is a great way to study India and Vietnam's cultural interactions and connections.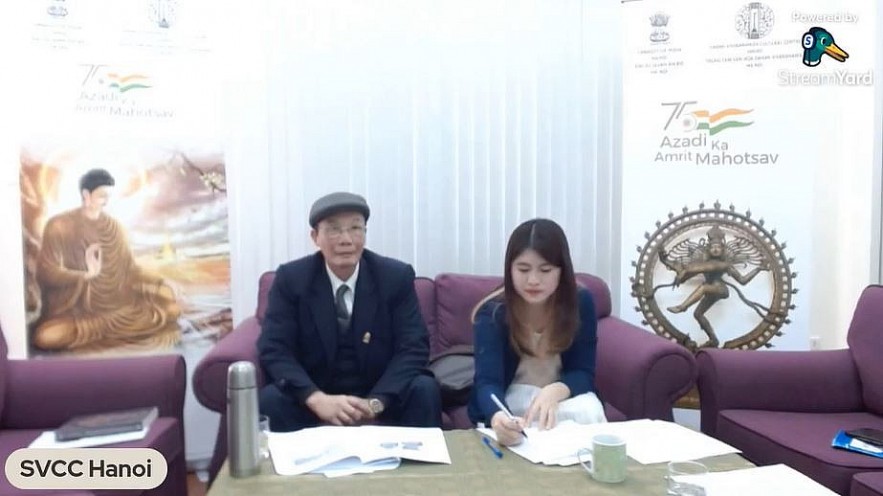 Dr Le Dinh Phung, Former Head of Historical Archaeology Research Department, Institute of Archaeology, Vietnam Academy of Social Sciences (L). (Photo: Screenshot/ ICCR in Vietnam Facebook Page)
Dr Le Dinh Phung, former head of Historical Archaeology Research Department, Institute of Archaeology, Vietnam Academy of Social Sciences, said Vietnam was exposed to Indian cultural influence from ancient times.
Notably, the Champa civilization, which was greatly influenced by Indian culture, has become an inseparable party of the Vietnamese community and left a considerable heritage to Vietnamese culture.
65 identifiable Cham towers have been found in the central and southern part of Vietnam so far, the oldest one dated back to the 7th century, while the youngest was built in the 17th century.
Cham towers are located from Thua Thien Hue to Binh Dinh but mostly appear in the old capitals of Cham people, such as Quang Nam, Binh Dinh, and Ninh Thuan provinces.
By analyzing Cham towers' structure, special architectural features, and icons, Dr Le Dinh Phung concluded that among Vietnamese civilizations, the Cham had the most influence from India, which continued throughout the history of Cham culture.
However, during its development process, Cham took up several features from other cultures, such as Khmer and Java. As a result, Cham towers left in Vietnam show the signature of Indian architecture and religion yet have their own speciality.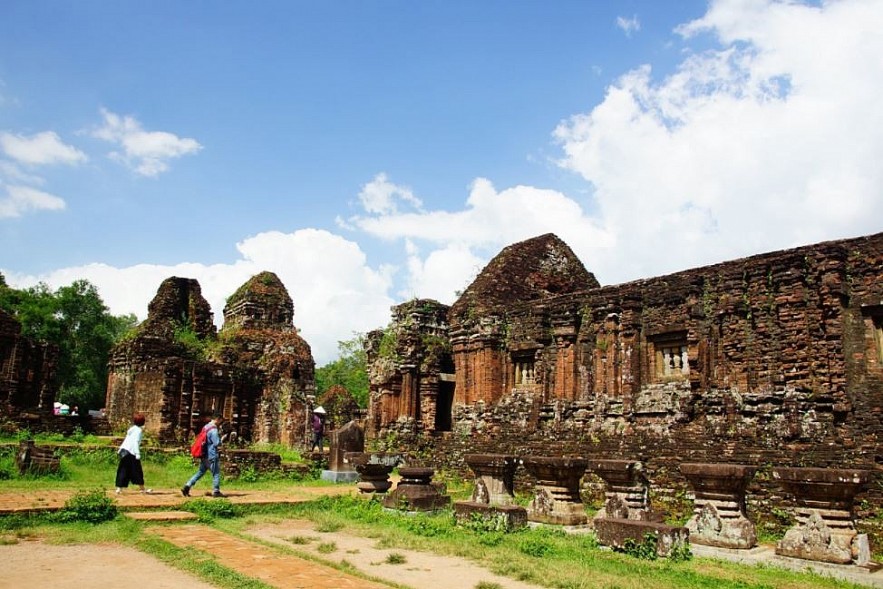 Champa towers in My Son Sanctuary. (Photo: VNT)
In 2014, the Governments of Vietnam and India signed a Memorandum of Understanding on "Preserving and embellishing the world cultural heritage My Son."
India has so far funded the conservation and embellishment of tower groups at My Son with a total budget of about US$2.5 million.
Over the years, promoting heritage conservation in association with extensive international cooperation has contributed to My Son's existence and promotion of good values today.
Located 40 kilometers from Hoi An and 70 kilometers from Da Nang, My Son Sanctuary is a complex of Champa temples in Quang Nam, Vietnam. My Son Sanctuary dates from the 4th to the 13th centuries CE.
On the coast of contemporary Viet Nam, this unique culture owed its spiritual origins to the Hinduism of the Indian sub-continent. Under this influence, many temples were built to the Hindu divinities such as Krishna and Vishnu, but Shiva, according to UNESCO.
My Son was added to the UNESCO World Heritage List in 1999.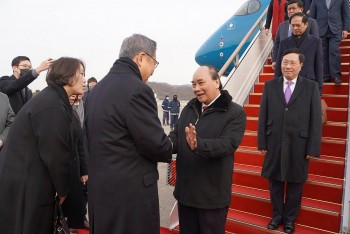 National
Vietnam News Today (Dec. 5): Additional 204 Covid-19 cases recorded on December 4; State President warmly welcomed in Seoul on RoK visit; Vietnam, Venezuela boast potential for fishery cooperation; Northerners feel chill as cold wave intensifies.