Five Most Beautiful Places To Explore In Quy Nhon
Quy Nhon, located in central Vietnam, is a coastal city in Binh Dinh Province that was surrounded by pristine sandy beaches, majestic mountains and many other beautiful sites for tourists to discover.
Quy Nhon is a coastal city in Binh Dinh Province in central Vietnam. It is composed of 16 wards and five communes with a total of 284 km2 (110 sq mi). Quy Nhon is the capital of Binh Dinh Province. As of 2019 its population was 457,400. Historically, the commercial activities of the city focused on agriculture and fishing. In recent years, however, there has been a significant shift towards service industries and tourism. There is also a substantial manufacturing sector.
Unlike other beaches in Vung Tau or Nha Trang, Quy Nhon is a paradise beach which has a peaceful beauty with crystal clear water. While this hidden spot is not on the radar of most people, you may want to take a Quy Nhon city tour on your itinerary to discover all the beautiful nature of countryside beaches.
1. Ky Co Beach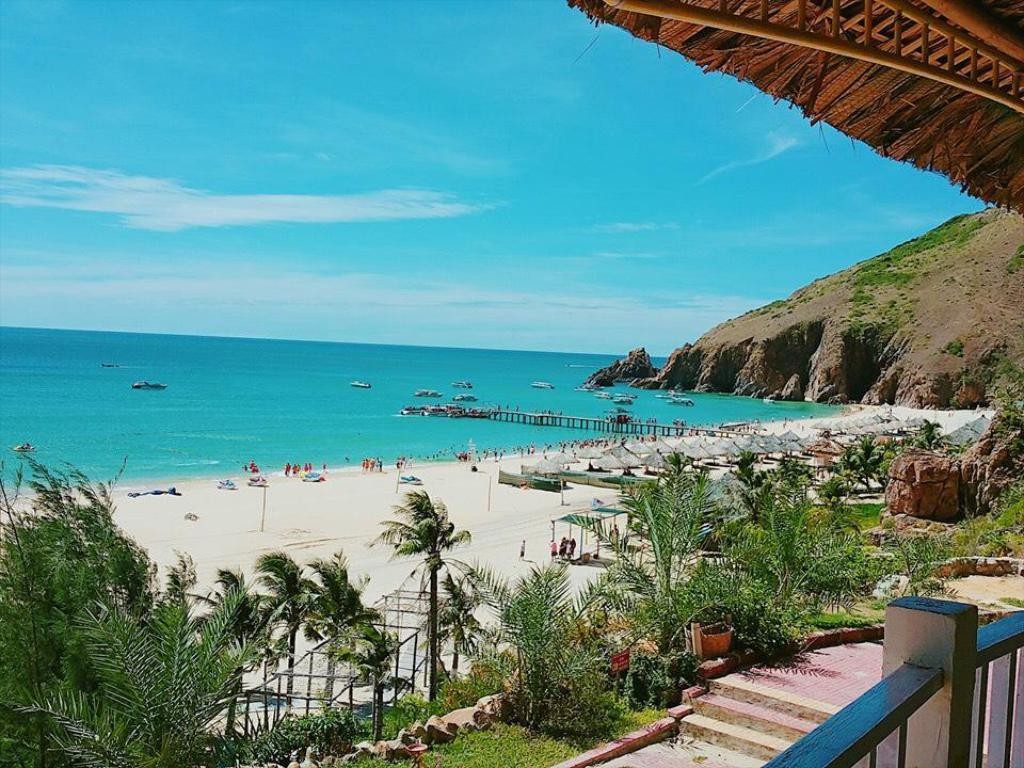 Photo: Agoda
Ky Co Beach in central town Quy Nhon is known for its distinctive beauty, boasting crescent-shaped coastline and crystal-clear water.
Located about 25 km northeast of Quy Nhon's center, Ky Co in Nhon Ly island commune embraces a captivating beauty thanks to the rocky mountains, stretches of white sand, and deep clear emerald sea water.
The most special feature of Ky Co is definitely the two distinct shades of green/blue water, prominent against its white sand.
The coast is curved like a crescent with three sides bordering the mountains and one side skirting the sea, facing out to the rocks, which might give you the impression of visiting a private island.
The large and sharp rocks allow for beautiful pools to form as the tide rises, with low tide exposing many caves.
From Ky Co Beach, you can rent a canoe to explore the coral at Bai Dua, Hon Kho or Hon Sao islets. Many visitors here go for the special diving service that allows you to walk under the sea among the swimming fish, kitted out with an air tank, helmet, and underwater photography gear.
In addition, tourists can rent a jet ski, a boat to go fishing, or follow local fishermen out to sea. Or, if you are more laid back, just laze on the beach watching the turquoise sea water and listening to the crashing waves.
There is a long wooden bridge in the middle of the beach, from which people used to jump. Now, however, only photography is allowed here. Near the end of the day, the wind gets stronger and the waves louder on Ky Co.
To fully experience the beauty of Ky Co, spend at least half a day here. Do not miss the spectacular sunrise or sunset, and do not forget to visit nearby attraction Eo Gio Bay.
2. Hon Kho Island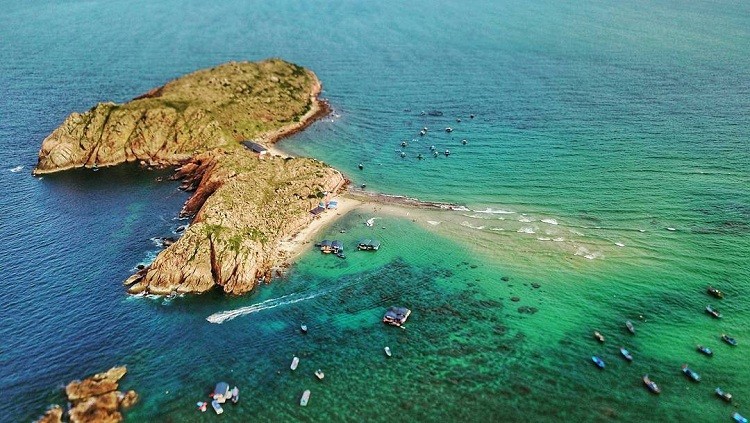 Photo: Vina.com
Situated in front of Nhon Hai Commune, Quy Nhon city, Hon Kho is a small rocky island that features beautiful sandy beaches, blue water, and mountain cliffs. Although no one lives here, Hon Kho (Hòn Khô) Island still attracts the visitors and tourists who want to discover the pristine and peaceful beauty and conquer the imposing mountain of this island.
Hon Kho Island is about over 1,000km far from Hanoi and about 500km from Ho Chi Minh City. From these big cities, Hon Kho Island can be reached by any transport. For instance, you can travel by plane. At the airport, you can take a taxi with the price of 400,000 VND – 500,000 VND to leave for the center town of Quy Nhon city. Alternatively, going by bus will cost you 50,000 VND/person.
In Hon Kho – Dry Island in Quy Nhon, Ninh Binh, tourists will take part in a variety of interesting and funny water activities and admire the beautiful scenes of blue water, white sandy beaches and imposing mountain cliffs. Therefore, the best time to visit Hon Kho Island in Quy Nhon is from March to September as, during this time, the sea is calm and peaceful. It is also the time Hon Kho Island welcomes thousands of visitors and tourists coming here for Hon Kho Island adventure.
As its name suggested, Hon Kho Island is dry with no tree. No one lives here. This island is so small and wild that any kind of tourism service cannot be developed here but this island attracts a large number of adventurers and tourists because of its pristine, untouched and peaceful beauty that allures visitors to conquer. Immersing in white sand, cool wind and blue sea gives you fascinating experiences. Coming here, you will have a chance to enjoy sunbathing on the beach and taste delicious seafood dishes cooked by the local people.
3. Eo Gio Beach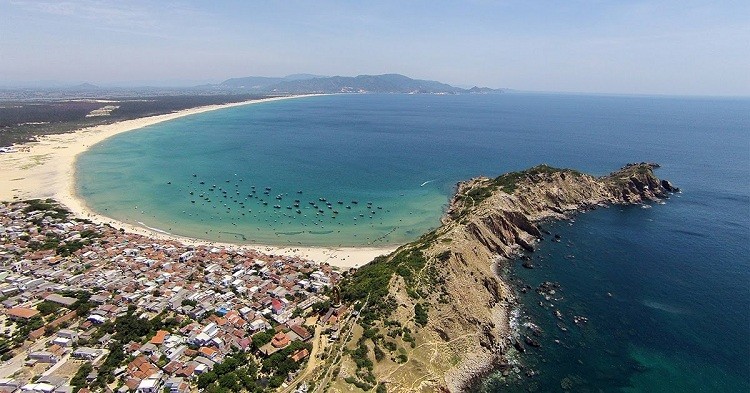 Photo: Vina.com
Eo Gio is about 20km away from Quy Nhon city, Binh Dinh province. Eo Gio can be reached by a variety of transportation options. But the most convenient transportation for you to reach Eo Gio from Quy Nhon is a motorbike. The motorbike rental service is common and easy in Vietnam as long as you bring your identity card or other important personal documents. Paying about 100,000VND – 120,000VND, you can hire a motorbike and travel freely to beautiful places of Quy Nhon.
Here is the instruction on how to reach Eo Gio by motorbike. First, you have to cross Thi Nai Bridge and then go along on Vo Nguyen Giap road. Turn left and follow the National Road 19B, about 10km. Here you will see a Nhon Hoi crossroad. Turn right to go to the center of Nhon Ly. Go straight until the People's Committee of Nhon Ly appears in front of your eyes. From here, tourists and visitors can leave their motorbike at the nearby house of the local people and walk about 100m to reach Eo Gio Bay.
4. Phuong Mai Peninsula

Photo: Wikimedia Commons
Lying to the east of Thi Nai Lagoon, Phuong Mai Peninsula acts as a giant screen to shield Quy Nhon City. The peninsula includes 3 communes of Nhon Ly, Nhon Hoi, Nhon Hai and Hai Cang ward.
Phuong Mai Peninsula is a low mountain area with many undulating peaks. The highest is the 361m high Den Mount, and some other peaks such as Mai and Diep Chu... Phuong Mai mountain is connected to the Trieu Chau range by a mountain range of 2 km long, the narrowest place is only 500m wide called Eo Vuoc. The southern end of the peninsula looks like a spear-shaped blade, with many craggy rock holes, where swiftlets often flock to nest. This place is named Mui Mac or Mui Yen. The northwest mountain range of Mui Mac has a small branch, like a tiger's fang, called Ganh Ho. Sandwiched between these two mountain ranges, there is a rather large freshwater basin.
To get to Phuong Mai Peninsula, from Quy Nhon, visitors go through 5 bridges and Thi Nai Bridge with a total length of 7km. Of which Thi Nai Bridge is considered as proud of Binh Dinh people by its beauty and the second longest sea-crossing bridge in Viet Nam, with 54 spans and 2,477.7 meters long crossing Thi Nai Lagoon and connecting Nhon Hoi economic zone with Quy Nhon City. When connecting by road traffic, Phuong Mai Peninsula becomes more and more attractive land with many big projects to invest in economic, urban and tourism development.
Phuong Mai Peninsula possesses diverse and unique tourist attractions, with mountains, seas, islands, many pristine beaches with blue sea, stretches of sand dunes, beautiful coral reefs, peaceful fishing villages, and also mysterious relic sites.
5. Thap Doi Cham Towers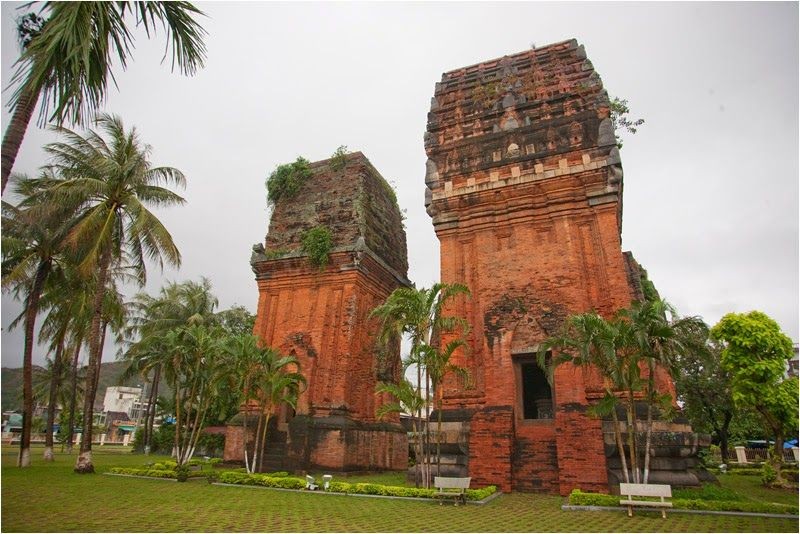 Photo: Pinterest
This pair of Cham towers sits within the city limits in a pretty park. Steep steps lead up to the temples, which are open to the sky. Atypically for Cham architecture, they have curved pyramidal roofs rather than the usual terracing. The larger tower (20m tall) retains some of its ornate brickwork and remnants of the granite statuary that once graced its summit. The dismembered torsos of garuda (half-human, half-bird) can be seen at the corners of the roofs.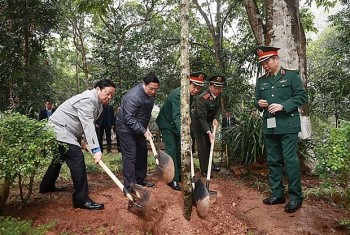 National
The Prime Minister launches a tree planting festival in Ba Vi on New Year of Cat.