Seven Must-See and Wonderful Trekking Routes For Adeventurous Travellers In Vietnam
Trekking is a wonderful way to witness the beauty of nature, challenge your body and mind, and fully enjoy your vacation time with your friends or families.
Trekking in Vietnam is a favourite thing to do for many adventurous travellers. Thanks to the diversified topography, Vietnam offers many stunning trekking routes with varying levels of difficulty, making them suitable for different health conditions and those with different levels of experience. Let's check out the list of six most wonderful trekking trails worth exploring, as voted by both locals and foreign travellers.
1. Sapa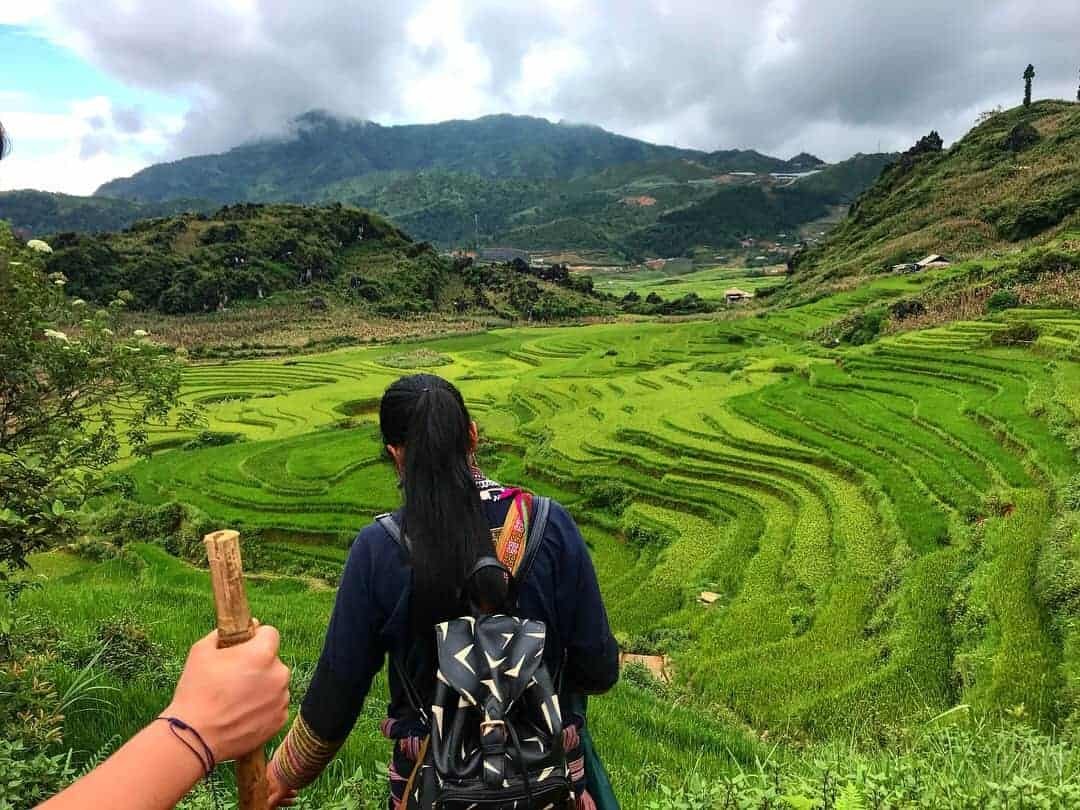 Photo: South East Asia Backpacker
Sapa is located in the Lào Cai Province of Vietnam and is a region that draws visitors from across the world. The town is situated on the side of one of the many mountains in the massive Hoàng Liên Son mountain range and overlooks the valley below. The valley floor is filled with rice terraces that change from bright green to yellow depending on the time of year that you visit.
Most people visit Sapa to immerse themselves in the gorgeous landscape through trekking expeditions as the roads aren't great and there are well-maintained footpaths. Trekking is definitely the best way to explore the region of Sapa, Vietnam.
The weather in the Sapa region varies widely by season. In the summer months it is considered subtropical and often experiences heavy rainfall. The weather in the winter is moderate, even chilly, and can even snow high in the mountains. July and August are the warmest months, and also the rainiest. The coldest months are December and January.
The wet season is from May to September, and although it can be rainy and miserable at times, this is when the rice paddies are their brightest green.
Camping is possible but affordable homestay is a better option to rest and greet locals. Round off your travel with a shopping spree for handicraft souvenirs or a sightseeing trip to notable attractions such as Fansipan Peak, Ham Rong Mountain, and Thac Bac Waterfall.
2. Hang En Cave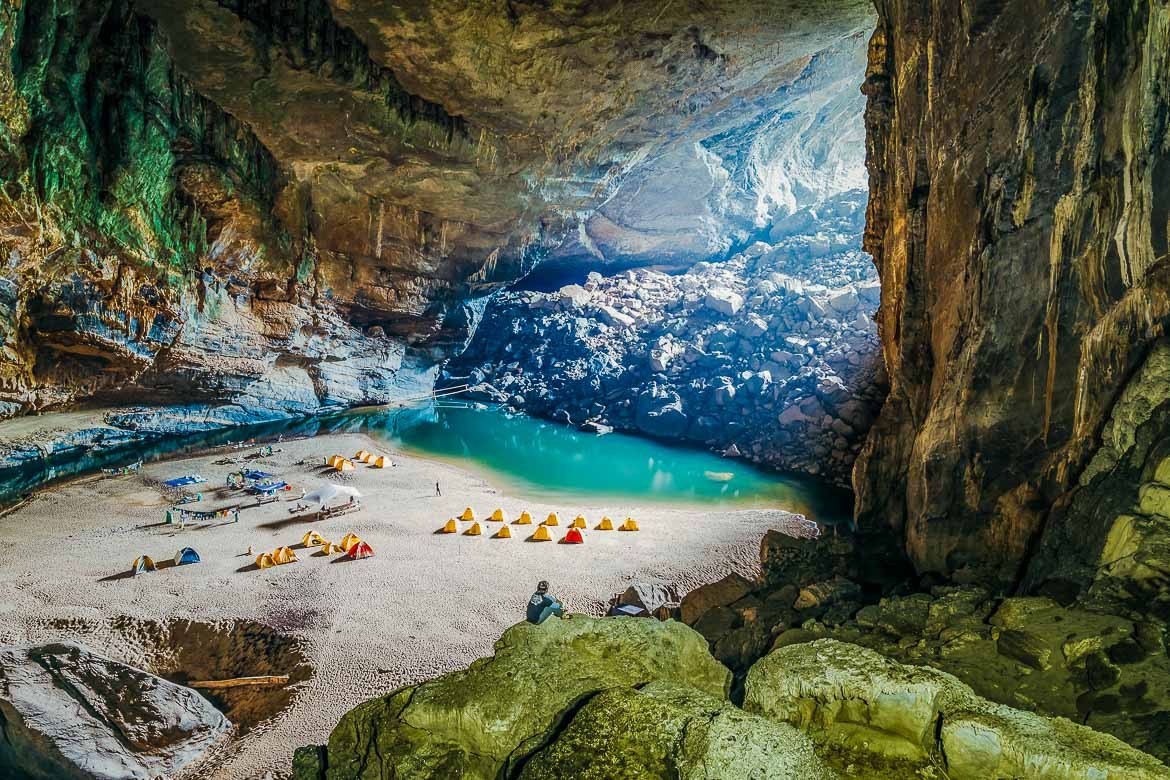 Photo: Hoi Leo Nui
Coming to Phong Nha Ke Bang National Park, tourists will have a chance to admire the majesty of the third biggest cave in the world. More interestingly, the time to explore Hang En Cave is 2 days 1 night. Here is an ideal stopover for those who love adventures but do not have much time. En Cave has a total length of 1,645m with three entrances.
Hang En Cave was voted as one of the most spectacular caves in the world by National Geographic. The most special feature of Hang En Cave is the separate ecosystem and climate, along with a beautiful river, which will bring a unique experience to tourists.
In this jungle region of central Vietnam, the Hang En cave is one in a series of mind-blowing caverns discovered by Mr. Limbert, his wife, Deb, 54, also a caver, and their colleagues from the British Cave Research Association. The most enormous cave here is Son Doong Cave, which ranks — alongside Miao Room in China and Sarawak Chamber and Deer Cave in Borneo — as one of the world's largest caves. Son Doong last year for the first time became accessible to a limited number of tourists, the most established and reputable company running tours in the region's caves.
Going underground, expedition members enter Hang En, a cave tunneled out by the Rao Thuong River. Dwindling to a series of ponds during the dry months, the river can rise almost 300 feet (91 meters) during the flood season, covering the rocks where cavers stand.
Hang En is of the largest and most beautiful caves in the world, this is close to Hang Son Doong (the world's biggest cave). To see this cave involves a day trek through beautiful jungle and valleys, and through a minority village, and then an overnight stay in the cave.
3. Yen Tu Mountain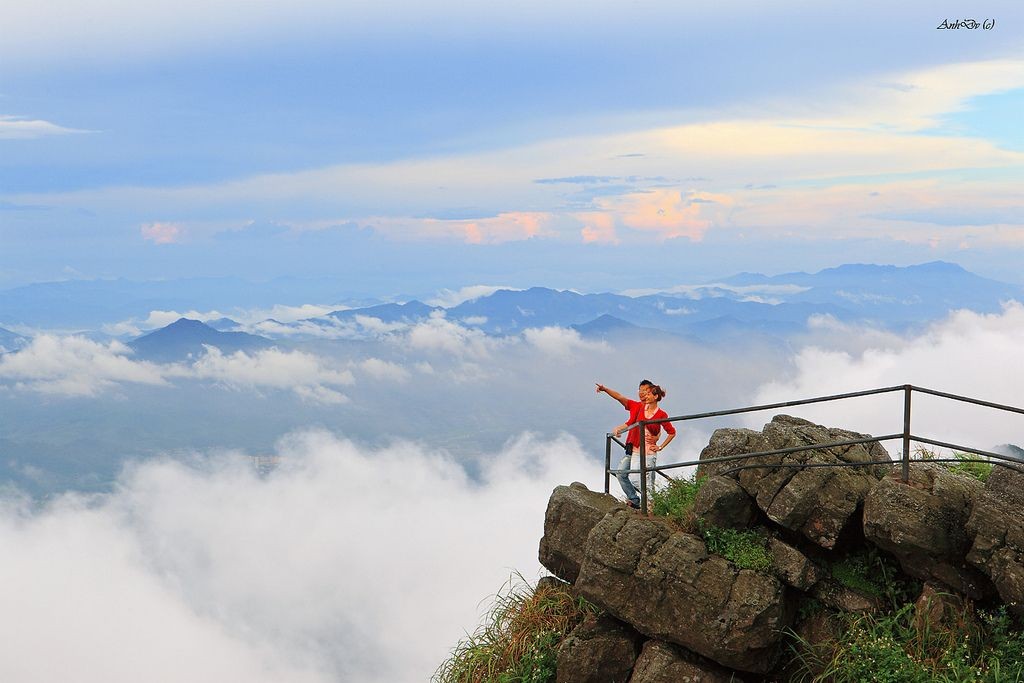 Photo: Vietnam Travel & Visas for India
Yen Tu Mountain is one of the highest mountains in the Dong Trieu Mountains. It is located in the north-east Vietnam, within the area of Quang Ninh Province. Apart from being a natural landscape, Yen Tu Mountain has many historical relics and is considered as "The Buddhist capital of Vietnam". From Hanoi, tourists can get Yen Tu by private car, shuttle bus or motorbike.
The best time to get to Yen Tu is in spring because the weather is ideal for climbing up the mountains. Addition to this, Yen Tu Festival is also held during this period. This festival starts from the 10th day of the January (lunar calendar) and lasts for three months. It is often most crowded in the first week. Tens of thousands of visitors get to Yen Tu and start their journey. They take this chance to show their belief and also to forget the sorrows and unhappiness while foreign visitors soak in the atmosphere of the festival.
On Yen Tu Mountain, the Buddhist sanctuary was built over 700 years ago. At this time, King Tran Nhan Tong quitted his throne and founded the Truc Lam Zen sect that is a unique Buddhist culture. Yen Tu Complex has three groups: Yen Tu historical relic and landscape area, the Western Yen Tu relic and landscape area and the area of historical relics of the Tran Dynasty located in Dong Trieu.
Over time, Yen Tu Mountain in Vietnam still retains Buddhist culture of the Vietnamese people with many pagodas, temples and ancient precious relics that contain ideological and spiritual values of the Truc Lam Zen sect as well as the culture of the Dai Viet in the 13-15 century.
4. Cuc Phuong National Park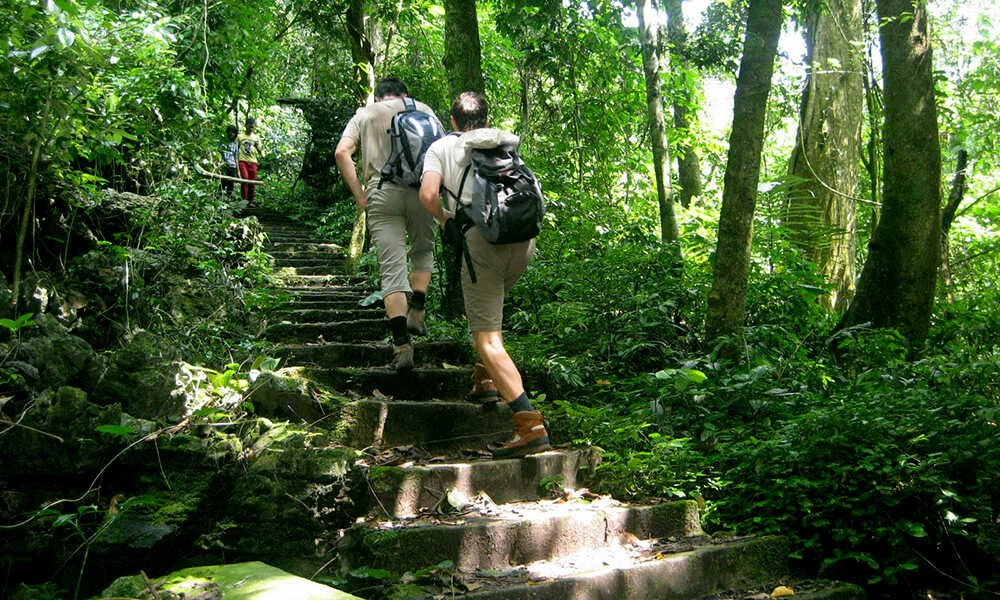 Photo: Crystal Holidays
Established in 1962, Cuc Phuong is the oldest national park in Vietnam. Located only 120km southwest of Hanoi and nestled between the provinces of Ninh Binh, Hoa Binh and Thanh Hoa, Cuc Phuong boasts an engaging cultural and wildlife heritage and enchanting scenery. Magnificent Limestone Mountains rise up majestically from the green rice-terraces and traditional stilt houses of the Muong hill-tribe. Covered in a dense forest, this landscape forms the habitat for some of Asia's rarest animal and plant species. It is no wonder that researchers, naturalists, enthusiasts and conservationists alike are drawn to this corner of the world. The ancient forest harbours over 2234 vascular and non-vascular plants, 122 species of reptiles and amphibians, and 135 species mammals, including the Clouded Leopard, Delacour's Langur, Owston's Civet and Asian Black Bear. There are also an incredible 336 documented bird species.
Visitors in April and May should be blessed with the chance to see literally thousands of vibrant butterflies. Located on 2 limestone mountain ranges, the landscape of Cuc Phuong contains a wonderfully rich ecosystem. The rocky outcrops of Cuc Phuong form the site of valuable pale ontological and anthropological vestiges, including a fossilized sea reptile dated at 200 - 230 million years old, while the remains of prehistoric people who lived in the forest some 7500 years ago are also to be found in the numerous mountain caves.
In earlier times, Cuc Phuong was home to the Muong minority people and to this day a few scattered villages around the park's periphery still house these interesting people and their unique culture. If you visit these communities you can still see their traditional stilt houses, waterwheels, bamboo rafts and brocade looms.
From Cuc Phuong we would suggest that you take a trip to Van Long, where you can see Delacour's Langurs in the wild, to Ngoc Son and Pu Luong Nature Reserve - all within easy access. Just ask us and we will set you on the right path.
5. Lang Biang (Da Lat)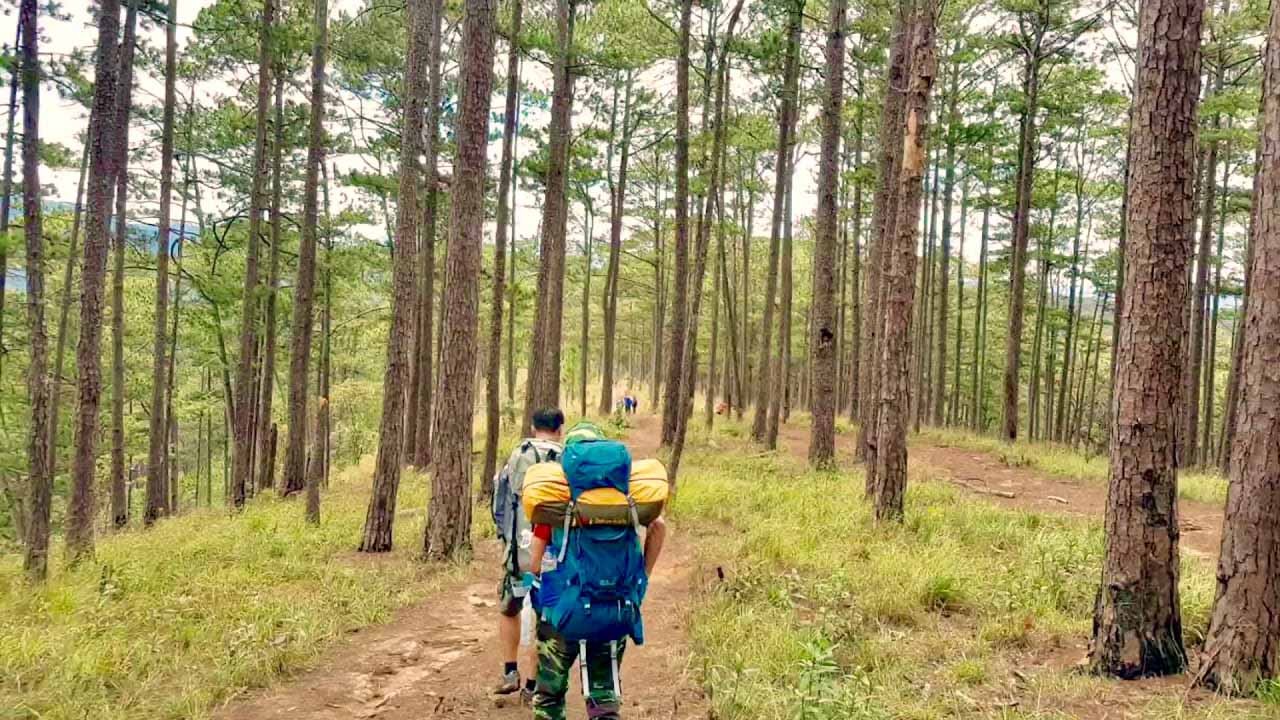 Photo: sktravel
Another beautiful trekking trail of Lam Dong province, LangBiang is also called 'the roof of Lam Vien Highland'. That gives you a solid reason to explore this mountain when traveling in foggy Da Lat town. Many locals choose Lang Biang for their first trek of the year, to start a new year with freshness (thanks to the comfortable highland's climate) and love, as Da Lat is called 'Land of Love'.
Lang Biang is a simple trekking trail, suitable for beginners with around 4 hours of walking. With clear pathways and gently slopes, you can walk at a moderate pace and feel free to take a rest whenever you need to. It sounds more like an enjoyable walk during spring to give yourself time to watch everything in bloom. When you reach the top of Lang Biang, spend some time there to admire the view of the whole Da Lat city from the height of 2.167m. Especially if you come here in the early morning or late afternoon, you can admire the indescribable beauty of Dat Lat in the fog whilst being surrounded by the clouds.
Lang Biang is located in Lac Duong Ward, about 20km away from Da Lat city. From Da Lat market, you can either jump on a bus or hire a motorbike to go there with the help of a city map, which you can find free at Da Lat post office or use any online map.
6. Apachai (Dien Bien Phu)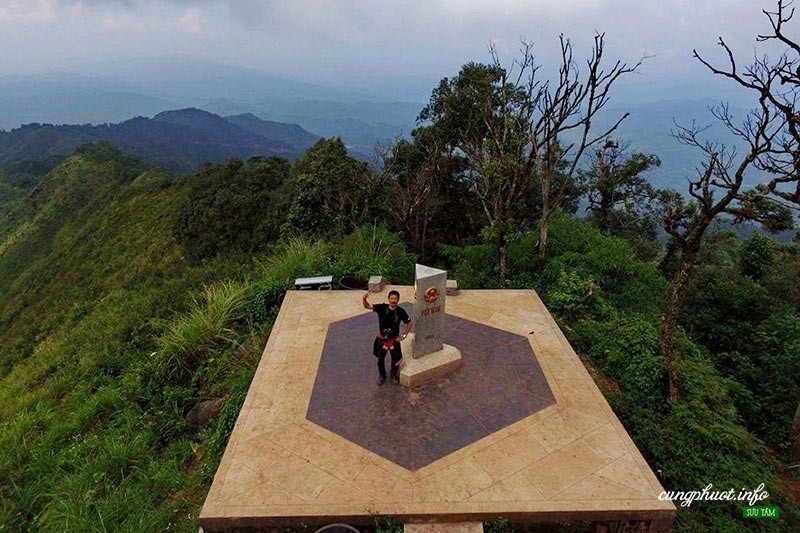 Photo: Cung phuot
Apachai is the westernmost point of Vietnam, where the borderlines of Vietnam, Laos and China intersects, located about 250km from Dien Bien Phu central district. With the height of 1687m and a remote location, most of the residents here are minor ethnic groups such as Ha Nhi and some others. Apachai in Ha Nhi's language means the 'Enormous Land'.
The starting point is 317 station, you will be brought on a motorbike to the bottom of the mountain. Throughout the trail, you will encounter Cortaderia Selloana fields that are as tall as you are, steep slopes and primitive forest areas. Depending on the team organization and health condition, the route should be finished between 4 and 5 hours. The final destination is the westernmost point, the best place to see the sunset in Vietnam.
To go to Apachai, you must go to Dien Bien Phu first. Here are several choices of transportation:
• Bus: There are daily buses from My Dinh bus station (Hanoi). Passage time is around 12 – 13 hours to reach Dien Bien Phu.
• Airplane: Vietnam Airlines offer flights to Dien Bien Phu airport. The price for a return ticket is around 3 million dong.
From Dien Bien Phu, catch another bus to go to Sin Thau town center and go to Station 31 of the army.
7. Nam Cat Tien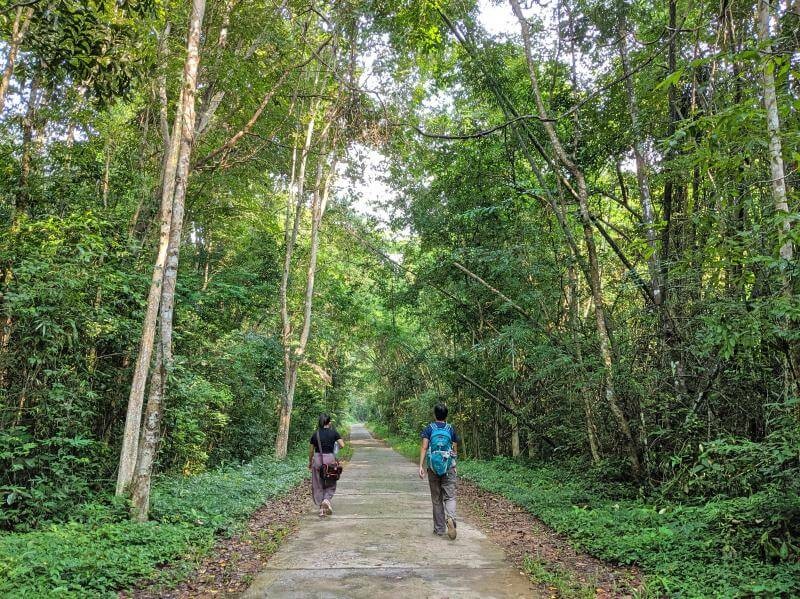 Photo: Life of Doing
Cat Tien National Park, lying across 3 provinces: Dong Nai, Lam Dong, Binh Phuoc, is one of the most beautiful reserved natural attractions of Vietnam with a total size of 70,548 hectares. The park is home to various species from fauna to flora, some are listed as rare animals and plants, together with grass fields and streams. Joining in a Cat Tien National Park day trip, tourists will feel like emerged in the great nature.
The park is located about 150km from Ho Chi Minh City, which is not too far away. Tourists can catch a bus, joining an organized tour or riding motorbikes to get to the place. However, travelers should mind the weather when planning for their Nam Cat Tien National Park trip. It is advised that travelers should go to the park from December to May, as the weather will be dry, less rainy, makes it easier and prettier when exploring wildlife there in a day. For other times, it is still good to go for a trip there but you should check the weather well in advance to make sure your day in the park will not be ruined by the rain.
Nature-lovers will love trekking through the primitive Nam Cat Tien forest, seeing rare, strange ancient trees, wood trees, colorful plants and flowers, precious herbals and medical plants. Tourists can also hire a jeep car to be carried through the forest, for a bicycle to ride around and enjoy the nature themselves. Comes together with the flora kingdom is the fauna, with various types of birds, wild and half-wild animals.
There're several bus options in order to reach Nam Cat Tien. Kim is one of a few bus companies who make the route that brings you straight to Nam Cat Tien from Ho Chi Minh city. To book a ticket, head to Mien Dong station or via.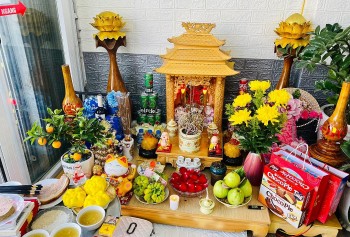 Handbook
Learn more about an ancient Vietnamese tradition that may bring you good fortune!