Five Must-try Dishes in Hue
Add the following unique dishes to your bucket list if you are planning to visit Hue - Vietnam's once capital!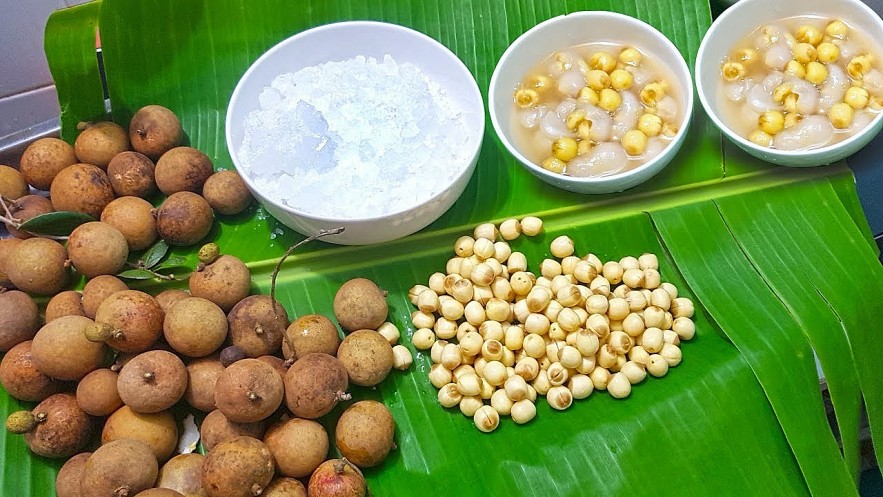 Photo: Kenh Du Lich Kham Pha
Sweet soup with grilled pork wrapped in cassava flour
Sweet soup with grilled pork wrapped in cassava flour (bột lọc heo quay) is a combination of both sweet and savory flavors and is one of the most unique dishes in Hue. An elegant bowl of soup contains five to seven balls made from grilled pork wrapped with cassava flour or tapioca starch. While the pork is usually cut into small cubes to retain its meaty taste and chewy texture, the flour must be kneaded with warm water to ensure its softness.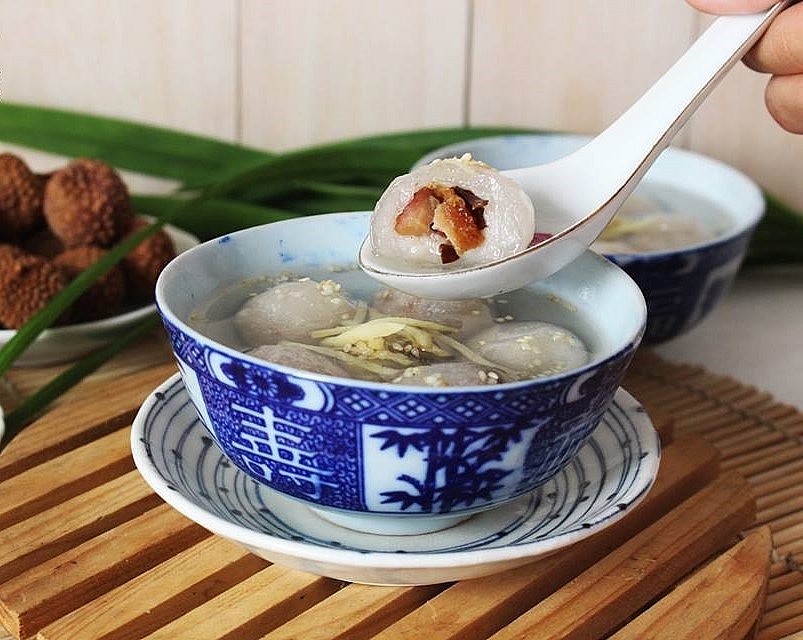 Photo: blog.beemart
When customers eat this dish, they will feel the sweet taste and chewy texture of the dough, as well as the salty taste and crunchy texture of the pork. The sugar water and the spicy ginger in the soup create a contrasting taste. This subtle contrast provides a new and exciting feeling to any eater. People will never be bored of this dish.
Underworld Rice
With a rather strange name, Underworld rice (cơm âm phủ) is a curious dish for tourists when they visit Hue. This dish originates from a restaurant called Underworld, which has been around for hundreds of years, on Nguyen Thai Hoc Street, near Hue Stadium. Due to the fact that this restaurant used to only open late at night with flickering oil lamps as the main sources of light, the rice dish here is named Underworld rice.
Photo: Phongnhaexplorer
Currently, this rice dish is being served in many places, from small food stalls to luxury restaurants. In most establishments, each plate of rice is presented very artistically and is very eye-catching with 7 vibrant and beautiful colors, in the middle is white rice cooked with An Cuu rice, surrounded by pork belly, Hue spring rolls, shrimp, grilled spring rolls, omelet, herbs, and cucumber.
Pressed pancake
Pressed pancake (bánh ép) is a delicacy not to be missed. There are many different ways to make it, and each food vendor and chef have their own unique recipe. The cake is made from simple ingredients such as flour, pork, eggs, scallions, shrimp, and fish.
Before the pressing step, the baker usually pre-rolls the cake into small balls of dough, topped with a little pork rim, chili, and green onions. When customers place their order, the dough is placed between two hot red cast iron sheets that have been oiled, closed, and pressed tightly with both hands for about 5-6 seconds.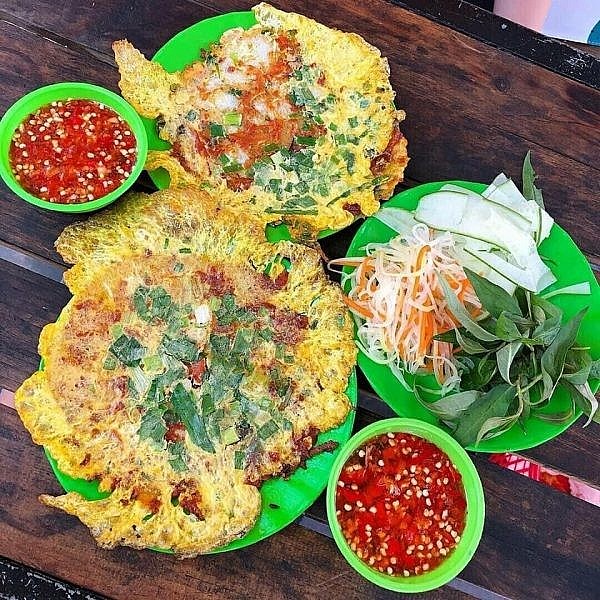 Photo: privatecartranspherehoian
Then, the mold is opened, and the baker will add 1 raw quail egg and then press it a second time for a few seconds. In the process of pressing the cake, the baker will flip the cast iron plate about 2-3 times so that the cake is cooked evenly.
Hue-pressed cake has a greasy, chewy, sour, crunchy taste of vegetables, the aroma of green onions, meat, and eggs, and the smell of squid, shrimp, and fish.
Hue scallop sauce
Scallop sauce is a well-known delicacy in Lang Co beach, Hue. This place is famous for many different types of fresh seafood such as shrimps, crabs, scallops, blood cockles, mussels, and oysters. Among them, scallops are very popular. The locals here mainly use them to make a special type of sauce, called scallop sauce.
Unlike fish sauce or shrimp paste, Lang Co scallop sauce has a very special flavor that comes from the scallops. This ingredient has been incorporated into Lang Co's long-standing sauce recipe, creating a unique flavor and delicious taste.
This dish is best eaten with hot rice or used as a dipping sauce. To get the most out of this tasty sauce, people should eat it with raw vegetables, melon, sour star fruit, bacon, and rice.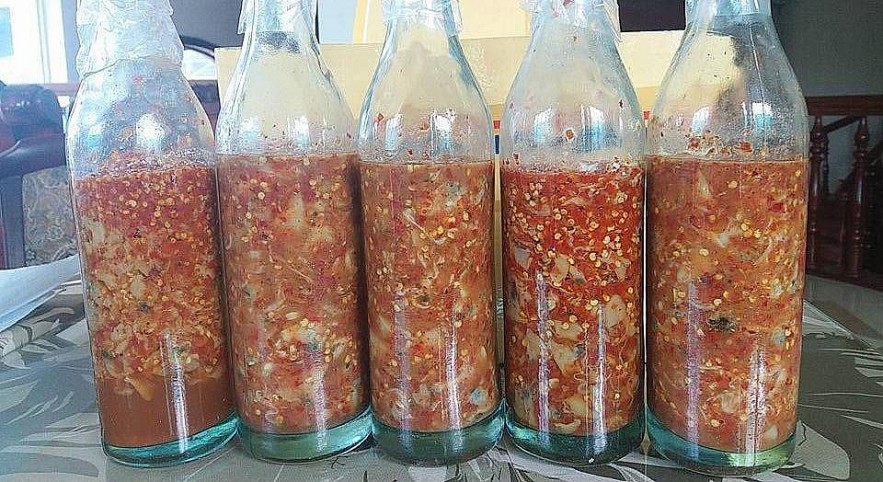 Photo: viendonghotel
Hue rolls
This is one of Hue's delicacies. This dish is like the spring rolls of the South but it possesses a very special taste that differentiates itself from any other type of roll. It consists of two types of pork and beef, both of which are delicious in a very unique way.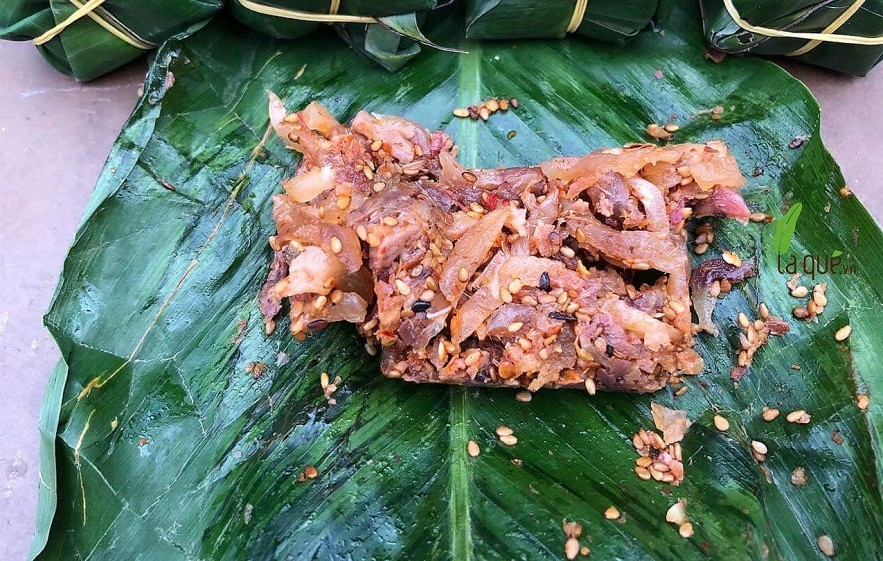 Photo: laque
The ingredients that people can use to make this dish are very diverse. People can combine many different seasonings with it as well. Well-made rolls often have pork, beef, or pork skin as the protein, high-quality meat is highly recommended. The meat needs to be cleaned and boiled thoroughly.
In addition, the special attraction of the dish comes from its seasoning. It is braised fish sauce, chili powder, fresh chili, roasted sesame, and sliced galangal. In particular, this dish cannot be made without rice, because it makes the dish more fleshy and delicious. The ingredients are then thoroughly mixed and wrapped into small curls quite similar to spring rolls.
Crispy pancake, the tase of Hue

Crispy pancake, or "khoái" cake, is a delightful specialty of Hue. The crispy pancake is pretty much similar to rice pancakes (bánh xèo), but is ...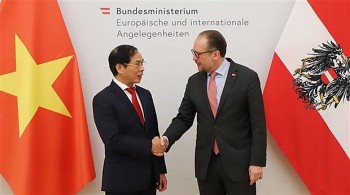 Overseas Vietnamese
Fifty years have passed since the establishment of the relationship, the two countries have enjoyed great strides in bilateral cooperation.