Flood victims receive nationwide support
Organizations and individuals across the country are supporting locals in the central region overcome the consequences of recent floods.
(VNF) - Organizations and inpiduals across the country are supporting locals in the central region overcome the consequences of recent floods.
On October 18th, the Office of the Party Central Committee raised a total of VND 450 million (USD 20,450) in support of the victims.
At the event, Party General Secretary Nguyen Phu Trong also expressed his sympathy with affected families.
At the President Office, President Tran Dai Quang, Vice President Dang Thi Ngoc Thinh and staff donated at least one-day salary at the fundraising.
Prime Minister Nguyen Xuan Phuc also launched the campaign at the Government Office and urged inpiduals and organizations nationwide to join the effort.
People in Phuong My Commune (Huong Khe) stand on the second floor of a local school waiting for flood relief supplies. (Photo: vnexpress.net)
From October 18th, relief goods will be given priority seats at the national flag carrier Vietnam Airlines, low-cost Jetstar Pacific and Vasco flying from Hanoi, Ho Chi Minh City to flood-stricken areas free of charge.
In the central province of Quang Nam, Chairman of the provincial People's Committee Dinh Van Thu signed a decision to set aside VND230 million (USD10,400) from the local budget to support Ha Tinh, Quang Binh, Nghe An and Quang Tri.
The provincial chapter of the Vietnam Fatherland Front also received donations from philanthropists nationwide through banking account 3761.0.1002234.91049 at the local State Treasury.
Domestic donors could send financial donations to the Vietnam Red Cross Society (VRS) at bank accounts 124 0202 005 348 (VND), 124 0202 018198 (USD) and 124 0202 006862 (EUR) provided by the Vietnam Bank for Agriculture and Rural Development (Agribank).
Relief goods could be sent to VRS No.82 Nguyen Du, Hanoi or the southern representative agency No.201 Nguyen Thi Minh Khai, district 1, Ho Chi Minh City, starting from October 1st to the late November.
Those abroad could send to Agribank accounts 124 0202 005348 (VND),124 0202 006675 (USD) and 124 0202 006862 (EUR).
The house of Nguyen Thi Lieu, 64, a local inhabitant, was submerged by the floods. Lieu and her family set up a small floating hut nearby to shelter. (Photo: vnexpress.net)
The VRS Central Committee also coordinated with the National Humanitarian Portal 1400 to launch a SMS campaign which is underway from mid-night of October 18th to mid-night of December 16th, through which people nationwide could text "UH" and send to 1404, each worth VND 18,000 (USD 0,81). All proceeds will be sent to the victims.
Earlier on October 16th, the VRS Central Committee decided to offer VND 1.97 billion (USD 89,000) in cash and kind to Nghe An, Ha Tinh, Quang Binh and Quang Tri.
Some of the biggest celebrities in Vietnam – including Phan Anh, Ho Ngoc Ha, Dam Vinh Hung, Tuan Hung, Pham Huong and My Linh, are helping to raise money for the victims of the flooding over the past weekend.
According to Phan Anh, as of mid-day on October 17th, he has collected more than USD 94,000, including roughly USD 21,700 donated by himself and his immediate family members.
Singer Tuan Hung also solicited the audience to contribute to a fund he established to help flood victims. On December 6th, the singer said he will close the account and personally hand deliver the monies collected to the people of the two provinces of Quang Binh and Ha Tinh. Already he has contributed more than USD 2,100 to flood victims./.
( Compiled by VNF )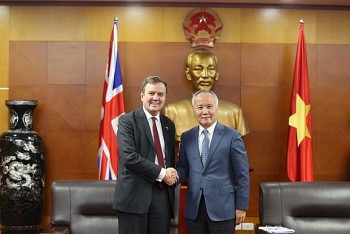 Economy
UK ready to boost CPTPP's economic firepower, said the Trade Minister on Vietnam visit