Football coach Park and rest of National football team's staff get Covid-19 shot
Coach Park Hang-seo, along with coaching and medical staff of the national football team, received their Covid-19 inoculations Monday.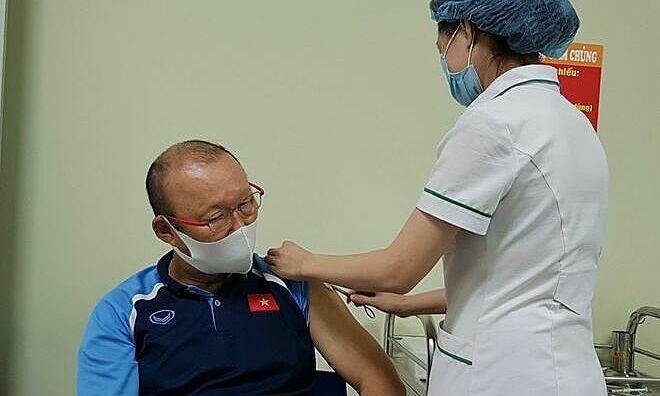 Coach Park Hang-seo gets Covid-19 vaccination on April 5, 2021. Photo courtesy of Vietnam Football Federation.
As reported by VNE, Park and 22 members of the national men's football team were vaccinated at the 108 Military Central Hospital in Hanoi.
Vaccinated staff include Tran Quoc Tuan, vice chairman of Vietnam Football Federation (VFF), Nguyen Sy Hien, chairman of the National Coaching Council, South Korean assistant coaches and doctors like Lee Young Jin, Park Sung Gyun, Kim Han Yoon, Kim Hyun Tae and Choi Ju Young.
Previously, in order to help national sports teams compete at upcoming international tournaments, the government had allowed prioritized vaccination for athletes, coaches and other staff members.
Since March 30, an average 20 people have received Covid-19 vaccine shots at the military hospital daily. These are all athletes from national teams set to participate in Olympic and 2022 World Cup Asian qualifiers.
On April 8, 9 and 13, there will be 47 other members of the men's football team, mainly players, getting vaccinated against Covid-19.
The Department of Physical Education and Sports said some players would be vaccinated at 108 Military Central Hospital, while players in southern provinces may get injected at the 175 Military Hospital of HCMC.
Players from Viettel FC, Hanoi FC, and Saigon FC that will compete in AFC Champions League and AFC Cup, which will start in late June, will be part of athletes to be vaccinated.
Vietnam had two new COVID-19 cases to report in the 12 hours from 6 am to 6 pm on April 4. Both of the new cases are Vietnamese who have been quarantined in Tay Ninh province right after their arrival in the country.
The Ministry of Health said that in the past 12 hours to 6 am April 5, Vietnam did not record any new cases. This is the 12th day in a row that there is no community case found in the country.
Meanwhile, as COVID-19 cases have been on the decline around the world and vaccination programs have been rolled out in many countries, agencies and businesses at home and abroad are hopeful that the introduction of "vaccine passports" will allow the resumption of international flights. These passports are expected to become used globally and boost countries' confidence in easing movement restrictions, reviving their aviation sector, and bolstering trade and economic development while ensuring safety amid the pandemic.