HCMC to start COVID-19 mass vaccination covering 8,000 people
8,000 doses of AstraZeneca vaccine are expected to be given to front-liners in Ho Chi Minh city, starting from March 22 to April 19.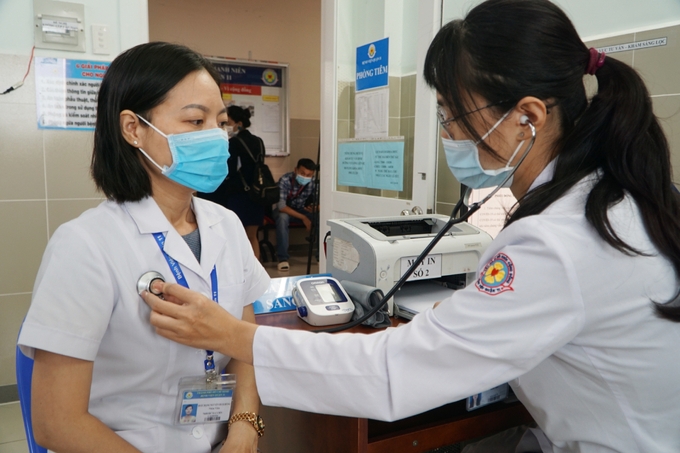 One medical staff getting her health checked before getting the vaccine (Photo: VNE)
As reported by VNE, the city's target in the first mass vaccination is to cover 95 percent of its COVID-19 first responders while ensuring the safety and effectiveness of the vaccine.
On March 24 morning, the first 10 medical staff in District 11 Hospital, including 4 males and 6 females aged 24-42 were given the jab. This is the first district-level hospital in Ho Chi Minh to vaccinate its staff against the novel coronavirus as part of the National Expanded Vaccination Program.
All recipients had had their general health checked prior to injection. Their history of allergy, vaccination, and underlying health issues were also under careful inspection.
"I believe the benefits of AstraZeneca injection outweighs the potential risks", Ho Quang Thoai, 33, chief nurse at the Emergency Department shared his viewpoints about the recent blood clot incidents that occurred to several AstraZeneca recipients in the world. Thoai and his colleagues were reassured about the safety of the jab, unexpected reactions, and post-vaccination self-monitoring in the afternoon before.
"We were taken blood pressure, heart rates, body temperature within 30-60 mins after getting the vaccine", Thoai was quoted by VNE. "I only felt tickling after the injection, no other abnormal symptoms are seen until now".
After 60 mins of further health monitoring, Thoai got back to his work and would follow his health condition himself in the next 7 days.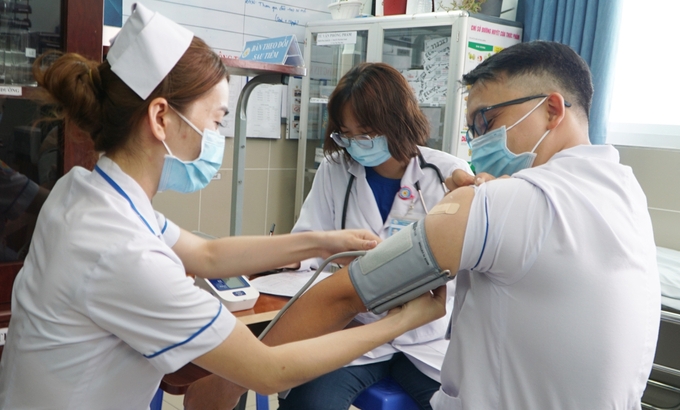 Thoai is getting the injection (Photo: VNE)
This week, District 11 Hospital is scheduling to administer the vaccine to 30 medical staff in three days, 10 individuals each. 212 people in the prioritized list are expecting to get the jab by April 19.
Those vaccinated will be given a "vaccination certificate" to prove they have received the first dose and be reminded of the second dose in the following 12 weeks.
Prior to the vaccination program, Ho Chi Minh City Center for Disease Control (HCDC) had organized two training courses to make sure everything is well-oiled.
The batch of AstraZeneca using in the National Expanded Vaccination Program is part of the 117,600 imported doses that arrived in Vietnam in late February. AstraZeneca is one of the three COVID-19 vaccines in the world greenlighted for emergency use by the World Health Organization (WHO) and is currently used in over 50 countries.
(Photo: VNE)
In Ho Chi Minh city, a total of 926 individuals have received the first dose. They have vaccinated Covid-19 including Hospital for Tropical Diseases (kicked off its injection program on March 8) and 175 Military Hospital (March 16) are the first two medical facilities in the southern city to inject the vaccine to 64 officers and staffs at the Field Hospital Level 2 and 3 before their joining the mission at the United Nations Peacekeeping in South Sudan.
Vietnam on March 23 gives emergency use authorization (EUA) for Russia's Sputnik V vaccine, making it the second greenlighted COVID-19 vaccine in the country.
The proposal was earlier made by the Center for Research and Production of Vaccines and Biologicals (Polyvac). Polyvac is in charge of coordinating with Generium JSC – Sputnik V's manufacturer – to promptly respond to the Vietnam Ministry of Health (MOH)'s request, giving data, proactively updating information related to Sputnik V throughout the procedures in Vietnam.
MOH greenlighted Sputnik V based on its safety, quality and effectiveness data provided by Polyvac as of February 25.
To date, Vietnam has authorized two imported COVID-19 vaccines for emergency use. Earlier in January, UK's AstraZeneca was licensed and is currently the sole vaccine used in the country's vaccination campaign which kicked off on March 8.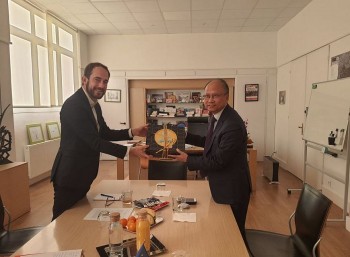 Friendship
Montreuil (France) and Hai Duong (Vietnam) have established a cooperative relationship with Hai Duong since 1999.