Foreign authors debut Vietnamese picture book - "The Lost Sandal"
In the summer of 2021, Kim Dong Publishing House launched the Vietnamese-English bilingual publication "The Lost Sandal" by two foreign authors living and working in Vietnam - Geralda De Vos (Belgium) and Sofia Holt (Sweden).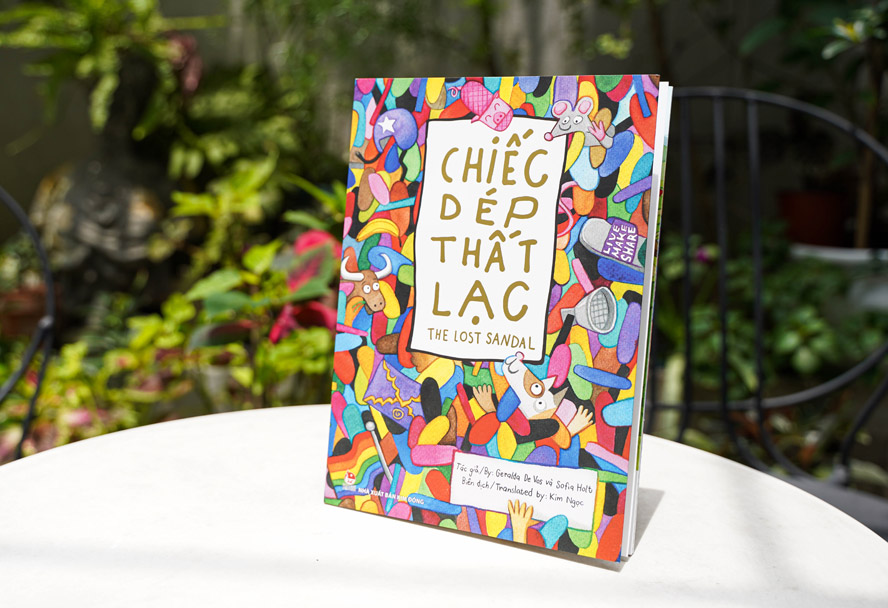 The bilingual book contains many meaningful messages for young readers. (Photo: Hanoimoi)
"The Lost Sandal" is a picture book that two foreign female authors specially write about Vietnamese children, for Vietnamese children to read. The book tells the journey to find the beloved sandal accidentally dropped by little Linh. She uses many ways to find the sandal, such as painting posters at the grocery store, writing letters to everyone in the area where the lost sandal is. Fortunately, the lost sandal fairy appears, bringing a lot of fun to the readers.
In addition to the funny, playful, and humorous story, "The Lost Sandal" also contains a profund lesson about loving and cherishing things, sharing, understanding and helping people. The authors also remind young readers that, with just a small action like picking up and returning a sandal, you will bring happiness to the lost person and reduce a plastic waste into the living environment. In addition, with a sufficient amount of English vocabulary, a clear and simple style, the book helps readers enrich their foreign language skills.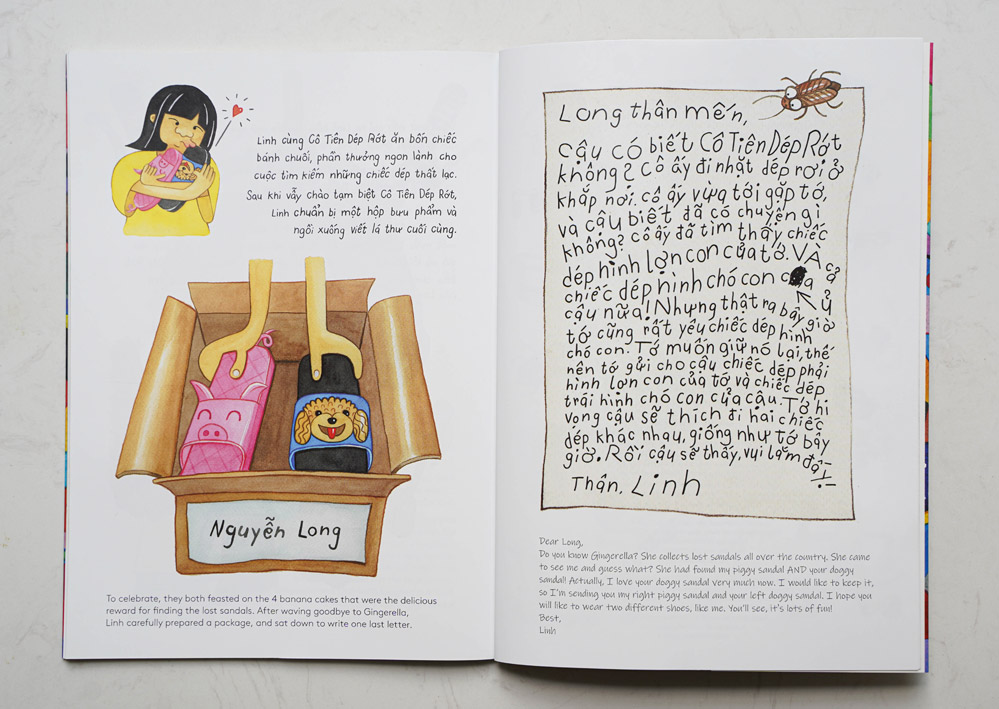 Funny and playful images in the book. (Photo: Hanoimoi)
Born and raised in Belgium, author Geralda De Vos came to Vietnam in 2017. She actively participates in social activities, especially environmental protection, plastic waste reduction, recycling, encouraging a kind lifestyle through picking up and returning people's lost items.
Along with the narration by Geralda De Vos, the illustrations by artist Sofia Holt bring freshness and charm to the book. Painter Sofia grew up in Sweden. She came to Ho Chi Minh City in 2014 and worked as a designer of interior products and useful appliances here. She is currently designing fashion, furniture, illustrating and contributing ideas for a happier and more sustainable world. Although she can't read and write Vietnamese, the female artist still "draws Vietnamese" for the posters and letters in the book.