Foreign Diplomats, Businessmen Learn about Bac Ninh's Unique Folk Culture
The "Learn about Vietnam Day" is an annual event organised by the Ministry of Foreign Affairs since 2015, in order to update the country's socio-economic achievements, and at the same time promote Vietnamese culture to the international community.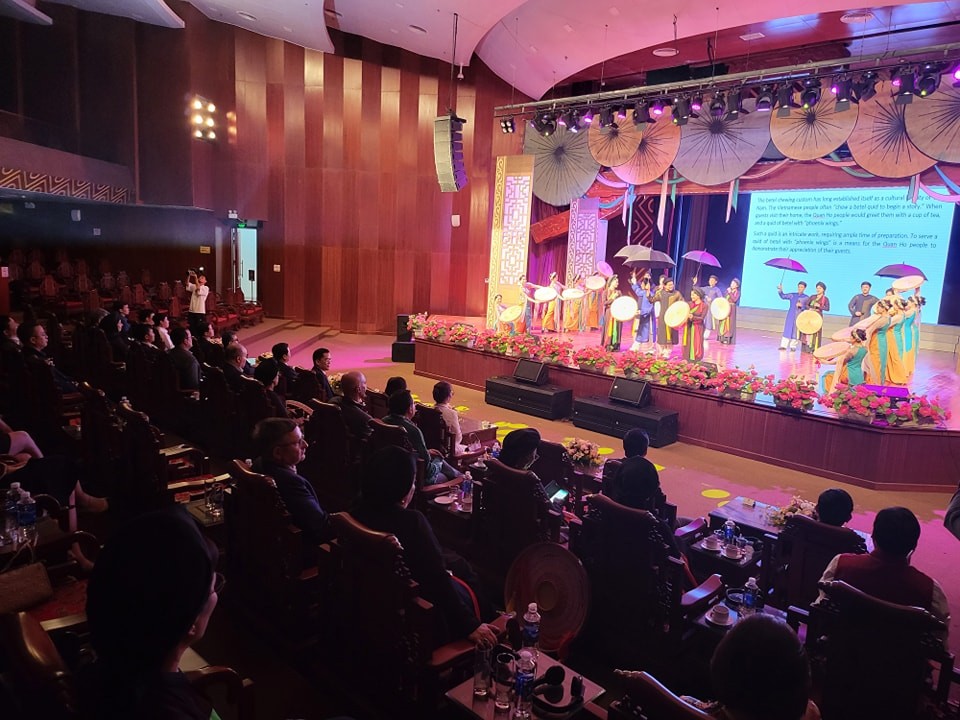 Visitors had the chance to enjoy quan họ (love duet) held recently in the northern province. Source: Bac Ninh Quan Ho folk songs Theater
The authorities of Bac Ninh and the Ministry of Foreign Affairs (MoFA) recently co-organised an event on learning about the northern province's charming features, VNA reported.
Attending the program were Ha Kim Ngoc, Deputy Minister of Foreign Affairs, Chairman of the Vietnam National Committee for UNESCO; Saadi Salama, Ambassador of the State of Palestine to Vietnam, Head of the Diplomatic Delegation; Vu Thi Bich Ngoc, Honorary Chairwoman of the ASEAN Women's Circle in Hanoi (AWCH Group) and nearly 150 delegates who are ambassadors, heads of representatives from diplomatic corps and international organisations in Vietnam, newly-appointed domestic ambassador, AWCH and foreign business association in Vietnam.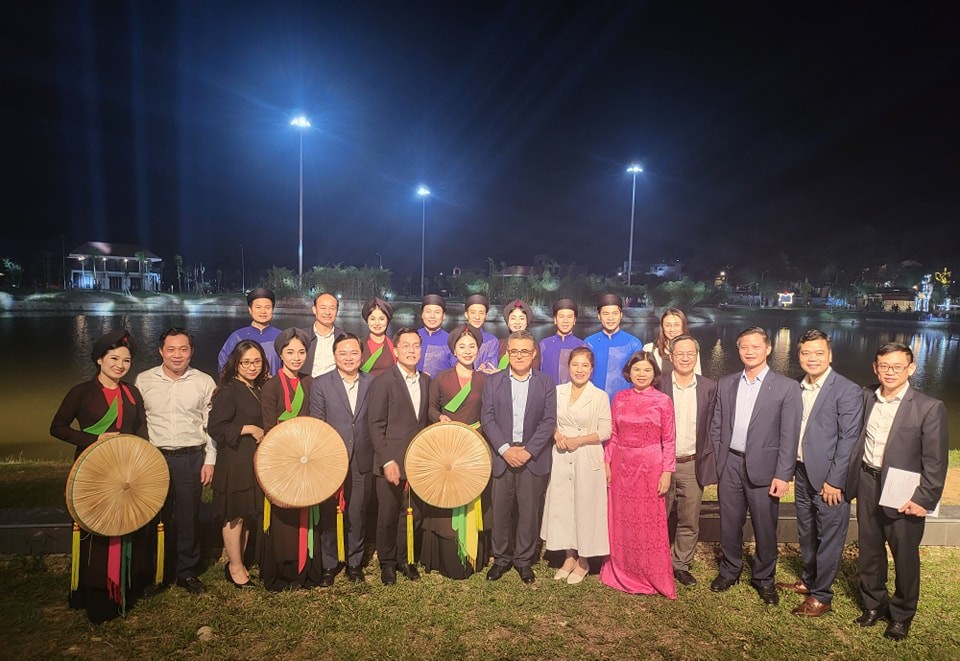 Source: Bac Ninh Quan Ho folk songs Theater
The event was this year's edition of the ministry's annual 'Learning about Vietnam Session', first held in 2015 and aiming to update the country's socio-economic achievements, and promote Vietnamese culture to the international community.
In his opening speech, Secretary of the provincial Party Committee Nguyen Anh Tuan said Bac Ninh wishes to receive support from the delegates in promoting its image, cultural value, and business climate to the world.
He asked for support toward the province's efforts to make the local Dong Ho folk painting profession a part of the UNESCO List of Intangible Cultural Heritage in Need of Urgent Safeguarding in 2024.
As a country of thousands of years of civilization, Vietnam understands the importance of culture, considers culture as the source of national strength, and wishes to promote its cultural values for sustainable development and enrich the cultural treasures of mankind, shared Deputy Minister of Foreign Affairs Ha Kim Ngoc.
Ngoc said the ministry will continue accompanying Bac Ninh in preserving its cultural quintessence and introducing such value to international friends.
Earlier, the delegates were treated to a series of cultural activities, such as touring the Dong Ho folk painting conservation centre in Thuan Thanh town, tasting local culinary delights, and enjoying the performance of Bac Ninh's Quan ho (love duet) singing – an UNESCO intangible cultural heritage of humanity.
Participants enjoy water puppetry in Dong Ngu village, Thuan Thanh district in the northern province of Bac Ninh. Source: bacninh.gov.vn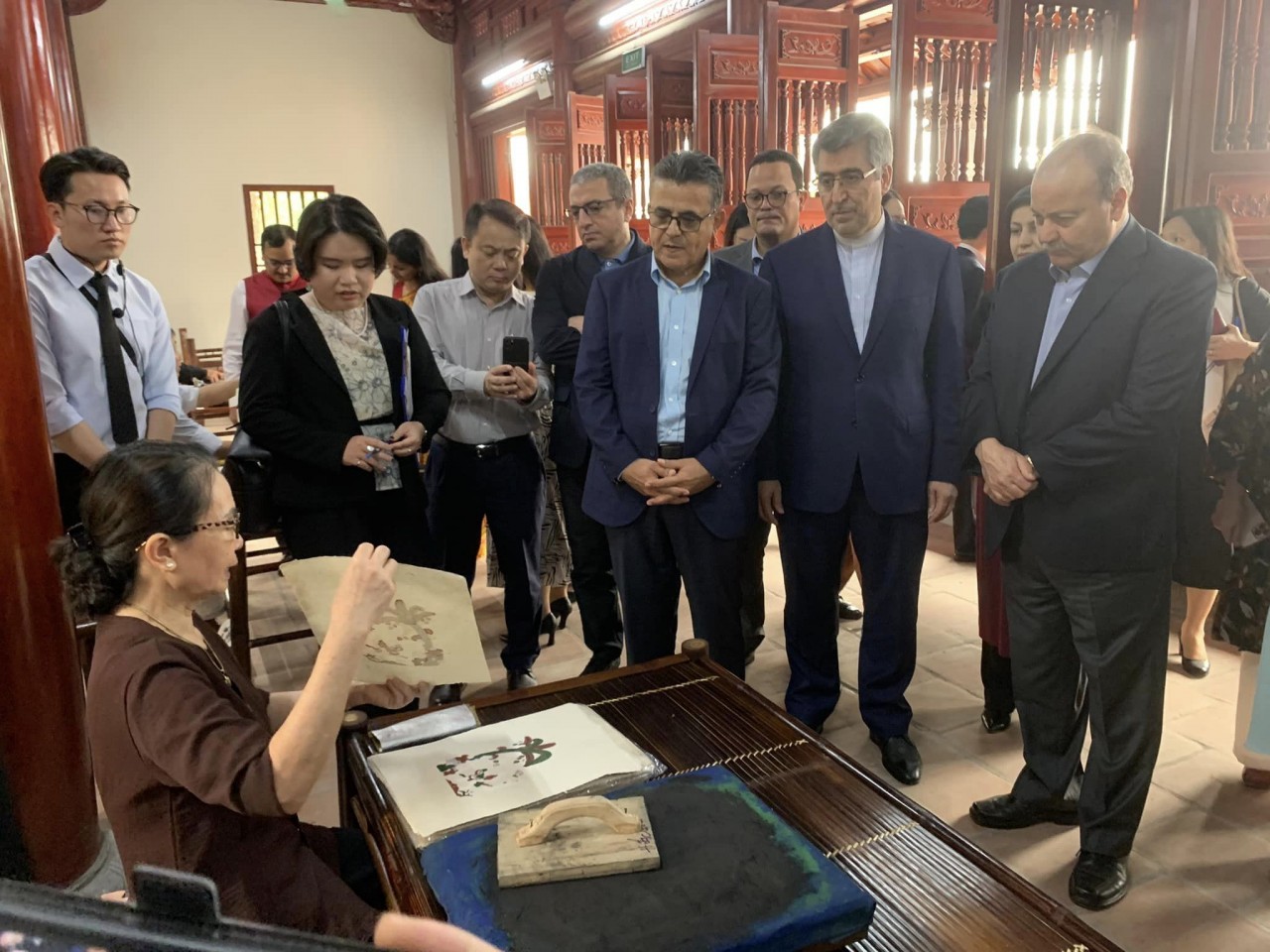 At an exhibition house to introduce Dong Ho, an outstanding folk painting genre. Source: Dong Ho folk painting conservation centre
The exhibition house covers over 500 sq.m with more than 1,000 documents and objects reflecting the history of the painting genre, its values and the preservation work. Source: Dong Ho folk painting conservation centre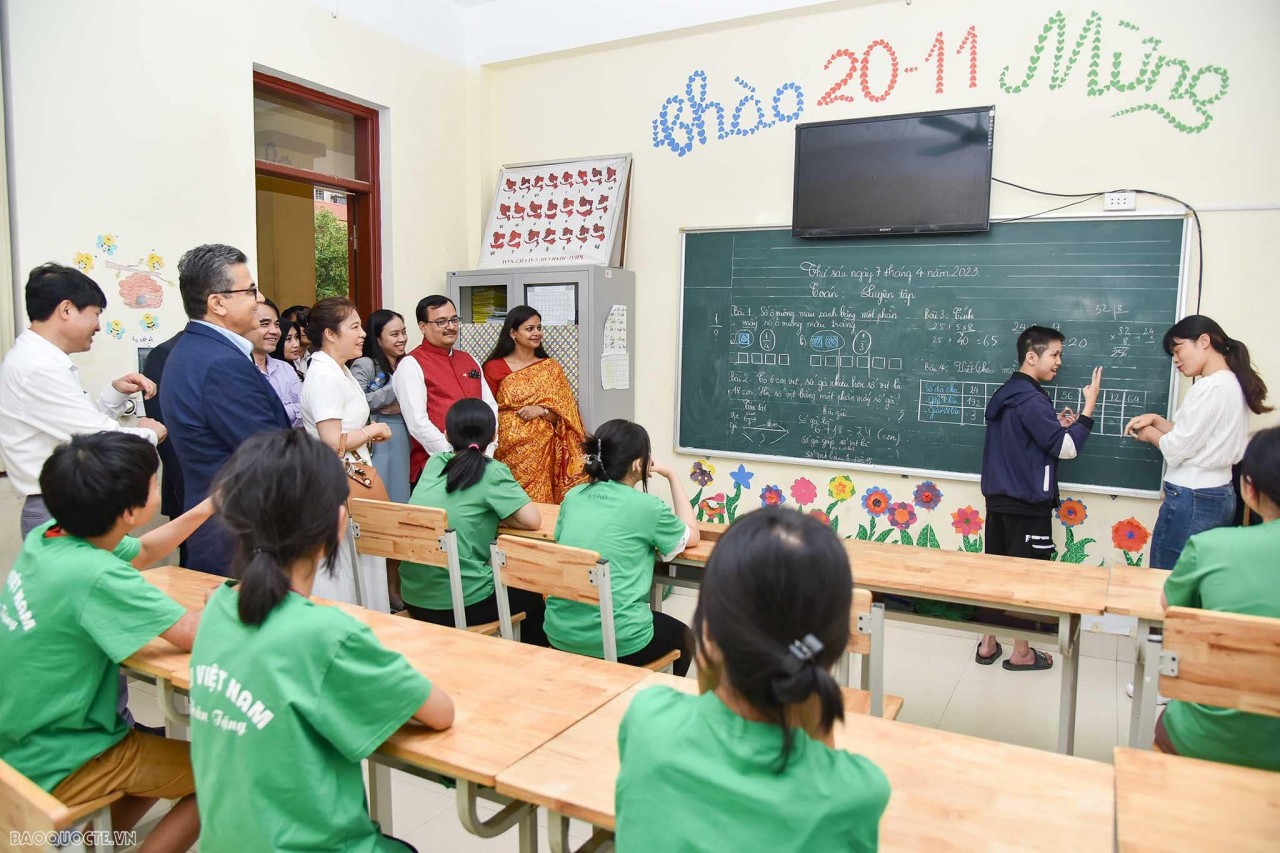 Visiting local students.
Bac Ninh province has been famous for its rich and long-standing culture. It is home to 1,589 relic sites, of which 643 have been ranked, including four special national, 204 national, and 435 provincial relic sites. It also owns 14 objects and groups of objects recognised as national treasures.
Quan ho Bac Ninh folk songs were inscribed on the Representative List of the Intangible Cultural Heritage of Humanity on September 30, 2009. Since then, Bac Ninh has made considerable efforts to realising its commitments to UNESCO to conserve and uphold the value of this art form, thus obtaining comprehensive results.
The songs are alternating response songs between male and female singers. Quan ho singing is common at rituals, festivals, competitions, and informal gatherings, where guests will perform a variety of verses for their hosts before singing farewell.
Meanwhile, as part of the national intangible cultural heritage, Dong Ho painting or Dong Ho folk woodcut painting is a genre of Vietnamese folk painting, stemming from Dong Ho village in Bac Ninh in the 17th century.